The holidays are upon us. If you are like many others out there, decorations are going up around the house, and the Christmas spirit is in full swing. Why not add a little of that Christmas joy to your website by using a smooth plugin like Christmasify? This plugin will allow you to add all sorts of seasonal fun to your site.
Websites go through changes and updates over time. Some of them big, some of them small. In this case, a nice little Christmas holiday update simply means users can come to the site and enjoy a little extra.
Why Add WordPress Christmas Effects to a Site?
Adding something like falling snow, or a song, or even random ornaments on a site gives your users a fun and charming Christmas experience. There are a few ways to do this. You can code some things in yourself, or you can use a plugin that adds a Christmas effect to WordPress more easily.
Let's take a look at the one we are going to use today and then set it up together.
Christmasify!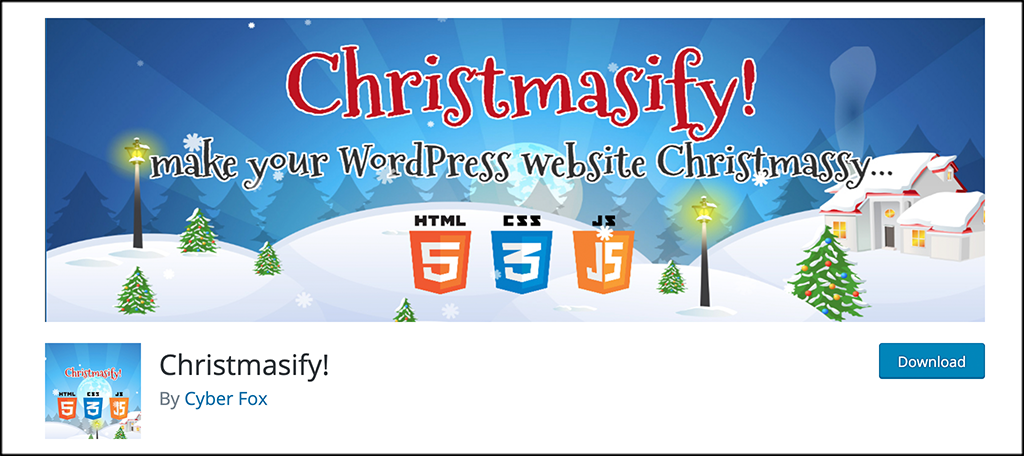 Christmasify is a fun and unique Christmas plugin that is easy to use and lightweight. The plugin allows you to easily add several different types of Christmas related items to your website. Some of the main features include:
Ability to Add Falling Snow
Add Santa
Show Decorations
Play Christmas Music
Add Christmas Font
As stated above, the plugin is very simple to use and easy to setup. Just a few clicks here and there and you will have all sorts of Christmas joy all over your website.
Before we get into setup, let's make note of a couple of things.
The plugin is lightweight and performs at a very high level. In order for this to happen, IE8 or lower is not supported. You will also need to be running PHP 5.4 or greater.
Now, let's take a look at how to add seasonal spirit to your website.
How to Use Christmasify to Add Seasonal Spirit
Step 1: Install and Activate the Plugin
In order to use this great Christmas plugin, you must first install and activate it on your WordPress website. You can do this by jumping over to the Plugins page in the WordPress admin directory.
Simply use the search field to find the plugin by name. Once it pops up, install and activate it from there.
Step 2: Access the Configuration Page
Now that the Christmasify plugin has been installed, you need to access the main configuration page so that you can set it up how you want.
To do this, click on the "Christmasify" tab located on the left menu area of the dashboard.
You will see this is now an available option after you activated the plugin.
Step 3: Configure the Plugin
At this point, you have made your way to the main settings and configuration page for the plugin. As you can see, it is only one page with a few settings to choose from.
You will have the option to do the following:
Add Snowflakes
Have a Flying Santa On-Screen
Add One of Three Famous Christmas Jingles
Put Christmas Decorations on Images
Add Christmas Headings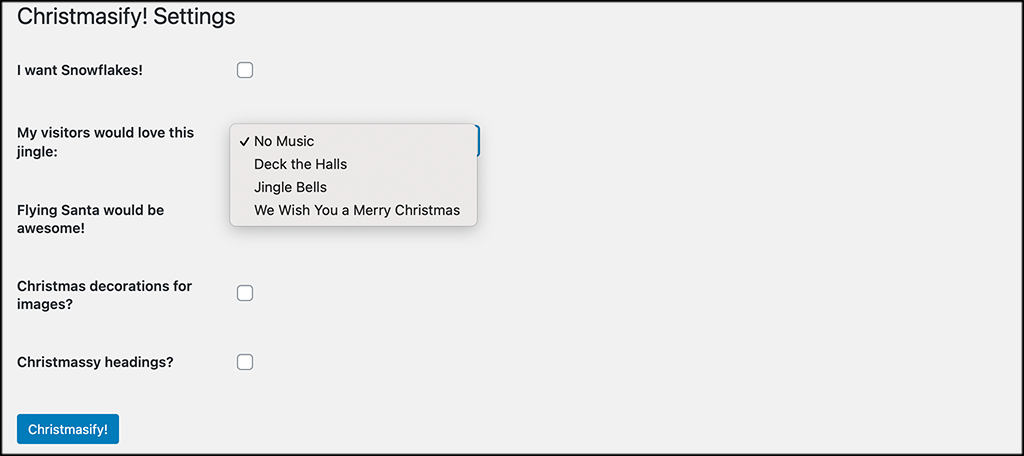 Go ahead and make the choices you want for your site. When you are ready, click on the "Christmasify!" button to apply all the changes.
Step 4: View the Live Site
After you save the changes, go ahead and pop over to the live site to see all the Christmas season changes working.
As you can see, I went ahead and added all the options. And yes, Santa flies across over and over at a slow pace.
That's it! You are all set. To add any of the available Christmas options or stop any of them, simply go back to the configuration page and make changes.
You are now sharing the holiday joy with your site visitors.
Other WordPress Christmas Plugins
Christmasify is a fantastic Christmas plugin that makes it simple and easy to add holiday spirit to your site. That being said, it isn't the only plugin available that does this. 
If you are interested in other holiday plugin possibilities, then here are a few you might want to take a look at.
Christmas Greetings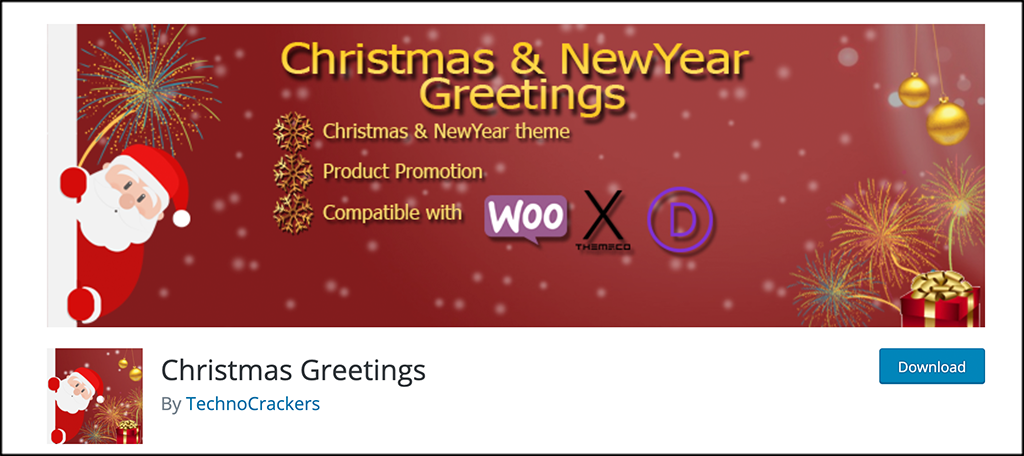 Christmas Greetings is a great Christmas plugin that is also compatible with WooCommerce. The plugin makes all sorts of great little features available. You can use these to bring a lot of holiday joy to your website.
Once installed, you will have the options to add snowflakes, a floating Santa, gift box decorations on images, and create customized greetings for your site visitors. That being said, this plugin actually excels because of what you can do with a WooCommerce store.
You will be able to allow your store visitors to start unwrapping the ecards, gifts, presents, and messages. It is just a great addition to your site for the Christmas season.
Christmas Countdown Widget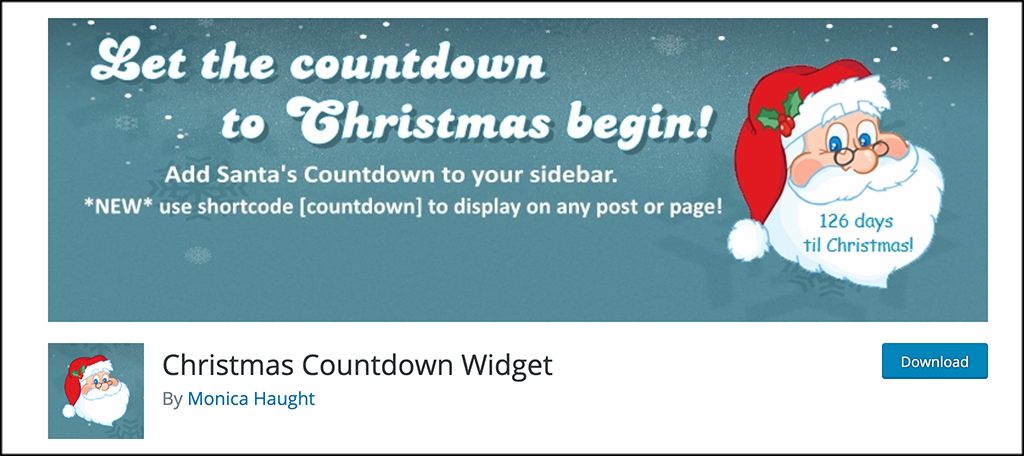 Are you interested in adding a Christmas countdown to your WordPress site? If so, then the easy to use Christmas Countdown Widget is exactly what you need to have installed on your website.
The plugin is pretty straightforward. It adds a Santa countdown widget to your website. You can display it and use it to countdown the days until Christmas. The countdown timer automatically updates each year and starts the countdown over again on the day after Christmas. Since this is the case, you can leave it up year-round if you choose.
Note: The Santa Christmas countdown is transparent. It will look good when used on any theme.
Christmas Panda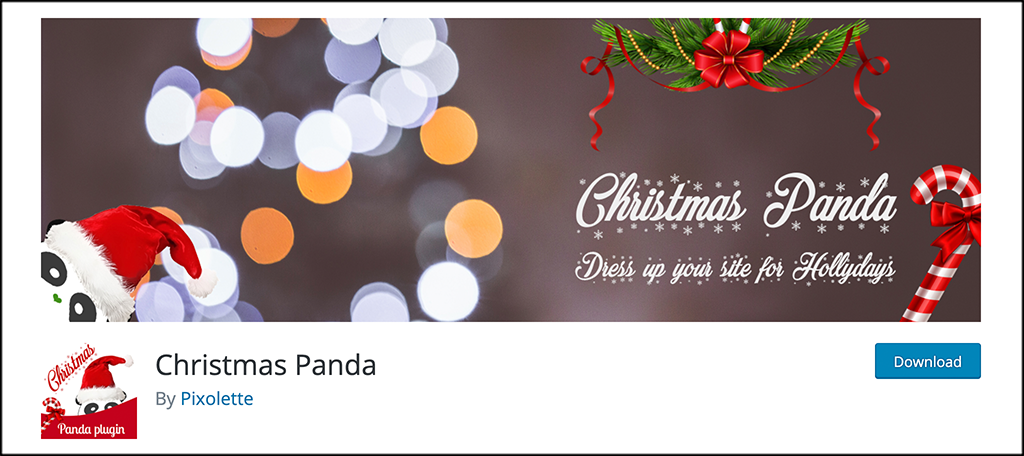 Christmas Panda is a Christmas decoration plugin that gives you the ability to add all sorts of decorations and Christmas options to your site. Once installed, you will be able to decorate your WordPress website with Christmas trees, Santa, snowfall, or just display a pop-up to remember your visitors that it's Christmas.
The plugin gives quite a bit of decoration options in the backend of the site. One of the coolest things about it is that it lets you choose what decoration style and Christmas popups to display using the built-in library that comes with the plugin.
Give it a look if you are interested in choosing from more options.
WP Snow Effect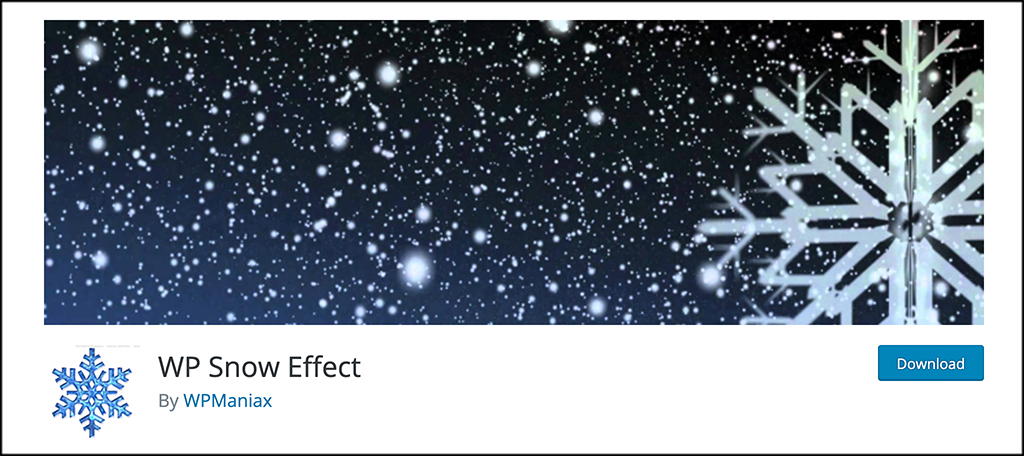 WP Snow Effect helps you easily add a beautiful falling snow effect to your website. This allows your site users to enjoy the Christmas season and winter in general.
The plugin is smooth and straightforward. You can create falling snow, a snowstorm, and adjust the speed of the snow that falls. A great little Christmas plugin to view.
Final Thoughts
Christmas is a wonderful time of the year for many of us. Spreading seasonal joy is never a bad idea. Why not take this same concept and apply it to your website? Give your users a glimpse of the holiday spirit by adding unique holiday additions to your site.
Even something as simple as snow falling during the Christmas season gives users a unique and fun experience while they are browsing your content.
I hope this article was able to show you how easy it is to add holiday joy to your website.
Have you tried using any of these plugins in the past? Which one is your favorite?