Running a WordPress blog is often a full-time job. This is especially true if your main goal is to make money with your blog, post content all the time, and have your site grow. Oftentimes, even putting together a schedule of blog posts can be time-consuming. Luckily, there is a tool called WP Scheduled Posts that can help with that.
If you are one of the many who are trying to publish posts according to a set schedule, then you understand how time-consuming and difficult this can be. Setting a WordPress schedule is one thing, following it correctly is quite another.
Not only are you writing, formatting, linking, and performing SEO on your posts, you are also trying to set up WordPress to publish in a way that will benefit your site the most.
There are several ways to help you schedule blog posts more easily. That being said, one stands out, and it is a plugin that is very easy to set up and use.
Why Schedule and Organize Content?
Organizing and scheduling WordPress content will not only free you up to do other work on your blog, but it will also give you a better idea of what type of content works best in what time frames.
You also want to think about a social media publishing schedule. Not only is having a WordPress schedule important, but figuring out how to properly get those posts shared to your social media accounts can also take a toll on you.
Today, I am going to introduce you to a smooth plugin that can help schedule and organize your posts. It can also help share them accordingly on social media. Let's take a look at the plugin in question and see what it has to offer.
WP Scheduled Posts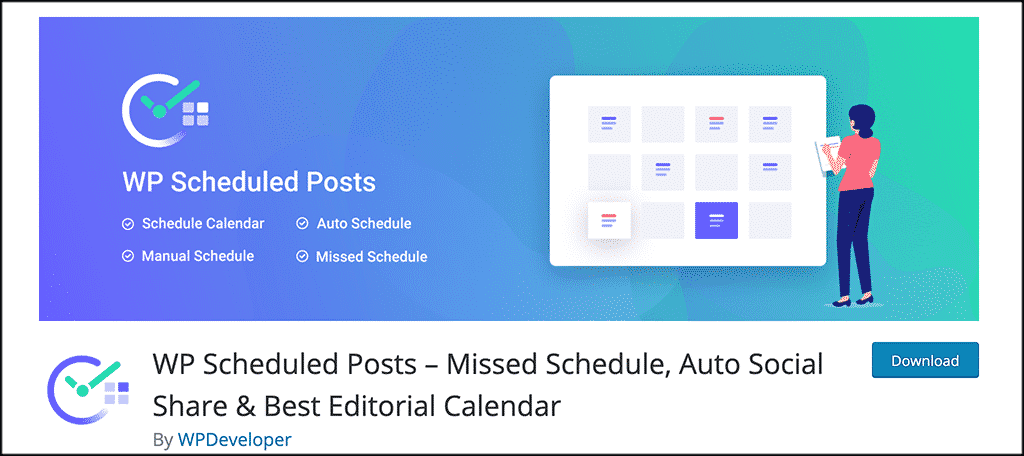 WP Scheduled Posts is a plugin that offers a complete solution for WordPress post scheduling. The plugin is lightweight but packed with functionality. If you are looking for a way to manage a large WordPress post schedule with the help of a calendar and auto-scheduler, then this is the plugin for you.
The WP Scheduled Posts plugin can also help handle auto-sharing to all the major social media platforms including:
Facebook

Twitter

LinkedIn

Pinterest

Instagram
This plugin really does give you access to everything you need to build a full WordPress post schedule using a calendar and a number of other tools. At the very least, this plugin will give you more time to write content.
Simply put, WP Scheduled Posts will allow you to schedule all your posts in advance and have them automatically publish for you.
The plugin comes with a ton of features. Some of the main ones are:
Built-In Schedule Calendar
Dashboard Widget
Drag and Drop Feature
Save Time on Content Creation
Manage Multiple Authors
Auto Post to Social Media
With the ability to manage multiple authors and schedule out hundreds of posts in advance, the WP Scheduled Posts plugin is everything you have been looking for in a post scheduler.
Let's take a look at how to get the plugin installed and running.
Note: There is a pro version of this plugin as well. It will provide you with even more functionality. That being said, this tutorial is based on the free version, as it gives you all the tools you need to build a WordPress publish schedule.
Install and Activate Plugin
In order to start scheduling blog posts, you first need to install and activate the WP Scheduled Posts plugin. You can do this by going to the Plugins page in your WordPress admin dashboard.
You just search for the plugin by name using the search field and you can install and activate it right from there.
Once the plugin has been installed and activated, you will need to access the settings and configuration page for it. To do this, click on Scheduled Posts > Settings.
You will see this located in the left side menu area of your dashboard. it will appear once the plugin has been activated.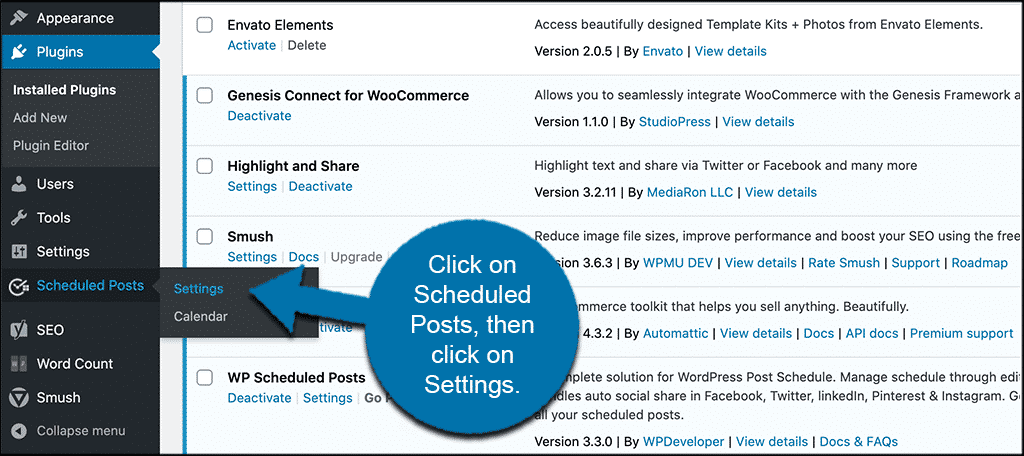 This will take you to the main setup area where you will be able to configure the plugin and get it going. Let's go over it together.
Organize and Setup Content
At this point, you should be on the main configuration page for the WP Scheduled Posts plugin. You will notice that there are four main tabs to go through and set up. They include:
General

Email Notify

Social Profile

Social Templates
Let's go through these together and get the setup in place so you can start using the tool.
General
The general tab is where you will set up all the basic and general settings for the plugin. You will pick default settings, post times, post types, categories, and more. Basically you are getting everything ready based on your preferred settings.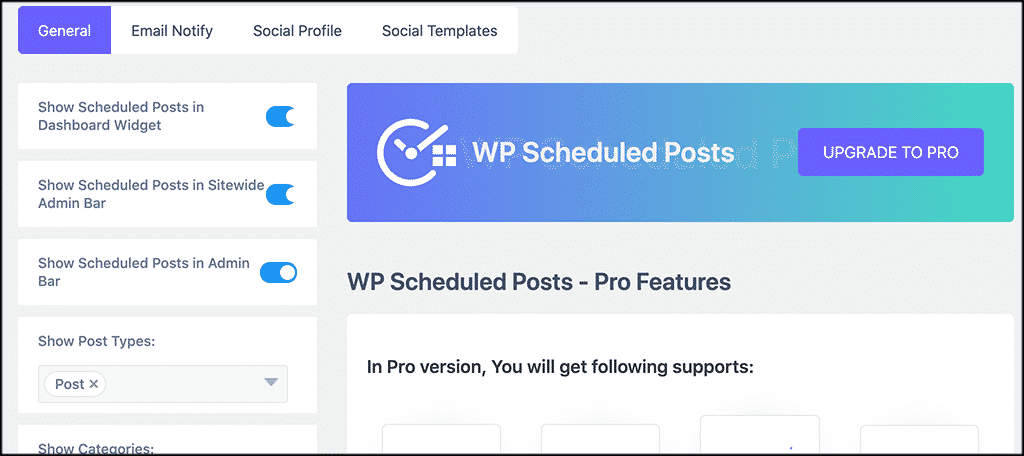 Email Notify
This is where you will set all the email notifications according to how you want them. You can notify authors and users of scheduled and published posts, and just set all emails how you want.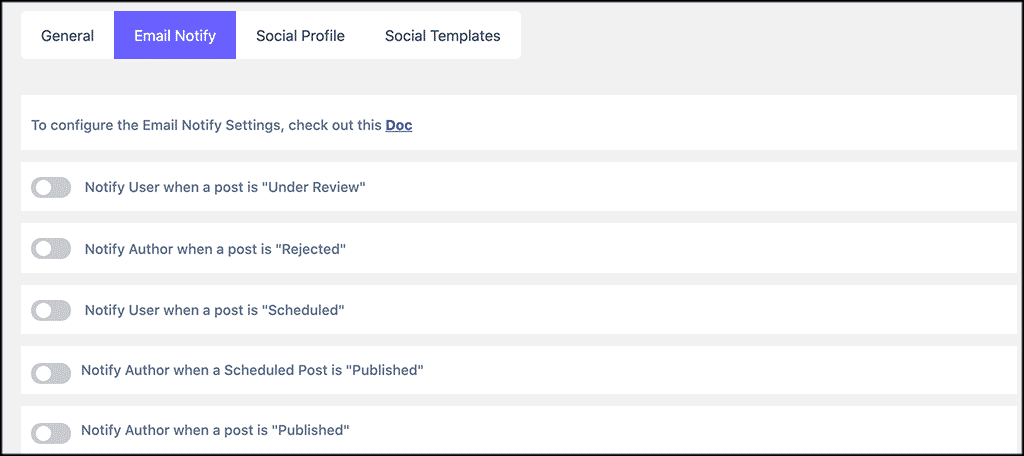 Social Profile
The social profile tab will give you the option to attach Facebook, Twitter, LinkedIn, and Pinterest to your scheduled posts. If you attach one or all of these social profiles, then the WP Scheduled Posts plugin will auto-share the post to your social media networks when they are published.
You will need to get a token and go through a little setup process for each platform, but the directions are built-in and are laid out step-by-step. Simply enable the social profiles you want, add your profile, and you are all set.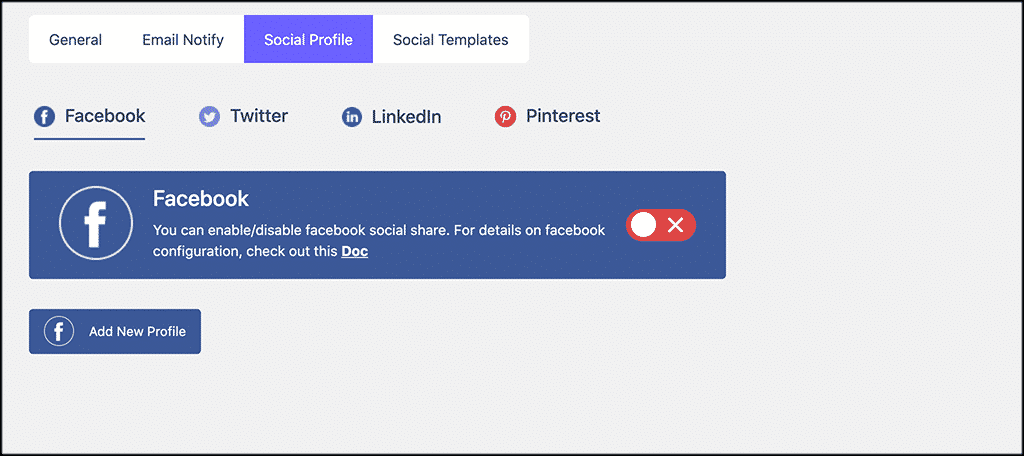 Social Templates
Finally, the social templates tab is where you will set all the settings, configuration, and layout options you want for the social profiles you chose to attach. This means that the settings and layout you choose will apply to how your posts look and feel when they are automatically shared on the social platforms of your choosing.
That's it. All your settings are now in place and you can start scheduling out your posts in WordPress.
View Your Scheduled Posts Calendar
In order to view your scheduled posts calendar, make changes, and add to it, simply click on Scheduled Posts > Calendar.
Here you will see a full calendar of all your scheduled posts.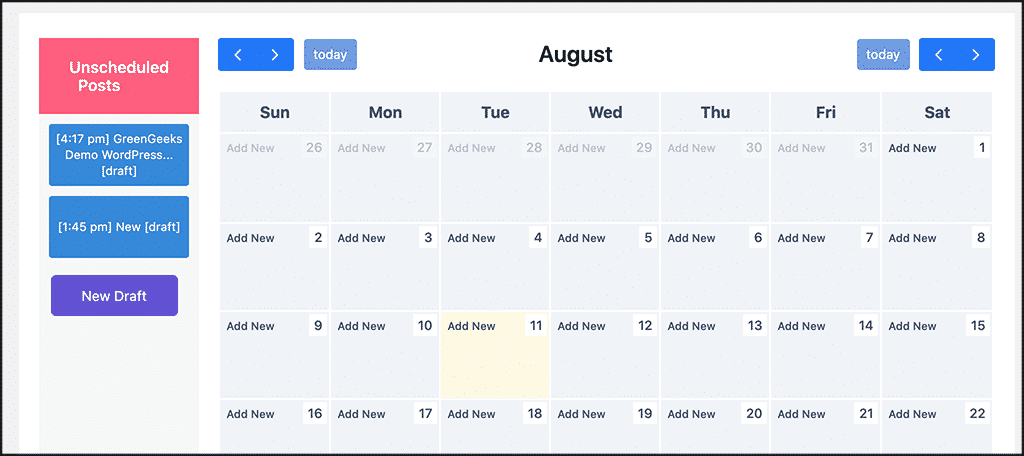 You will see that this one has no posts added, but when you start adding posts to your calendar, they will appear here. You can move them around, ad more, delete, and just edit however you want to keep your schedule rolling.
Final Thoughts
Instead of spending hours and hours trying to schedule your WordPress posts, use a tool like WP Scheduled Posts. Not only is the plugin easy to use and full of features, but it will also save you a lot of time.
Setting a post schedule ahead of time is one of the most valuable options available to you when you run a website. If you have the right tool, then it is easier than you think.
Have you been manually setting up a schedule for future posts? Do you find that adding automatic social sharing saves you even more time?