Have you ever considered adding game plugins to your WordPress website? Online games are a popular way for many internet users to pass their free time. And providing an outlet for popular pastimes is a great way to boost the number of visits to your website.
The games that can be added to a WordPress site are usually simple, but they can be fun for visitors. They are also an attractive lure to get people to visit your website even when you haven't added new content. It's a win/win situation.
Today I will share with you five free game plugins that you can install and begin using today. They will add a puzzle or gaming element to your WordPress website that your visitors will love.
Why Install Game Plugins In WordPress?
Online games are enjoyed by people of all ages. In 2018, over 164 million adults played video games in the United States. Three-quarters of all Americans have at least one gamer in their household.
79% of gamers report that video games provide them with mental stimulation, and 78% use them for relaxation and stress relief.
While video games have become more refined and elaborate over the years, simple games are still a strong draw. Short games that can be played for a few minutes are very popular, especially on mobile devices. For many of us with a long commute or even a few minutes to spare, games can fill the time.
Using WordPress plugins, it's easy to host simple, captivating games that visitors can play on your website.
Free WordPress Game Plugins
The game plugins I'll talk about today are all very easy to add to your WordPress site and completely free to use. As a bonus, we'll also talk about a couple of premium paid alternatives that can up your gaming game. So to speak.
But first, let's take a look at the free options.
1. Word Search Puzzle Game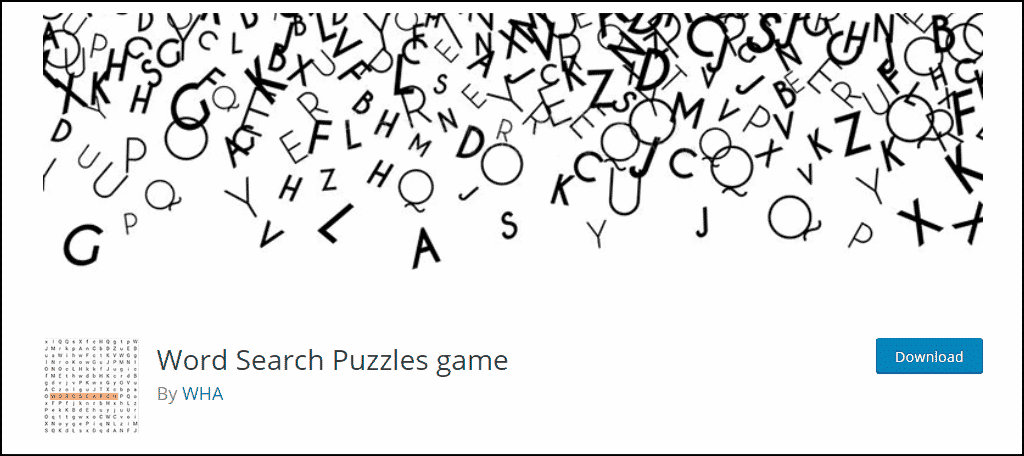 One of the simplest, yet most engaging games is a word search. A word search puzzle is made up of letters arranged in a grid. The grid contains several hidden words that you can spell out in various directions.
It seems as if word search puzzles have been around forever. But I was surprised to discover that they were created in 1968 by a small classifieds newspaper in a small Oklahoma town. It just goes to show you that new games are being created all the time.
You can use the Word Search Puzzles game plugin to add a word search to your website. The plugin creates a 20 x 20 letter grid, and you can include as many words as you'd like. Adding the game to a post or page is as easy as copying and pasting a shortcode.
2. Crossword Compiler Puzzles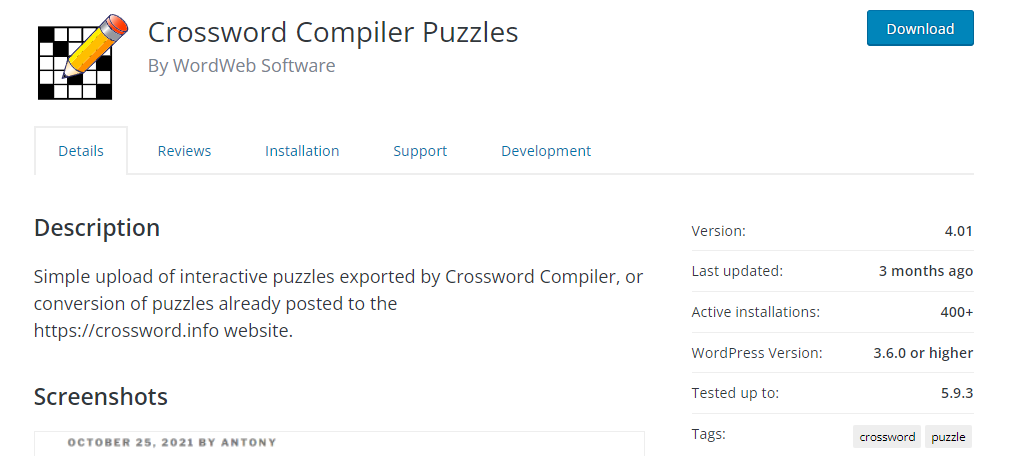 The first crossword puzzle appeared in a New York newspaper in 1913. The puzzles quickly became a hit, and soon nearly every 20th-century newspaper ran a daily crossword puzzle. In some cities, the crossword puzzle was the main reason people bought the paper.
The most famous (and arguably the most difficult) is still the New York Times crossword puzzle.
The decline of the printed newspaper caused some to worry that the crossword puzzle would die out. But they survived by moving online, and may now be even more popular than they were in their heyday.
The Crossworld Compiler Puzzles plugin makes it easy to add custom crossword puzzles to your website.
All you need to do is visit https://www.crossword-compiler.com and create a crossword for free. After that, add the Crossword block to a post or page and you will be prompted to enter the URL of the crossword you created. Do that and you're good to go.
Get creative by using clues and words that complement the kind of content you produce. That's a great way to engage your audience while promoting terms that are relevant to your brand.
3. Chess
How many 1,500-year-old games can you think of that people still love today? That's a trick question because there's only one game that fits that description: chess.
Chess is, without a doubt, the most popular and enduring game of all time. Known as "The Game of Kings," you can't go wrong adding it to any website. Of course, if the focus of your blog is chess, adding this game is a no-brainer.
The Chessgame Shizzle plugin can add a full chess experience to your website. On top of providing a fully playable chess game, there are multiple board and piece themes that you can choose from.
4. Dinosaur Game
If you have ever investigated the various easter eggs in Google products, you may recognize the Dinosaur game. You've seen it whenever you're using the Google Chrome browser to visit a website but are disconnected from the internet.
You can add it to your WordPress website with the Dinosaur Game plugin. It is what's known as an "infinite runner" game.
You jump and duck under obstacles while attempting to travel as far as possible. The dinosaur is kind of a pixelated Mario (you know, if Mario was a dinosaur), and almost as addictive.
5. Quizzes
Quizzes have become an online staple. You can't escape them on Facebook, and at least one site, BuzzFeed, has built an online empire on quizzes.
Whether you use them for entertainment or education, quizzes can be a great (and potentially viral) asset to your site.
You can add a quiz to your WordPress website with the Quiz Cat plugin. It's flexible and can be a great educational game plugin for your site.
You can create a quiz about anything. Entertainment, mathematics, science, the finer points of raising chickens…literally anything can be turned into a quiz.
In addition to the entertainment and educational value, you can also use quizzes to collect information from visitors.
6. WoPo Minesweeper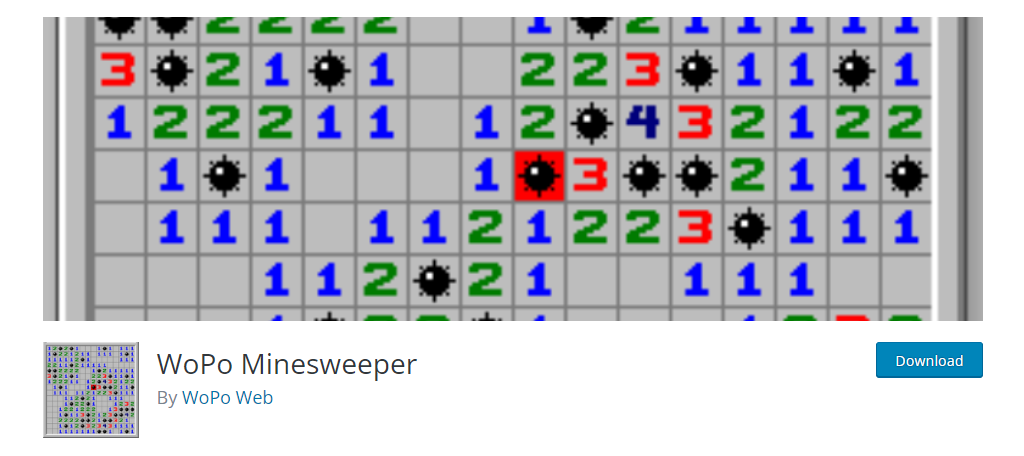 Possibly one of the most iconic computer games is Minesweeper, which originally launched as part of the Windows Entertainment Pack 1 in 1990. While it is no longer part of the Windows install, it is available for free in the Windows store.
Many still try to get the best time to this day, and the runs are pretty insane.
You can add this iconic game in WordPress by using the WoPo Minesweeper plugin. And it's extremely easy to implement as you just need to enter a shortcode into a post or page to add the game.
On a live page, the classic game will appear in its original window, although it is still part of the page or post. This also includes the original three difficulties of Beginner, Intermediate, and Expert.
It's a great callback to one of the most iconic computer games from the 90s and may accentuate a 90s retro site.
7. WoPo Solitaire
Solitaire is one of the most iconic games of all time, digitally or physically. While the exact origins of Solitaire are up for debate, it was an established game by the early 18th century.
In the digital format, Solitaire even predates Minesweeper. Its popularity is still quite high as it is part of both Windows 10 and 11 installs.
As you can imagine, such a high-profile game is also available for WordPress by installing the WoPo Solitaire plugin. And similarly to our last WoPo entry, all you need to do is add the shortcode to a post or page.
And that's it. It will appear in its classic window and be fully playable for as long as you like.
Want More Complex Games? Consider Using Premium Plugins
The free game plugins we've talked about provide great games and puzzles for your WordPress site. However, if you want better-looking or more technically advanced games, there are some paid plugins to choose from.
For example, there are hundreds of game plugins available for Codecanyon's CTL Arcade. The games are all built using HTML5, which makes them work well on mobile devices, which is very important. Remember that half of your visitors will be using mobile devices like smartphones and tablets.
MyArcadePlugin is another excellent premium option with access to a different group of game developers. It also gives you access to a lot of free (ad-supported) games, something CTL Arcade doesn't offer.
Give Your Visitors Another Reason to Come Back (Often!)
If most of what you're doing on your website is blogging, it's only natural to have gaps between new content from time to time. Games are a sure-fire way to give your visitors another reason to come back.
Games can do more than just entertain your visitors. I mentioned that quizzes allow you to collect information from your visitors. Most of the quizzes you see on Facebook are little more than email harvesting tools. And they're quite effective.
Bear in mind, of course, that games are not a substitute for website content. Giving your readers a reason to stop by when there are no new articles is good, but don't forget your website's purpose. Assuming that purpose isn't providing online games. 😉
What are your favorite kinds of online games? Do you recommend any other game plugins for WordPress?