Do you want to add games to your WordPress website? Online games are an extremely popular hobby for most internet users. Thus, they are a great way to boost visits.
The games you can add on WordPress are very simple but can be fun for visitors. On top of this, they can be a nice excuse for people to visit your website even when you haven't added new content.
Today, I will share 5 free game plugins that you can use today. These will add the element of games to your WordPress website.
Why Add Games in WordPress
Games are a great way to pass time and can be enjoyed by all ages. In 2018, over 166 million adults played a video game in the United States. While video games have been refined and improved upon over the years, simple games still have a place.
In particular, short games that can be played for a few minutes are very popular, especially on mobile devices.
Need to wait for a few minutes? Play a game.
You can host simple games for visitors to play on your website very easily.
Free WordPress Plugins for Online Games
The following plugins are all very easy to add to your website and they are all completely free to use.
1. Word Search Puzzle Game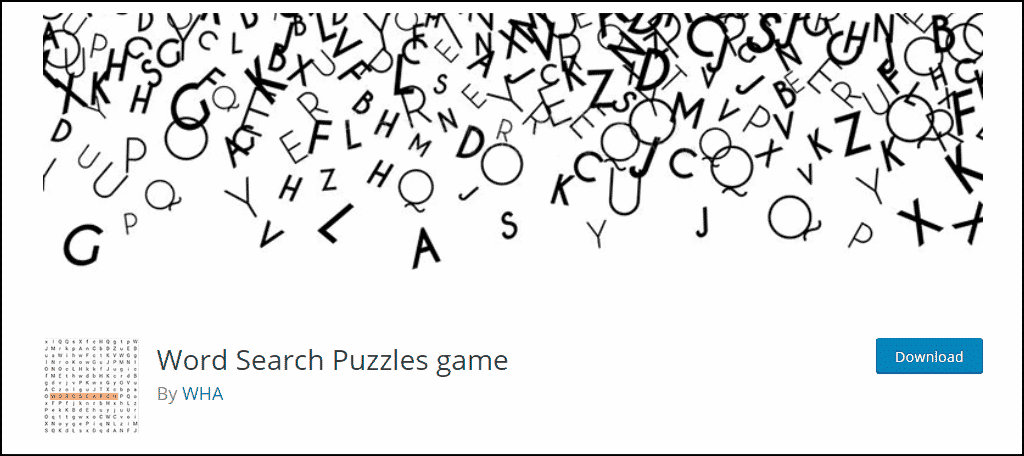 One of the simplest games is a word search. A word search is a puzzle game where letters are arranged in a grid and contain several hidden words written in any direction.
You can use the Word Search Puzzles game plugin to easily add one to your website.
This plugin allows you to create a 20×20 grid and you can add as many words as you like. To add the actual game, all you have to do is copy and paste a shortcode.
2. Crossword Puzzle
A crossword is a puzzle that requires the solver to use a clue to guess a word that must fit into a box. The words can be displayed both vertically and horizontally and will use letters from other words.
WHA Crossword is a WordPress puzzle plugin that makes it easy to add a crossword.
All you need to do is enter a clue and the solution and the plugin does the rest. The more words you add, the more difficult the puzzle becomes.
You can get really creative with the clues and words you choose to match the kind of content you produce. This can be a great way to engage the audience while promoting clues and words which are relevant to your brand.
3. Chess
Chess is one of the most popular board games of all time and it can be a great addition to any website. Especially if you have a blog dedicated to chess strategies!
The Chessgame Shizzle plugin will add the full experience to your website and so much more.
On top of just adding a fully playable chess game, there are multiple board and piece themes that you can choose from.
4. Dinosaur Game
If you have ever taken the time to look up the various easter eggs in Google products, the Dinosaur game should be recognizable. The dinosaur game appears when you are using the Google Chrome browser to visit a website when you are disconnected from the internet.
However, you can add it to your WordPress website with the Dinosaur Game plugin.
This is an infinite runner game where you can jump and duck under obstacles while attempting travel as far as possible.
5. Quizzes
Quizzes may not seem like a game in school, but they can be fun activities when it comes to subjects you enjoy. On top of entertaining, they can be extremely educational, which can be a great asset.
You can easily add a quiz to your website with the Quiz Cat plugin. And thanks to its flexibility, it is a great educational game plugin for WordPress.
Just like blogs, you can create a quiz about literally anything. Entertainment, mathematics, science, the finer points of raising chickens…literally anything can be turned into a quiz.
On top of entertainment and educational purposes, you can also use quizzes to collect information from visitors.
Paid Plugins Offer Even More
If you want to add higher quality games to your website, you might find the free plugins lacking. But don't worry, there are plenty of paid plugins to improve your selection.
You can use Codecanyon to find a wide variety of games that all utilize HTML5.
HTML5 makes it so the game will be functional on mobile devices, which is very important. Roughly half of the views your website receives will come from mobile devices like smartphones and tablets.
Thus, you want to make sure that the plugin supports mobile devices.
Give Another Reason For Visitors to Visit
If your website focuses on blogging, there is bound to be a gap between your content releases. But games might be a good way to add another reason for visitors to come.
Games are a great way for visitors to spend a couple of minutes on your website, but they can do more than that.
For example, you could create a quiz and collect information on what your visitors know about a certain subject. You could even use the results as a talking point in a blog!
Just remember games are not a substitute for content. You still need to create new material.
What are your favorite types of online games? Which games do you have on your WordPress website?