.Currency converters are becoming more and more popular on WordPress websites. A WordPress currency converter allows your website visitors to quickly calculate the exchange rate of different currencies without leaving your website.
In this article, I will show you how you can easily add a currency converter to your WordPress website.
What WordPress Websites Might Need a Currency Converter?
Any type of site can include a currency converter. You may have an online store, a small business website, or a WordPress blog, but either way, it is a good idea to have a WordPress currency converter.
If you have an international audience and/or if you are selling something, then your website can definitely use a currency converter. Here are some examples that would benefit from a WordPress currency converter:
Ecommerce Stores
Travel Blogs
Business Websites
Finance and Mortgage Websites
Banking Websites
Real Estate Websites
Bitcoin and Alt Coin Websites
Forex Exchange Websites
Adding a WordPress Currency Converter
For this example, we are going to be using a WordPress currency converter plugin. First, you need to install and activate the CBX Currency Converter plugin.
The plugin description is pretty straightforward. The plugin converts currency and can be displayed using widgets or shortcode. Once the plugin has been activated click on Settings > Currency Converter and that will take you to the general settings page for the plugin and from there you can set it up as needed.
In order to use the plugin, you have to go get the free Alpha Vantage Financial Data API to query foreign exchange rates. The link to the API page is also set within the plugin page for your convenience.
Note: It is a good idea to also read up on the best practices of working with financial data APIs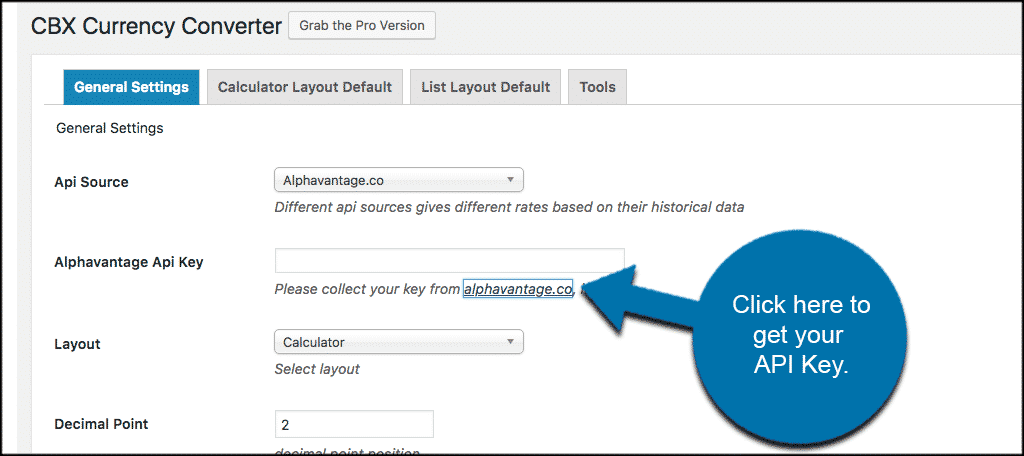 When you have your API key add it into the box provided and then let's take a look at the rest of the settings. Select the layout you prefer from the drop-down list, there are four to choose from. The plugin allows you to display a currency calculator, exchange rate list, or both using these layouts. You can also define the decimal point position.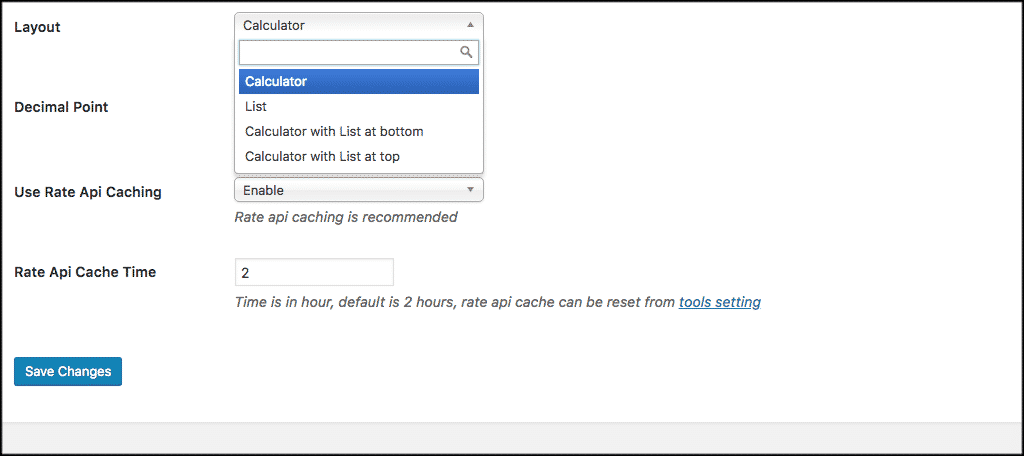 Once you have selected the layout you want, click "Save Changes." The following tab will allow you to set default values for the WordPress currency calculator. From here you can enable currencies, set a default option for currencies, set a default amount for the main currency, and add a title to show above the calculator.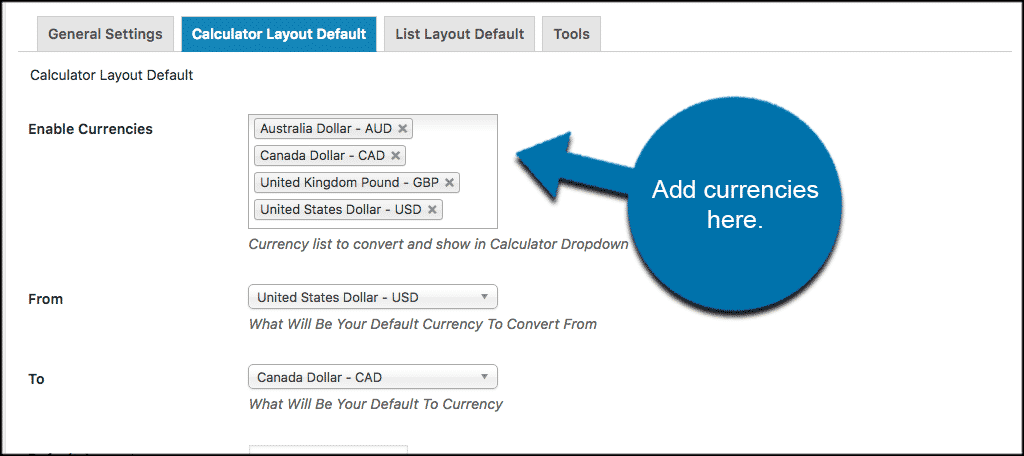 After you have completed the calculator layout selections to your liking click on the "List Layout Default" tab. Select the primary currency and then add a list of other currencies to display in the rate list.
Just like the calculator default settings, you will be able to display the default amount and add the title for the exchange rate list.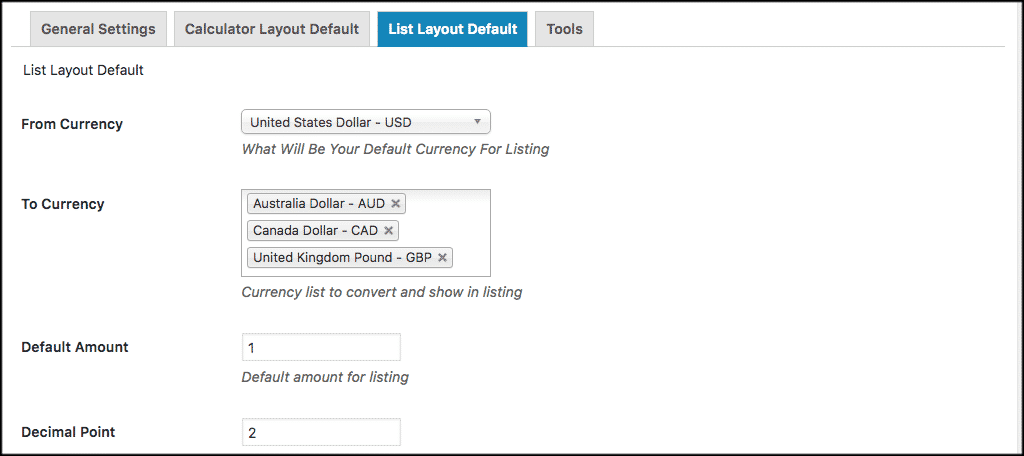 Note: Make sure you click the "Save Changes" button on every tab so that you ensure all changes are saved. If you need to reset the default settings given by the plugin you can do that under the "Tools" tab.
WordPress Currency Converter Display Options
In order to display the WordPress currency converter, you have two options. You can click on Appearance > Widgets and drag and drop the currency converter plugin into any widget area you want.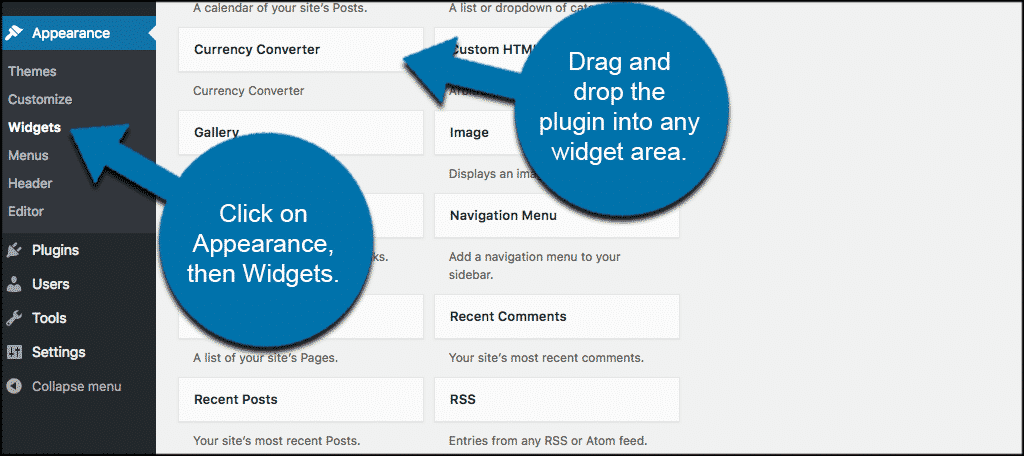 Or you can display the calculator currency converter on any page or post you would like by using the following shortcode.
When you have done either one of these, simply visit the front end of your website to see it in action.
Note: You can also integrate the WordPress currency converter into WooCommerce or most any other WordPress ecommerce websites. However, you will need the Pro Version of the plugin to do so.
What type of site are you running the currency converter on? Do you find the plugin gets used a lot on your setup?
Growing up in Hawaii, Jeremy started his freelance writing career doing resumes, business plans, article writing, and everything in between. He now specializes in online marketing and content writing and is part of the Content Marketing Team at GreenGeeks.