Bookmarks are a fantastic way to keep track of all your favorite websites in Google Chrome. The Chrome browser allows you to add, edit, and modify bookmarks however you see fit. They also offer a great tool that allows you to export bookmarks in Google Chrome.
While you can always get a number of amazing Google Chrome extensions, the ability to export bookmarks in Google Chrome is already built-in. So for this particular process, you will not need the help of any other extension. You simply start in the right access points in the Chrome browser and you will have this process down pat in no time at all.
In this tutorial, I will show you how to export Chrome bookmarks onto your Windows or Mac computer. This will give you a saved copy of the bookmarks on your machine. You can then edit and use this file however you see fit, right from your desktop or laptop.
Export Your Bookmarks in Chrome
Launch the Google Chrome browser on your computer. The Chrome icon looks like a colored ball with a blue dot at the center. You can find it in your Applications folder on a Mac, or on your Start menu on Windows.
Once the browser has been launched you want to click the three-dot menu on the top right of the browser. A dropdown menu will appear. Inside that dropdown menu select Bookmarks > Bookmark Manager.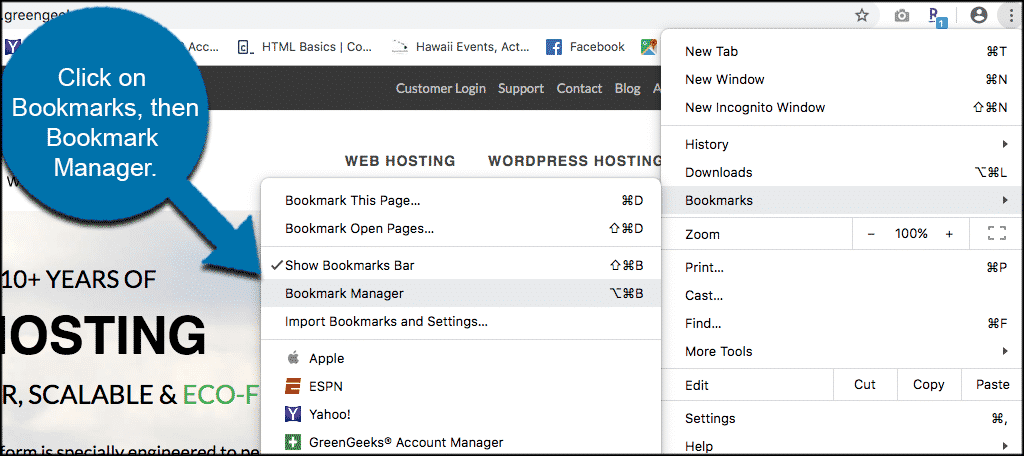 Bookmark Manager will open in a new tab. From this new tab click on the blue three-dot menu on the right. In the dropdown menu that appears here click on "Export Bookmarks" fro the different options given.
Doing this will open a File Explorer window (if you are using Windows) or Finder (if you are using a Mac).
Note: If you do not see this popup window chances are you clicked on the wrong menu item. So try again.
From this window, you can name your Chrome bookmark's file and save it where you want to on your machine. Remember, there is no particular spot you have to save it. Simply save it to where you can access it easily later. Don't forget to click on "Save" to make sure your Chrome bookmark's file saves to your chosen destination.
That's it! You now have an HTML bookmark's file that you can manage from your desktop or import your bookmarks into other browsers.
Other Questions People Ask Regarding Chrome Bookmarks
Here are some other questions people are asking about bookmarks in Google Chrome.
How Do I Make More Bookmarks Visible on My Bookmarks Bar?
You can use built-in folders or create your own to organize your bookmarks into different groups. You can also edit  the name and make it smaller to fit more visible links on your bookmarks bar.
How Do I Get Rid of Chrome Synced Bookmarks?
If you sync devices by mistake and have hundreds, if not thousands, of bookmarks showing, then you can get rid of those unwanted bookmarks by unsyncing and then resyncing the data properly. This is the fastest way right now. You can also delete them one-by-one, but that is going to take a very long time.
Is There a Bookmarks Sidebar in Chrome?
No, not by default. However, you can use an extension by the name of Bookmark Sidebar to achieve this effect. Once added, the extension will allow you to edit, rearrange, and delete using a drag-and-drop style within the sidebar. You will also be able to check for broken URLs.
Why Are My Bookmarks Duplicating?
More often than not this is due to using an extension that is interfering. To fix this, either disable the extension in question, or uncheck the "bookmark syncing in Chrome" option. This should fix any duplicate bookmarks you might have.
Why Do My Chrome Bookmarks Keep Returning After I Delete Them?
It is highly likely that your Chrome sync data is corrupted. To stop this from happening, clear out your synced data, or reset your sync passphrase. You can do this by opening your Google dashboard (make sure you are signed in to your account). Click "Stop and Clear" to stop syncing and clear out all of your synced data. Then click "OK."
Final Thoughts
Exporting bookmarks is not a difficult task when you are using the Chrome browser. Follow the simple steps above and you can quickly and easily export Chrome bookmarks into a file that can be easily managed from your desktop.
I hope this tutorial showed you how quick and easy the process of exporting bookmarks actually is. When you have the steps in front of you, it really isn't difficult at all.
Did you find this process to be simple and easy? What other Chrome browser operations have you been wondering about? Google Chrome can do a lot more than people realize.
Growing up in Hawaii, Jeremy started his freelance writing career doing resumes, business plans, article writing, and everything in between. He now specializes in online marketing and content writing and is part of the Content Marketing Team at GreenGeeks.