Do you want to add a Pinterest Pin-It button directly on your images? Pinterest is a social media platform that focuses on images and photos. It is perfect for websites that focus strongly on producing quality images and pictures. As we all know social media integration in WordPress is an essential part of your website's growth.
Keep in mind that adding Pinterest buttons is different than placing them on your images. Having the Pin-It button directly on the image will encourage your visitors to share the image on Pinterest. Today, I will demonstrate how to turn your images into Pinterest Pin-It buttons in WordPress using the Pinterest Pin It Button On Image Hover and Post plugin.
Why Add a Hovering Pin-It Button on Your Images
You may be wondering why exactly you would want to add a Pin-It button on your beautiful images. The answer is quite simple, user convenience. Being able to see and click the button on the image you want to pin on Pinterest is much quicker than the normal method. The one thing you need to watch out for is that the button does not cover up something important.
While this may require a little more work, the user convenience is worth it. Let's be honest, even if a visitor really likes an image or photo, they probably won't take the time to share it. Making it as simple as possible will increase the chances of visitors sharing your images on Pinterest. The more sharing that happens, the more views your website will get.
How to Add a Pinterest Pin-It Button Directly on Your Images in WordPress
Today, I will demonstrate how to turn your images into Pinterest Pin-It buttons in WordPress using the Pinterest Pin It Button On Image Hover and Post plugin. This plugin will allow you to add a button to your images using a hover effect in WordPress. The button's color is completely customizable, as is the position. The plugin will also allow you to add Pinterest buttons on to your posts, pages, and more.
Installing The Plugin
Begin by clicking on Plugins and selecting the Add New option on the left-hand admin panel.
Search for Pinterest Pin It Button On Image Hover and Post in the available search box. This will pull up additional plugins that you may find helpful.
Scroll down until you find the Pinterest Pin It Button On Image Hover and Post plugin and click on the "Install Now" button and activate the plugin for use.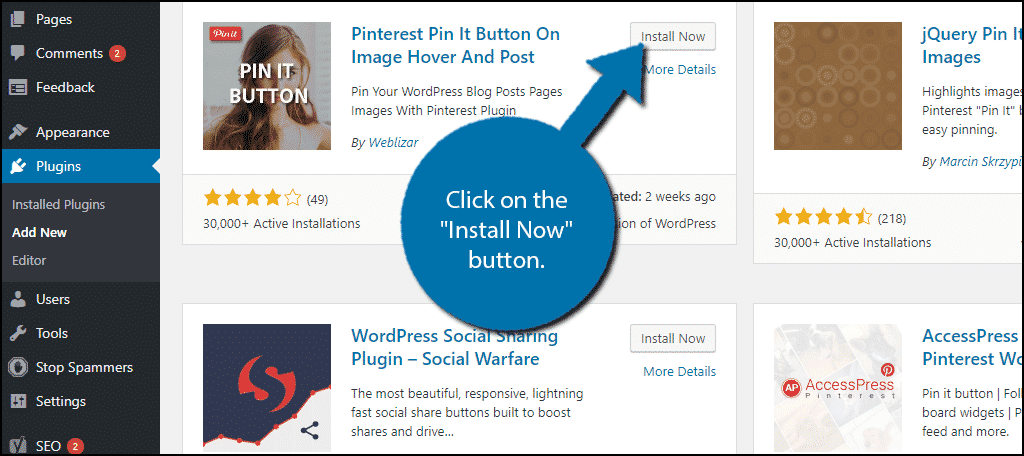 On the left-hand admin panel click on the Pinterest PinIt Button option. This will pull up the main settings page.
Using The Plugin
Be aware that some plugins can interfere with this plugin. If you are not getting the proper results, the plugins you have installed may not be compatible.
By default, this plugin will have most of its features activated. You can determine which features you want on or off by selecting them on this page. Make sure that you say yes to the Show Pin It Button On Image Hover option.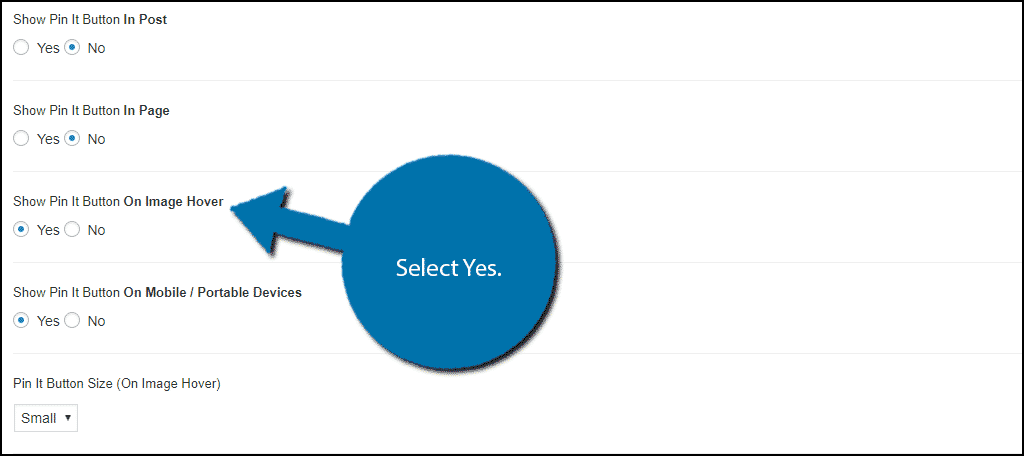 Once you have the settings picked out, click on the "Save Settings" button at the bottom of the page.
Go to any post or page with an image on it. When looking at the image, you will notice that there is no button. That is because the button is activated by a mouse hovering over it. This way it will not impact users who want to enjoy the images, but it will still make it convenient for them to share the pictures.
Congratulations, you have successfully added a Pin-It button to your WordPress images. Keep in mind, that you should advertise this to your user base. Many visitors may not actually hover their mouses over the images. They would then be missing out on this awesome way to share images on Pinterest.
Embrace Social Media
Social media is an integral part of the online community that will visit your website. Fully embrace your website and add features that support your users' favorite platform. Facebook, Twitter, Instagram and Pinterest have an absurdly huge user base. This is exactly why most companies and businesses advertise and market on these platforms.
Facebook alone has over 2 billion users a month. That is more than a quarter of the population of Earth. Being able to tap into any fraction of that user base will result in millions of views for your website. Always stay caught up on what your user base is interested in and try to support it.
Do you notice more of your images being shared on Pinterest? Do you have any other social media platforms on your website?
Chris is the Support Manager at GreenGeeks and has been with the company since 2010. He has a passion for gaming, scripting and WordPress. When he's not enjoying his sleep, he's working on his guitar skills and fiddling with 3d printing.