You need a better, faster web host.
Free Site Migration, Amazingly Fast, Secure & Eco-Friendly WordPress Hosting with 24/7 Support.
Check Out Our Hosting Plans
Do you use emojis all the time when texting and want to add them to your WordPress content? Don't worry, the popularity of emojis knows no bounds and WordPress has a few different options for getting them on the platform.
Emojis represent cute, sad, angry, happy, or any other emotion you can imagine. They are not just limited to faces showing moods either, they can also be objects, flags, words, letters, or numbers. Emojis are added the same way that other popular typographies are, by using a plugin, using an emoji content library, or by custom CSS if you know how to code.
Why Use Emojis in WordPress
Emojis are still used often when people create website content. They allow you to share emotions with one simple picture and can help readers get a better sense of the tone. Emojis find their place on some less professional websites and can add a little flair to a website. The most important thing is that emojis fit the tone of your website and enhance the content you create.
To be fair, they don't exactly belong in certain websites. This is because emojis are not exactly the pinnacle of professionalism, but I'm sure you could imagine why.
For example, imagine a serious article related to a very sensitive topic, like a news article. Adding emojis can hurt that article. Some readers will see the emoji and not take anything written in the article seriously.
Keep in mind that emojis don't exactly fit the tone of every website and may not be a good choice to use, but there are plenty of websites that use them effectively.
Let's take a look at how to add emojis to WordPress.
Copy and Paste From Emoji Library Resources
Right now, the most ideal way to add emojis into WordPress is to copy and paste them from an online emoji resource library. A really good one to use it Get Emoji.
The process is very easy. It is exactly what you think it would be. You simply go to the website and search the emoji library for any type of emoji you are looking for.
When you find the one you want, highlight it, and then use the copy and paste tool on your computer.
Now just go to your WordPress editor and paste the chosen emoji into the place you want it to show.
That's it. You can copy and paste as many emojis into WordPress as you want. This process works perfectly in the Gutenberg block editor as well. You can also checkout EmojiPedia as another online resource library.
Add Emojis Using a Plugin
You can also add emojis in WordPress using the Native Emoji plugin. It is a very simple plugin that just requires to be installed and the emojis will appear on your toolbar. It has over one thousand WordPress emoji icons to choose from.
Let's start off by clicking on Plugins and selecting the Add New option on the left-hand admin panel.
Search for Native Emoji in the available search box. This will pull up additional plugins that you may find helpful.
Scroll down until you find the Native Emoji plugin and click the "Install Now" button and activate the plugin for use.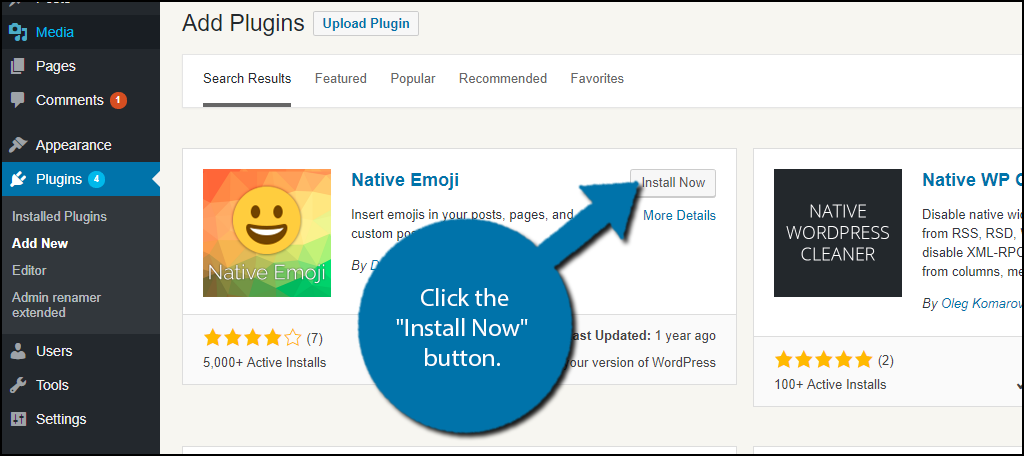 Go to any page, post, or blog you would like to add emojis too. Click on the "Emoji" button located on the toolbar, represented by a smiley face.
You will see a lot of emojis appear in a small box. This box has 9 tabs and each tab has its own kind of emoji. These tabs include
Frequently Used
Smileys
People
Animals & Nature
Food & Drink
Activities & Sports
Travel & Places
Objects & Symbols
Flags
Simply click on any of the emoji and add it to your page, post, or blog.
Congratulations, you can now use emojis within your content. Try not to go overboard when using emoji as they can definitely dilute your content and some visitors do not like to see emojis inside articles and blogs.
Make sure you are always listening to your visitors when you are choosing to use emojis or not. If emojis are successful on your website, then you may also consider adding other types of content like GIFs.
Note: Even though the Native Emoji plugin has not been updated in a while, we did confirm that it currently still works on WordPress version 5.2.4. None of the main emoji plugins have been updated which is why The copy and paste method is listed first.
Using Outdated Plugins: Please also be aware that using outdated plugins may cause security and compatibility issues.
Make Sure Emojis Are Right For Your Website
Emojis are extremely popular in texting and messaging on social media. However, they are not used as much as you would think in written content. The content that your website produces reflects your business's image and you should always try to be as professional as possible.
The way people view your website can directly affect which companies are willing to advertise on your website. For example, you won't find any Disney ads on a mature website that deals with unhappy and unsuitable content for children.
On the opposite side, you won't see mature companies advertising on websites whose audience is mainly children. It is important to make your website advertiser-friendly, but keep in mind that there is no way to be advertiser-friendly to every company because they have different audiences.
Which emoji is your favorite to use? What kind of content will you be using emojis in? Why do you think emojis are good to use in that content?
Author:
Ron Helms
I currently work for GreenGeeks as a Support Technician. My primary roles are supporting our VPS and Dedicated server clients, as well as performing site migrations. With experience in the web hosting industry since 2009, there is rarely a question I can't help answer. In my spare time, I enjoy gaming and working on cars as an automotive enthusiast.