By default, WordPress shows the order of posts by the publish date. This means the most recent posts are displayed first. However, not everyone wants a chronological recording of their content. What if you want to see a specific WordPress post order?
Instead of going through and changing the publish dates of specific content, you can make WordPress use a drag-and-drop system. This can save you a great deal of time by eliminating the need to go into every post to change each date.
In this tutorial, I'm going to show you how to set up WordPress to use drag-and-drop for arranging posts. It's a simple process that you can start using in mere minutes to rearrange your content.
Why Use Drag-and-Drop to Change the WordPress Post Order?
Sequence of Events
While chronological posts work great for news and magazines to show the latest information, some content makes more sense to display in a sequential order. For example, a series of "how-to" pieces that take readers from start to finish of a project may appear to make more sense by showing the beginning first.
Showing Off Certain Posts
Maybe you developed that perfect post months ago you want everyone to see. Rearranging the layout so it shows first may help increase traffic to the content. Another use would be to move something you created that is more relevant today because of trends or hot topics around the world. In a way, it's like repurposing your old content for today's news.
Getting More Views to Weak Pieces
Every blog has those posts that don't really seem to get anywhere when it comes to traffic. Moving it to the front of the line may help it get more exposure when people visit. While it won't force people to click on the piece, it will still help in boosting the post's awareness.
Setting Up the Drag & Drop Post System in WordPress
Today, I'm going to demonstrate how to use the Post Types Order plugin. This is a simple addition that affects the operations in the backend of WordPress, and it does not affect your speed for search engine optimization. It does give you the ability to move your posts according to how you want them to appear.
To use this plugin:
Go to the plugins area of the WordPress dashboard and click the "Add New" button.
Search for the plugin, "Post Types Order."
Install and activate this plugin. It will add a new option in the settings area of WordPress.
Go to "Settings" in the left admin panel and click the link for, "Post Types Order."
In the interface, you'll see a variety of options available to control the plugin. You can change the order of posts, media and feedback by leaving the options to "Show." You can also assign who can use the ordering option based on their user roles in WordPress. Keep these all at defaults for now and click the "Save Settings" button on the bottom.
Go the posts area of WordPress and click the new function for, "Re-Order."
This next screen will show you every piece of content on the website whether it's published or saved as a draft. From here, you can hold down the mouse on any article and move it about freely. Once you are done rearranging your work, click the "Update" button on the bottom.
Go back into the standard Posts screen like you were going to edit a piece of content. You'll notice your mouse now has the four-arrow icon for drag-and-drop. This means you can also arrange how your posts appear in the admin screen. Simply hold down the mouse on any post and move it where you like. This can be incredibly useful if you're working on a long piece that takes you days to complete and don't want it to get buried among drafts and posts.
It's important to note that this plugin will also affect those who use custom post types. Many plugins will install a way to create these posts individually from the WordPress system. Post Types Order will work with most of these plugins to rearrange that content as well.
Re-ordering Media
Posts are not the only things that can be re-ordered with this plugin. If you go into the Media area of WordPress after installing Post Types Order, you can also change what images are displayed first. This is done by clicking the "Re-Order" link in this area.
Unfortunately, the plugin doesn't allow drag-and-drop when looking directly at the library.
Although most people don't display access to the media folder from the front-end, you can arrange the files to display for admins and contributors. Why would you want to do this? Perhaps you have a company logo or other branding graphic that needs to be in every piece. Moving it to the top will make it easier to find when creating content.
Rearranging Feedback
If your website uses feedback, Post Types Order will also give you control over moving those messages around. For example, you can easily shift the most positive comments first as a way to further promote the site.
This is done by going into the Feedback area of the WordPress admin panel and clicking the "Re-Order" link. You can also move the comments around in the primary area of Feedback.
Did you know…?
You can hold down the left-click while simultaneously scrolling up or down with the mouse wheel to move the browser window while dragging an item? This is helpful if you're dragging something from the bottom of the list all the way to the top. By the way, this technique works in many Windows platforms and software.
Other Plugins to Alter Post Order
While this plugin hasn't been updated in a very long time, it works just like the one featured in this tutorial. I did test it with WordPress 4.7.1, so I know it works. The biggest difference is that this plugin doesn't have its own sections for re-ordering. This makes it difficult if you want to move something from very far down the list.
GNA Post Order delivers a drag-and-drop interface for arranging posts and custom post types. It's not as popular as the one I featured in this tutorial, but it does give you the ability to view the layout of your posts in the admin interface.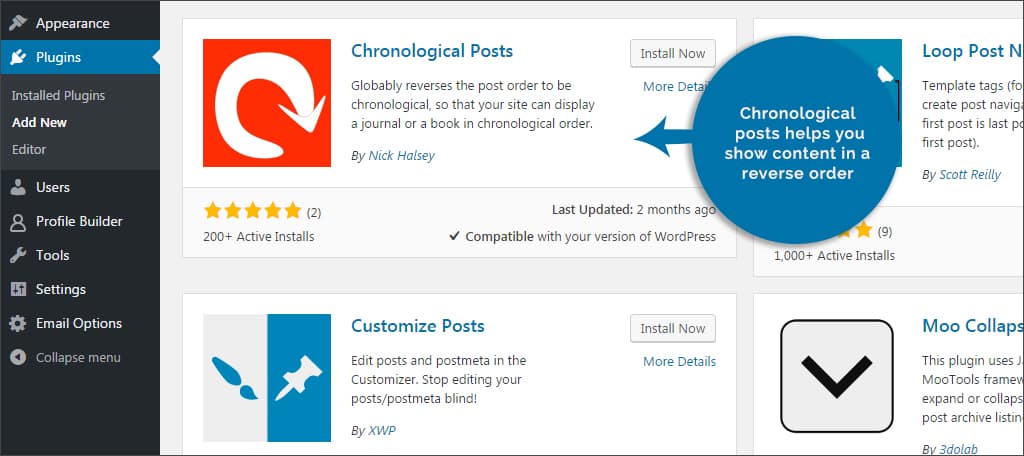 This isn't a plugin that lets you manage how the posts are displayed. However, Chronological posts helps you show content in a reverse order. For example, it would be an excellent tool for those who are creating historical pieces, journals, advancing digital books and other content which makes more sense to show the beginning of the journey first.
There are a variety of reasons behind why people would like to change the WordPress post order. Whether it's to show off certain content or show trending information up front, a simple move will affect how visitors perceive your site. This is just one way how you have greater control over content in WordPress.
What kind of administrative tools have you installed on your site? What is the most popular piece of content you've ever created?
Kaumil Patel is the Chief Operating Officer of GreenGeeks and has over 13 years of experience in the web hosting industry working for and owning web hosting companies. Kaumil's expertise is in marketing, business development, operations, acquisitions and mergers.