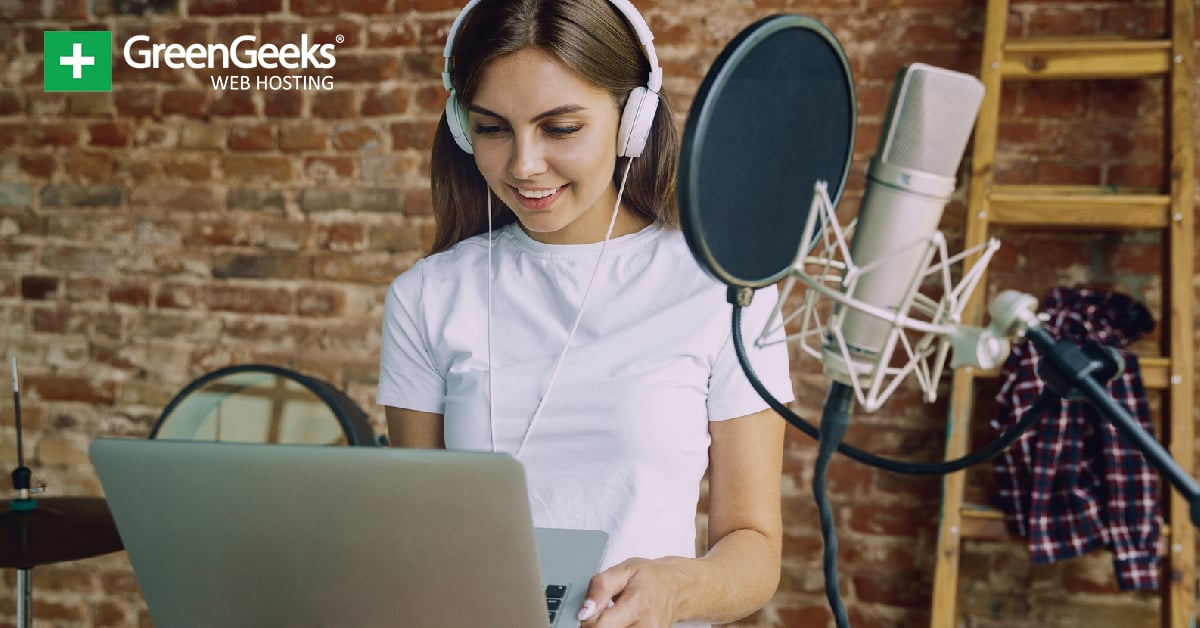 Everyone listens to music. It's one of the few common cultural things that we share despite the divisions we create between ourselves. Music unites people from different ways of life, different cultures, even different countries. A music blog can do the same things. It can bring people together around a band, performer, or style of music.
What Is a Music Blog?
Music blogs are like music itself, expansive and wide-reaching. There are music sites devoted to specific artists or genres of music. Music history. Forums for discussion. Some sites are download hubs. Review sites, video sites, bootleg sites. Websites run by the bands or performers themselves. There are an endless number of possibilities.
So You Want to Build Your Own Music Blog?
Good news, you can do it! If you've been wondering how to start a music blog and need a bit of direction, you'll find it here. It can seem like a lot of moving parts, but when we break it down, it's really not that complicated.
Here are some things you'll need.
A Specific Interest
The web is like a big city. If you look at New York, Los Angeles, London, Toronto, Tokyo – any big, diverse city, you'll notice something. They are all made up of regions or neighborhoods. They are not one thing, they are the sum total of a lot of things. Sometimes, very different things.
The web is the same. It's made up of a countless number of different niches. So rather than starting a blog that's about "music," in general, you should find your niche. Find your specific interest, your neighborhood, and set up there. There are successful music sites that are not focused on a niche, but they are the exception to the rule.
Love
Love? Yes, love! You have to love the subject you're blogging about. If we were talking about a business blog, I'd say you need passion (because…who loves business?). But talking about "passion" has become a bit of a cliche. So since we're talking about music, we'll talk about love.
You've got to have it. Blogging is fun, and talking about the music you love is fun. But work is also a big part of running a blog, or any kind of website. If you're not in love with your subject, that work is quickly going to become a drag. But as we all know, work can be enjoyable when you're doing something you love.
Your Own Website or Blog
A lot of people establish sites on platforms like Facebook or blogging sites like Tumblr or Blogspot. But if you want to be in control and have room to grow, you need your own website. I'll go into that in more detail, but to me, it's the most essential element of your new blog. If you're in it for the long haul, you need your own name and your own space.
Let's Talk About That Website
I understand that when someone like me says, "Okay, now go build your website!" it can sound implausible. Especially if you've never done anything like it before. But the reality is, building a blog or website is easier than it's ever been. You don't need to hire a design firm or a web developer. All you need are the right tools. And those tools are easy to use, I promise.
Your Website's Home
Your site's home is the web host, and GreenGeeks is the host I recommend. I work for GreenGeeks, so naturally, you'd expect me to suggest that you go with us. But I know the people behind the name, and I can tell you that they care about what they do. We've put a lot of time and resources into building a superior platform, and you can reap the benefits.
Not only that, but did you know that GreenGeeks is the most eco-friendly web hosting company on Earth? That's a bold statement, I know, but it happens to be true. We match every kilowatt of power we take from the electrical grid with three times the amount in the form of renewable energy via the Bonneville Environmental Foundation.
If you are concerned about the resources your website uses, GreenGeeks is for you.
Your Blog Should Run on WordPress
I said that it's easier than ever to create your own blog or website, and WordPress is the reason. It's easy to install, it's flexible, expandable, and it was built for blogging. But it's more than just blog software. It's a framework you can create an entire site on, and amazingly, it's free.
You can set up WordPress on your GreenGeeks account in minutes. See how everything is already starting to work together? You can do this! So let's get down to it.
Make Your Blog Sing With the Right Theme
Okay, I don't know if the right theme will make your blog sing, exactly. There are thousands of WordPress themes, and honestly, they all do pretty much the same things. But, they are the jumping-off point for your site's appearance. So the closer you can get to the finished look that you want, the better.
Here are a few that are suited to a blog about music.
Music Freak
The Music Freak theme is easy to customize and compatible with every viewing device out there. Built for musicians, bands, DJs, and everyone else who loves music, the theme hits all the important notes. You can easily customize your background, header, logo, and menu. It also has a featured image header, featured images, footer widgets. It's ready to go.
Musican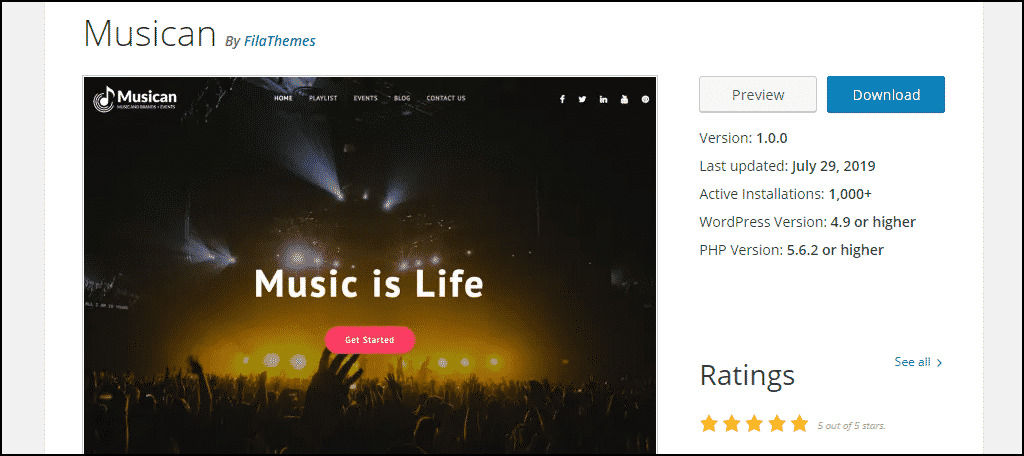 Musican is another theme made for musicians, artists, bands, producers, and anyone working in the music industry. It's a creative theme that takes advantage of the latest design trends. It includes all the must-have WordPress theme features, like custom logo and menu, and featured images. Choose between a full-width template or right sidebar. Install it and go!
MH Magazine lite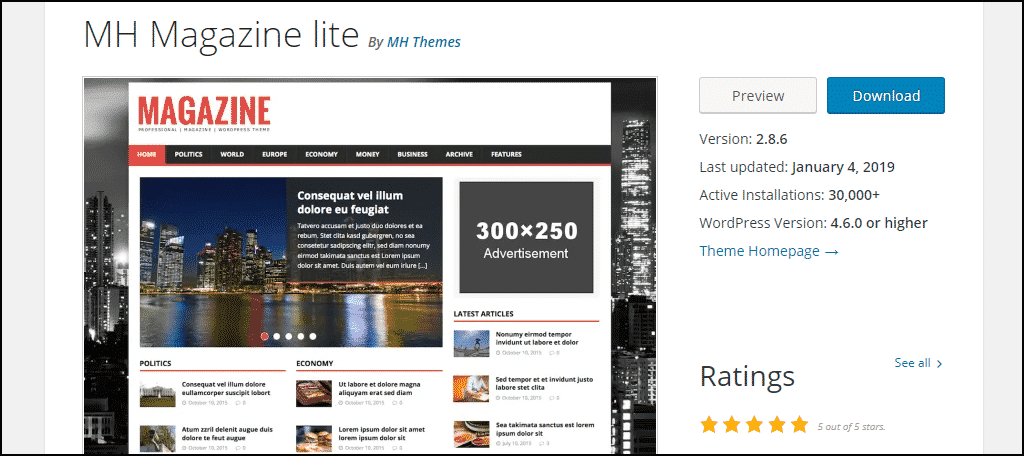 MH Magazine lite isn't specifically created for a music blog, but it's an excellent foundation for any site. It's fast, SEO friendly, and has several child themes built around it. In fact, one of them is coming up next. But it's also a good choice all on its own.
MH MusicMag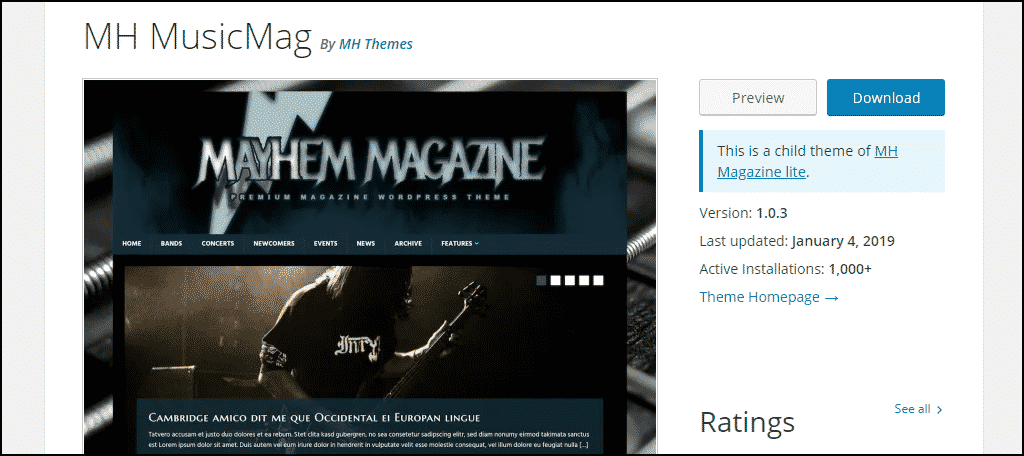 It's dark, it's foreboding, it's MH MusicMag! It's also a child theme of the above theme, MH Magazine lite. That means you'll have to install both themes, but that's not a bad thing. If a darker theme and typography fits your subject, MH MusicMag could be the ticket.
TimelineBlog
TimelineBlog is a little different. But if you're making a site for a particular band or musician, a timeline presentation can be cool. This is the best way to show posts or pages in a creative, chronological way.
The design is responsive (as are all of the themes recommended here), so it adjusts to different devices. If you haven't considered a timeline layout, maybe it can work for you.
WordPress Plugins That Make Music Blogs Come Alive
Did I say that all WordPress themes were pretty much the same? I suppose I did. But plugins are a different matter. Plugins change the way your WordPress blog works. They bring the functionality.
mb.miniAudioPlayer
The mb.miniAudioPlayer transforms any mp3 file uploaded to a post into a small audio player. The player has a volume and seek controls, a title bar, play, rewind, and mute buttons. If you plan to use MP3s in your blog, mb.miniAudioPlayer is a good, reliable, and low-impact solution.
Music Store
Install Music Store if you intend to sell your music on your site. Music Store is ideal for selling any audio files: music, podcasts, narratives, etc. Music Store integrates with PayPal and secures and protects your audio files, preventing unauthorized downloads.
If you want to encourage discussion on your music blog, there's no better tool than a forum. And for WordPress, there's no better forum plugin than bbPress. Full-featured and reliable, bbPress makes discussions an integral part of your site. We have a tutorial for installing and configuring bbPress. Check it out if you decide (which you should!) to add a forum.
MF Gig Calendar
If you're building a blog for your band or something like a music festival blog, you need a gig calendar. MF Gig Calendar—which was developed by a working musician—will do the job.
You can set beginning and end dates for multiple-day events. Event descriptions can include styled text, links, images, and other media. It creates an RSS feed so visitors can subscribe. It even has a widget to list upcoming events in a sidebar or footer.
AudioIgniter
AudioIgniter is another music player. If the mb.miniAudioPlayer recommended above isn't your thing, try AudioIgniter. You can create and embed playlists into your posts and pages. You can even use AudioIgniter to stream your radio show. Assuming you have a radio show. But that's a pretty good idea. Make a note of it. 😉
Spread the Music Around the World
You're putting a lot of effort into your music blog, so you should also put in some promotion time. There are a lot of ways to spread the word; here are just a few.
This one is obvious, and that's why it's first on the list. Create new social media accounts for your blog and update them frequently. Facebook lets you create pages, and you can use one to promote your blog.
And don't forget Instagram and Twitter. Stick with the established sites. You'll probably find that certain types of social media work better for you, but start with as many as you can handle. You can get rid of the non-performers as you go along.
Ello
What now? I know you've never heard of it, but Ello is a social media site that's been around for years. It's established and growing, and best of all, it caters to a creative audience—the perfect target for your music site.
If you become involved there, the other members will visit your website. I see much more significant traffic to my sites from Ello than from any other social media. Even Facebook.
Blog
If your site is mainly used for the promotion of your musical efforts, you may not have considered a blog. But you should start one. You're using WordPress for your site, so blogging is built-in. Don't look at a blog as something separate from your website. They're two branches of the same tree.
Forums
Find forums where people are interested in what you're doing and post about your new website there. Make sure to contribute to the conversation while you're promoting. This one can be tricky if you're trying to start your own forum, so if that's the case, be delicate.
Discussion sites like Reddit can drive vast amounts of traffic to a website. If you can find kindred spirits on Reddit and build a presence there, you can quickly grow an audience for your blog.
Get Your Friends and Acquaintances Involved
Music sites are social sites. Lay the groundwork for your music blog by starting with people you know. They're an excellent promotional resource, and they'll be on your side and want to help your site grow.
What Can a Music Blog Do for You?
You're probably thinking about what your blog can do for others. But it can benefit you too.
Make Connections
Finding your tribe is a powerful thing. And there's nothing like music for creating tribes. Interaction with like-minded people is what drives the entire social web. And sometimes your group can turn you on to something you hadn't heard before, which is always a welcome surprise.
Promote Your Music
If you're a musician, the web is your lifeline. It's possible to grow and sustain a band now without any press or record label involvement. That's all thanks to the web.
Your site is your home on the web, so nurture it and do all you can to make it grow. Technology is on your side! Take it from someone who toured in the pre-cell phone era. The world is a much better place for musicians now.
Turn You Into a Historian
Have you ever searched online for a lesser-known band or musician that you love, but not found many good results? Your music blog could easily become the good results you were looking for.
Even for an established artist, if you can build a great site devoted to them, you can become the destination. And the more visitors you attract and interact with, the more you learn. The more you learn—and share—the more you become a de facto historian for the artist.
One Good Thing About Music, When It Hits You Feel No Pain
Bob Marley sang that, but it doesn't matter whether you're into reggae, the words ring true for all music. We're affected emotionally by all great music, regardless of the style. When you love it, it hits you hard. So it's no surprise that there are a lot of blogs and websites devoted to music.
But don't let that discourage you. Starting a music blog is like starting a band. If musicians looked around and said, "Well, the Beatles already did everything, what's the point?" new groups would never form. But they don't say that. They figure they have something unique to add to the mix.
And the same thing applies to your blog. Whatever you create, it will be one of a kind because you're one of a kind.