Running contests and giveaways is a great way to keep visitors coming back and grow your website and social media profiles. And one of the best ways to do this in WordPress is to use the Woorise plugin. It's easy to use and effective.
The plugin itself requires no setup, you actually just need to install it and you're good to go on WordPress. However, you will need to set up a Woorise account and create the contest on its website. After that, you just need to paste the shortcode into a page or post.
Today, I will demonstrate how to do all of this with the Woorise plugin in WordPress.
The Importance of Running Giveaways
While you may think that contests and giveaways are for the big-name brands that can afford them, you couldn't be more wrong. It is a proven fact that they can help your brand grow much faster than normal.
In fact, giveaways have a conversion rate of 34%!
And the prizes don't have to be that big to even get results. Offering a 10% discount code or a gift card in your store is a great option. And that's because it gets customers into your store. The normal shopper usually overspends.
Thus, even if you are giving them money to spend, they have to add some of their own.
It's also a great way to get customers to interact with things they may not normally. For instance, let's say you made a few surveys for WordPress. Most visitors will not bother with a survey, however, if you include some kind of contest or giveaway with it, people often participate.
How to Use Woorise to Run a Contest
Step 1: Install Woorise
Woorise is a great plugin to use and requires no setup in the plugin. It allows you to add contests, giveaways, surveys, quizzes, and more to your WordPress website. Yet, keep in mind that you will need to make a Woorise account to use the function.
Unfortunately, this does mean that you will have to leave your website to create each contest or giveaway. Thus, if you want to do everything from your website, you might want a different plugin.
Begin by clicking on Plugins and selecting the Add New option on the left-hand admin panel.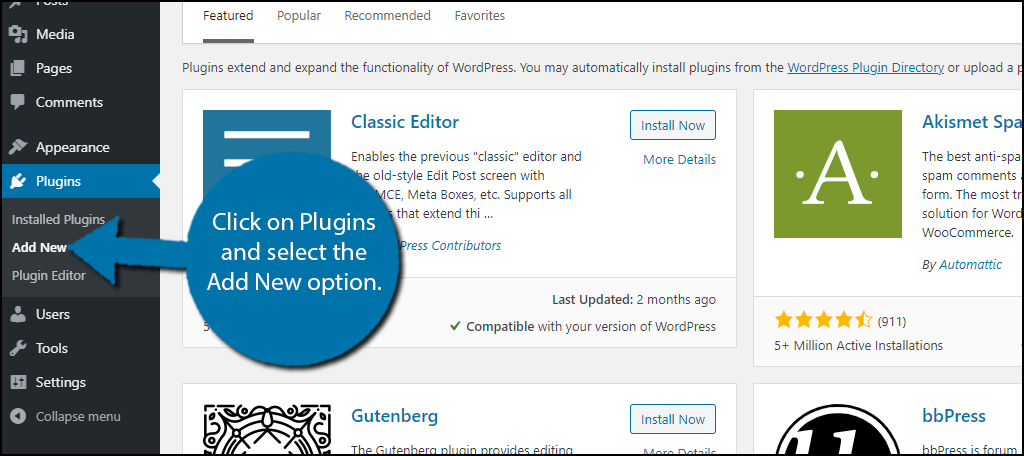 Search for Woorise in the available search box.
Scroll down until you find the Woorise plugin and click on the "Install Now" button and activate the plugin for use.
Upon installation, you will notice the lack of any settings options or any indication that you activated the plugin. And that is because there is none. Instead, you simply need to enter the campaign code from the Woorise website into the Woorise block.
Step 2: Create A Woorise Account
You must create a Woorise account, and luckily, it is free to do. That said, there are paid plans available that you might want to consider using for additional options and customization.
Note: If you already have an account, feel free to skip this step.
Visit the Woorise website and click on the "Start Free" button.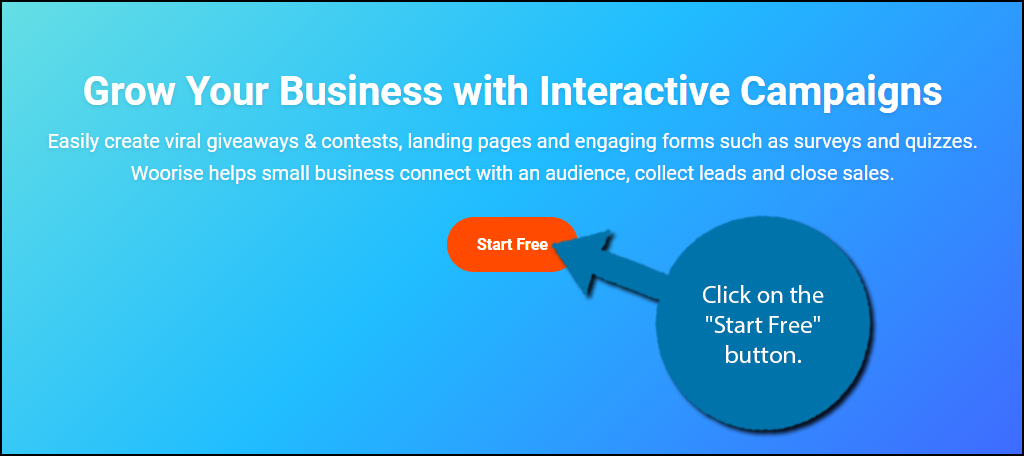 You now need to enter some personal information like your name, email, website name, and create a strong password.
Click on the "Sign up for Free" button when you are ready.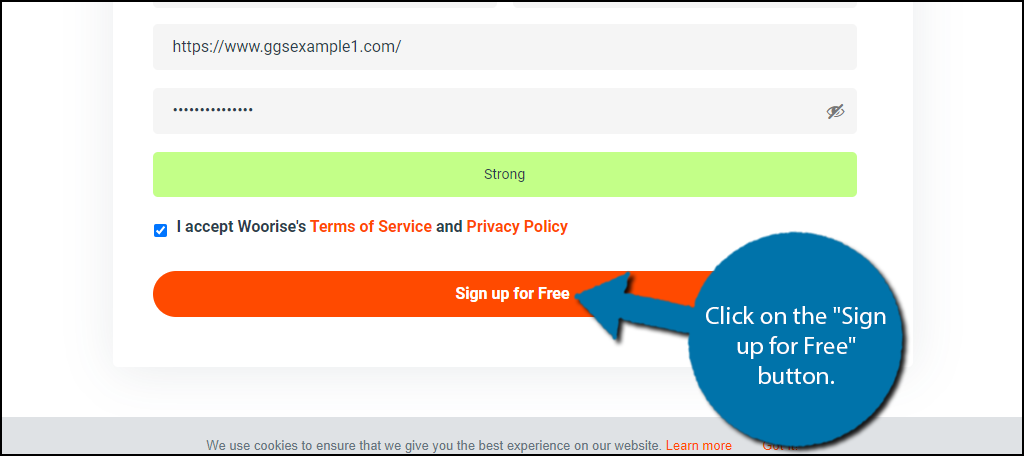 You will now be sent an email with the activation link. Click on the link to activate your account.
After this, you can log into the website with the username and password you created earlier.
Step 3: Create A Campaign
After login in, you will be on your Woorise dashboard. Here you can view all of the stats of your campaigns and begin new ones. If you just created a campaign, everything should be empty.
Click on the "Create A Campaign" button.
Here, you will see a full list of available templates you can use. They are divided into separate categories and include Giveaways & Contests, Forms, Surveys, Quizzes, Polls, Lead Generation, and Order & Payments.
For this tutorial, click on the Giveaways & Contests tab.
You can run a contest on a wide variety of popular platforms like Facebook, Steam, Twitter, Twitch, YouTube, Instagram, and more. If you plan to do a contest or giveaway on a specific platform, pick that option, otherwise select the Basic Giveaway option.
This will bring you to the editor, which should look familiar. That's right, it's the Gutenberg editor from WordPress. Here, you can edit everything on the page from the text to the images, and even add new elements such as videos.
Simply go through the template and change it to meet your website's needs. When you are done, click on the "Publish" button.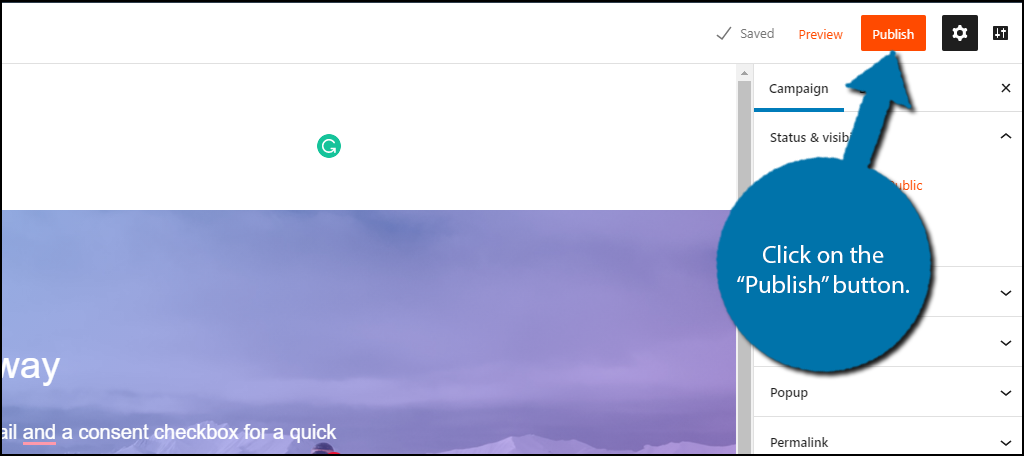 You can repeat these steps to create multiple giveaways using Woorise. The process is almost identical for platform-specific events, but you will have to enter additional information related to that platform.
Step 4: Add the Campaign in WordPress
And finally, it's time to add this campaign to WordPress. The way you do this depends on what you choose to use.
For most people, you will use the Gutenberg editor. There is a Woorise block that will allow you to enter your campaign's URL, and the form you created in the previous step will be viewable on that post or page.
If you are using a page builder like Elementor, simply enter the following shortcode into the text:
[ht_message mstyle="info" title="" show_icon="" id="" class="" style="" ][woorise url="https://woorise.com/sitename/campaign"][/ht_message]
And if you are still using the Classic editor, simply copy and paste the campaign's URL into the post or page.
Congratulations on setting up the Woorise plugin. Keep in mind that while this tutorial focused on the Giveaways & Contests aspect of it, you can create many other types of content like quizzes and surveys.
Take Advantage of Platform Specific Giveaways
You might think that running a giveaway for your website is the best course, but that would be wrong. Instead, using other platforms that you have a presence on and that can reach a larger audience is often more successful.
For instance, you could run an Instagram follower giveaway in WordPress. Many websites have a presence on Instagram and even use the same images on their website.
Of course, if your website has a better presence on another platform like YouTube or Twitch, then those are better candidates to run a contest on. The point is you can reach more people on bigger social media platforms and contestants are more likely to share them with friends and family.
More contestants means more conversions.
Give A Good Prize
Let's not beat around the bush, while you can give away small rewards and still find success, fewer people are going to enter a contest for a 10% discount code versus getting an item for free. If you make sure your contest has a good reward, you will get better results.
And this doesn't just mean the value of the item. For instance, giving away a $100 gift card to McDonald's on a fitness website would probably not go over well, although it would make a great April Fools joke.
Make sure the prize is relevant and worthwhile when running contests.
What kind of giveaways are you running on your website? Do you run giveaways on different platforms like Facebook or YouTube?