Coming soon pages are a very common thing to come across when you are looking at WordPress sites that are being built and updated. They give site users updates and also let Google know that a site is either being built or being maintained. You can accomplish this by using a coming soon plugin for WordPress.
There are quite a few coming soon plugins available. However, today, we are going to focus on one in particular that gives you quite a few solid tools.
What is a Coming Soon Page?
A coming soon page, or under construction page, is a page that gives users a preview or updates of what your website is going to be. Basically, you are telling visitors what is coming soon and what might be in store for the future.
A majority of these pages will include other information and marketing tips that you can use to gain subscribers and market your site across social media and other avenues. When someone has updates and knows what is going on behind the scenes, they have a better idea of what they are waiting for and you can really build interest for your site launch.
I am going to show you how to install and set up a coming soon page on your WordPress website. Let's take a look at the plugin we are going to use today and see what all it has to offer.
Coming Soon Page, Maintenance Mode & Landing Pages by SeedProd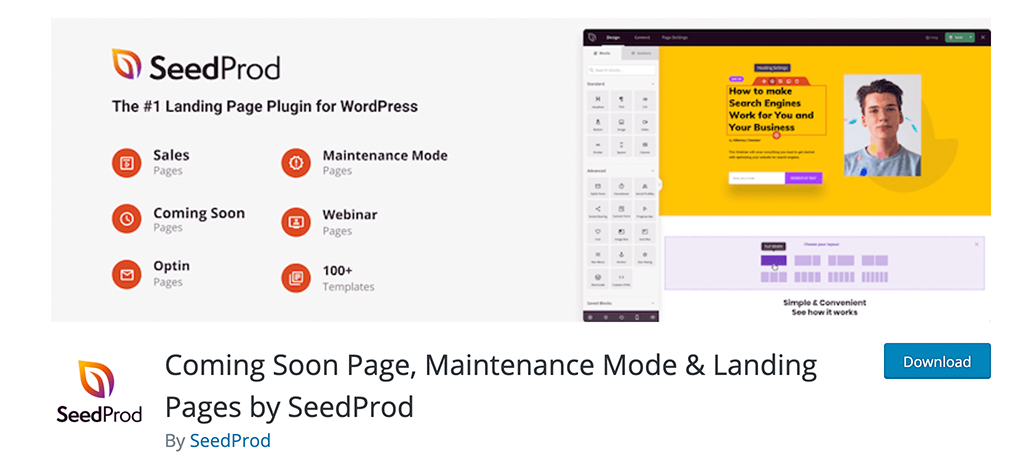 Coming Soon Page, Maintenance Mode & Landing Pages by SeedProd is a smooth plugin that allows users to easily set up coming soon and maintenance pages on a WordPress website. It is a pretty straightforward and easy-to-use plugin, despite being packed with features.
Once installed and activated, you simply pick what type of page you want to deploy, and then start building it from there using all the tools that are provided. The plugin sends the right messages to search engines based on what you set.
This coming soon plugin is packed with a ton of features. Some of the main ones include:
Works With Any WordPress Theme
Drag and Drop Page Builder
Create 404 Pages
Tons of Blocks to Build Around
Customizable
Mobile Ready
Responsive
Add Custom CSS and HTML
Multisite Support
Translation Ready
BuddyPress Support
Uses WordPress Best Practices
Multiple Page Styles
You can implement a coming soon image as well, or style and customize the plugin exactly how you want. Let's get it installed and running together so that you have it at your disposal when needed.
Note: There is a pro version of this plugin. It does open up several great features and tools that you may be interested in. If so, feel free to give it a look. The tutorial below is based on the free version of the plugin.
Setup the Coming Soon Plugin
Step 1: Install and Activate the Plugin
Before you can add a coming soon page to your site, you first need to install and activate the plugin. You can easily do this by heading over to the Plugins page in the WordPress admin dashboard.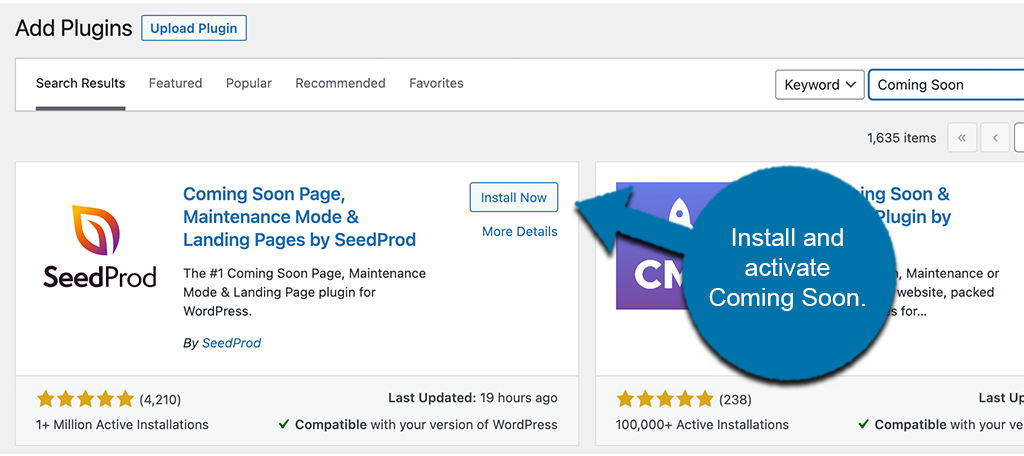 Here you will see a search field that is made available on the top right. Go ahead and use that field to search the plugin by name. When you see it pop up, install and activate it right from there.
Step 2: Go to Settings
Now that the plugin has been installed and activated, you want to pop over to the settings page before anything else. You can do this by clicking SeedProd > Settings, located on the left side menu area of the dashboard.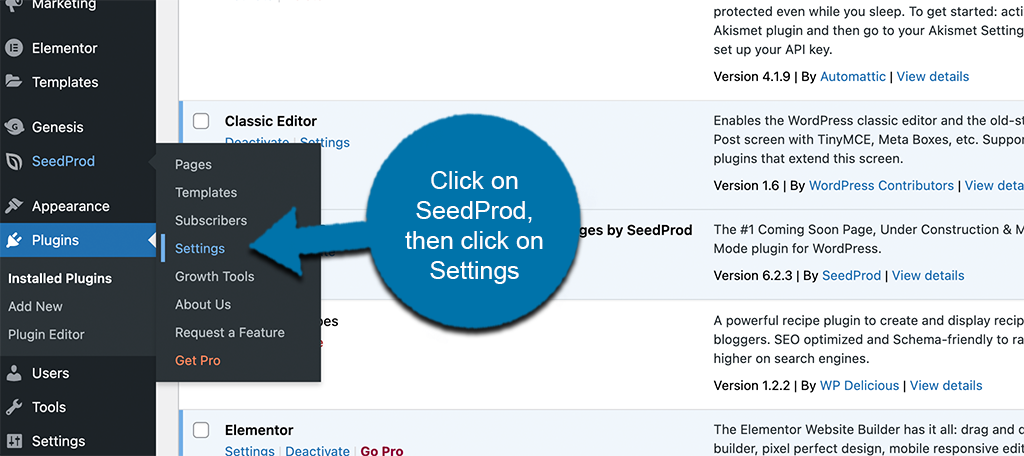 On this page, you will see only a couple of options. If you have the pro version of the plugin, then you can add your license key here. Set these settings how you see fit.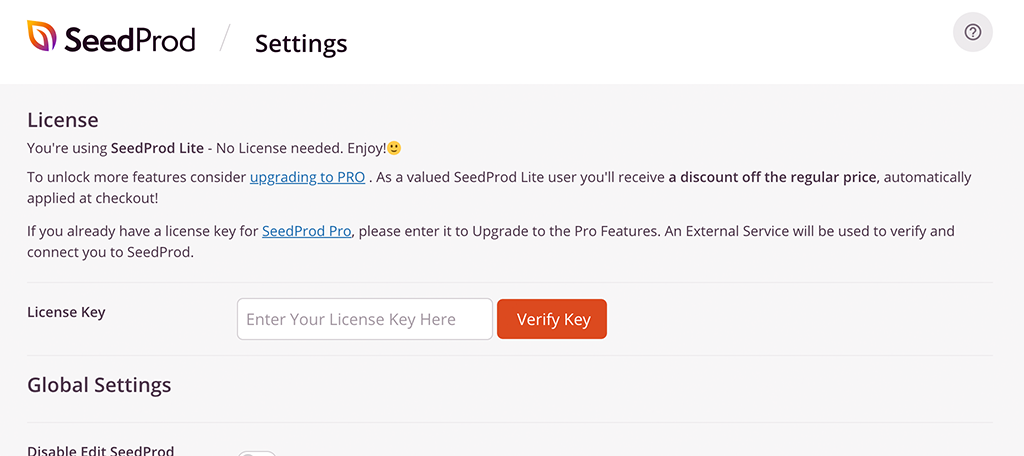 Step 3: View Templates
If you want to use one of the available and ready-to-roll templates, then all you have to do is click on the "Templates" tab link on the left side menu.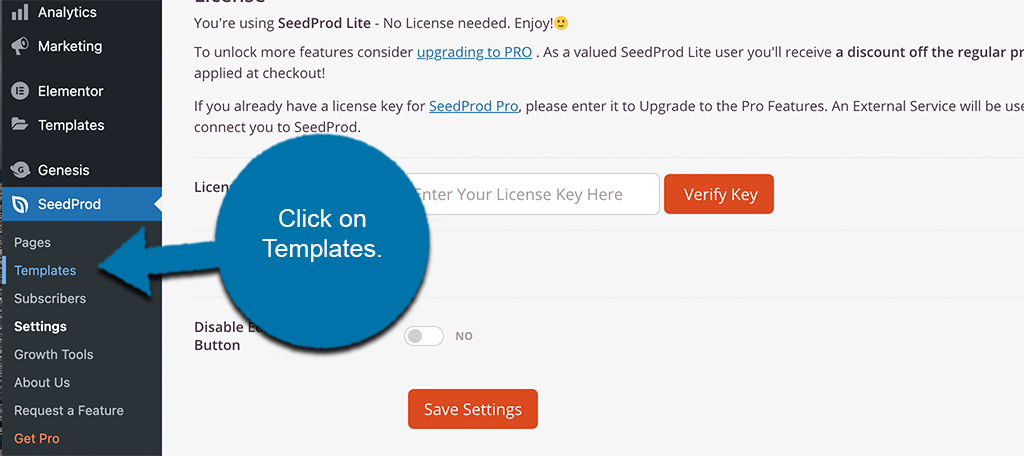 Here, you will be presented with several different templates that you can use to create a coming soon page.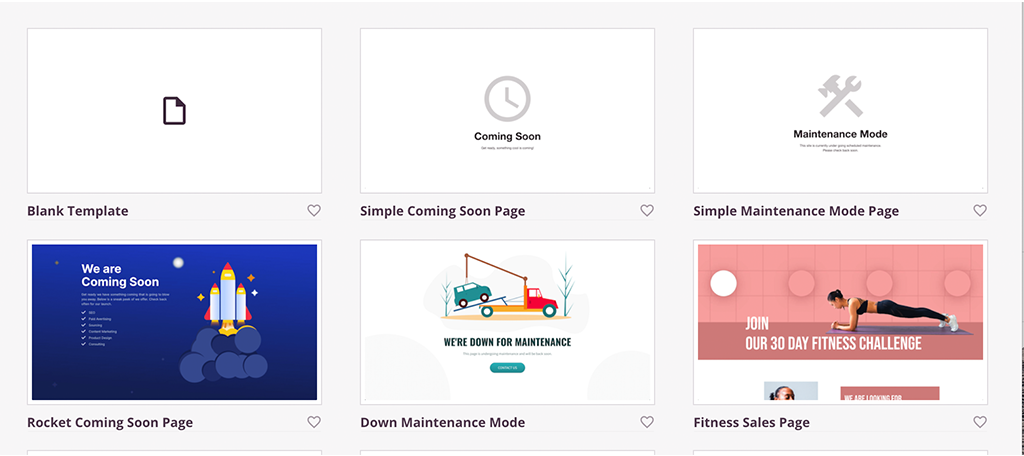 Simply make the selection you want, edit a couple of things, and then publish it. You are all set.
Step 4: Go to Pages
If you need to select between a coming soon page or a maintenance page and build it from the ground up, then click on the "Pages" tab link on the left side menu area.
NOTE: This is different from the "Pages" area of WordPress itself. The one I am referring to above is located under SeedProd.
Step 5: Select Between Pages
Make the selection you want here. You can select between a coming soon page, a maintenance page, or a landing page.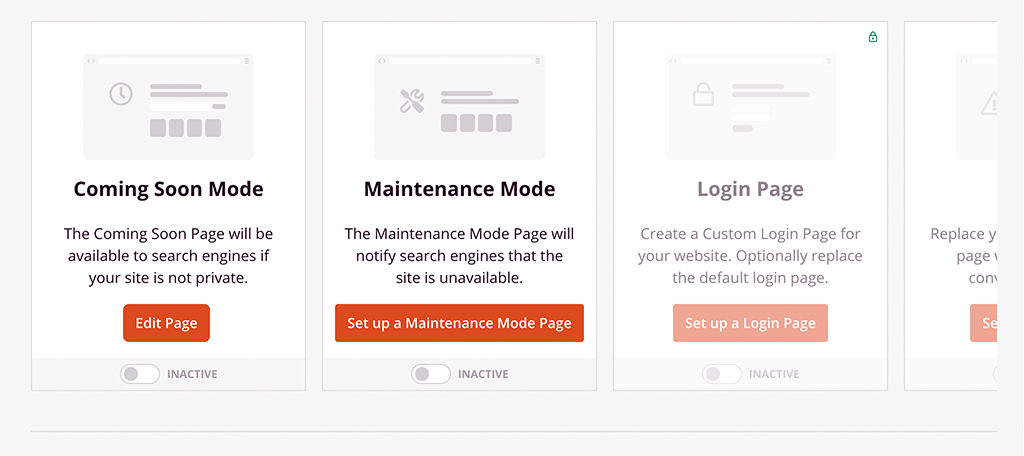 For this tutorial, I went ahead and selected the coming soon page option by clicking on the orange "Edit Page" button.
Step 6: Design Your Coming Soon Page
Once you click on the coming soon page option, a drag and drop page builder will pop up.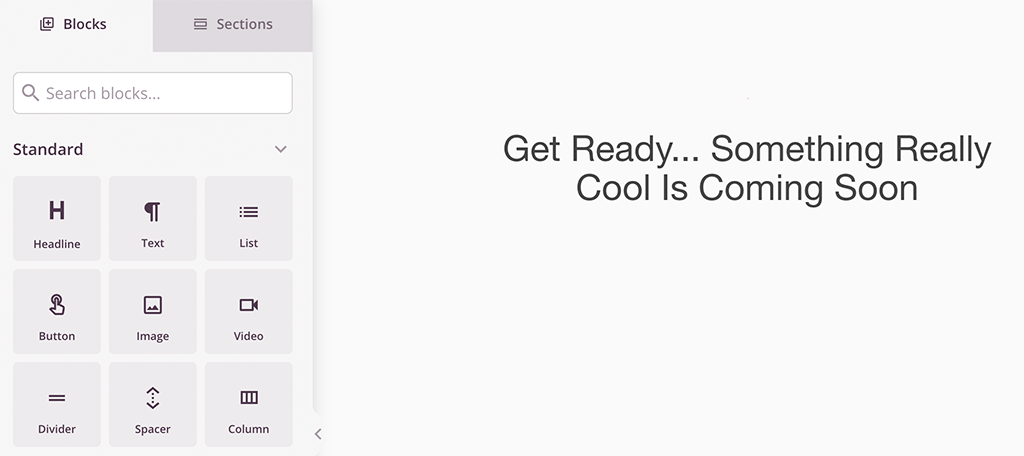 Use the available items and drag them into the editor and build the page how you see fit. If the boxes are available, then you can use them
Note: There is a "Sections" tab, but sections are only available for pro (paid) users.
Step 7: Click on Page Settings Tab
On the top of the drag-and-drop builder page, you will see a tab titled 'Page Settings." When you are finished building the page how you want it, click on that tab.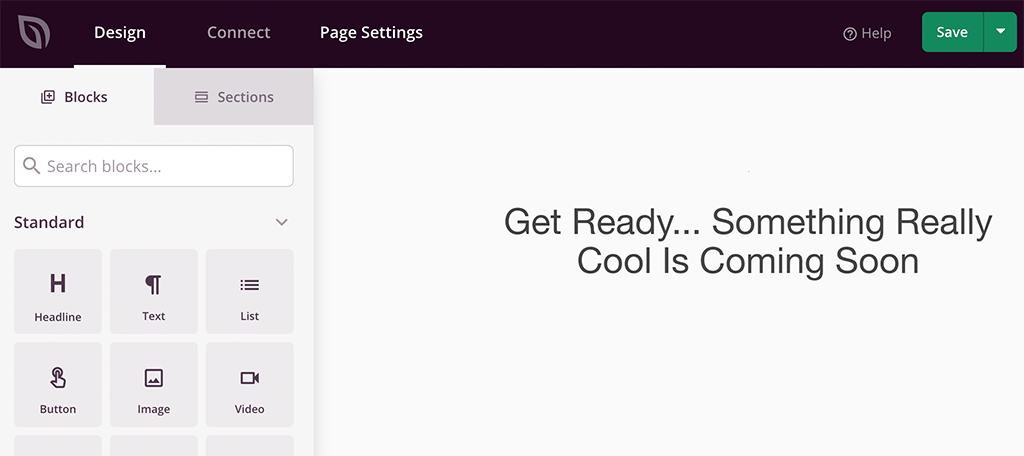 This will open all of the available page setting options that the coming soon plugin offers. Go through them and fill them out how you want.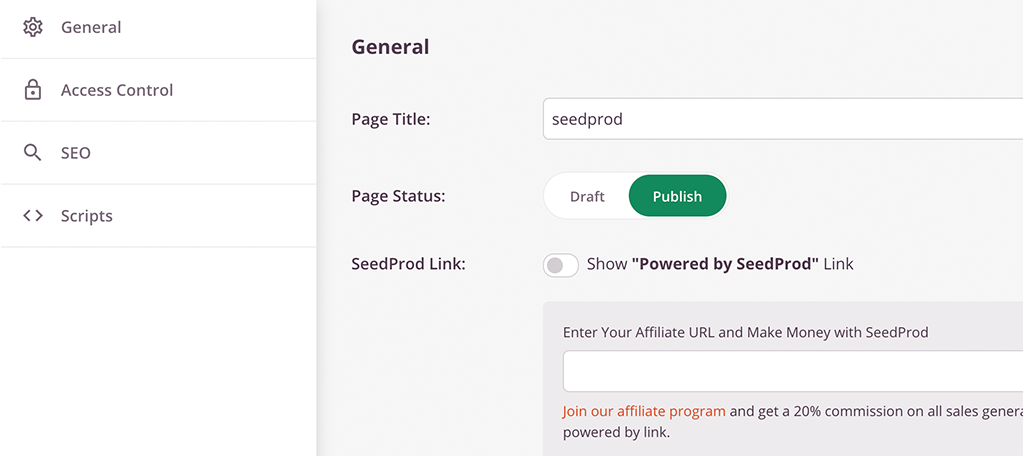 Note: We skipped the "Connect" tab because it is only available for pro (paid) users.
Step 8: Save Page and Publish It
Last, but not least, click on the 'Save" button to save the coming soon page. Since the plugin was 'Enabled" under the page settings tab, the coming soon page will automatically show.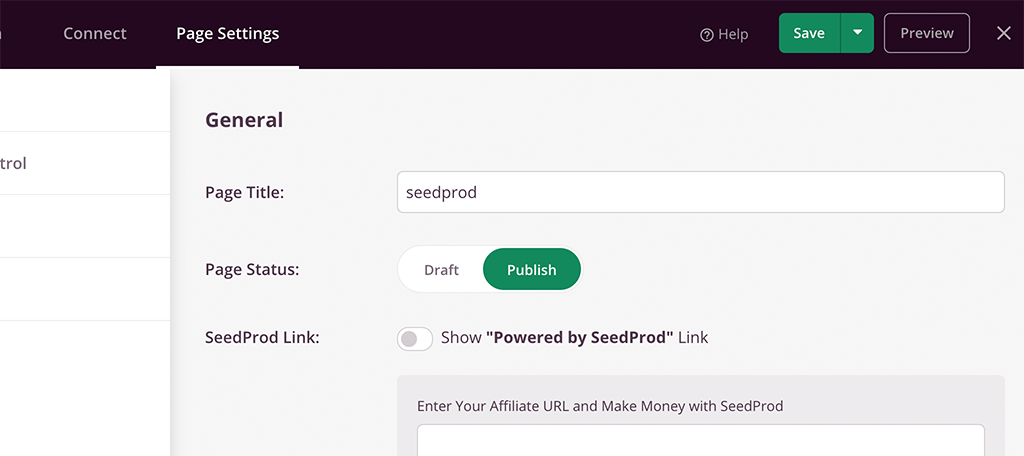 Note: You can also use the "Preview" button to preview your page as it is being built.
That's it! You have built a page using the coming soon plugin and you are all set. You can go back to the drag-and-drop builder any time to make adjustments.
Why Use a WordPress Coming Soon Page?
A WordPress coming soon page has a lot of benefits for developers and website owners. If you have the right setup going, then you are able to hide pages and full sites that are being developed, updated, or maintained.
Another great benefit of running a coming soon plugin is that it can be very beneficial to SEO because it lets Google know what exactly is going on with your website. For example, a lot of plugins, including the one we are using today, offer coming soon and maintenance modes.
While both modes work to block your website or certain site pages from users, they both represent different things to Google.
Coming Soon Page: This is used when you want to hide a site from Google while it is under construction or being built. This means Google can't index the content for the search engine.
Maintenance Mode Page: This is used for smaller updates and maintenance-related items on your website. This lets Google and other search engines know that your website is only down temporarily. It does this by sending a 503 notification to search engines, telling them to hold on while updates are made. In other words, it doesn't have an impact on your search rankings while changes are in progress.
Knowing which mode to use and when to use it can have significant effects on your website SEO, so make sure you are using the right one.
Final Thoughts
When a WordPress page is under construction, it is a great idea to let search engines know so that your website SEO does not take a massive hit. The Coming Soon Page plugin by SeedProd gives you every tool you need to set up a coming soon page the right way.
I hope this article was able to show you how easy the process is. You simply need to have the right plugin installed. A few clicks here and there and you will be sitting pretty and ready to work on your site.
What other coming soon plugins have you used? Do you prefer to do a site build and site updates on localhost instead?