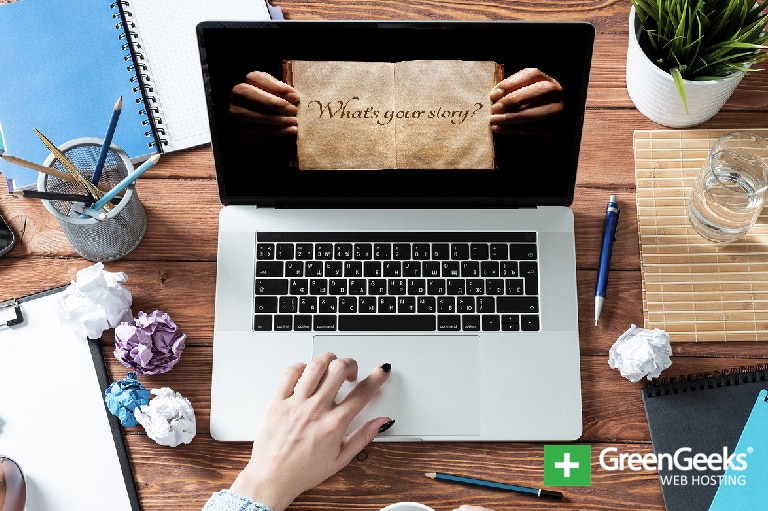 If you're thinking about starting a book blog, now is the time to do it. Whether you blog about the book industry, reading, reviewing – whatever angle you choose, starting a blog has never been easier. We'll talk about what you need and how to get started building and promoting your site.
What You'll Need to Start a Book Blog
A Passion for Books
It sounds obvious, I know. But for a blog to survive and grow, you have to remain interested in it. Yes, it's easy to start a blog, but as a lot of bloggers discover, it's also easy to abandon one. When you're blogging about something you love, your site is more likely to stick around for a long time.
A Home for Your Blog
I'm going to recommend setting up your own website, and I'll talk more about that in a minute. (It's easier than you think.) The popular blogging platforms serve a purpose, but they come with a lot of strings attached. Sites like Blogger/Blogspot, Tumblr, and Medium all limit what you can do. You can't properly brand your site on those services. They don't perform well in Google search. To make matters worse, when you decide to move your blog to your own domain, the migration is not easy.
A Unique Slant or Point of View
Blogging isn't a sport, but if you want to get noticed, it is a competition. You're competing with the other book sites that rank above you in Google. We'll talk about some ways to improve your odds, but a unique approach will do wonders.
You Can Build a Blog Yourself
Even if you don't consider yourself a "technical" kind of person, you can create a blog. Seriously. You don't need to hire a developer or shell out big bucks for a content management system or template. We're going to use WordPress, which is free.
Let's go through everything you need to get up and running.
We Talked About Your Blog's Home, and Here It Is
It should come as no surprise that I recommend GreenGeeks as the best place to host your blog. You're reading this on the GreenGeeks website, after all. But I believe we really are the best option.
GreenGeeks specializes in WordPress hosting. Our platform is optimized for it, and we are experts in hosting WordPress sites. Our knowledgeable and friendly support staff is available at any time to answer your questions or lend a hand. Tens of thousands of people just like you trust GreenGeeks with their online presence.
As a major bonus, GreenGeeks is powered by renewable energy. For every amp we pull from the grid, we match three times that power in the form of renewable energy via Bonneville Environmental Foundation. Your website will be "carbon-reducing" when hosted on our platform. You can feel good knowing that you're helping to make a difference by hosting on an eco-friendly platform.
WordPress Is Synonymous With Blogging
WordPress was created for bloggers, and blogging is still its focus. Twenty-seven million websites run WordPress. It's far and away the world's most popular website building tool.
And WordPress is very easy to install. You can set it up on your GreenGeeks account in minutes. No exaggeration.
WordPress Themes That Will Show Your Book Blog in Its Best Light
Much of the appearance of your blog will depend on the theme that you use. All themes are customizable, but you can choose a theme that looks like the best starting point for your blog.
Library Books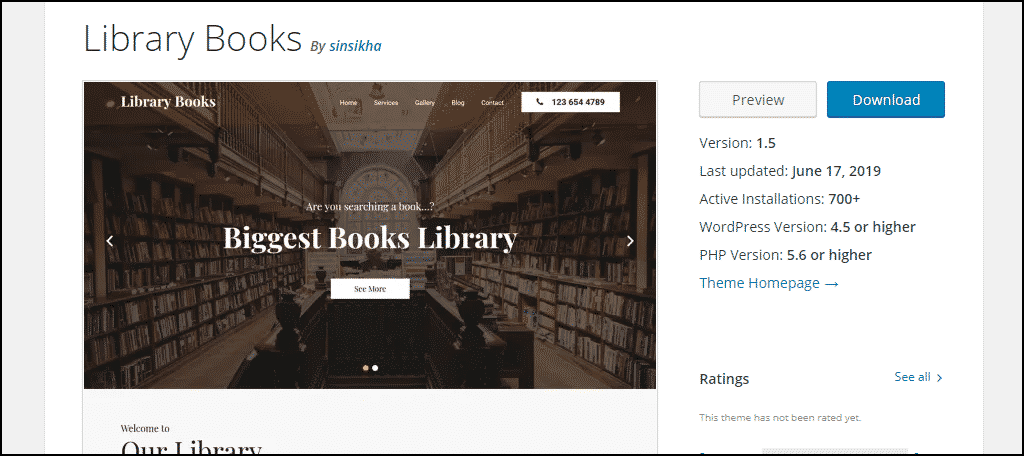 The Library Books WordPress theme is targeted to authors, journalists, editors, publishers, and generally selling books. It's a Two Column layout that makes setting a custom background, colors, and a menu easy.
VW Writer Blog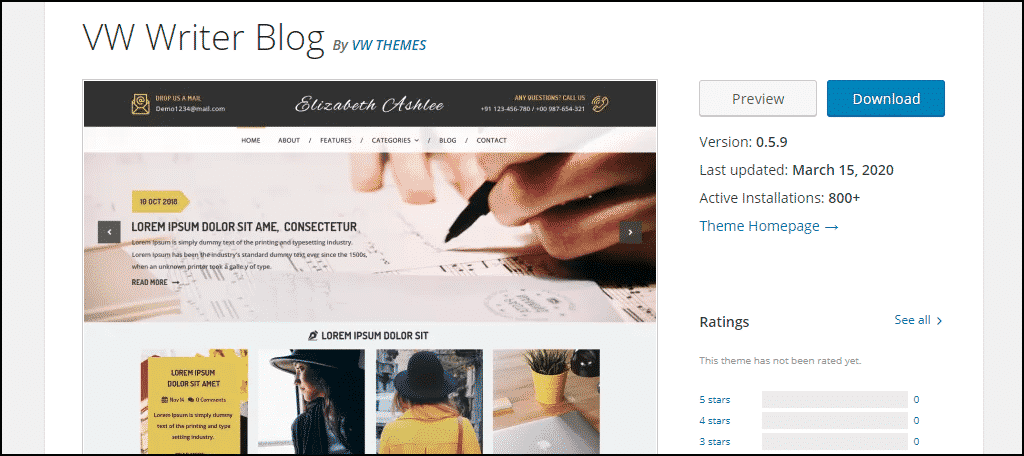 VW Writer Blog is a modern and intuitive theme for literature blogs. The theme is built with authors, journalists, reading, and literary clubs in mind. It's responsive and cross-browser compatible. VW Writer Blog is easily customizable for a personalized feel. It also includes social media icons, banners, and sliders.
Book Landing Page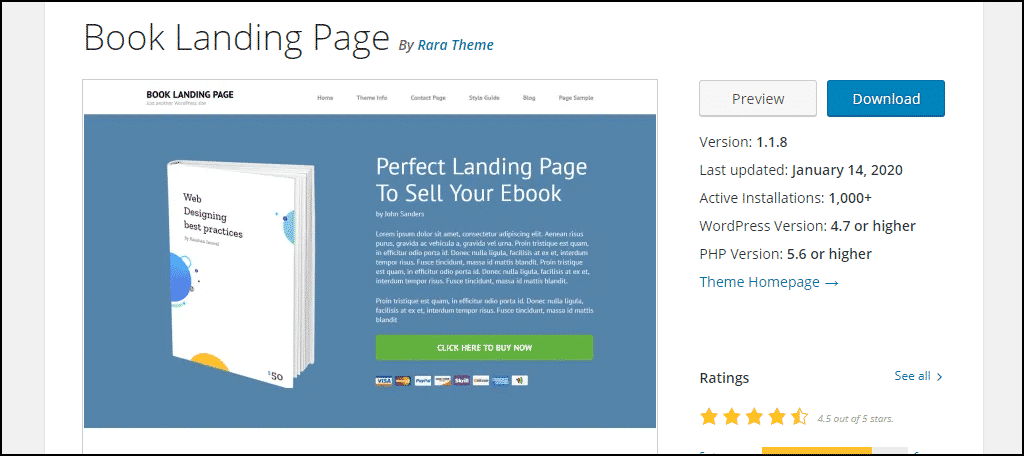 Book Landing Page is an attractive WordPress theme you can use to create a landing page for a book. The home page is designed to spark the purchase of the book. Book Landing Page is mobile friendly and fully customizable, with child themes available (as you'll see in our next theme pick).
Author Landing Page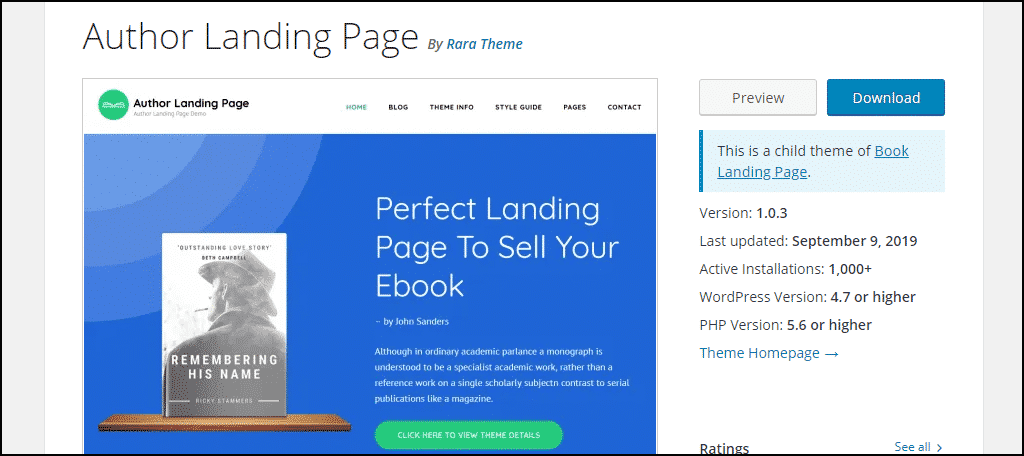 Author Landing Page is a child theme of Book Landing Page (which means both themes have to be installed). The theme is optimized to help your blog load quickly while still providing a pleasant user experience.
GutenBook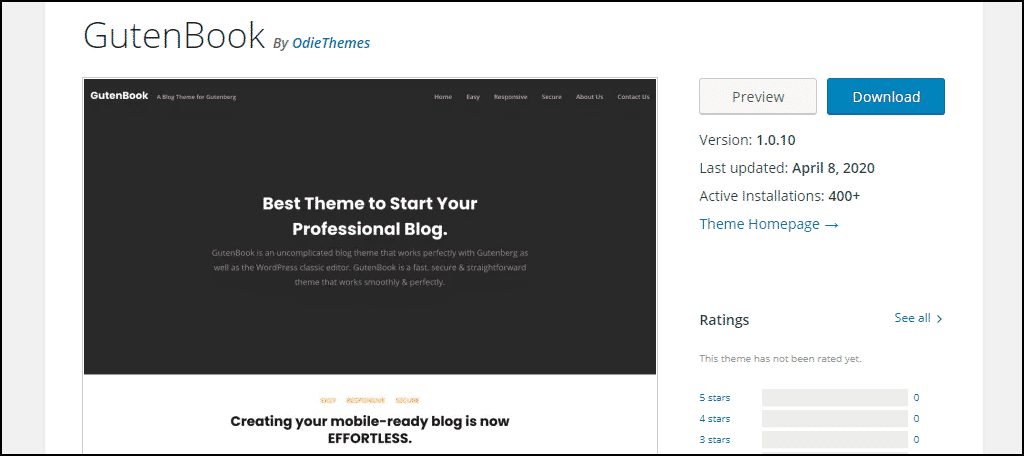 If you're a minimalist at heart, look no further than GutenBook for your reading blog theme. It's uncomplicated and built to work perfectly with the latest Gutenberg editor. Of course, it performs well if you're using the classic WordPress editor too. It's fast, straightforward, and search engine friendly.
WordPress Plugins to Take Your Blog to the Next Level
Themes control the appearance of your WordPress blog, but plugins are the tools that make the magic happen. Here are some essential plugins for a book blog.
Recencio Book Reviews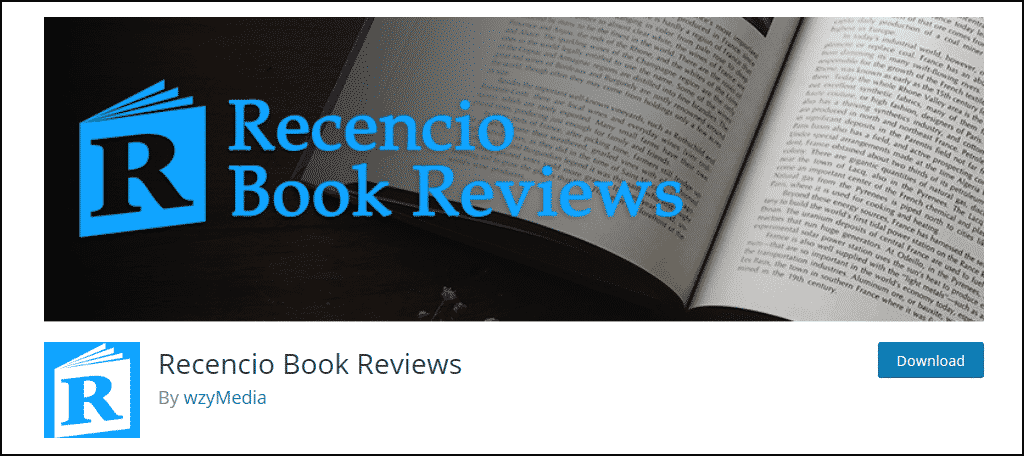 Recencio Book Reviews is the number one plugin to use if you're a book review blogger. The plugin organizes and formats reviews, and adds a custom post type so your reviews can be individual posts. In fact, I like the plugin so much I wrote a tutorial for installing and using Recencio Book Reviews.
Mooberry Book Manager
If you're selling your own books on your blog, Mooberry Book Manager can be a tremendous asset. We have a comprehensive guide for the installation and configuration of Mooberry Book Manager as well.
GS Books Showcase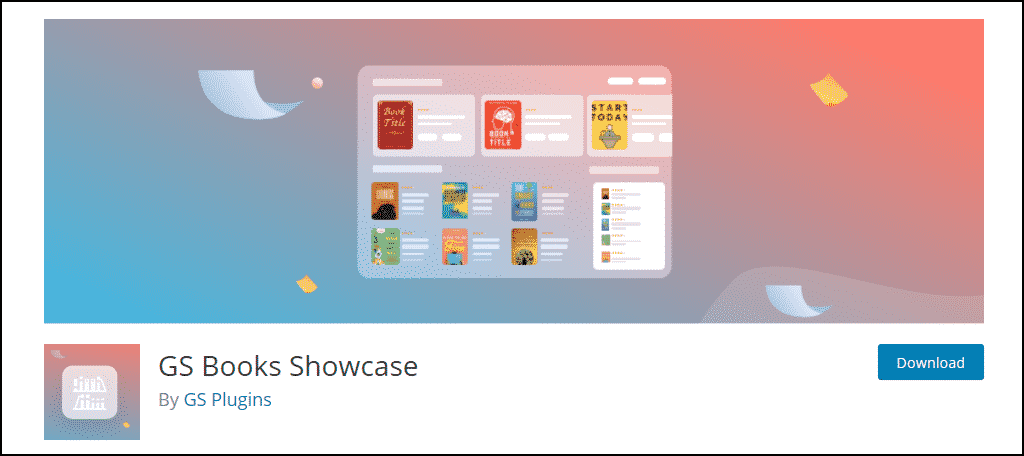 GS Books Showcase is a responsive book showcase plugin that displays book details. You can show the cover, author, publication date, publisher, reviews, ISBN, number of pages, an author biography, and more. Book details can be displayed in pages, posts, or widgets using a shortcode. You can also choose from different themes to more closely match your blog.
dFlip 3D Flipbook
dFlip 3D Flipbook is a book display plugin that lets your visitors page through a book, virtually. This isn't a plugin for every book blog, but if you provide PDF versions of your books, you might want to check it out. The 3D aspect makes for a more intuitive and engaging reading experience than a standard PDF viewer.
MyBookTable Bookstore
Another bookselling tool, MyBookTable Bookstore, creates a bookstore that links to sites that sell your book online. For Amazon, for example, MyBookTable includes Kindle Instant Preview, so readers can preview your Kindle book without leaving your blog. The plugin also makes it easy for visitors to share and like your books on social media.
Sharing Your New Blog With the World
A blog needs an audience, and gaining that audience is the final part of the puzzle. Here are some proven methods to bring in readers. Like any online or social media activity, the more you put into it, the more you get back.
Forums
Discussion forums devoted to books or even specific authors can drive traffic to your blog. A discussion site like Reddit can drive ridiculous amounts of traffic in your direction. If you can find a subreddit that is relevant to your book and establish a presence there, you can grow the audience for your blog quickly.
SEO
If you don't think of search engine optimization as a promotional tool, it's time to start. Improving your blog's search result ranking is hands down the best way to promote it. Research which terms people use to find content like yours and optimize the site to take advantage of those searches. Boosting your website SEO is the best investment you can make in site promotion.
Facebook
You can create a Facebook page for a book or a book review blog. Even a reading blog or book club type blog can benefit from a Facebook page. You know what they say, everyone is on Facebook. So if you want to reach everyone, you should be too. Don't ignore Twitter, Instagram, and even Pinterest. People are talking about books on those platforms too.
Amazon
If you're an author, you should be working on your Amazon author's page. There is no shortage of readers browsing Amazon. Take part in conversations there, and you can draw some of them to your page.
Ello
Ello is a social media site that caters to creative types. You may have never heard of it, but it's been around for six years and continues to grow. Its audience of creative people is perfect for a book blog. If you're active there, people will visit your website. And you'll get to see a lot of cool stuff in the process.
What Can You Do With a Book Blog?
Promote Your Own Work
If you're an author, you need a website. Some authors even create separate sites for different books. Your site doesn't have to make sales; you can just link to other sites that sell your books. I wrote a tutorial on selling your books from Amazon on your WordPress site. Check it out.
Review Books
A good book review site is a treat. Readers often want to hear opinions before they buy a book, so who better to give those opinions than you? As I mentioned at the outset, finding a unique approach to reviewing will help you stand out.
For example, I always appreciate a no-holds-barred review. Whether it's about books, movies, music, television – I want to hear what the reviewer really thinks. That's not everyone's cup of tea, but you see where I'm going. Put your own spin on what you do and you'll stand out.
Start a Reading Group
This would be a great way to connect with an online book community and draw readers to your blog. Book clubs and reading groups are traditionally face-to-face gatherings. But there's no reason they have to be. You can add chat or, better yet, a forum to WordPress. Once the communication platform is in place, creating a group should be a breeze.
They Said the Internet Would Kill Books. They Were Wrong.
The internet has taken over the world, I don't think anyone would argue that. When the internet was young, some predicted that books would eventually fade out of our lives.
Eventually? Maybe. But this is the Google search trend for "books" over the past five years.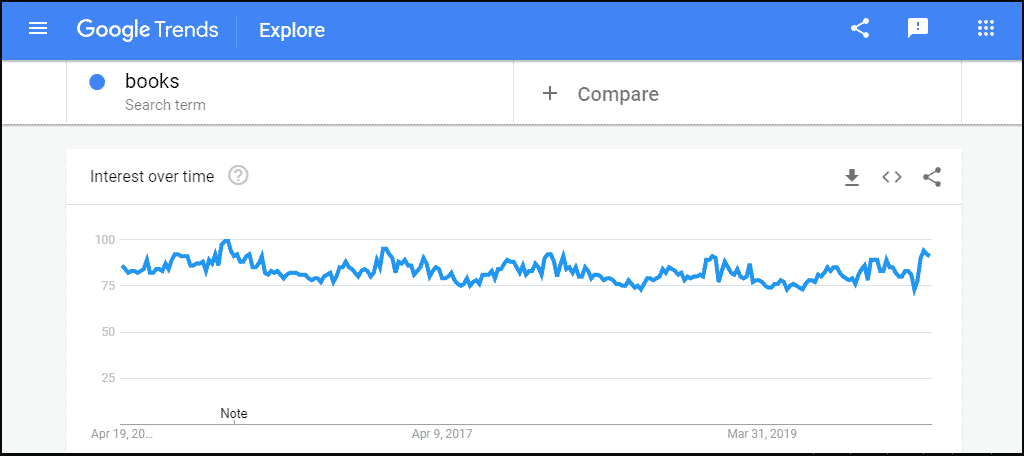 As you can see, interest in books has remained pretty steady. And in a lot of ways, the more technology we interact with, the more we appreciate printed books. Books are solid, they're permanent, and most of us grew up reading them.
But even younger people without strong ties to books are rediscovering the printed word. Books, vinyl LPs, analog cameras – these things all connect us to our creative roots.
Your book blog is another contribution to that culture…to those roots. I hope this article made creating that contribution a little easier.