Using WordPress as your CMS, or content management system is a way to share products, services and even fresh content to your visitors with ease. Whether you are thinking of sprucing up your WordPress site and its current look. Or if you are simply seeking additional features. It is essential to compare plugins, while learning more about the search and testing process involved.
Choosing the best WordPress plugins for your website ultimately gives you an advantage over competitors who are unable to offer the same results. The more you know about the best plugins for WordPress available on the market, the easier it is to appeal to any target market or demographic you have in mind for your current business model.
Consider Your Plugin Needs
Create wire frames and plans for the vision you have when using WordPress as your main choice of CMS for any type of site. Whether you are producing content or planning to sell products and even digital goods. Having a clear idea of the type of blog or site you want to launch is a way to determine your needs when seeking out the best and most useful plugins that are right for your online presence.
Update Your WordPress
Update your current version of WordPress if possible. If you are just installing WordPress for the very first time it is likely to be the most updated version. However, if you have been using WordPress for years or even months there is a chance it may be outdated. A complete update is highly recommended.
An updated version of WordPress provides additional features and easier usability while also adding a layer of security and protection for any of your visitors, whether they are browsing for content, leaving comments or even entering personal information and data when making a purchase directly from the site itself.
Using WordPress to Search for Plugins
Once you are logged into the administration panel of WordPress only a few clicks are required to begin searching for plugins. Hovering the "Plugins" section to the left once you are logged in gives you the ability to view installed plugins, delete plugins and even search for WordPress-approved plugins without having to leave your site altogether.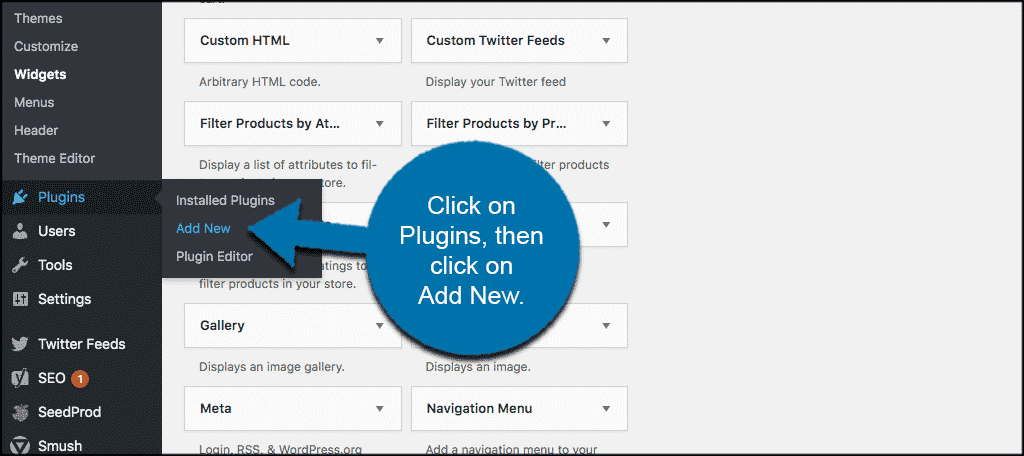 Using the built-in search engine for WordPress is ideal to find plugins that are compatible with your current version of WordPress. The WordPress plugin directory also provides the most popular keywords that are searched. This will help save time if you are unsure of how to find a plugin that suits your needs.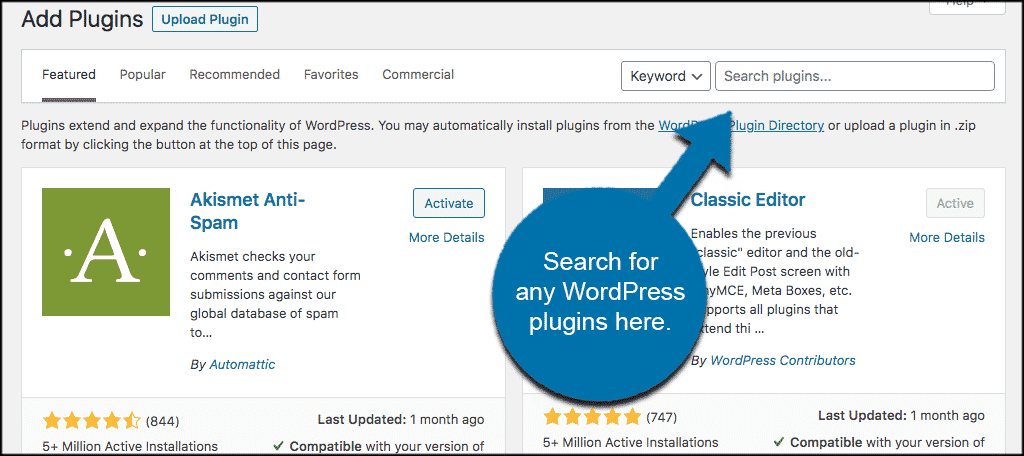 Top WordPress plugins available are often ideal for improving SEO, or search engine optimization in addition to implementing social media modules to broaden the audience you are capable of reaching any time you update and share a post to hundreds and thousands of users simultaneously online.
Compare Similar Plugins for WordPress
Compare similar plugins even if you believe you have discovered a plugin that is right for your WordPress site. Do this even if the plugin is not listed and available within the actual WordPress plugin directory.
Take time to search using well-known search engines to seek out similar plugins that provide the same features with various tools and functionality. Comparing different plugins that complete the job you are looking for is a way to gain insight into how plugins work and which solutions are ideal for the site or blog you want to launch live.
Follow Popular WordPress Blogs and Communities
Another way to choose the very best WordPress plugins is to follow certain blogs and websites. Find the ones that dedicate themselves to sharing WordPress tips and tricks.
Getting involved with larger WordPress communities gives you the chance to learn more about the usability and reliability of various plugins available on the marketplace. This can give you a better idea of what you are in store for before installing the plugin yourself.
Reading in-depth reviews of WordPress plugins helps to ensure you are making the right decision before utilizing them on your own blog. This helps you avoid errors and the inability to put the plugin to use once the site is live.
Read Reviews and Testimonials
Reading testimonials and reviews of WordPress plugins is also a must. Do this even if you have experience with CMS and working with WordPress directly. Take time to read testimonials and reviews of plugins that you deem fit for your own website to get a better understanding of how to properly work, manage and fix any issues or errors you may encounter while updating the plugin or putting it to work once it is in place on your WordPress site.
Reviews and testimonials of plugins provide the insight necessary to make an informed decision. You want to make sure everything lines up properly when installing a plugin to a particular version of WordPress.
Check Plugin Screenshots
Plugins often come with different documentation and instructions on implementing and putting the plugin itself to use. Be sure to check for plugin screenshots. You are looking for proper documentation and visuals of the plugin in action.
Is the plugin a good fit for your theme or not? Reviewing plugin screenshots is a good way to determine this.
Support for Plugins
Any time you are looking to install new plugins finding a plugin that offers support and assistance is key. Reach out to a support team if you run into any issue or error when utilizing a plugin. The developed the plugin, they are the ones to talk to.
Having support available for the plugins you are most interested in is vital to keep your website running smoothly. You don't want issues and interruptions during a user's visit to the site while attempting to use it.
Testing Your WordPress Plugin Before Going Live
There are many ways to test a WordPress plugin before launching it live to your own site. Creating a "dummy" WordPress site that is not affiliated with your original WordPress blog is advisable when you want to utilize the site as a playground. This allows you to test a variety of plugins to see how easily they can be implemented into a theme.
There are plugins on the market that give administrators the ability to turn off visibility of specific plugins and pages. This provides additional space to test plugins for integration into your site.
Be sure to read reviews and testimonials of plugins that offer a test site. Doing so ensures you are not introducing plugins that have not yet been tweaked or finalized properly.
Properly implementing the right plugins makes it possible to bring any vision you have for your site to fruition. Comparing plugins, testing them, and ensuring usability is imperative. Whether you are launching a personal blog, or if you intend to build an international eCommerce store. This will help future visitors and potential customers navigate properly.