Are you looking to embed tweets in WordPress directly? Twitter is one of the largest and most well-known social media platforms available. It is used by athletes, musicians, authors, actors, politicians, and many more individuals.
Although tweets are typically short, they usually contain a lot of information that people like to break down and examine in detail. In fact, many websites actually examine tweets exclusively and use them as the main source of content for their blogs and headlines.
There are many ways to incorporate Twitter in WordPress, like using the Twitter widget. Today, I will demonstrate how to embed tweets in WordPress.
Why Embed Tweets in WordPress?
In many cases, websites use tweets as a source of information. This can be as supportive evidence or it can be the core focus of the article. In either case, simply copying and pasting the tweet looks less credible than showing an embedded tweet.
For example, let's say a video game director wrote multiple tweets that provide facts about an upcoming game. Naturally, this would be big news for a video game blogger and they would want to directly cite their source of information. Directly embedding their tweets would do just that and help add authenticity.
This example works for any topic and displaying tweets from the source is great for your visitors. In some cases, like the example above, it also benefits the tweeter because they may gain some followers. Twitter is extremely popular and taking advantage of its embedding feature can help your website.
How to Embed Tweets in WordPress
WordPress has the built-in ability to handle Twitter as an oEmbed function. This means it will automatically adjust itself when you paste tweets into posts and pages as an embed. Simply copy the embed share from Twitter and paste it into WordPress.
This tutorial will cover both Gutenberg and the classic editor. You will not need any additional plugins or code to accomplish this task.
Twitter provides an embed link for every tweet and from there it's as simple as copying and pasting.
Step 1: Get the Embed Link
The first step is to find the embed link. Every single tweet will provide a link you can use. Visit Twitter and locate the tweet you want to embed and copy the URL.
On the top right-hand side of the tweet, you should notice a downward arrow. Click on it and select the Embed Tweet option.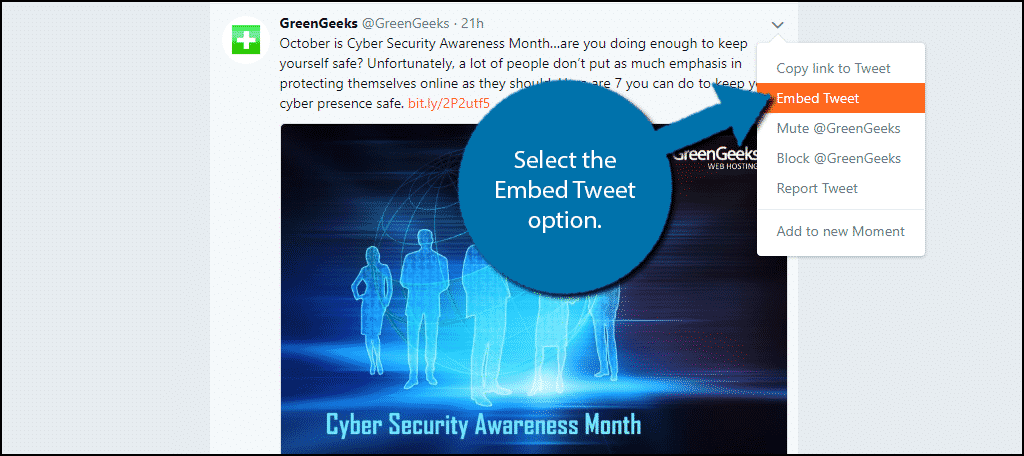 A pop-up window will appear and the embed link will be highlighted. You can also see the preview of what the tweet will look like when you embed it. Copy the embed link.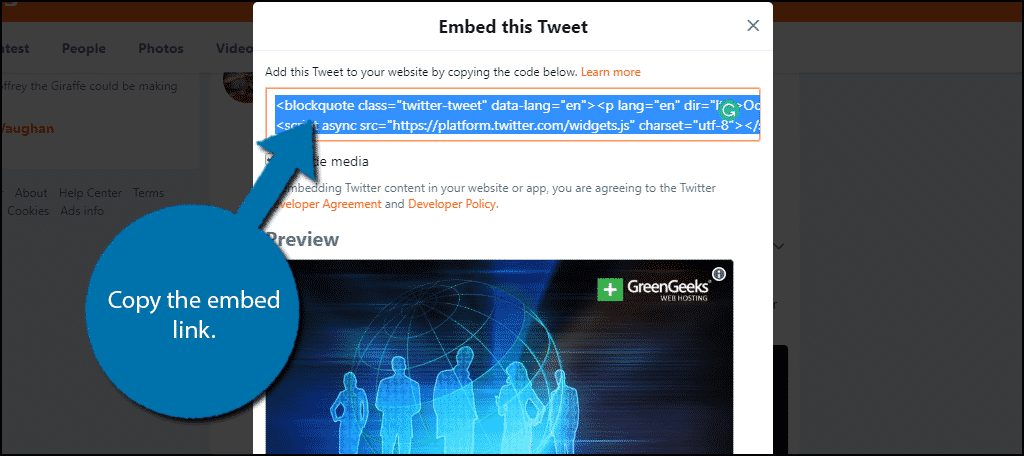 Return to your WordPress website to paste it.
Step 2: Add the Block to WordPress
With Gutenberg, now you simply need to paste the link in the appropriate block. This is done directly inside the post or page editor. Open up an existing page or post or create a new one.
Click on the "Add Block" button.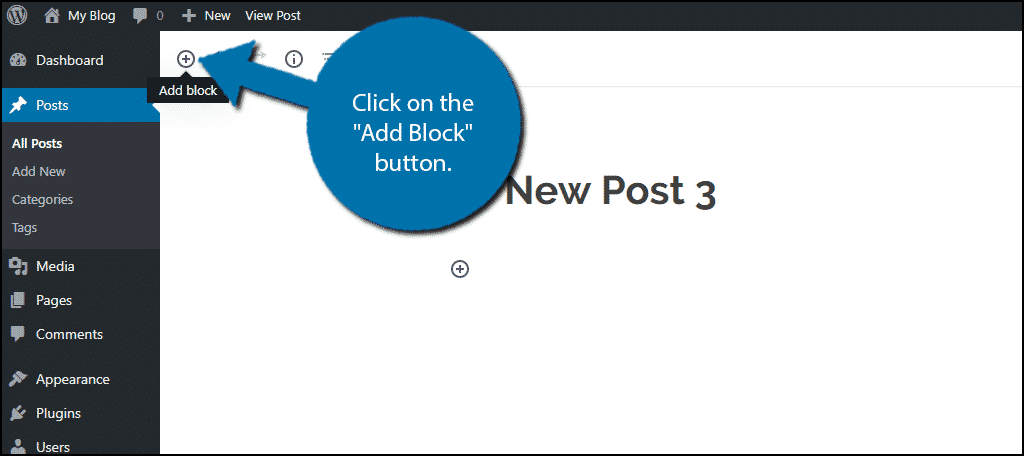 Type Twitter into the search bar and select the Twitter block.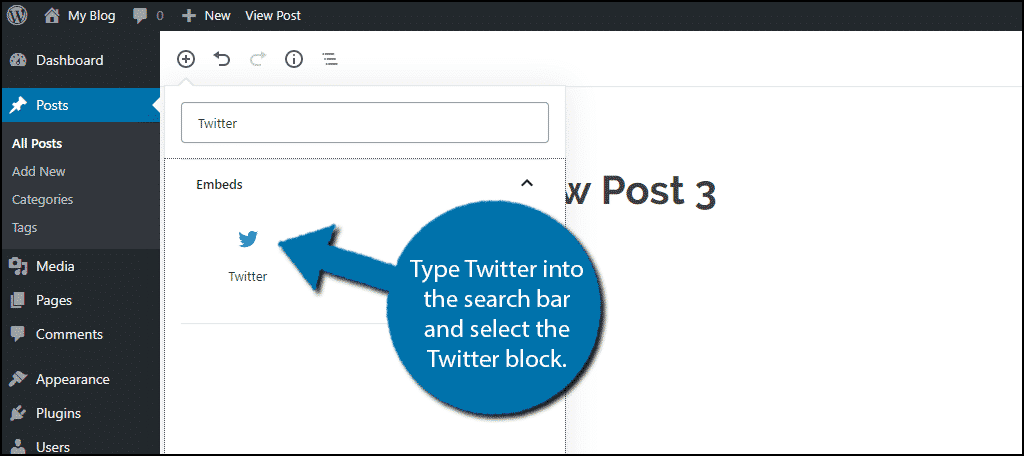 Step 3: Paste the Twitter URL
Paste the Twitter URL that you copied in the previous steps into the block. Click on the "Embed" button.
WordPress will now place the actual Tweet into the editor. Make sure the block is placed in the desired location and save the changes.
Step 4: Publish or Update the Post or Page
You can now view the Tweet on your website.
Embedding Tweets in the Classic Editor
For those of you that may choose to disable Gutenberg, don't worry, the classic editor fully supports embedding tweets and it's just as easy.
Begin by going to any new or existing page/post. Once inside a page or post click on the Text editor tab.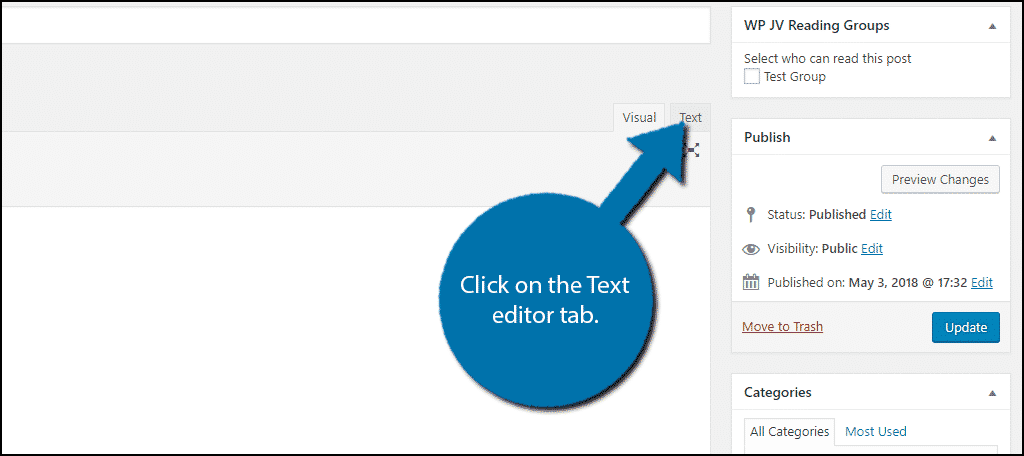 Simply paste the embed link where you want the tweet to appear. If you go back to the visual editor you will only see a portion of it, but it will appear as the actual tweet on the live page.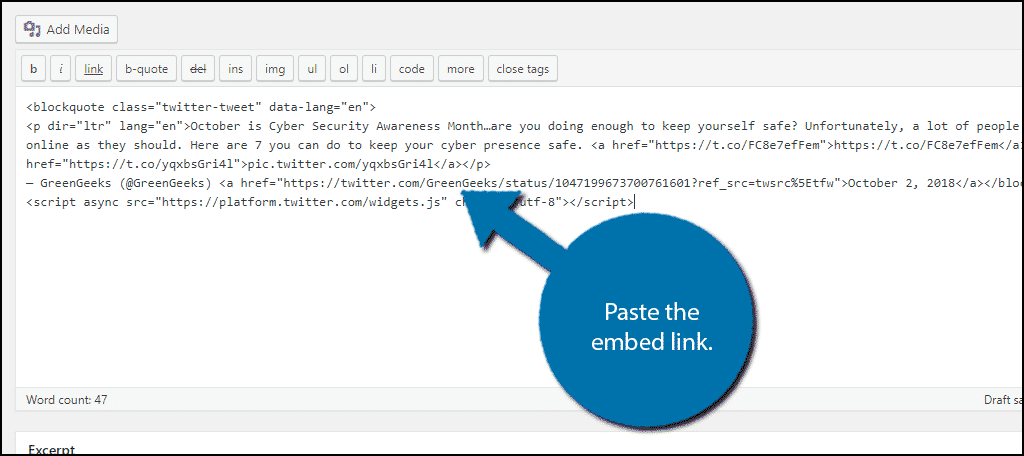 You can now preview or view the live page to see how it looks.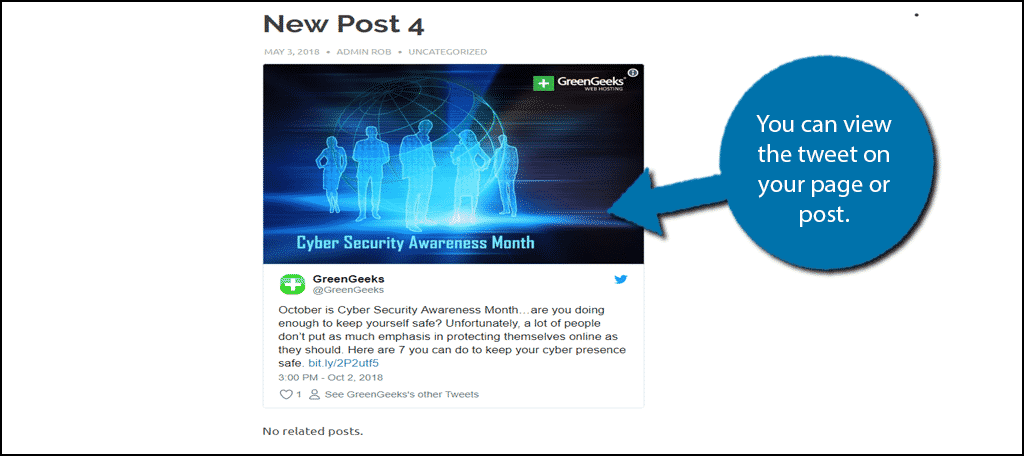 Congratulations, you have successfully embedded a tweet in WordPress. You can embed as many tweets as you want on any page or post in WordPress.
Plugins to Embed Tweets and Feeds for WordPress
Custom Twitter Feeds (Tweets Widget)
If your looking for a more robust toolset to handle your Twitter needs, consider using the Custom Twitter Feeds plugin. It allows you to connect and display Tweets from any Twitter account, and most importantly, you can customize the appearance to match your website.
And with over 100,000 active installs, it is the most popular Twitter Feed tool in WordPress.
Easy Twitter Feed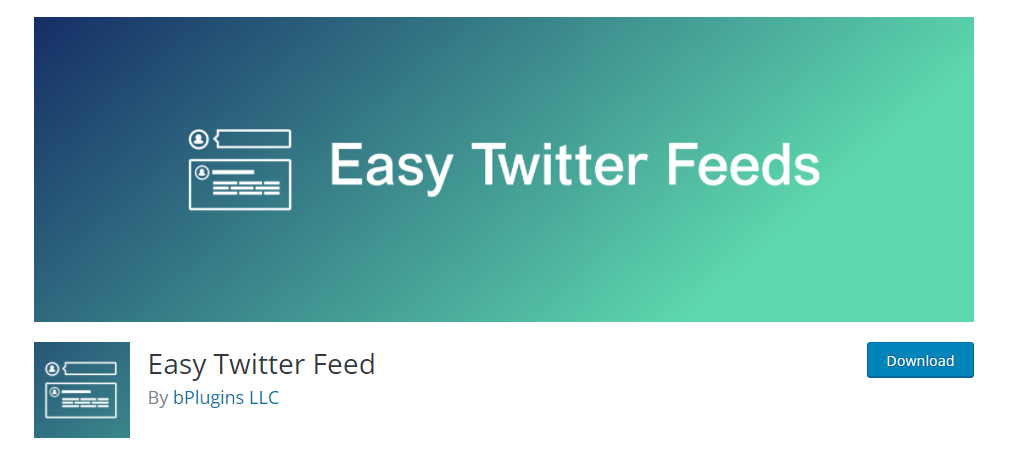 Easy Twitter Feed might be the easiest way to embed an entire Twitter feed in WordPress. The plugin uses shortcodes to operate and all you need to do is add your info to the shortcode and paste it into the right location.
Thus, with minimal effort, you can embed a full Twitter feed in just a minute.
WP TFeed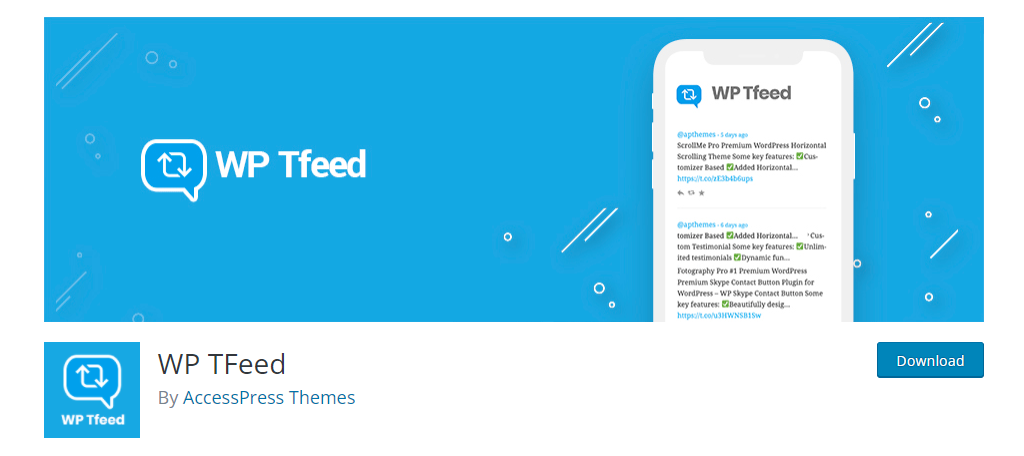 WP TFeed is another great option when you want to display Twitter feeds in real-time. You even have two options to use it. The first is to use some simple shortcodes, or alternatively, you could just use a widget.
In either case, the plugin is pretty easy to use.
Embed Tweets in WordPress to Show Your Source
In many cases, websites leave out their sources, and honestly, it hurts their cases when they do. Showing exactly where the information came from is important to help build the credibility of your claim.
Without any sources to fall back on it becomes a "he said, she said" scenario and that doesn't really prove anything at the end of the day. Of course, many websites will choose to paraphrase these direct quotes to make better headlines.
This can sometimes be considered clickbait and generally hurts growth once visitors become aware that your headlines are false. Many visitors will avoid websites that actively post clickbait titles, so don't rely heavily on them.
Why do you embed tweets in WordPress? Do you think embedded tweets are a good source of information?