Displaying recent comments in the sidebar is a common feature many website owners use to engage visitors. It helps prompt conversation from others while bringing attention to recently read content.
In the past, you had to install a recent comments plugin if you wanted to show comments in the sidebar. Today, WordPress has this ability built directly into its core. However, that doesn't mean you don't have access to other features for comments.
In this tutorial, I'm going to show you how to use recent comments in a variety of ways.
Adding Recent Comments to the Sidebar
First, let's take a look at how to display recent comments in the sidebar. This is actually quite an easy task and may improve interactions from visitors.
Go to the Appearance area and click, "Widgets."
The Widgets area is separated in two halves: widgets and sidebars. Look for the "Recent Comments" widget in the left half of the screen.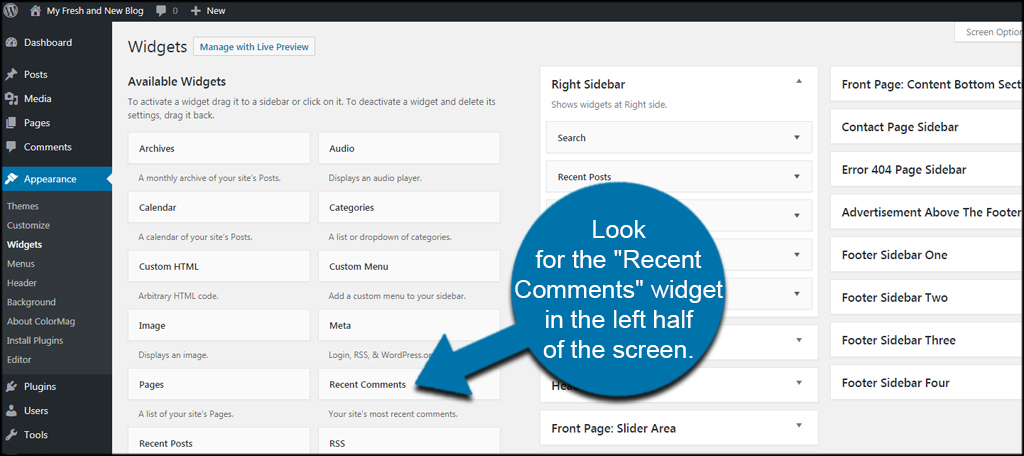 Drag and drop the widget into the sidebar. You can arrange the order of what appears in the sidebar by dragging the widgets to different locations. For this tutorial, I'm simply going to place it on the bottom.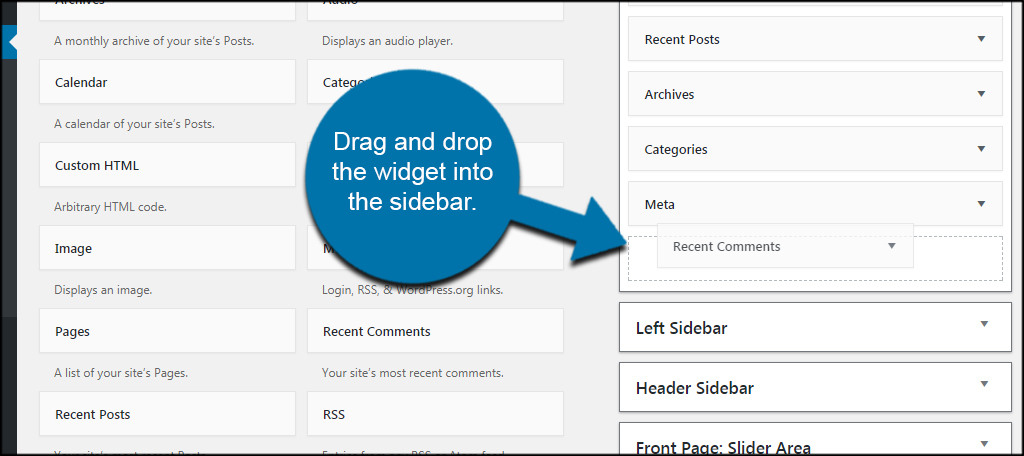 You can title the widget which acts like a label on top of the comment area like, "Recent Thoughts." You can also change how many posts are visible in the section. Once you're done making your adjustments, click the "Save" button.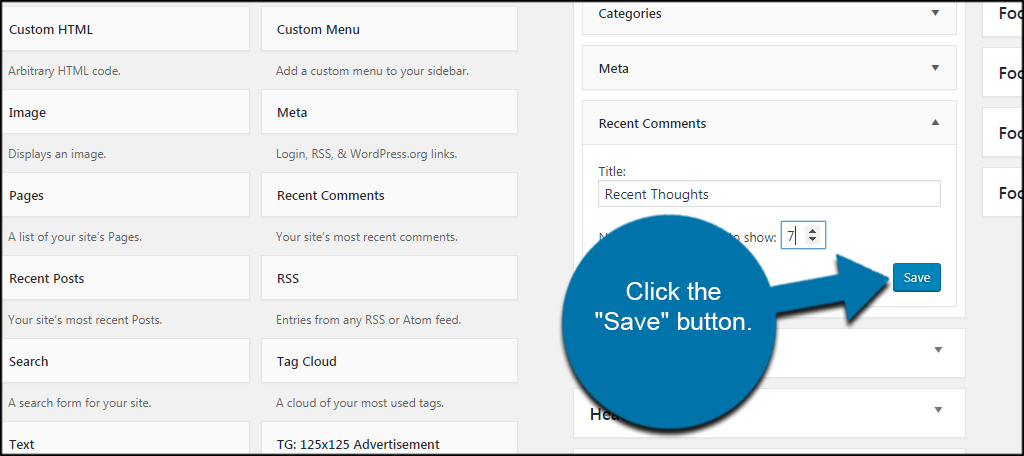 Installing Recent Comment Plugins
If you learned how to install plugins, there are a lot of recent comment tools you can add to your website right now. Some of which may even add a new layer of engagement for your site. If you're like me, looking through what's available can be inspirational in design strategies.
Here are some of the recent comment plugins that you can find in WordPress.
Decent Comments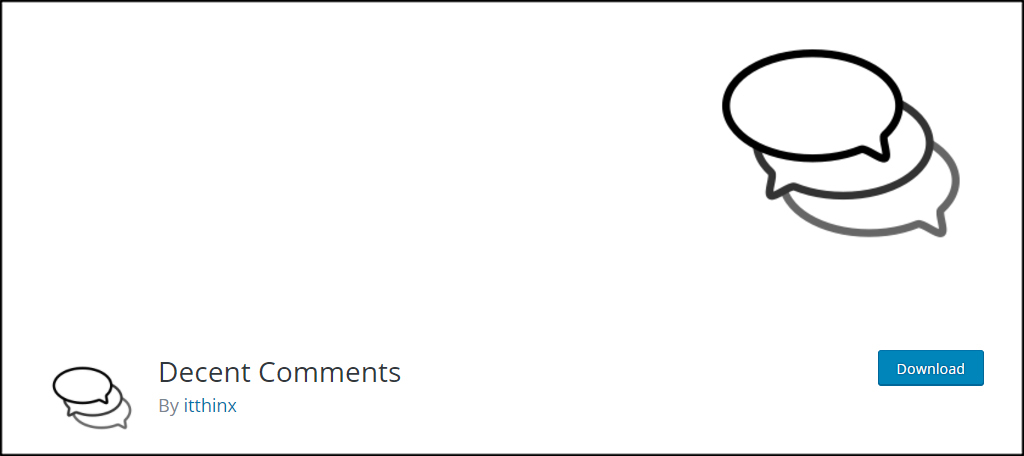 Decent Comments works similar to the built-in widget for WordPress. However, it has a few additional features the other systems don't have. For instance, it comes with shortcodes which allow you to post comments in WordPress posts and pages quite easily. It also has options in the widget for sorting, excerpts, authors, avatars and more. You can even show comments for a specific post.
Recent Posts Widget with Thumbnails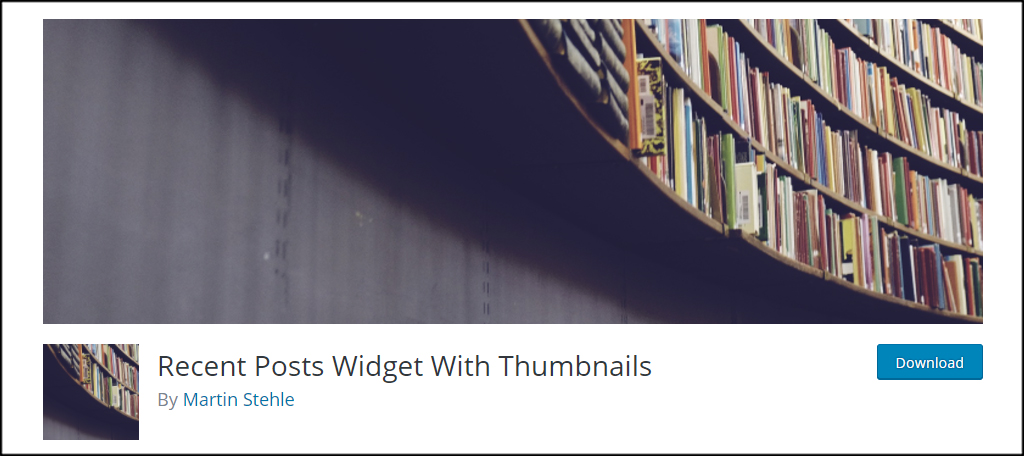 Here is another plugin that is similar to the tool available in WordPress. The Recent Posts Widget with Thumbnails plugin has a wide range of functions such as randomizing, sticky posts, opening links in a new window and much more. As the title suggests, thumbnails are also available in the sidebar. This can help visitors connect with the comment and may inspire them to click.
Better Recent Comments
Better Recent Comments is simply an adaptation to the widget already available in WordPress. It comes with a shortcode allowing you to place comments almost anywhere on your site as well as showing avatars and hiding dates. It's a basic plugin that has a few features for customization. One of the highlights is how comments are delivered according to a specific language to a visitor. This may be helpful for those who develop multilingual websites.
Why is the comment section important to content?
The comment section works well as a platform for communication with the author. For example, many people will ask questions in the comment section regarding an article hoping to gain additional clarity. Others may simply want to express their opinions about the content. In either case, it engages those individuals.
Should authors respond to all comments?
There will be some obvious comments that will not need a response. However, responding to questions or concerns connects the reader to the author. This, in turn, begins building trust in a brand or even the authors themselves. An online reputation is vastly important especially for those conducting business from their websites.
Will spam comments show in the recent comment widgets?
Unfortunately, spam is not scanned by any of the above plugins in this article. For that, you'll need another tool to reduce the spam in the comment section. If you do not have a plugin for this, a spam message could be visible in the sidebar or anywhere else you put a comment shortcode.
Why would you want thumbnails in recent comments?
Various studies show how humans are more receptive to visual stimuli rather than text. This is why posts in social media marketing do better when there is an image attached. The same effect may be possible from the perspective of the recent comment. There is greater potential for a visitor to click the link and visit the original post.
Why would you want Gravatars in recent comments?
Gravatars give the commenter a visual presence. It's like having an image in social media; it's a graphic that is connected to a person. A gravatar gives the message more of a personal touch and, in a way, validates the person creating the comment. Essentially, a gravatar is used as a way to add interaction and engagement.
Expanding What WordPress Can Do
WordPress hosting has a lot of potential when it comes to versatility and flexibility. Displaying recent comments is only a small part of what can be done with this powerful content management system. You can engage visitors further if you give them a reason to do so. Becoming part of a conversation through the comments may be one such method.
What do you offer visitors to inspire engagement? What is the longest conversation you've ever had in the comment section?