Are you looking for a great way to receive feedback or opinions from your community? If so, then you should try setting up polls and surveys on your website. Polls and surveys are a great way to create community engagement for any website. They also provide valuable information for you to analyze and plan new content around.
They are especially useful if you are unsure if a certain feature or topic is right for your website. For example, a movie review website might want to start doing video game reviews. Just because they are doing one kind of review, does not mean that their community will like another kind of review. Today, I will demonstrate how to use the Polldaddy plugin to create polls and surveys in WordPress.
Why Use Polls and Surveys in WordPress
New features and content are released regularly on all types of websites, platforms, and industries. Most major websites and companies will listen to feedback and create or improve features around that feedback. Every time you develop and implement a new feature or piece of content, you are taking a huge risk. There is no way to tell if a piece of content, feature, or service will be well received by a certain community. The biggest mistake is thinking that all communities like the same things.
You need to understand your own community. The only way you are able to do that is by engaging with your community. Many web developers will use social media to hint at features and see the responses. A better way is to directly ask your visitors if they like an idea or which idea they like better through a poll or survey on your website.
How to Use PollDaddy to Create Polls and Surveys in WordPress
Today, I will demonstrate how to use the Polldaddy plugin to create polls and surveys in WordPress. Polldaddy makes it very easy to create polls in WordPress, but you don't actually create them on WordPress. All of your polls and surveys will be created on Polldaddy.com. It has many features to set up like start and close dates, how many answers there are, and has multiple color schemes to choose from. The plugin is very simple to set up, but you will need to set up your Polldaddy.com account to begin.
Installing Polldaddy
To begin, click on Plugins and select the Add New option on the left-hand admin panel.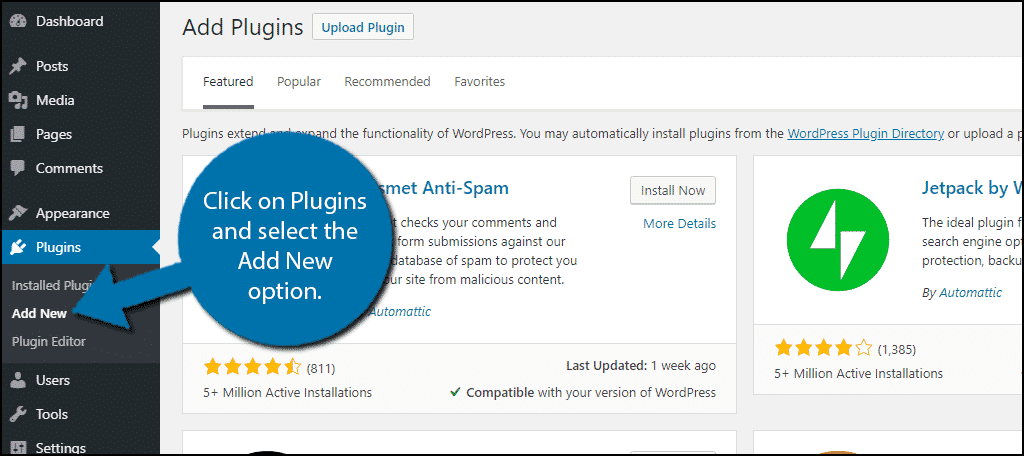 Search for Polldaddy in the available search box. This will pull up additional plugins that you may find helpful.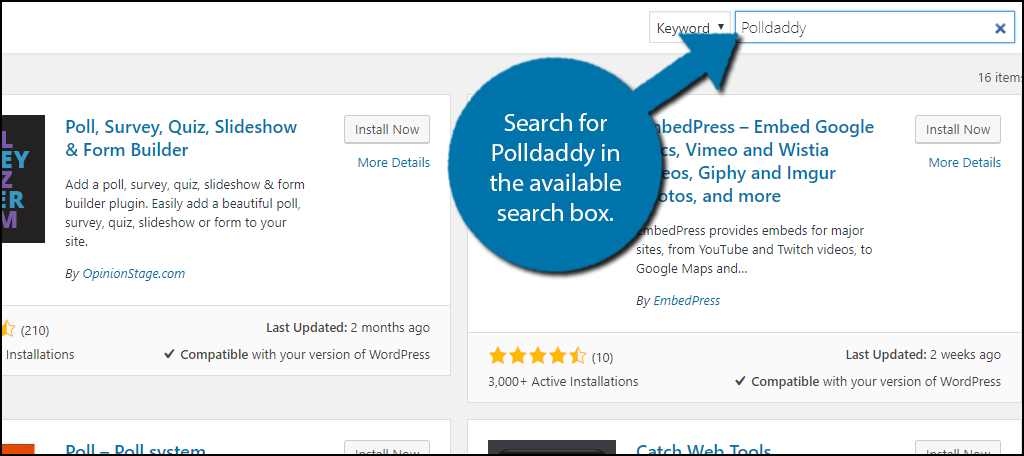 Scroll down until you find the Polldaddy plugin and click the "Install Now" button and activate the plugin for use.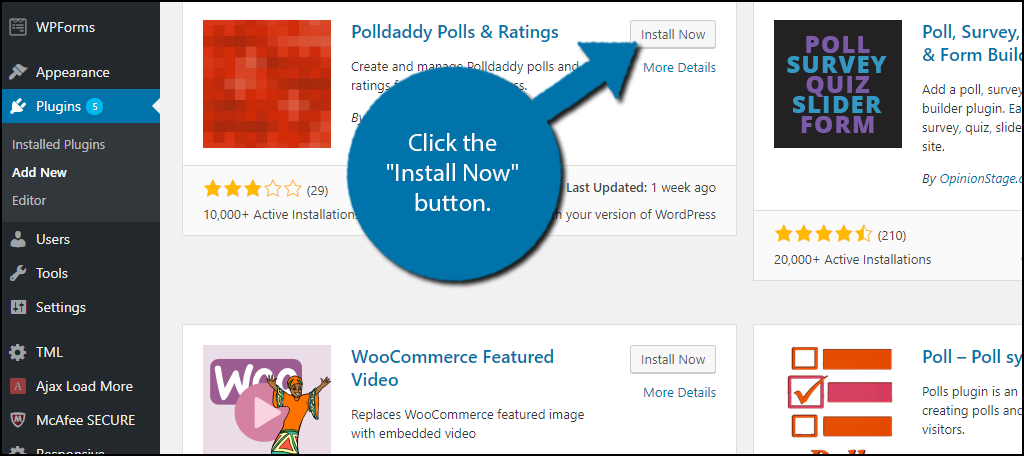 On the left-hand admin panel click on Settings and select the Polls option. This will pull up the main settings page.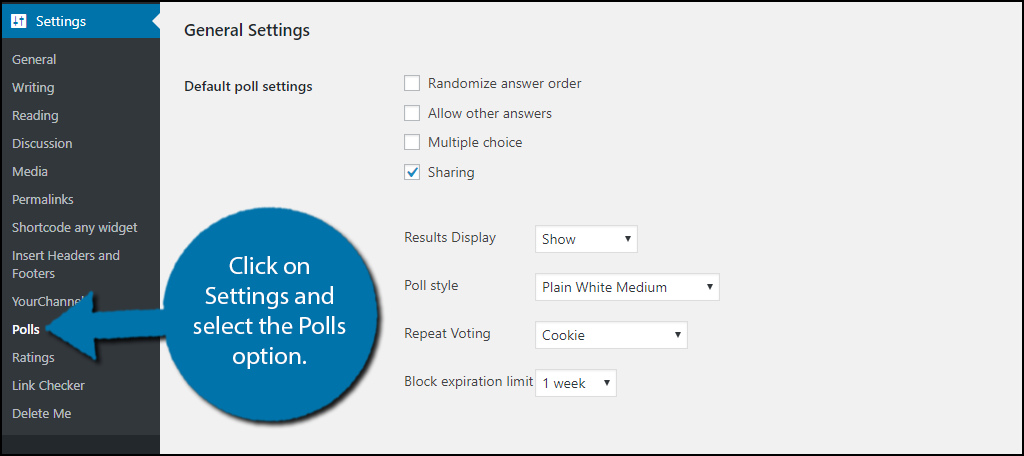 You will only see a box for the API Key, but you won't have one without an account.
Setting Up Your Polldaddy Account
You should see a warning message that says "Warning! The Polldaddy plugin must be linked to your Polldaddy.com account." You need to visit the Polldaddy.com and sign up. You can use the free version and you will get all of the necessary features to create polls. You may find the paid version to be worth the cost, depending on your website's needs.
Once you have signed up for your plan, check your email for a verification message. Confirm your email and sign back into Polldaddy.com. The website will have a slider on it. Change it to $0 to use the free version.
Your account set up is complete. Click on the down arrow on the top right of the page. Select the My Account option. You will now be on the My Account page. Scroll all the way to the bottom. You will see Polldaddy API Keys section. Enter your website's address to generate the API Key. Copy the API key and paste it back into the appropriate box in WordPress.
Now that your account is linked, it's time to start building polls and surveys for WordPress.
Creating Polls and Surveys
All of the polls surveys, quizzes, and ratings that you create, will be made on Polldaddy.com. When they are done, the website will generate a shortcode or URL for you to use.
To begin, click on the create new drop-down button. Select between a poll, survey, quiz, or rating. In my case, I will demonstrate polls, but they are all quite similar to set up.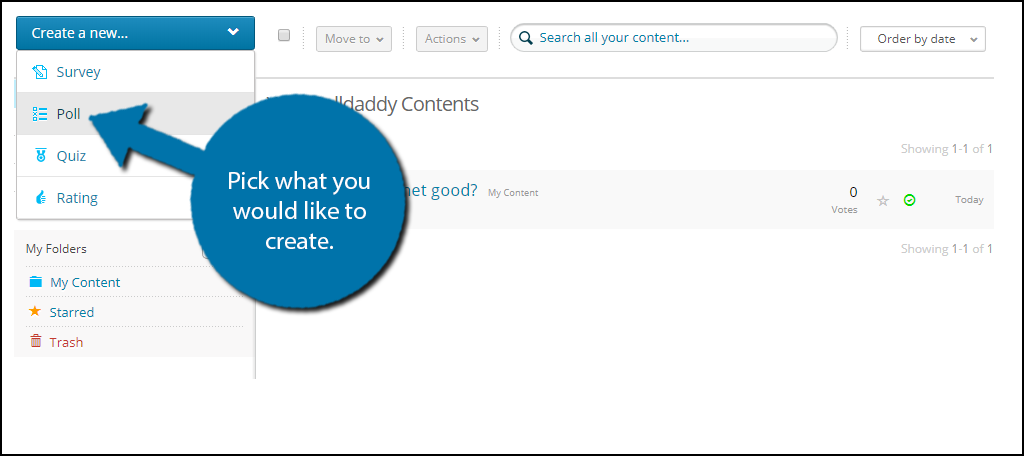 Enter the question of the poll. Now, enter the possible answers to the question. You may also want to check the box that allows the visitors to leave there own answer to the question. Always keep in mind what you are trying to get out of the question.
There is an Advanced PollSettings section under your answers. You can set up restrictions, how to block repeat voters, how to show results, whether to allow comments, and how long the poll will last for. Click on the "Create Poll" button.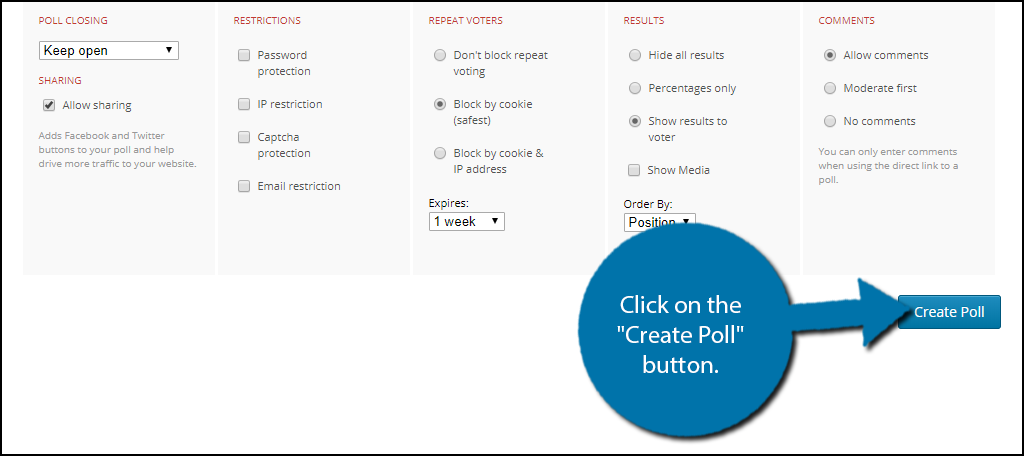 Now it's time to pick the design of the poll. There are a lot of options to choose, but I would recommend picking a color scheme that matches your themes. You also need to pick the size of it. Consider where you would place it when making that choice. You can see a preview of it at the bottom.
If you would like to change the language, click on the Language tab. Once you have made all of the choices, click on the "Save Style Settings" button.
The poll is complete, but now you need to pick the method of displaying it. Click on the WordPress tab to see the options. You will have an option for both WordPress.com and WordPress.org. Copy the appropriate option. I will be using the WordPress.org option. Go to the page, post, or sidebar that you would like to insert the poll on to. Paste the URL into the visual editor. Click on the "Save" or "Update" button to have it go live.
Congratulations, you have successfully created a poll for WordPress using Polldaddy.com. You will find that surveys and other options are created and inserted into WordPress in the same way. Always remember that you can change the poll at any time, but you will lose the results if you do.
Get Your Visitors' Opinion and Feedback
Your visitors are the reason your website is or will become successful. You need to listen to all of their opinions and feedback when you are considering a change. For example, if you made a design change, create a poll asking visitors if they like it better. Design choices, features, content, services, and anything else can only be considered successful if your community likes it.
Always remember, you cannot please everyone, all of the time. Also, remember that many people are not honest when they answer a poll. For example, if you showed a picture of a blue pen and asked if it was blue or black, you would definitely see a percentage of visitors pick black. You should always keep in mind your visitors because without them your website is pointless.
How many polls have you created? Have you found Polldaddy.com to be easy to use?