Do you want to create quizzes on your WordPress website? Quizzes are a great way to engage with your audience. They can be used for educational purposes, as well, as a fun engagement opportunity for visitors. They also allow you to easily collect data on your website's visitors, which can help you determine the direction of new content.
For example, you may be thinking about doing trivia or educational quizzes, but what about an opinion quiz? Asking your visitors opinion questions about your website is a great way to collect information and feedback. Today, I will demonstrate how to create and use quizzes in WordPress by using the HD Quiz plugin.
Why Add Quizzes to Your WordPress Website
Quizzes are a great addition to any website. You can create questions about any topic. They may include topics like math, science, books, television, video games, and so much more. People love to test their knowledge and compete with their friends and family. Even social media websites like Facebook use quizzes to engage with users.
An even more valuable part of quizzes is the ability to collect information on your visitors. For example, if you had books, television, and video games as your three topics for quizzes, and you saw more people taking the video game quizzes, you probably want to release more content related to video games. It's a great way to effortlessly collect information and even feedback about your website from visitors.
How to Create and Use Quizzes in WordPress
Today, I will demonstrate how to create and use quizzes in WordPress by using the HD Quiz plugin. This plugin has very high reviews and is completely free to use. It can create an unlimited number of quizzes and has a wide array of tools to enhance the user experience. These include things like quiz timers, images as answers, tooltips for each question, and so much more.
Installing HD Quiz
Start with clicking on Plugins and selecting the Add New option on the left-hand admin panel.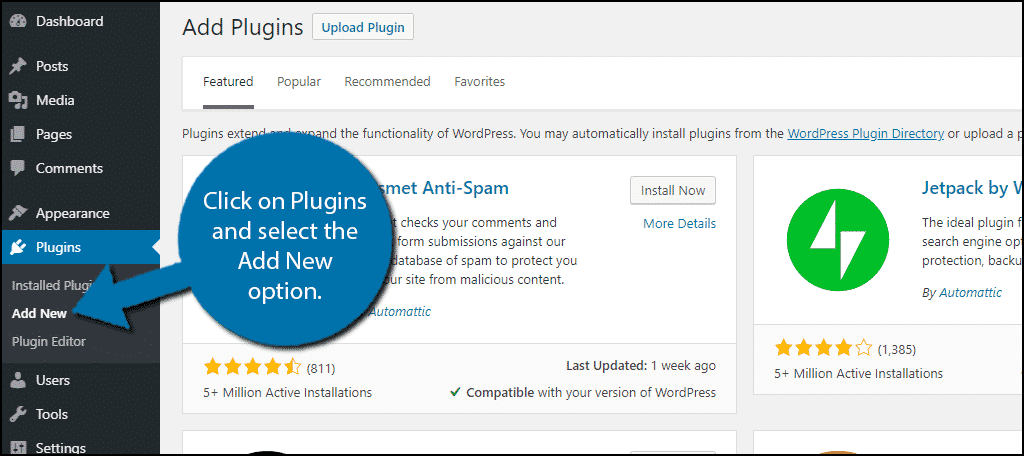 Search for HD Quiz in the available search box. This will pull up additional plugins that you may find helpful.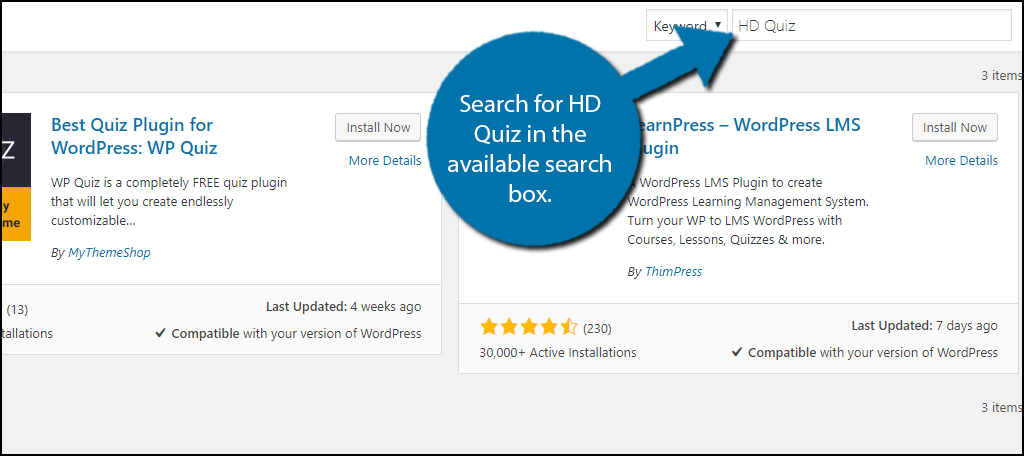 Scroll down until you find the HD Quiz plugin and click on the "Install Now" button and activate the plugin for use.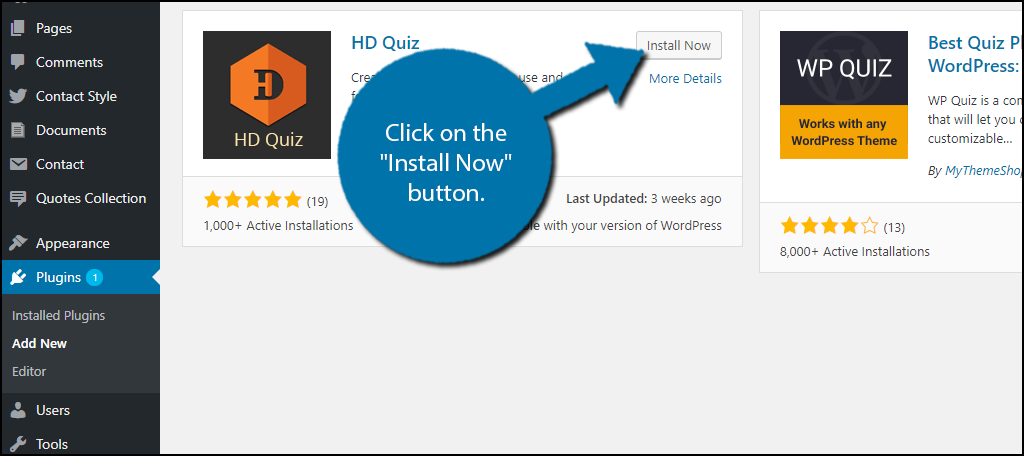 Creating Quizzes
Creating quizzes is very easy, but keep in mind that questions need to be created separately. You must create a quiz first to select questions that can be used within it.
On the left-hand admin panel, click on the Quizzes option. Here you can create as many quizzes as you want.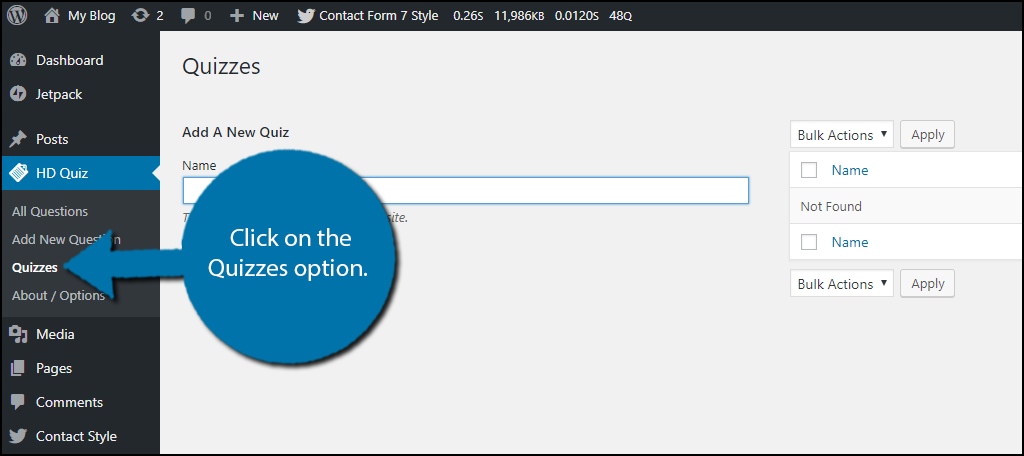 First, you need to name your quiz. Once it has been named, click on the "Add A New Quiz" button.
The quiz is now created, but it can still be customized. Click on the quiz you just created. You will be able to change a lot of settings that include what the quiz will say when a user passes or fails the quiz, ability to share results with Twitter and Facebook, show the correct answers afterwards, add a quiz timer, and randomize the question and answer order. Once you are done, click on the "Update" button.
Now it is time to create the questions for your quiz.
Creating Quiz Questions
Now that a quiz has been created, you must create the questions. You can use the questions you create in multiple quizzes if you want too. It is important to keep in mind how big of a question pool you want to create. For example, if you have a quiz on Baseball, you could create thousands of questions, but your quiz is limited to 10 questions. This will create a quiz with a high replay value because the quiz is likely to be different every time, but it will take a very large amount of time to create that many questions.
On the left-hand admin panel click on HD Quiz and select the Add New Question option.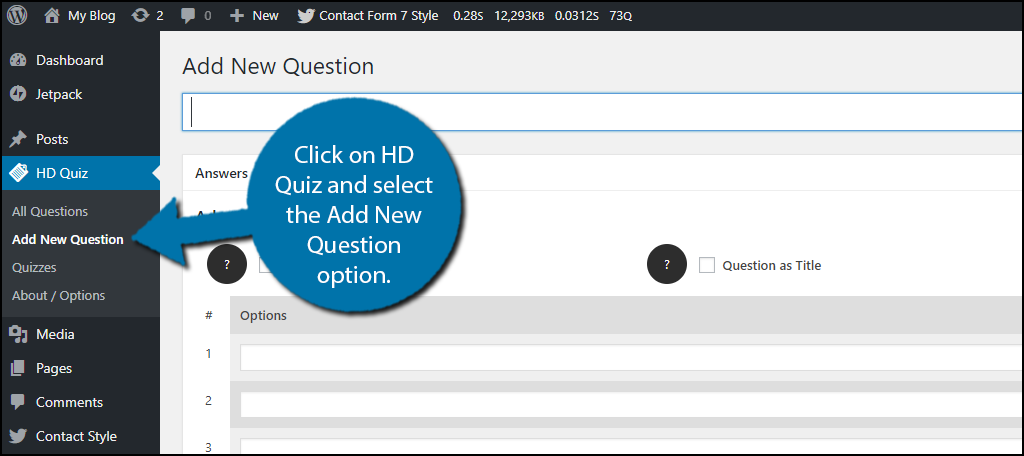 When you are adding a new question, the title is the question itself. Add the question to the appropriate text box.
Now it is time to create the answers to the question. You can create up to ten options for a single question, though most quizzes only use four or five options. Fill in as many options in the answers section as necessary.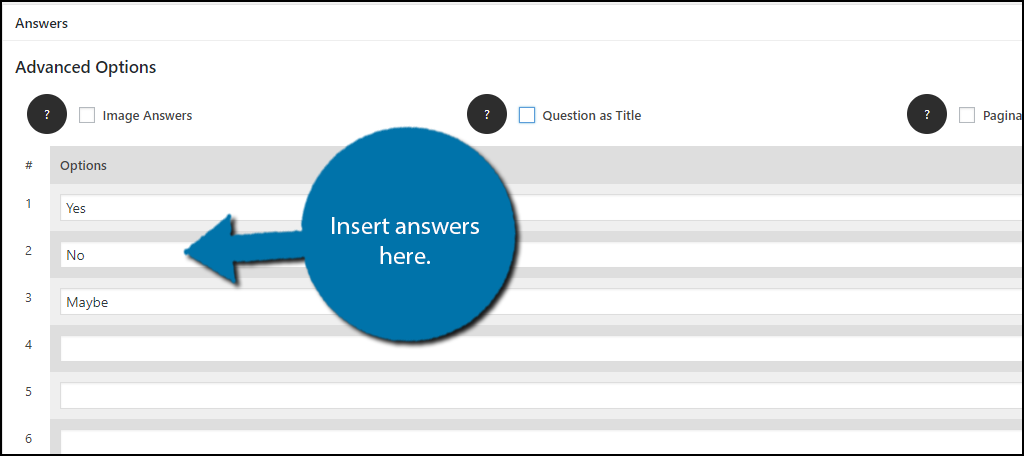 You may also want to consider using images as answers. Check the Image Answers check box. You will be able to add a 400 x 400 image to each answer you create. The images will need to be uploaded to your media library to be used.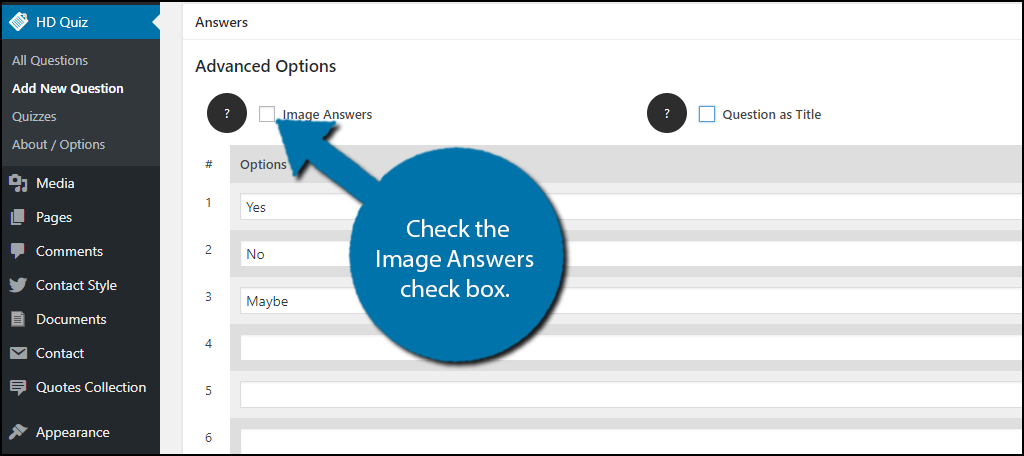 You must also select what the correct answer is. To do so, simply click on the bubble next to the correct answer.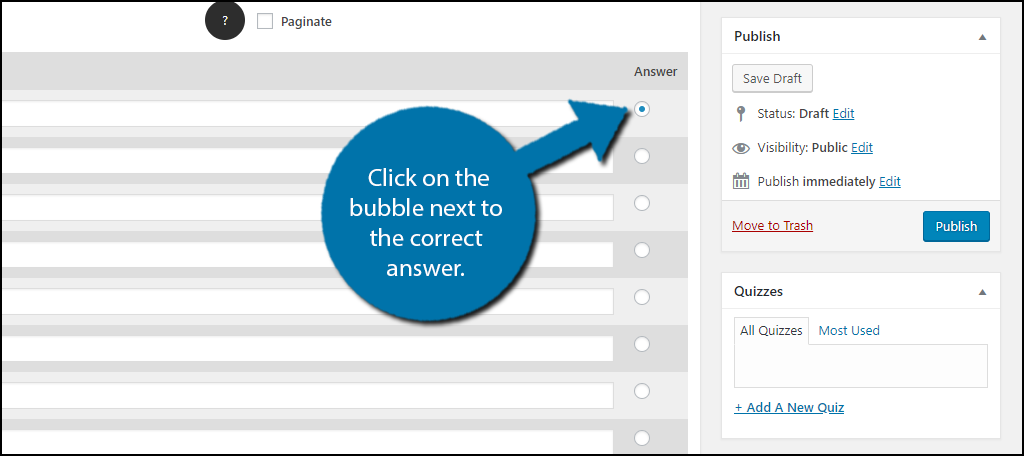 Now it is time to select where the question will be used. Under the Publish box, you will see a Quizzes box. Here you can select the quizzes the question will appear in.
Once you are done creating your question, click on the "Publish" button.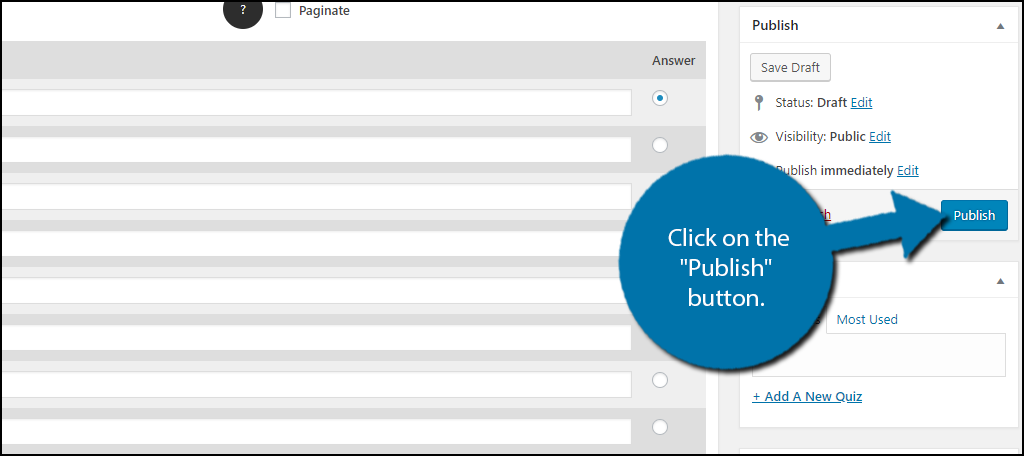 Repeat these steps and create as many questions as you want. Remember to make different question structures like true and false questions. Unless you assign a question to a quiz, the question will not be used, so remember to assign a quiz.
Adding the Quiz in WordPress
Now that your quiz is created and has questions to use, it is time to add it to your website. The plugin uses shortcodes to place the quiz on the website. You can find this shortcode next to your quiz name in the Quizzes section.
Simply paste the shortcode into a page, post, or text widget text editor.
You can now view your quiz on your website.
Congratulations, you have successfully added quizzes to your website. You can always add new quizzes and questions at any time. The more you add the more possibilities users will have.
Use Quizzes to Enhance Your Content
Quizzes have an infinite amount of possibilities and they can be used to enhance your content. For example, why not create category related quizzes? If you have a category, like Dogs, include quizzes about dogs. This can work for every category you have. Creating more question can help your quizzes have more replayability and can make the content last longer.
What kind of quizzes have you made? Do you like the HD Quiz plugin?