Presentations are a great way to share information whether it's a review of a product or providing statistics to shareholders. One of the reasons why so many people use these platforms is because they can be used in so many ways.
Whether for social media, direct linking or even on a WordPress website, a slide show is quite versatile. Some may even use it as an alternative to using a WordPress photo gallery on the website.
Google Slides is the search engine giant's answer to popular office software. As one of the free office tools available, users can create presentations while having access to powerful tools and features. It's no wonder why many people prefer to use Google rather than spend hundreds of dollars on alternative software.
Today, I'm going to show you how to add Google Slides in WordPress to impress your visitors. Whether this is a private portal or a public website, placing additions such as presentations into your content adds a layer of engagement.
What can you do with Google Slides in WordPress?
Presentations are used to show products, describe services, share statistics and a slew of other formats from any type of web hosting. If developed well, they can greatly contribute to inspiring others to act or buy. They can also be used like an interactive infographics. Instead of one long image, a presentation can be broken into segments controlled by the reader or set to automatic motion.
In a Public Forum
Presentations can be added to WordPress in a myriad of ways. While many will show these on a separate page accessible from the navigation menu, others will accentuate a post. In reality, it's up to you regarding how you want visitors to see the slide show.
Presentations can also be used as part of a marketing strategy to encourage sales, leads or just attract visitors to website. In fact, many businesses create a series of these slide shows because they have great potential for engaging an audience.
In a Private Forum
What if you have information you only want to show to registered users? Perhaps you have business information you want to display to stock holders or employees in the business. Google Slides can be placed into private pages easily. This could also be a marketing method to inspire users to register.
Embedding the Google Slides Code
Perhaps one of the quickest methods to place a presentation is by using the Google Slides embed code. This is a snippet of code you copy directly from Google and place onto your site. Don't worry, you don't need to be a programmer to do this. All it takes is a quick copy and paste.
To place the Google Slides embed code into a website:
Go to the Google Slides website and log into your account.
Click on the presentation you wish to show.
Click the "File" link on the top left and then click on "Publish to the web…" This will bring up a new window to set up your controls.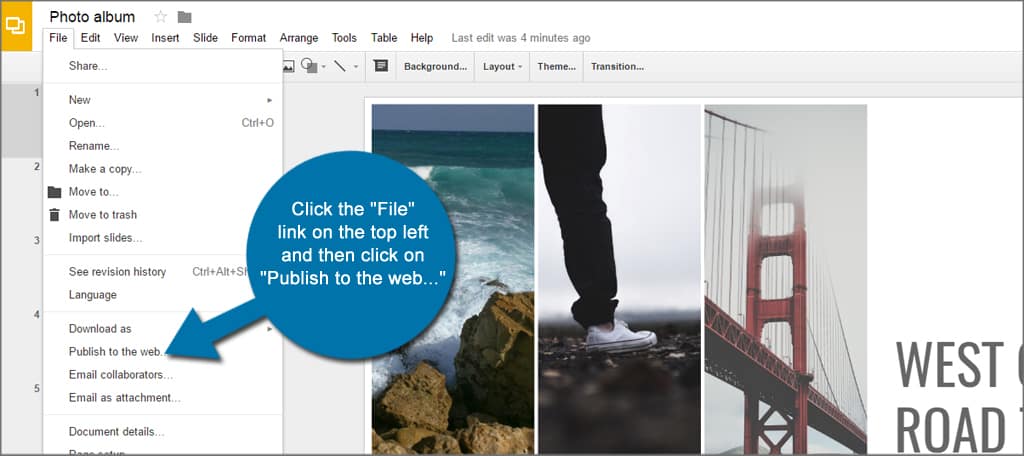 Click on the "Embed" tab and adjust the settings for the presentation. This will let you change the size of the view, the rate of automatic advancing, starting the slide show immediately and restarting at the end. For now, I'm simply going to leave the settings as default.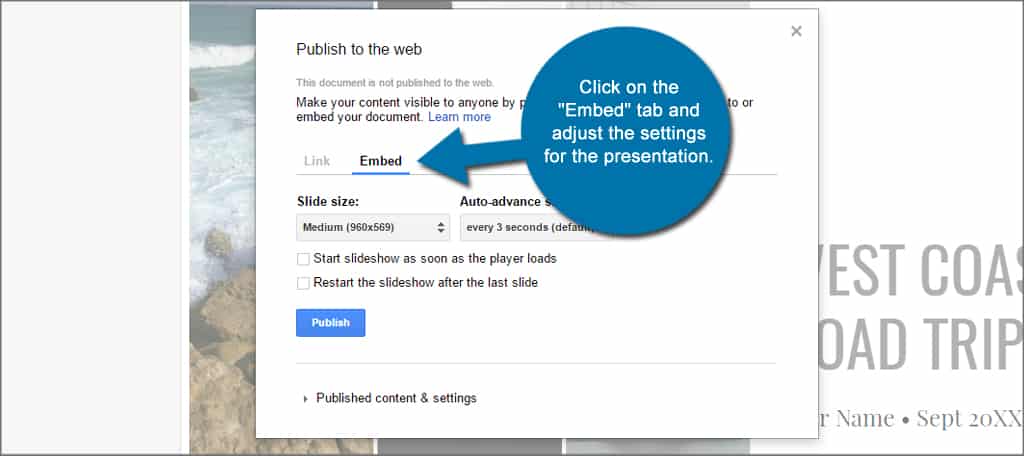 Click the "Publish" button once you've made your selections. Google will ask if you're sure you want to publish the presentation. Click OK on the pop-up if or when it appears. Depending on the browser you're using and the settings, you may not see this confirmation window.
A new section will appear under your slide show's settings. This is the compilation of code based on the settings you chose. Copy the code that is displayed in this small window.
Log into your WordPress admin dashboard and create a new page. For this tutorial, I am going to simply create a new page to show off the presentation. In reality, you can use this code to create any page or post you want in WordPress.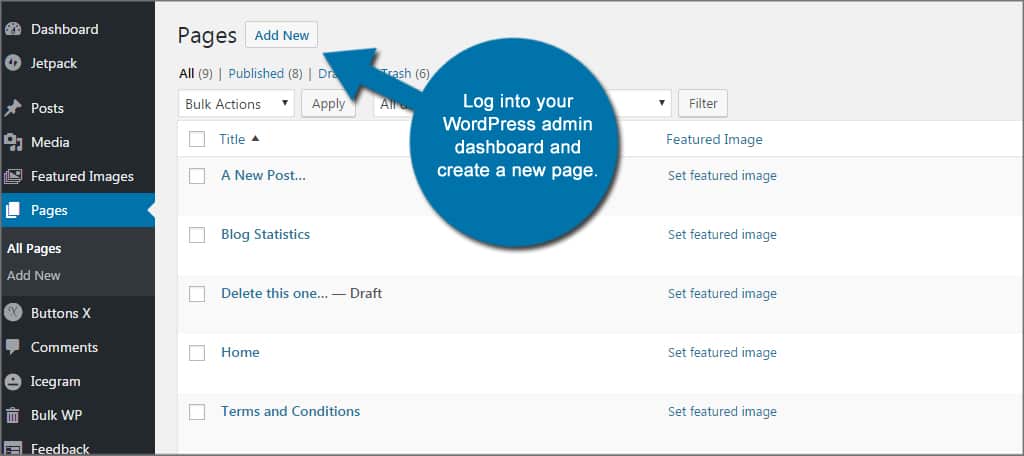 Give the page any name you wish. Since the presentation in this tutorial is a photo album, I'm simply going to label it, "Photo Album." Of course, this is completely up to how you want to display the slides or accentuate your own posts.
Select the "Text" tab of the WordPress editor. This tab is where you want to place any coding. In the visual editor, WordPress will modify special characters to avoid accidentally implanting code into the website. Code added to the "Visual" screen will not work unless it is a shortcode for WordPress.
Click into the editing field and paste the code from Google Slides.
Click the "Save Draft" button on the right. You don't want to publish it quite yet. Instead, you want to make sure it looks right before setting it live. After all, you might want to make it a different size.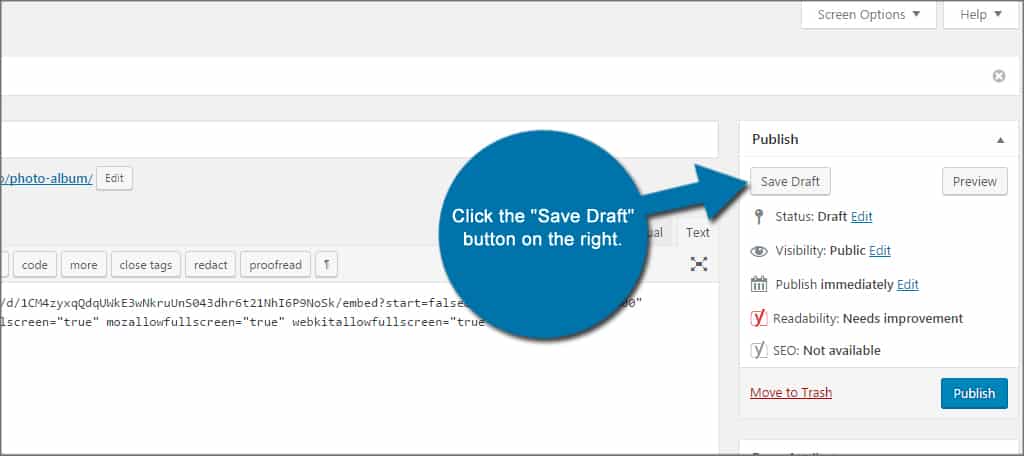 Click the "View Page" link that is displayed in the top bar. This will open the page to show you want the presentation will look like.
Check to make sure the presentation looks like you want it on your website. If the dimensions are wider than the viewable area, WordPress will automatically shrink it to fit. This means that it will work beautifully on mobile devices.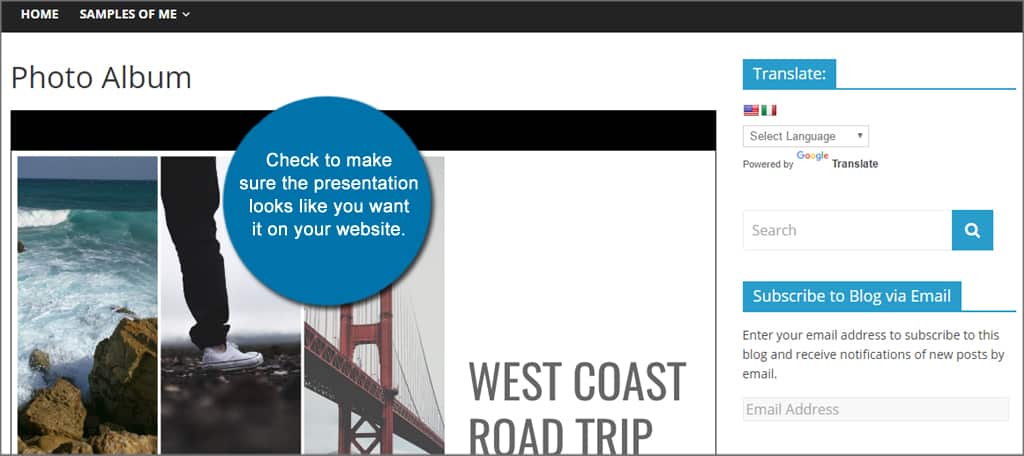 Once the page is set up to your liking, click the publish button.
You now have a fully functional presentation on your site using the Google Slides embed code.
Using the Google Docs oEmbed Plugin
If you plan on placing quite a few presentations on your site, it may be a little bit faster to use a plugin. In this tutorial, I'm featuring the Google Docs oEmbed plugin, which will convert links to presentations.
Essentially, this plugin will constantly scan any link and automatically convert those from Google Slides to show the presentation. It can be quite a useful tool if you like to embed slide shows from yourself or others you find on the Internet.
To use this plugin:
Go to the plugins area of WordPress and click the "Add New" button.
Search for, "Google Docs oEmbed." Install and activate the plugin.
Go to your Google Slides account and access "Publish to the web…" as you did earlier. This time, you want to make adjustments for the "Link." Once you are ready, copy the link that is provided by Google.
NOTE: Once you are ready to publish your presentation, it can also be quickly shared across various social media platforms from this screen.
Go into a post or page you want to edit and paste the link.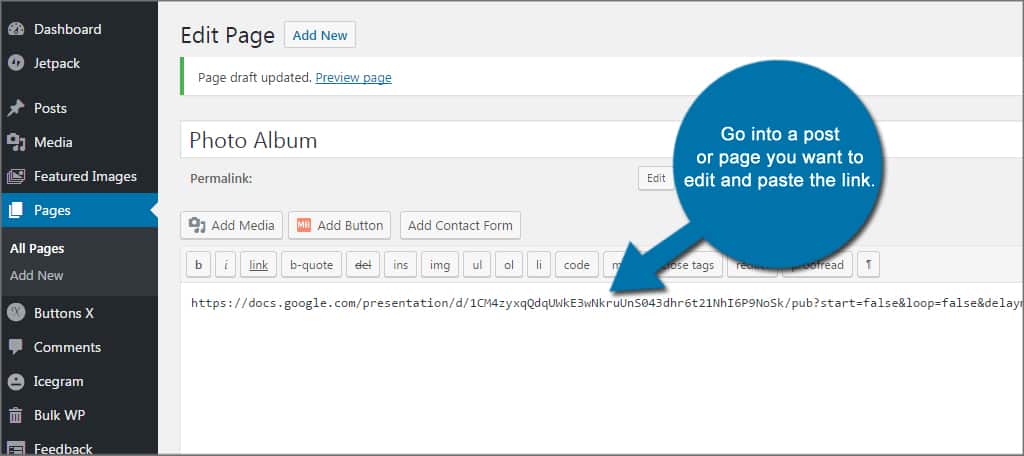 Click the button to save the draft or update, depending on if you're creating a new one or editing an existing post or page.
The plugin will now covert the link to display the presentation. View the post or page to make sure the presentation looks perfect on the site. It's always a good idea to check your work.
It's important to note that you must have the link on a separate line in the WordPress editor. Otherwise, the plugin may not see the link as a valid conversion.
Sharing Your Slideshow
Presentations can have a wide number of benefits for any website. Whether you want to host an automatic webinar for visitors or simply want to share a few facts, Google Slides in WordPress can be helpful. The hardest part about this whole process is designing the presentation of your dreams. Luckily, Google gives you all the tools you'll need to make such stunning visuals.
What kind of goodies do you integrate into your website to impress visitors? How often do you create presentations to show others on the Internet?
Chris is the Support Manager at GreenGeeks and has been with the company since 2010. He has a passion for gaming, scripting and WordPress. When he's not enjoying his sleep, he's working on his guitar skills and fiddling with 3d printing.