Is your website overflowing with images without titles? Adding title tags or title attributes to the your site's images is easy and helps visitors know the name of their favorite pictures. This is especially useful for artists that are using their website as an online portfolio. Like most things in the world, giving your creations a name is important.
Image title attributes are very easy to add. There are two ways to add them. The first method is to go into the HTML editor and add them to your images. This will be necessary for images that are already on your website. The second method is to use a plugin that will let you add title tags when you are choosing your images in the media library. Today I will demonstrate how to add title tags for images using both methods.
Why Add a Title to an Image
The main reason to add a title to an image is to give images on your website a name. If the image can only be found on your website, then the name may help create some brand recognition. For example, if you have a portfolio website for your art, and you had an image called Mountain, visitors may start remembering your work by name. Adding a name makes it easy for people to discuss work in the comments section or other places on the Internet. Having your work discussed in other places is almost always a good thing because most people will want to see the original if they see other people talking about it or making references to it.
How to Add Title Attribute For Images in WordPress
Today I will demonstrate how to add title tags for images using two methods. Remember there are two methods to use. A method for existing and new images and a method for just new images. The second method will need the Restore Image Title plugin. For websites that already have a lot of images, you will need to use the first method to go into every page with an image and add the title.
Let's start by showing you the HTML method. Go to the Pages section of WordPress and select any page with an image that you wish to add a title for. Switch the editor to the Text mode if you are not already in it. Text mode will show the page's content in HTML format. The text editor is very popular and some developers actually disable the visual mode so they can work exclusively in the text editor. Scroll through the content until you find the code for the image. In my case, the image is represented by:
You need to simply add the following to your image's code after the height amount:
Thus the final code for the image will look like this.
Switch the editor back to the Visual mode and hover your mouse on the image. You should now see the title appear over the image if the code was edited correctly. You must repeat this for every image on your website that you want to add a title too. Don't forget to save your changes on each page you do this on.
Now you could definitely edit the code of every image that you place on your website on new pages as well, but if you do not like the sound of that, you can just use the Restore Image Title plugin. To begin go to plugins and click on the Add New option.
Search for Restore Image Title in the available search box. This will pull up additional plugins that you may find helpful.
Scroll down until you find the Restore Image Title plugin and click the "Install Now" button and activate the plugin for use.
Head over to a page you want to add an image with the title already made. Select the image from the media library. On the right-hand side, you should see some text boxes. Fill out the Title text box and click on the "Insert into page" button.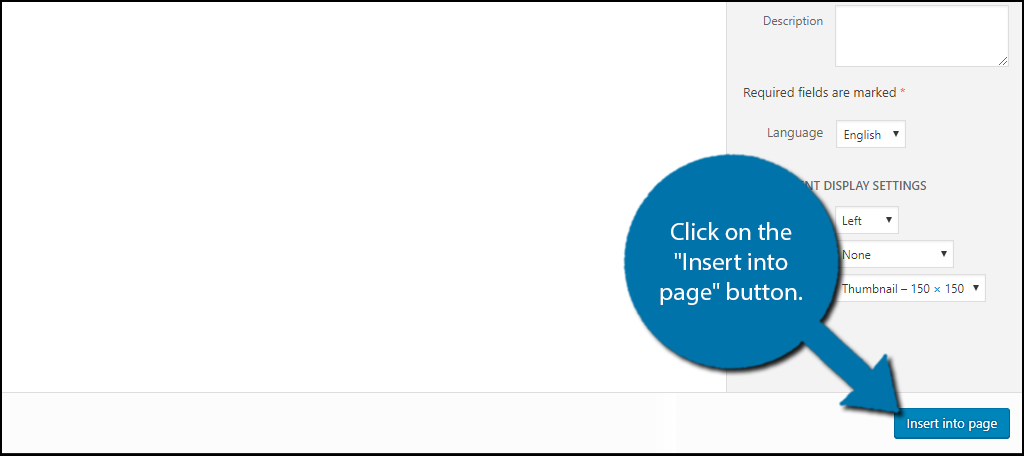 Hover over the image and make sure the title is being displayed. Don't forget to click on the save button to save your work.
Congratulations, you have successfully learned two methods for adding titles to your website's images. Remember, if you already have a lot of images this process may take several hours, but if you feel that the titles will really help your website, then take the time to add them in.
Make Sure There is a Reason to Add the Title
At the end of the day adding titles is nothing special and it may work well or fit in perfectly on other websites, but that doesn't mean that it is perfect for every website. If you have a handful of random images, memes, or photos on your website you might not find much value in this, but if your website is primarily based on images then this might be worth adding to your website.
The key point applies to many things you can do on a website. You have a lot of freedom to take your time and add plenty of cool features, but there's no point to some of them depending on the nature of your website. Always make sure that there is a reason and visitors will use the feature otherwise you just wasted valuable time that could have been spent on something else.
Do you think it's worth spending time updating every single image on your website to have a title? How do you think titles will benefit your visitor's experience?
Author:
Ron Helms
I currently work for GreenGeeks as a Support Technician. My primary roles are supporting our VPS and Dedicated server clients, as well as performing site migrations. With experience in the web hosting industry since 2009, there is rarely a question I can't help answer. In my spare time, I enjoy gaming and working on cars as an automotive enthusiast.