Do you use a lot of widgets to make your website look great? If so, there will come a time when you will want to clean up WordPress widgets to make room for new ones or just remove the ones that no longer serve a purpose. Adding widgets is a great and easy way to add new design options to any website.
Unfortunately, having too many widgets can overwhelm a page and make it feel cluttered and cluttered pages generally don't look good. It is a very common mistake for new website developers to overload pages and they need to know how to fix that. Today, I will demonstrate how to disable WordPress widgets and clean up your website.
Why You Will Need to Disable Widgets At Some Point
Widgets should be used on every WordPress website and there are many plugins that add their own widgets. For example, sidebars are commonly used on most websites today, but you can disable them in the widgets section. Keep in mind it is possible to have widgets overlap and this will not look good to visitors. An overly cluttered page makes it hard for visitors to find what they are looking for.
When this happens or you discover any other undesirable widgets that are on your website, it's time to remove them. Cluttering is not the only reason to remove widgets. Redesigning a website is very common when you are starting out and you will have to remove older widgets to add new ones while redesigning. You may also change your plugins during this process and may need to disable the plugin's specific widgets.
How to Disable and Remove WordPress Widgets
Today, I will demonstrate how to disable WordPress widgets and clean up your website. The WP Widget Disable plugin will allow you to disable any widget on your website. It can make the process very quick, but you do need to be aware of what you are disabling. If you disable something you do need by accident, you can easily fix it through the plugin's settings. Keep in mind you can use the actual widgets page, but that can get messy and requires a lot of dragging and dropping.
Let's start by going to the plugins area of WordPress and click on the "Add New" button.
Search for WP Widget Disable in the available search box. This will pull up additional plugins that you may find helpful.
Scroll down until you find the WP Widget Disable plugin and click the "Install Now" button and activate the plugin for use.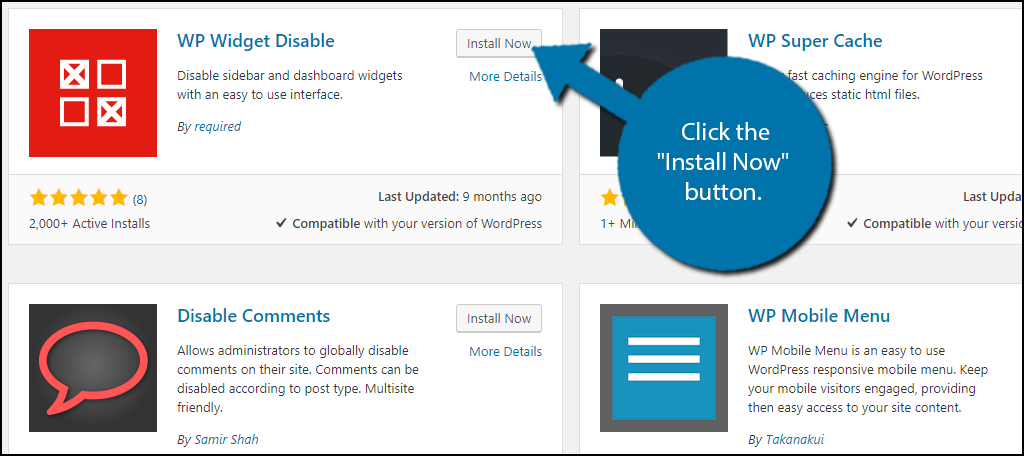 On the left-hand admin panel click on Appearance and select the Widgets option. This will pull up the Widgets page. WordPress widgets are sorted alphabetically to help you locate what you want to add to your website. Take a few minutes to look through and make some notes of widgets you are currently using and which ones you would like to disable.
Now click on the Disable Widgets option in the left-hand admin panel. This will pull up the main settings page of the plugin.
You will see every widget viewable from the widgets page here. Each one has its own checkbox. By checking the box, you are disabling that widget from being viewable. Check all of the boxes for the widgets you would like to disable. Remember to save your work by clicking on the "Save Changes" button at the bottom.
Keep in mind that if you have any code on your website that is calling for a particular widget that you have disabled, it will still work. The plugin will disable it in a way that you cannot use the widget anymore but does not block it on a code level. It is essentially making the widget invisible, but in reality, it is still there. This means you will need to get rid of the code or replace the widget it is calling.
Congratulations, you have successfully disabled the widgets on your website. Remember, if you want any widget back, you just need to uncheck the box and save the settings. This is a great tool to keep your widgets section clear and let you easily pick the widgets you will use on your pages.
Keep Your Website Practical
Designing a website is much easier said than done and one of the biggest mistakes is trying to fit too much on one page.  We often say "less is more" and I would argue a website is a perfect place for that concept. By keeping the content on pages focused, visitors will have an easier time finding what they need and following your website's navigation menus. This is why it is a good practice not to clutter your website's pages with content that is not needed.
Always try to get feedback from multiple sources on how your website looks and how easy it is to navigate. Your website needs to be as simple as possible. Imagine an elderly couple using a computer for the first time. It is important to make your website accessible to the largest audience possible. Remember, no one wants to solve a detective case when they are looking for something on a cluttered website page.
How many widgets did you disable using the WP Widget Disable plugin? Did you find the disabling process easy, hard, or somewhere in between?
Chris is the Support Manager at GreenGeeks and has been with the company since 2010. He has a passion for gaming, scripting and WordPress. When he's not enjoying his sleep, he's working on his guitar skills and fiddling with 3d printing.