You need a better, faster web host.
Free Site Migration, Amazingly Fast, Secure & Eco-Friendly WordPress Hosting with 24/7 Support.
Check Out Our Hosting Plans
Do you want to disable right-click on images in WordPress?  WordPress is the most customizable CMS available, so it should come as no surprise to find out you can disable right-clicks. This is especially important for websites that rely on images as are the main form of content they offer.
However, this isn't something baked into WordPress. Luckily, there is a plugin for just about everything, and this is no exception.
Today, I will demonstrate how to disable right click on images in WordPress with the Disable Right Click for WP plugin.
Why Disable Right Clicks in WordPress?
The right-click allows you to see multiple options as a visitor. For example, if you highlight text and then right-click, you can choose to search that term on Google. One of the most common uses for a visitor on a website is to right-click an image and either copy or save it.
Unfortunately, this makes it extremely easy for any visitor to steal your images or graphics. This is even more problematic for an online art portfolio or photo album website, that uses images as the main attraction.
Thus, if you have sensitive work, disabling the right-click in WordPress, can help significantly when it comes to preventing image theft.
However, it is important to realize, there are plenty of other ways to steal an image of a website. For instance, you could copy a screenshot and place it into Photoshop and crop the image that way.
On the upside, though, disabling right-click acts as a deterrent and helps reduce the likelihood of someone stealing your images or photos.
Installing Disable Right Click for WP
The Disable Right Click for WP plugin does exactly as the name implies, it completely disables the right-click on WordPress. This doesn't just mean you can't copy an image. It also means you can't copy text, search Google for highlighted terms, and everything else right-click related.
Thus, you really need to consider if this plugin is right for you.
Click on Plugins and select the Add New option on the left-hand admin panel.
Search for Disable Right Click for WP in the available search box. This will pull up additional plugins that you may find helpful.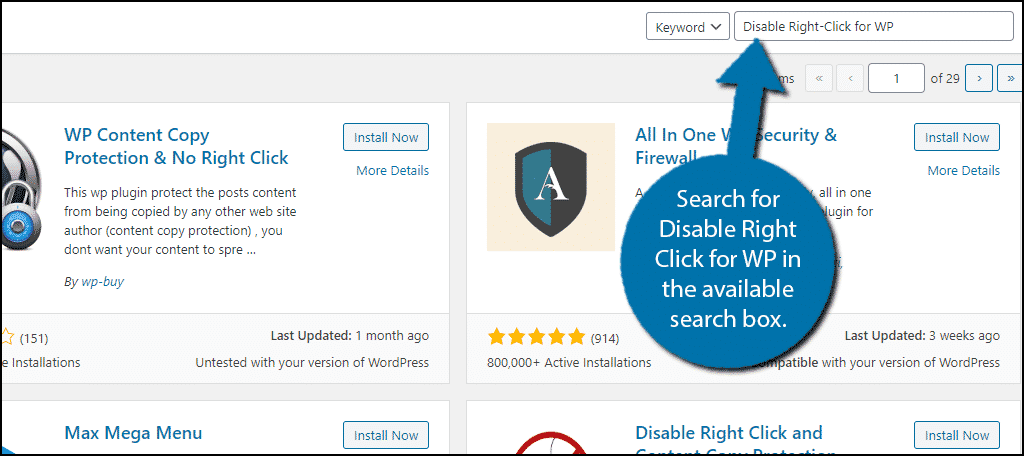 Scroll down until you find the Disable Right Click for WP plugin and click on the "Install Now" button and activate the plugin for use.
Using Disable Right Click for WP
The plugin Works upon activation across your entire website. However, it will allow the admin account to still right-click.
Thus, you need to log out to actually see the plugin in action. Otherwise, it will seem like nothing has changed.
However, there is one setting that this plugin offers: a display message to your visitors who try to right-click.
Of course, that raises the question, why should I display this message?
To be perfectly honest, if I couldn't right-click on a website, my first thought would be my mouse is broken or something is wrong with the website. The message makes it clear that it is intentional. After all, it is not very common to disable this feature.
To do so, click on Settings and select the Disable Right Click for WP option.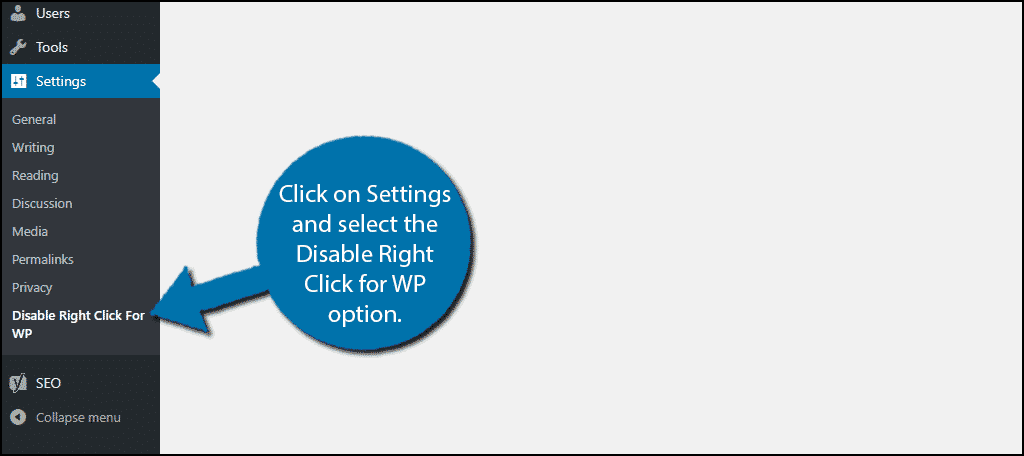 Select "Yes" to display the message and save your setting.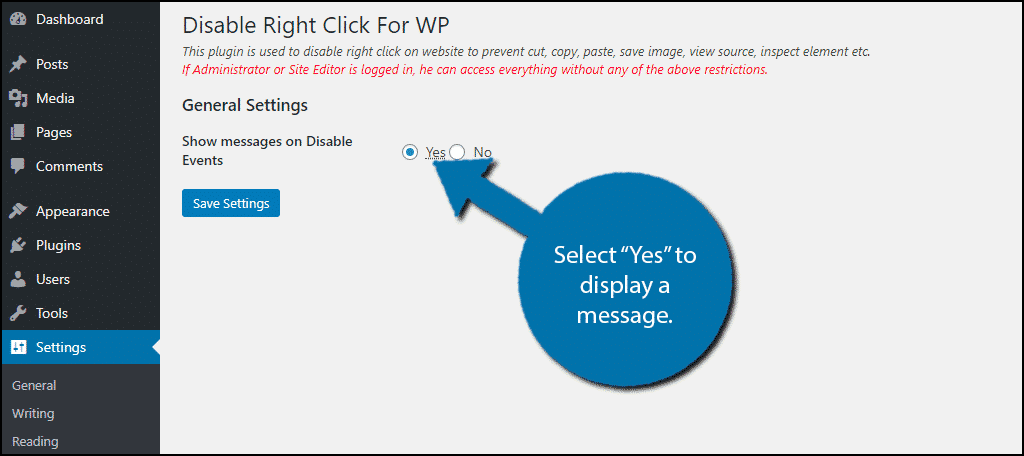 While not logged into an admin account, try right-clicking to see the message. It will appear only when a visitor right-clicks.
Congratulations you have successfully disabled right-click on images in WordPress.
WP Content Copy Protection
If you only want to disable right clicks for images in WordPress but want to let visitors use it for everything else, give the WP Content Copy Protection plugin a try. It allows you to customize what options are available for the right-click.
Is This Necessary?
Disabling right-click can help you prevent image theft from amateurs, but it will not fix the problem entirely.
For example, instead of using the copy feature, I could use the Snipping tool. This is a free option that is built into every PC. Another way would be to simply take a screenshot using the print screen button.
However, using either of these methods will require some photo editing software and knowledge on how to use them. Thus, while disabling right-click is uncommon, it is still quite effective at preventing equal quality copies from appearing elsewhere.
Protect Your Work
The point of disabling right-click in WordPress is to protect your work from being stolen. In reality, if someone really wants to take your image there are multiple ways to do it.
Thus, I strongly recommend adding a watermark to them. The watermark becomes part of the image and makes it clear to anyone viewing it who the original creator is.
This means that if another website decides to steal your image, they will be displaying your watermark to the world.
Why do you want to disable right-click for images in WordPress? What steps do you take to ensure your content isn't stolen?