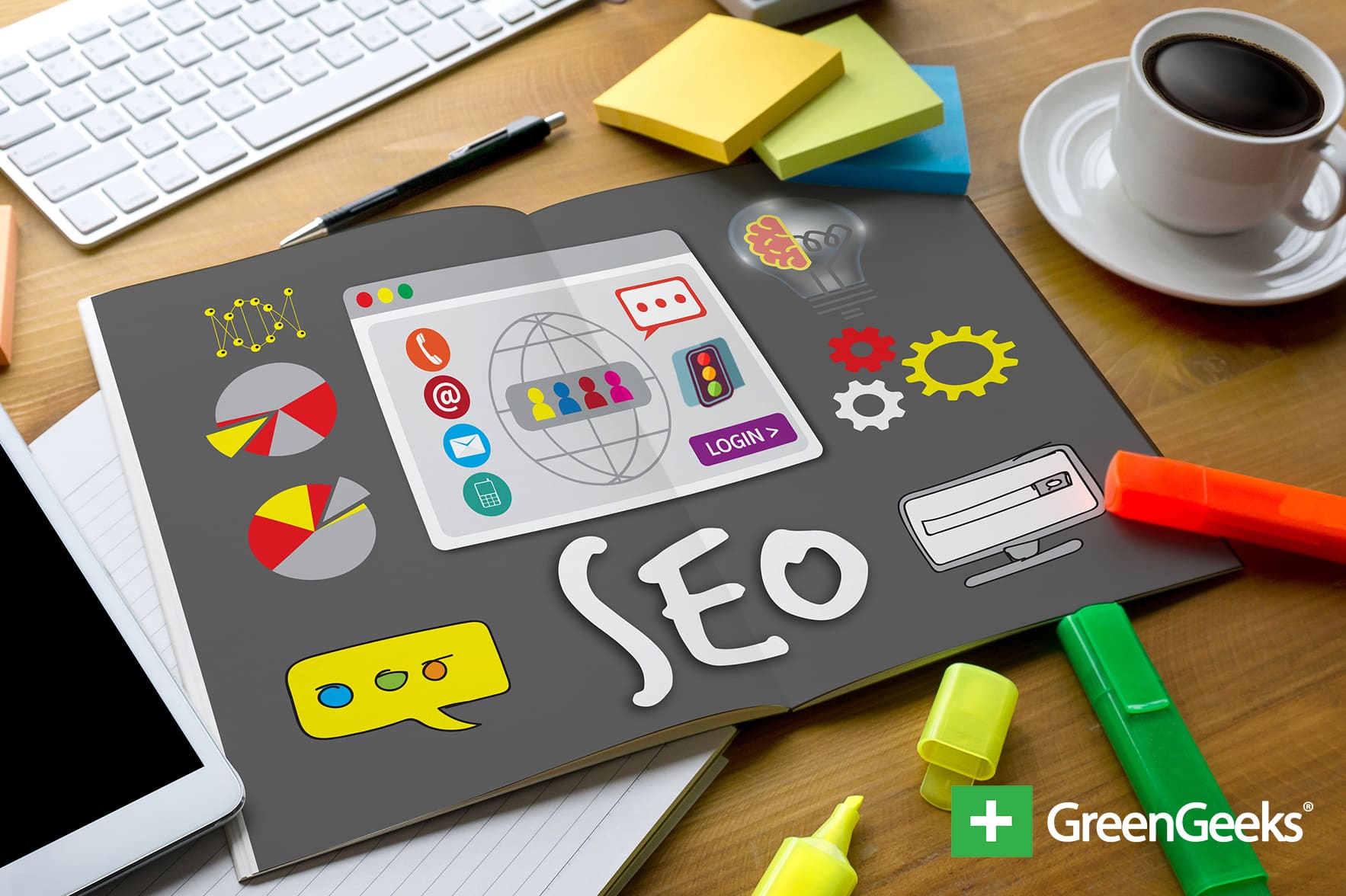 One of the most important aspects of any website is Search Engine Optimization or SEO. Without SEO, it's going to be very difficult to attract visitors. That's why so many people use the WordPress Yoast SEO plugin.
Yoast has a vast array of features that can help you in a variety of ways. It's consistently updated to use the most current methods of optimization. And through its prompting and built-in scoring, it can even help you write more attractive content. The goal of any website owner is more visitors, and Yoast will help you bring them in.
Today we're going to show you how to install and set up the Yoast SEO plugin on your WordPress website.
Quick links
Why You Should Use the Yoast SEO WordPress Plugin
It's true that there are a number of quality SEO WordPress plugins out there. But Yoast is perhaps one of the easiest to implement. It doesn't have a lot of complicated settings to configure, and its interface is easy to understand.
It's clear that the developers of Yoast spent a great deal of time making the plugin informative and functional. Yes, it helps you how to fix technical SEO issues or problems. But at the same time, it provides tips on making your content more appealing to search engines.
How to Use Yoast SEO
Yoast is a free WordPress SEO plugin. But like many free plugins, you can unlock further functionality if you purchase the Premium version. In this article, we'll focus on the features available in the free version.
Log in to your WordPress admin panel.
In the left column navigation, mouse over the "Plugins" link and click the "Add New" link.
In the "Search plugins…" box, enter, "Yoast SEO."
When you find the plugin, click the "Install Now" button.
Now the plugin is installed, but it has to be activated before you can use it.
Click the "Activate" button.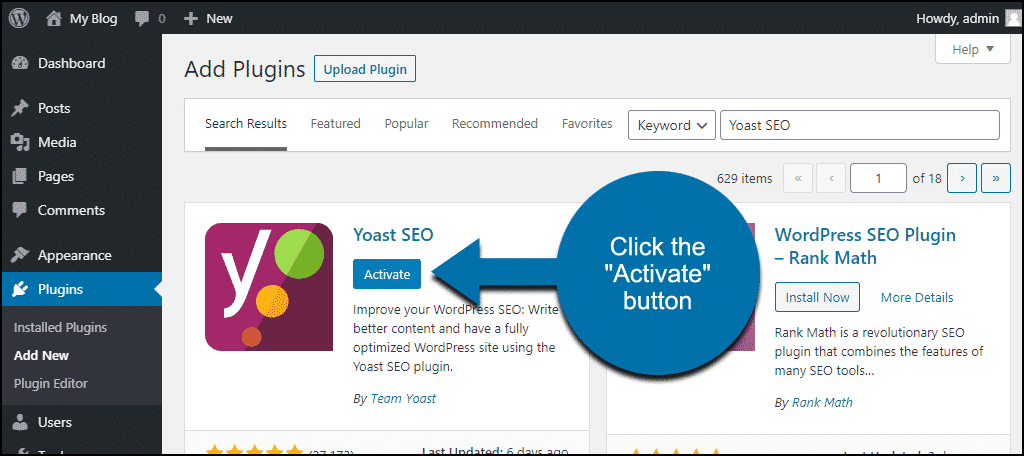 When the plugin is activated, the first thing you see may be a "Yoast SEO creates and maintains an index…" notice.
You don't have to let Yoast index your site's existing SEO metadata, but doing so will speed up page presentation.
To start the process, click the "Start processing and speed up your site now" button.
Depending on how many articles and pages your site contains, indexing may take a few minutes. The indexing only happens once, when you install Yoast. Any new pages or posts you add will automatically be indexed.
When indexing is complete, click the "SEO" link in the left column navigation.
The Yoast SEO Dashboard (General section)
The Yoast dashboard displays information about the optimization of your website. For example, Yoast will automatically create a sitemap unless you have Google XML Sitemaps installed.
Yoast will provide details about issues or problems as well as suggest fixes. Using the Google XML Sitemaps example, Yoast will display a button to disable that particular plugin if you want Yoast to create the sitemap.
You'll also see a "Notifications" area. Usually, this area is reserved for messages from the developers or tips regarding how to make your site better.
Configuration Wizard
At the top of the Yoast dashboard, you will see the configuration wizard. I assume this is your first time using Yoast, so let's take a look at the configuration options.
Click the "configuration wizard" link.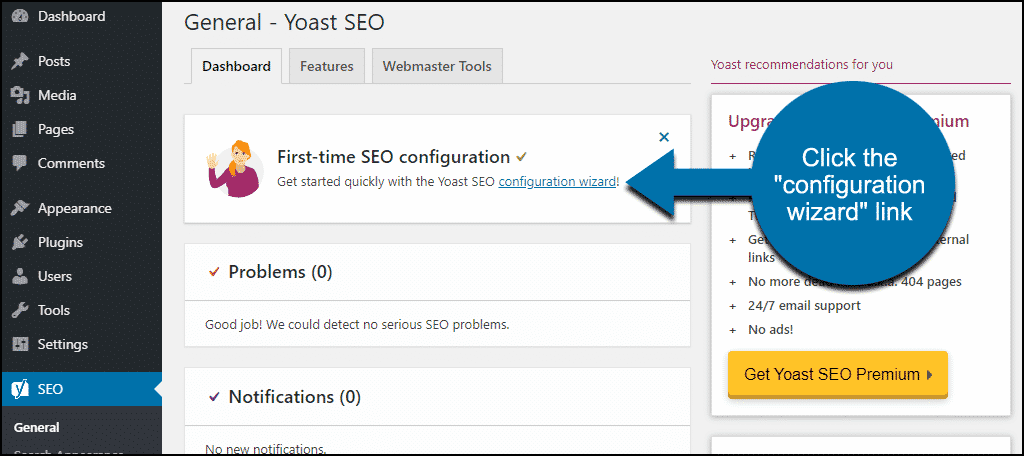 The setup wizard consists of 8 steps.
Environment
The first thing Yoast needs to know about is your website's environment. There are two options, to index or not. If you have existing posts and pages, choose option A. Choose option B if your site is brand new and still "under construction."
If you choose option B, don't forget to come back when your site is ready and turn on indexing.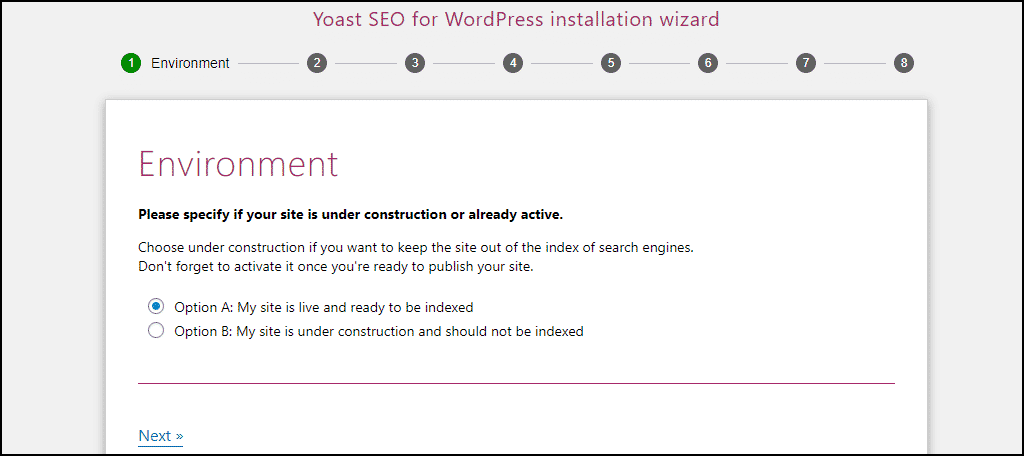 Site type
Choose from a variety of options ranging from "Blog" to "Something else." Select the options that most closely matches the type of site you operate. This selection determines the format for some of the schema data Yoast generates (more on that in the next section).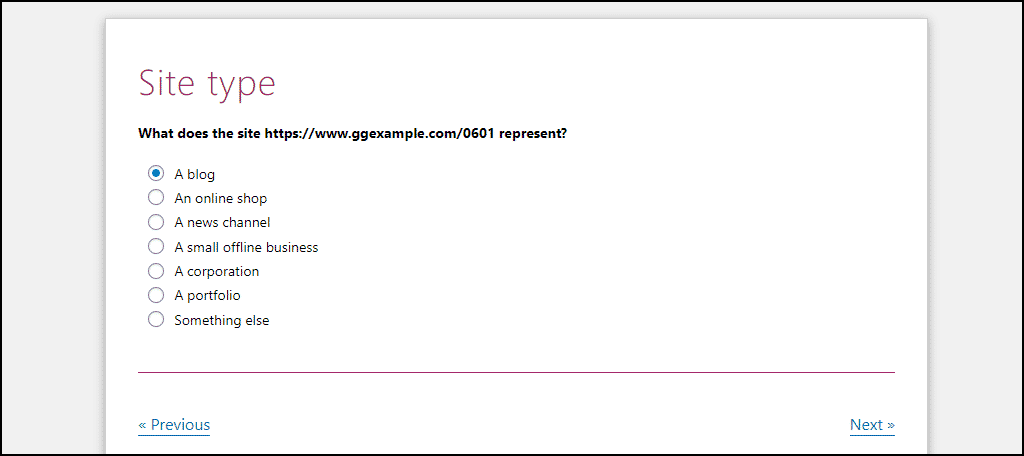 Organization or person
Is the website for an organization or a person?
Selecting "Person" gives you the option to choose a name from the active WordPress users list.
Selecting "Organization" opens fields for the organization name and logo. Those will then become part of the website schema or microdata. That's information inserted into a page or post that Google uses to understand what your site is about. So schema data is essential, and the more you can provide, the better.
Schema data isn't visible on your site. It's hidden in the page or post markup.
You'll notice a lot of fields for social media URLs.
Complete as many of those fields as you can. That creates "sameAs" schema data that links your site to the social media sites.
Maybe you've seen social media links at the bottom of a Google Knowledge Panel. Those links got there because of "sameAs" schema data.
If you choose "Person," you can still make some social connections. Go to the Social section to learn how.
Search engine visibility
Here's where you control whether posts and pages are added to your sitemap. You can choose not to have one or the other (or both) added to your sitemap.
By default, they are both set to yes, and I recommend keeping those options. After all, we're installing Yoast because we want to improve our SEO. We can't improve SEO for pages we've told Google to ignore.
Multiple authors
Will you be the only one creating content, or will someone be helping you?
If your website is a solo endeavor, choose "No." That will deactivate the page(s) that list or sort articles by author. When there's only one author, that list is redundant and can cause "duplicate content" issues within Google.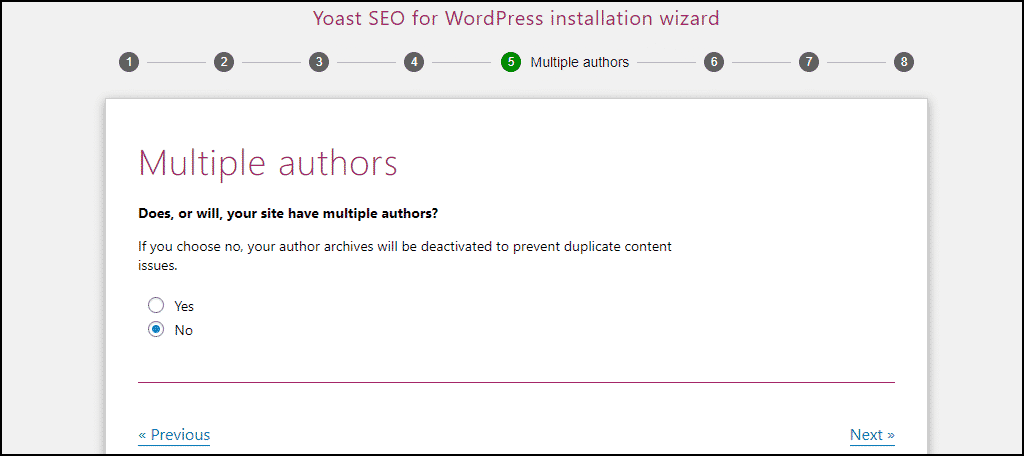 Title settings
This controls the website title used in the SEO markup. The separator appears after the website title and before the page or post title.
Title of your site [separator] Title of your post
That's what will show up on the first line of the Google search results when your page comes up.
If you don't set a title here, Yoast will pull the site title from WordPress.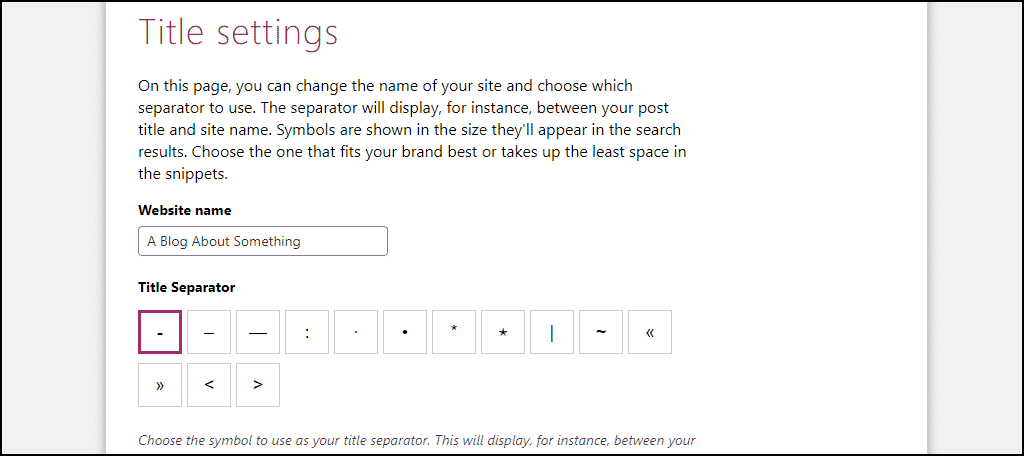 Continue learning
This page is there to sell you the premium version of the plugin, and to get your email address. There's no SEO configuration on the page. I'd recommend skipping the email signup in favor of what comes next.
And what's next is a "Success!" page with what appears to be an embedded video. The video screenshot is really a link to a "Yoast Academy" account signup form.
Opening a Yoast account provides access to a lot of useful information and tutorials. They are experts in SEO for WordPress, and you can always pick up something new from them. If you don't mind receiving sales emails (or don't mind unsubscribing from them), it's worth signing up.
Click the "Close The Wizard" button to finish the configuration and get back to the dashboard.
Features
Back in the dashboard, click the "Features" tab.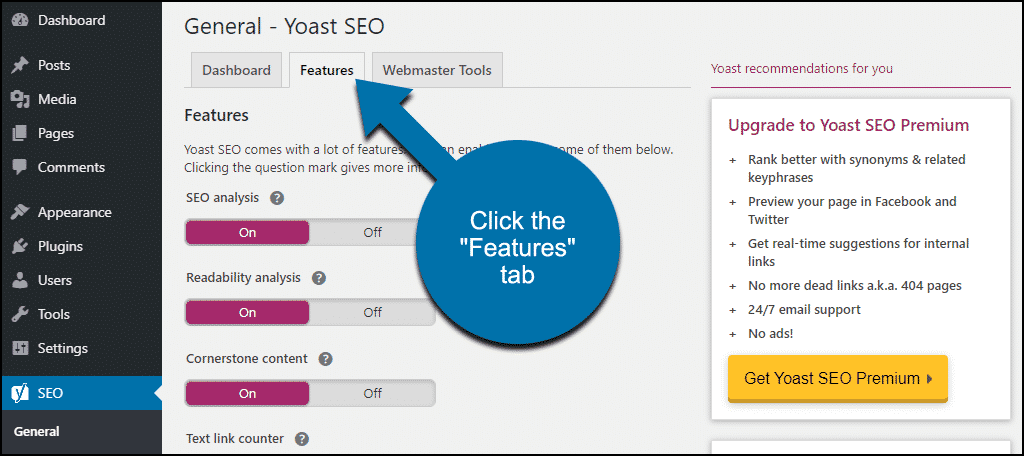 Here you can enable or disable several SEO controls. By default, they are all set to "On." I recommend keeping the default configuration for most of the features. Any exceptions are mentioned below.
Let's look at each feature, and you can decide whether to leave them enabled for your site.
SEO Analysis
This provides tips when writing or editing content.
To get the most out of the SEO analysis section, enter a "Focus keyphrase." That's two or three words that define what the article is about (or what you want it to rank for). Look for this field below the post or page editing box in the WordPress editor.
Whether or not you enter a keyphrase, an "SEO analysis" section will appear under your post in the WordPress editor. The analysis points out things you can do to improve the SEO of the post or page.
If you can turn the little red (or gray) face green, you know your SEO is good.
But even if you can't get to the green, address as many of the listed issues as possible. SEO analysis is one of the key features of Yoast. Be sure to make use of it every time you create a new post or page.
It works on your existing articles, too, so you can improve them as well.
Readability Analysis
This is similar to the SEO analysis, but it focuses on increasing the readability of your content. This is the other key feature of Yoast, so you should take advantage of what it has to offer.
Again, you want to turn that red face green. Or get as close as you can.
Cornerstone Content
This controls whether you can mark a page or post as "cornerstone content."
Cornerstone content is an SEO concept or method for optimizing your website's most important keywords. In a nutshell, you create a few comprehensive articles and optimize them for your most important phrases. Then, you link to the articles from other pages on your site (and other blogs when possible). The internal links give weight to your cornerstone articles. If Google sees a page or post on your website as important, it increases the chance of a higher rank.
tl;dr – cornerstone content is made up of the most important, relevant, well-written articles on your website.
When this option is set to "On," you can mark pages or posts as cornerstone content.
Text Link Counter
The text link counter is located in your post overview. It's two columns. The first counter displays the number of internal links in your post. Meaning links in the article that point to other articles on your site.
The second shows internal links to your post. That is, from other posts on your site.
If you enable or intend to use the link counter, you should go to the Tools section and click the "Count links in your text" button. Your counts will be accurate after you do that (then they'll update automatically).
Internal linking improves SEO, so you should always strive to link to other articles on your site. These counters provide an easy way to see how your linking is going at a glance.
XML Sitemaps
This controls whether Yoast will attempt to create a sitemap for your website. A sitemap is a must! Without a sitemap, search engines only index what they can find. And while every page on your site may be "discoverable," it's still good to tell Google exactly where they are.
If you're using another sitemap plugin, you can set this to "No."
Of course, if you intend to keep using Yoast, you can uninstall the other sitemap plugin and set this to "Yes." XML Sitemaps are pretty basic, so it doesn't matter which plugin creates them.
Ryte Integration
Ryte is a service that does a weekly check to make sure your website is indexable by search engines. If Ryte finds your website can't be indexed, you'll get an alert from Yoast. If you get an alert, you can do further checking to see if there's a problem to be fixed.
Admin Bar Menu
Controls whether a Yoast icon (and links) appear in your admin bar. There are some useful keyword research links in the Yoast menu, so you may want to leave this on.
Security
The "Security" option restricts whether authors can set noindex or change canonical data for posts. When it is "On," only editors and administrators can change those post settings. If you have other authors, and you want them to set noindex or change canonical data, set this to "Off."
Setting a page or post to "noindex" means search engines won't crawl it. That's usually not what you want. So be careful not to give that ability to an author who may not understand when to use it. The same applies to the ability to change the canonical URL (which indicates the "preferred" version of a web page).
REST API: Head endpoint
If you don't know what "headless" or "decoupled" WordPress is (I didn't either), you can turn this off. If you do know what that means, you don't need me to tell you to turn this on. 😉
Webmaster Tools Tab
On the "Webmaster Tools" tab, you'll find fields to enter site verification codes for Google, Bing, Baidu, and Yandex.
Those codes are usually linked to an analytics feature of the search engine. Typically, they ask you to add some code to your website header. This is where you'd add that code (then the plugin will insert the code into your head tag automatically).
Each field has a link to the search engine tools. For most of us, Google is the primary site verification we want to get. But depending on where you live and your target audience, the others can also be useful.
That's it for the "General" section. But if you really want to know how to use Yoast (or get the most out of Yoast), keep reading!
Search Appearance
This section controls the settings used to determine how Google will display your link and preview in search results.
General Tab
Title Separator
If you used the configuration wizard, you remember the Title Separator setting. The separator appears after the website title and before the page or post title.
Homepage
These are settings that apply to your website homepage (the page configured as home in WordPress Settings > General > Site Address). The settings here can also be applied to posts and pages individually.
The "SEO title" section controls how the title link will look in Google when your homepage is the search result. You can add or delete elements here, but the default configuration is a safe bet.
"Meta description" is, again, just for the homepage. Your meta description on posts and pages will be different. The meta descriptions on posts and pages should be tailored to the contents of the page.
Knowledge Graph & Schema.org
This will also be configured already if you went through the configuration wizard. It's the "Organization or person" settings that change how the schema data is generated depending on your choice.
Content Types Tab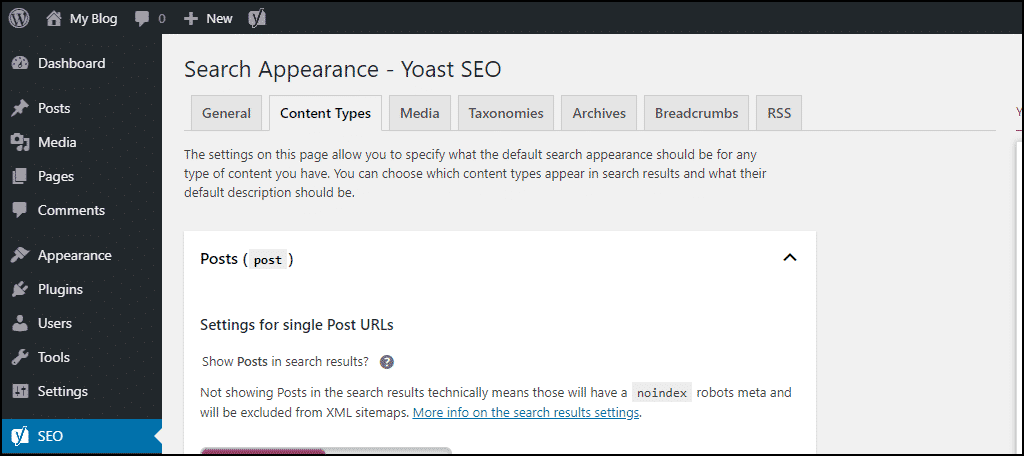 By default, every WordPress site has two content types, posts, and pages. This page has identical sections for both posts and pages so that you can have different configurations for the two.
These are default settings. So they'll be applied if you don't specify the "SEO title" or "Meta description" for an individual post or page. But remember, whenever possible, meta descriptions on posts and pages should be tailored to the contents of the page. Meaning, they should all be unique.
Settings for Single Post URLs
"Show Pages in search results?" should be set to "Yes," unless you have a reason to keep all pages out of search results.
"Date in Google Preview" controls whether the post date is shown in search results. Set to "Show" to show the date, and "Hide" to keep the date out of search results.
"Yoast SEO Meta Box" controls whether all the Yoast data appears below your page or post in the WordPress editor. Leave that set to "Show," or much of the advantage of using Yoast will be lost.
The "SEO title" section controls how the title link will look in Google search results. You can add or delete elements here.
"Meta description" is a default meta description for posts, used when you don't specify a meta description for a post.
Settings for Single Page URLs
These settings are the same as those above. But the defaults here apply to new pages, rather than posts.
Media Tab
When you upload an image to WordPress, an attachment URL (page) is created for the image. If you don't use the attachment URLs, you should disable them and redirect them to the media item itself.
Setting this to "Yes" does that. If you set this to "No," you could see your attachment pages showing up in search results. Generally, you don't want that to happen. There's usually no good reason to have an attachment page competing with the article for search result space.
Taxonomies Tab
Taxonomies are the categories and tags used to group content together on a WordPress website. This tab includes groups of controls for categories, tags, and post formats. If you don't use taxonomies, you can skip the settings on this tab.
Categories
"Show Categories in search results?" controls whether your category pages are exposed to Google. I'm not aware of an advantage or disadvantage to your category or tag list pages showing up in search.
I don't see the need for the category or tag pages to be indexed. The posts and pages in those lists should already be searchable. But if you want them indexed, leave this set to "Yes."
The "SEO title" section controls how the title link will look in Google search results. You can add or delete elements here.
"Meta description" is a default meta description for posts, used when you don't specify a meta description for a post.
"Yoast SEO Meta Box" controls whether all the Yoast data appears below your page or post in the WordPress editor. Leave that set to "Show," or much of the advantage of using Yoast will be lost.
Tags
These are the same controls as the Categories section above.
Formats
You probably don't have any format-based groups. But if you do, here's where you control their search results appearance.
These are the same controls as the Categories section above, except for the "Format-based archives" control. Format-based archives or pages are enabled by default, but you can disable them here.
Category URLs
The option to "Keep" or "Remove" the /category/ part of the URLs in the category archive.
Archives Tab
Author archives settings
Author archives are pages that list the articles written by a specific author.
If you're the only author on your site, an author archive is redundant, and you don't need it. It's "Disabled" by default, but if you have multiple authors and want an author's archive, you can "Enable" it here.
Date archives settings
Similar to author archives, date archives list articles by the dates they were written.
You can "Enable" or "Disable" them here, as well as control whether to "Show date archives in search results?"
This section also includes "SEO title" and "Meta description" controls. Hopefully, you're familiar with those by now, so I won't repeat their function.
Special pages
Here you can configure the titles for search results and 404 error pages.
Breadcrumbs Tab
Here's where you "Enable" or "Disable" Yoast breadcrumbs. This is disabled by default because implementing breadcrumbs is not always a simple task, depending on your theme.
But if you can manage it, breadcrumbs can improve your site's SEO-friendliness.
RSS Tab
This section allows you to add to the existing WordPress RSS feed. It's useful for embedding links back to your posts and pages in your RSS feed. Doing that ensures that your site is credited as the source of the article.
It's set up to add those links by default. So unless you're familiar with RSS feeds, I wouldn't change anything here.
Social
These are configurations to link certain social media accounts to your website. We talked about the usefulness of those links in the "Organization or person" section of the configuration wizard.
Accounts Tab
The image above is what you'll see if your "Organization or person" is set to "person." If it's set to "organization," you'll see fields for various social media URLs. We showed an image of that in the configuration wizard section.
But if you're set to "person," there's nothing on this tab.
Facebook Tab
"Add Open Graph meta data" is "Enabled" by default. That's good because you want to use Open Graph metadata, it gives you some control over links shared to Facebook. Many other sites also use Open Graph metadata, but most of us focus on optimizing it for the Facebook social site.
You don't need to enter a "Facebook App ID" here to generate Open Graph metadata. Unless you have a specific Facebook app integration, leave this blank.
You can upload an image to "Frontpage settings" and "Default settings." Usually, they'll insert an image in the link of Facebook or elsewhere. These control only the front page or home page and the default Open Graph data. Again, the defaults are only used when no metadata is specified for a post or page.
Only enter a "Title" and "Description" here if you want to use something different than your default site identification when links are shared to Facebook.
Twitter Tab
Twitter uses the same Open Graph metadata that Facebook uses, so if you've enabled it for Facebook, it's enabled for Twitter.
"Add Twitter card meta data" is enabled by default. That creates particular metadata for the Twitter "card." The Twitter card is just the format of the display of links to your site on Twitter.
Pinterest Tab
In general, Pinterest also uses Open Graph data. So enabling it for Facebook enables it here.
But they also have a site link verification system. If you use that, you can enter the verification code here.
Tools Section
Import and Export
Here you can import settings from other SEO plugins or export your Yoast settings to use on a different WordPress site.
File editor
Here you can edit your robots.txt and .htaccess files if you have them.
Bulk editor
There are "Title" and "Description" tabs here.
Clicking the "Title" tab displays a list of your posts and pages with an editable "New Yoast SEO Title" field.
Clicking the "Description" tab displays a list of your posts and pages with an editable "New Yoast Meta Description" field.
If you're just getting into SEO, you'll probably want to update all of your meta descriptions (or create them). This tool makes that job a lot less tedious. Rather than clicking into each post or page to edit, you can add descriptions in a list. Then just click once to update them all.
Text link counter
Here you'll see a "Count links in your text" button, or an "All the links […] have been counted" message. If you use the link counter we talked about earlier, you should click the "Count links in your text" button.
SEO Data
We indexed the SEO metadata as one of the steps of the plugin installation. But if you haven't yet run the indexing, you should. It will speed up your page loads.
What Happens if You Uninstall the Yoast SEO Plugin
Your XML sitemap will no longer be available. Yoast generates the sitemap dynamically when it's requested. So a sitemap.xml file is not left behind when Yoast is deleted.
SEO and schema data used by Yoast will no longer be added to your pages and posts. That code is generated dynamically as well, with a database query. Uninstalling Yoast doesn't remove the Yoast database fields, but the data in them will be inaccessible. (Unless you reinstall Yoast.)
You'll lose the focus keyword and SEO and readability analysis for each post and page.
The above issues are what we found in our testing. There may be other issues we did not uncover.
I Hope You Found Our Yoast SEO Guide to Be Informative
Yoast SEO is an easy to use yet powerful tool that is a wise addition to any WordPress website. Even if you install it and don't touch any of the configurations that we've talked about, it still works.
Using SEO tools like Yoast result in your site being seen by more people. SEO will increase your traffic, and if you work within Yoast's suggestions and guidelines, it can dramatically increase your traffic.
What kind of SEO strategies do you use for your website? Is there anything you would like to see the Yoast WordPress SEO plugin do differently?
Michael Phillips is a web hosting industry veteran, helping people make the most of their web presence since 1995.