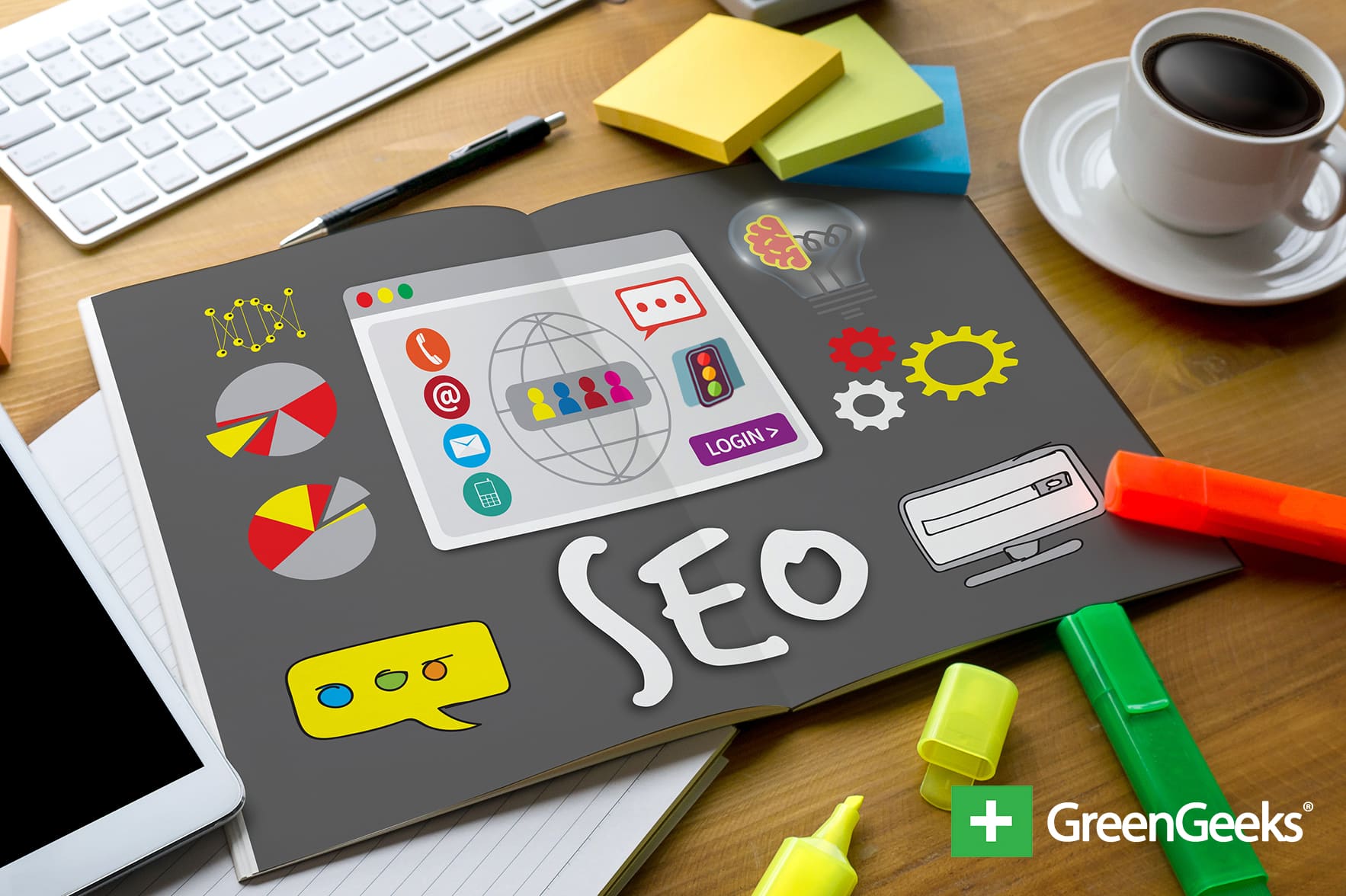 One of the most important aspects to any website is search engine optimization. Without SEO, it would be exceedingly difficult to attract visitors. This is why many people trust the WordPress Yoast SEO plugin.
Yoast has an incredible amount of features that help you in a variety of ways. It uses the most current methods of optimization and can actually help you write better content.
Today, we're going to show you how to set up Yoast to work for your WordPress website.
Why Choose the WordPress SEO Yoast Plugin?
While it's true there are a number of quality SEO plugins available for WordPress, Yoast is perhaps one of the easiest to implement. It doesn't have a lot of difficult settings to adjust, and its interface is easy to understand.
It seems the developers of Yoast spent a great deal of time making the platform informative as well as functional. The plugin gives advice about how to fix SEO issues while simultaneously giving you tips about how to make your content more appealing for SEO.
Setting Up Yoast SEO
Yoast is a free system to use, but it adds a great deal of functionality if you purchase the Premium version. In this article, we're only going to focus on the free version. To do this:
Step 1: Go to the plugins area of WordPress and click the "Add New" button.
Step 2: Search for "Yoast SEO."
Step 3: Install and activate the plugin.
Step 4: Upon activation, a new feature will appear in the admin panel of WordPress on the left. It will be labeled, "SEO." You may also notice there is a number to the right of the label. This is Yoast telling you that it has that many notifications for you to read. Click the "SEO" to open Yoast's settings.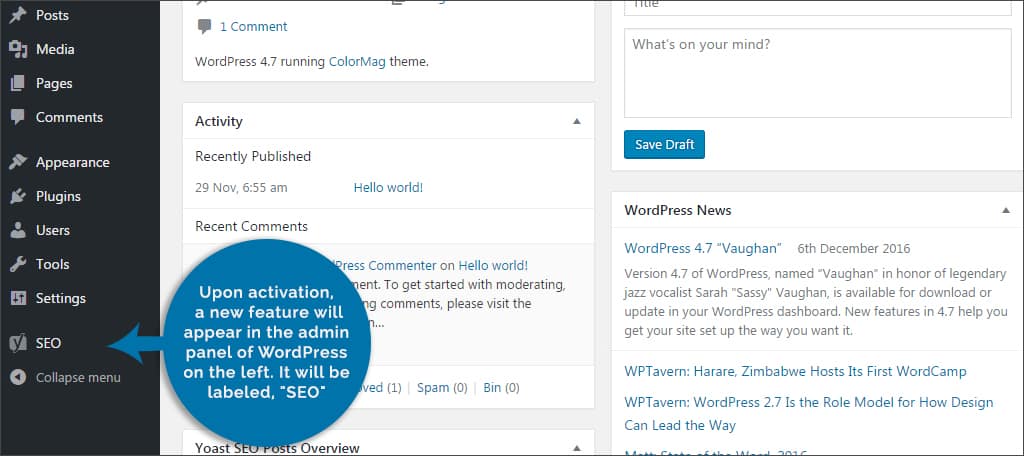 The Dashboard
The dashboard of Yoast will deliver pertinent information regarding the optimization of your website. For example, Yoast will try to make a sitemap automatically unless you have Google XML Sitemaps installed. At which point, Yoast will tell you there is a problem.
Yoast will give you details as to the issue as well as ways to fix it. Using the Google XML Sitemaps example, Yoast will provide a button to disable that particular plugin if you want Yoast to create the sitemap.
You'll also see an area for notifications. Usually, this area is reserved for messages from the developers or tips regarding how to make your site better.
General Settings
You can access the general settings for Yoast by click on the tab along the top. This will bring up a screen for your configuration wizard. This is an optional step, but it is a good idea for those who have never used this plugin in the past.
To use the configuration wizard:
Step 1: Click the "Open the configuration wizard" button. This will bring up a new welcome screen.
Step 2: Fill in your name and your email address. You don't have to sign up for the newsletter, but it does offer valuable information regarding the product as well as SEO practices. Click the "Next" button on the bottom right.
Step 3: Choose your environment. You can select from Production, Staging or Development. Choose which better suits your website and click the "Next" button.
Step 4: Choose the type of your site. You'll see a variety of options ranging from Blog to Other personal site. Select the one you would use and click, "Next."
NOTE: The Webshop option is the same as eCommerce. Select this if you plan on selling goods from your website.
Step 5: Are you a company or a person? Selecting company opens fields for the name and logo of the business. Picking person will only open the name field.
Step 6: Add your social profiles. On this next screen, you can add your profiles from sites like Facebook, Twitter, Instagram and more. This is extremely useful if you plan on sharing your content across those platforms.
Step 7: Pick your post types. This is for search engines. You can choose to hide or make visible your posts, pages, media and downloads. For now, it may be best to leave these settings at their default selections.
Step 8: Choose whether you will have multiple authors or not. Will you be the only one creating content, or will someone be helping you?
Step 9: Authorizing Google Search Console. If you use the Google Search Console to monitor the progress and functionality of your website, here is where you would put in the authorization code. Simply click the button, "GET GOOGLE AUTHORIZATION CODE." Once the site authorizes with Google, you will get a code to copy and paste into Yoast. Click "Authenticate" when you're done and go to the next step.
NOTE: Your site needs to be authenticated in Search Console if you wish to use Google Analytics to monitor performance.
Step 10: Input your website's title settings. Here is where you enter your website's name as well as the separator you want to display. This separator appears only in areas like between the title of your post and the name of the website. Yoast will pull the site's name from WordPress by default, but you can change it here.
Step 11: Once you click on "Next" to go to step 10, Yoast will be done configuring your settings. On the success page, you can sign up for the newsletter if you wish. Otherwise, click the "Close" button to go back to WordPress.
Features
In the features tab of Yoast, you'll find access to several components that are very useful when it comes to managing your website.
Advanced Settings Pages
Enable this if you want site-wide settings to control details like meta descriptions, sitemaps and other SEO specifications.
OnPage.org
OnPage.org integration provides more insight into the optimization workings of your site. Although there is a free subscription of OnPage, you have limited uses with the tool every month.
Admin bar menu
The admin bar menu removes the Yoast control from the top bar only. It will still be available on the left hand side of your WordPress dashboard.
Your Info
The fields from "Your Info" are filled with the information you provided in the wizard above. However, you can change this data at any time. Simply input a new name for yourself, the website or change whether you're a company or a person and then click the "Save Changes" button on the bottom.
Keep in mind that some of this information is crawled by Google's search engine.
Webmaster Tools
In the "Webmaster Tools" tab, you'll find the authorization codes for Bing, Google and Yandex. You'll also notice that each has a link directly to its own tools for the search engine.
These tools can show you a variety of statistics such as how often your site appears in search results, how often someone clicks on the links and what keywords were used to find your content by visitors. It can be helpful when you're trying to develop a strategy for posts you write.
Security
The "Security" tab is where you can restrict whether or not other authors can set noindex posts or change canonical data. If you don't have other authors, then you can leave this disabled.
Noindex posts are not crawled by search engines. Which means the content and possibly the webpage itself will not show when someone searches. This defeats the purpose of getting traffic. However, you may find yourself using it if you post something you don't necessarily want Google to index.
For now, it is best to leave this disabled.
Editor Addition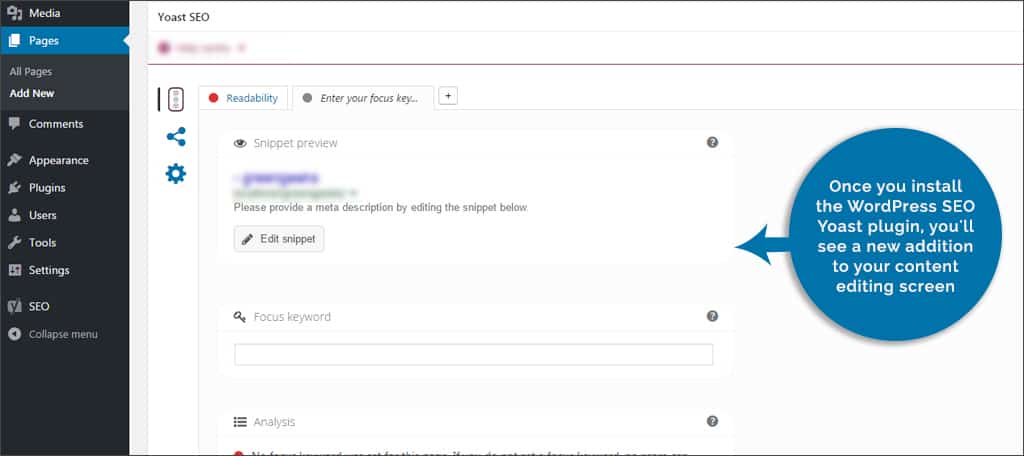 Once you install the WordPress SEO Yoast plugin, you'll see a new addition to your content editing screen. This will have information regarding your content, focus keywords, title structure and more. To get the most out of this tool, try to keep all of its settings in the green. The plugin will give you suggestions about how this is done.
Yoast SEO is a simple tool that will be a powerful addition to any website. From fine-tuning the content you write to optimizing metadata, it will do it all for you. Get your site seen by more people by using SEO tools. It will vastly increase your traffic.
What kind of SEO strategies do you use for your website? What kind of plugins do you have to attract search engines?
Chris is the Support Manager at GreenGeeks and has been with the company since 2010. He has a passion for gaming, scripting and WordPress. When he's not enjoying his sleep, he's working on his guitar skills and fiddling with 3d printing.