Does your website need a quality security plugin to guard against cyber attacks? The Wordfence Security plugin may be exactly what you're looking for. The Wordfence Security plugin is the most popular security plugin with over 2 million active installs and that is really impressive considering how many great security plugins exist.
Website security should be one of the biggest concerns of any website. Any downtime on your website will directly affect your website's income and extended downtime could make you lose visitors permanently. Cyber attacks can be prevented by using a security plugin and it takes almost no time to set one up. Today, I will demonstrate how to setup the Wordfence Security plugin in WordPress.
How Can Wordfence Security Protect Your Website
There are many ways you can keep your website protected and they all require a security plugin. Wordfence Security's rise to the most popular security plugin was no accident. This plugin can protect your website from a wide array of cyber attacks. Specifically, it protects against hackers, DDoS, and malware. This is accomplished in part by the web application firewall, which can easily track malicious traffic. Its database allows it to identify all of the common malware that invades websites.
One of the best features is that all websites that run Wordfence communicate with each other. This means if website A is attacked by hacker Z, then website B can automatically block hacker Z before he tries anything on another website. This essentially means the more websites that use Wordfence the better it is for everyone. The number of features and security customization is perfect for any website.
How to Setup Wordfence Security Plugin in WordPress
Today I will demonstrate how to setup the Wordfence Security plugin in WordPress. It's a great plugin that is widely used. Setting up the Wordfence Security plugin is very simple, but there are a few areas you really wanna make sure are running, like the Firewall.
Let's start by going to the plugins area of WordPress and click on the "Add New" button.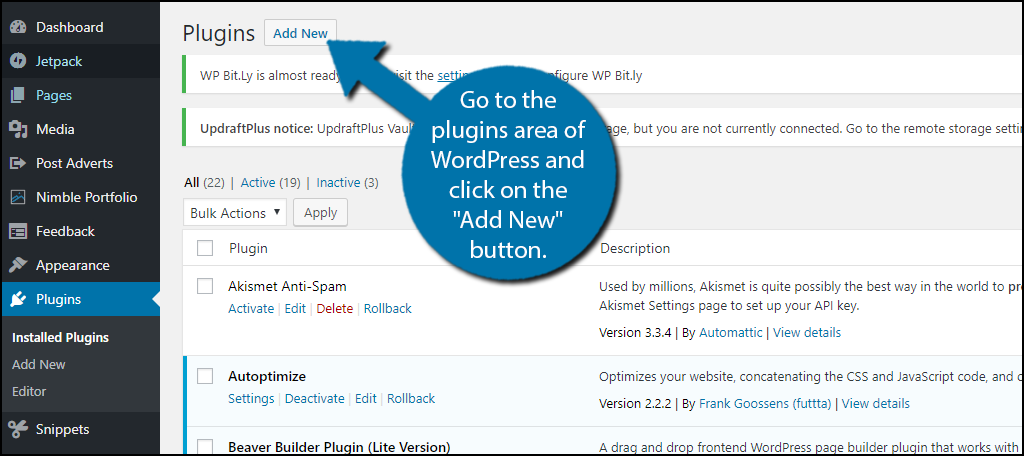 Search for Wordfence Security in the available search box. This will pull up additional plugins that you may find helpful.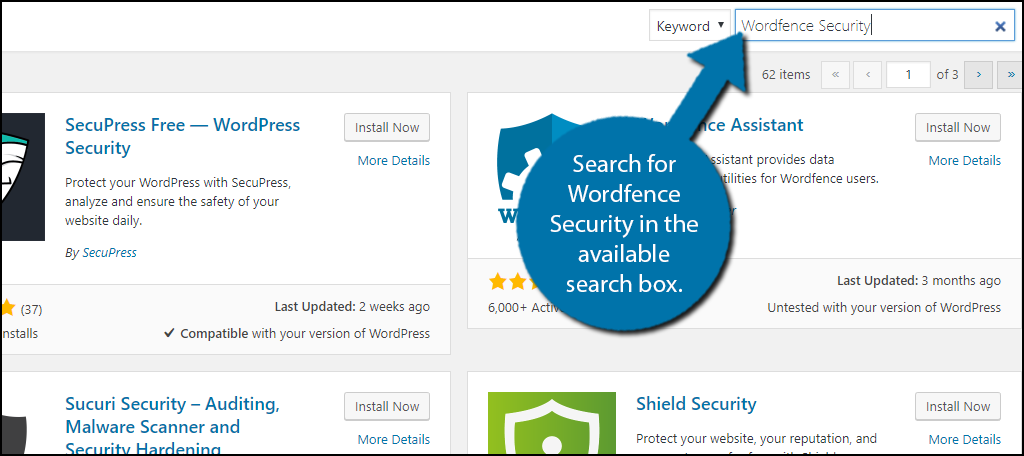 Scroll down until you find the Wordfence Security plugin and click the "Install Now" button and activate the plugin for use. Upon activation, you will be asked to submit an email to receive security notifications on, but this is optional. You will also be given the option to take a tour, which will show you all of the features that the plugin offers and where you can edit their settings.
On the left-hand admin panel click on Wordfence and select the Dashboard option. This will pull up the main settings page of the plugin. All of the information you need to see is on this page including the last scan, malware blocked, IP addresses blocked, etc.
To scan your website at any time, click on the Scan option.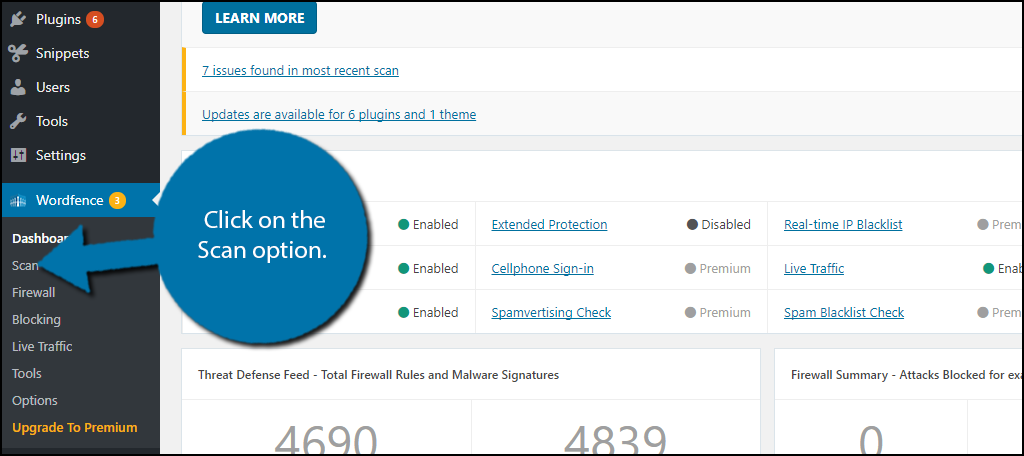 Click on the "Start a Wordfence Scan" button. The free version comes with a default automatic 24-hour scan. If you upgrade to the premium version you can set your own schedule and much more. Once the scan is complete you will see a full list of problems it has found.
The most important part of this security plugin is the Firewall. It will prevent most malicious activity on your website. Click on the Firewall option to access its settings page.
Click on the "Optimize the Wordfence Firewall" button. It will run a test to determine the best setting to use. You may pick your own setting, but I would recommend following Wordfence's recommendation.
You may pick your own setting, but I would recommend following Wordfence's recommendation. Click on the "Continue" button once you have made your selection.
Click on the "Download .htaccess" button. This will allow Wordfence to run before your core WordPress files. This adds an extra layer of protection because a firewall cannot protect these files making them vulnerable to hackers. Click on the "Continue" button once you have the file downloaded.
There are many other sections to be aware of. You can view the live traffic feed by clicking on the Live Traffic option. This will show you how well Wordfence is defending your website. The Blocking option will allow you to see who is being blocked and allow you to manually enter an IP address to be blocked. If you have the premium version you can also block entire countries from accessing your website. Explore these sections to see everything they offer.
Click on the Options option. This will allow you to tweak the Advanced settings that can be found by scrolling down the page. These settings are all up to you, but should all be considered when setting this plugin up.
Congratulations, you have successfully installed and set up the Wordfence Security plugin. You can change your settings and scan your website at any time. Remember there are many features that are exclusive to the premium version of Wordfence and you can upgrade at any time, but the free version will be able to guard your website without any issues.
Alternative Plugins
Website security is a very serious and hundreds of security plugins are available to combat these hackers. Here are some alternative security plugins that I can recommend trying.
BulletProof Security
BulletProof Security is another security plugin that can keep your website safe. It has many of the same features as Wordfence like a Firewall and .htaccess support but also has many additional features like a built-in backup. This makes it extremely easy to recover when something goes wrong.
All In One WP Security & Firewall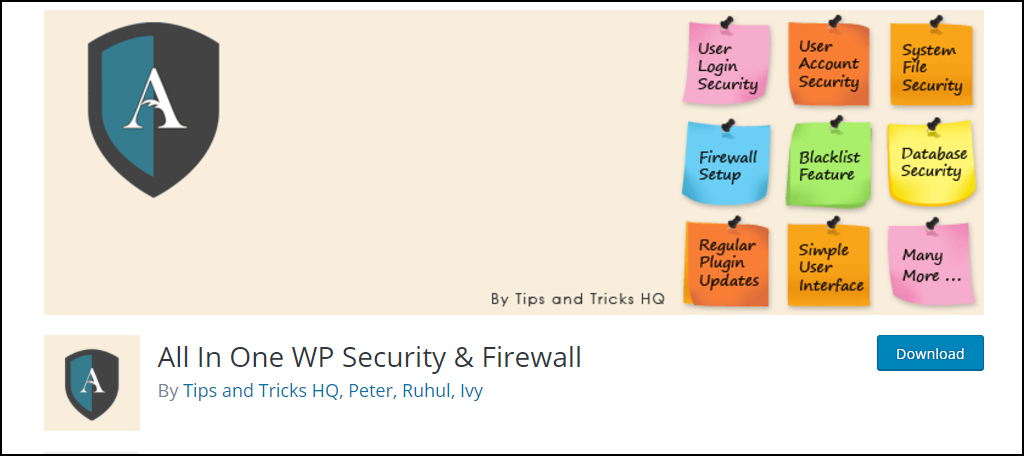 All In One WP Security & Firewall is a very popular plugin with over 600,000 active installs. It has all the necessary tools to guard your website from malicious intent. Its optimization ensures that it will not slow down your website while providing protection from incoming threats.
SiteGuard WP Plugin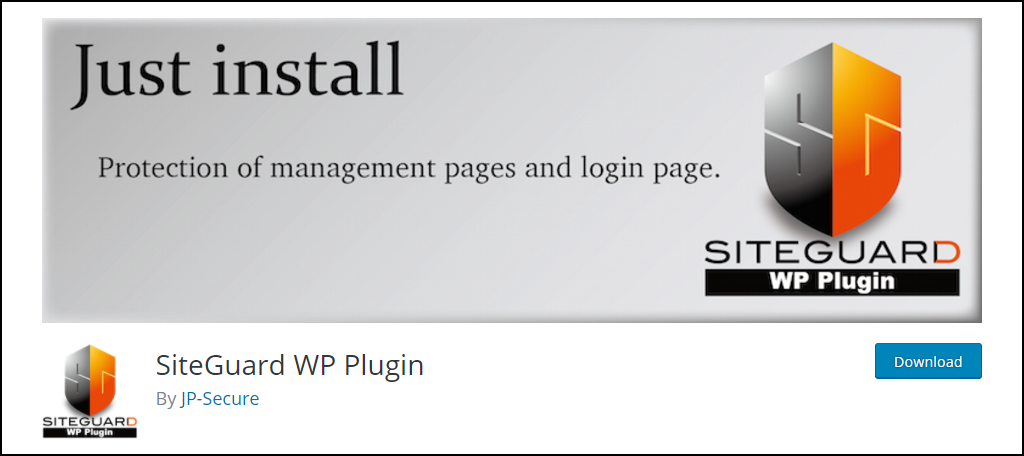 SiteGuard WP Plugin is another popular plugin with over 100,000 active installs. The best part about this plugin is it does not have a Pro version. This means you're getting the full package when you install this plugin on your website. Unfortunately, this one does not come with a Firewall or other features found in most security plugins, but it can certainly protect your website from everyday's threats.
Keep Your Website Secure
Security is one of the biggest concerns that any website developer will face in today's world. There is a surplus of hackers trying to gain valuable data from your website or just individuals who like to take websites down for fun. These people can cause downtime for your website and downtime will result in a loss of profit for your business.
Regardless of who is targeting your website, you must be prepared and have a security system in place to counter them. You should also create a backup of your website to recover from any damages caused by hackers. As long as you take security seriously and proactively try to protect your website you should be able to avoid any serious security situations.
How many IP addresses are blocked by Wordfence daily? How many security issues were uncovered by a Wordfence Security scan?
Michael has been in the tech industry in some form or another since the late 1990s. He's built a variety of websites using HTML, Joomla and WordPress. Starting his freelance writing career in 2012, he's completed thousands of projects world-wide covering a wide scope of topics. Michael is currently the Content Marketing Team Lead. Today, he manages a team of writers to create tutorials, blog posts and support content for customers. Outside of GreenGeeks, he manages a YouTube channel that helps others learn how to become freelance writers, bloggers and overall professionals.