Adding a newsletter form to WordPress is a great idea, as long as you can get people to opt into it. Without giving visitors a reason, they are less likely to sign up.
You could have hundreds upon hundreds of visitors with only three or four people in the mailing list. Which is why you want to boost email and newsletter opt-ins in the best ways possible.
In this tutorial, I'll share several of the most effective methods to get people to opt into those mailing systems and improve your reach.
Never Underestimate the Value of an Email List
Email lists can help spread the word of your organization while engaging your target audience. While there's no doubt that some may simply delete the email without reading its contents, the potential for grabbing someone's attention is worth the effort.
After all, email is still one of the most effective and most utilized methods of online marketing. And powering your strategy with email marketing services improves interactions from those who receive your message.
Here are some of the most effective methods to boost email and newsletter opt-ins I've found for WordPress. Find the ones that best work for your brand and strategy.
Opt-in Popups
Many website owners will start with an opt-in pop screen to engage new visitors. An effective method for this is something like Icegram. It's a popup builder that works with many newsletter plugins for WordPress.
Icegram has a lot of features for engagement, which is why it's among essential plugins in WordPress for many developers.
You can set popups to launch for first-time visitors, lapsed time, or an exiting the website. You'll see this method used on a lot of sites today, and for good reason: it works.
Just make sure you don't get too annoying with these popups. It may discourage return visitors.
A/B Test Opt-in Buttons
Sometimes the simple task of changing a call to action button for opting into a mailing list can increase engagement. In fact, about 85% of people buy a certain product purely because of color.
One way you can do this is by running A/B testing in Google Analytics. You can track which pages with certain colors are the most effective for audience retention and opt-in strategies.
Once you discover which is the more effective, you can keep it as the permanent color. However, it probably wouldn't hurt to test other colors in the future.
It's all about fine-tuning the strategy until you find the perfect combination.
Test Button Copy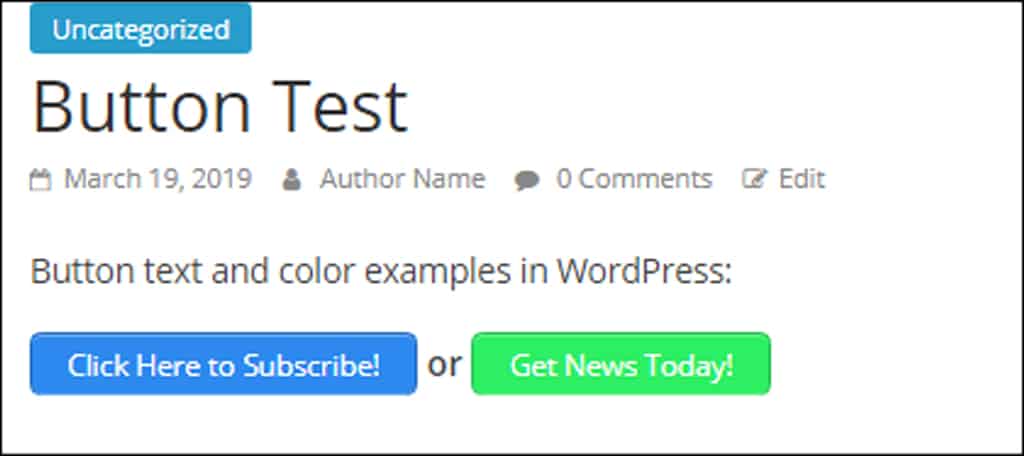 Colors are not the only thing that can change whether a visitor subscribes to a mailing list or not. Sometimes, even the text itself can inspire action in guests.
Of course, this also works with text links. It's in your best interest to run a few different tests to find the most effective wording to convert visitors into subscribers.
Size, font, text color, and more can all contribute to influence if a person is going to opt into the email list. And text lists are fairly easy to run. Just simply change the typography of the link or button and track the results.
Keep Signup Simple
If you really want to boost your opt-in strategy, keep the process simple. Adding too many fields to a form can make the experience seem more daunting and could dissuade visitors from signing up.
It's a bit similar to the checkout process. Many will abandon a shopping cart if checking out takes too long. The end result is a lost sale.
The same can be said about the opt-in process for mailing lists.
You want viable information for your content strategy, but you don't want to over-burden someone who just wants to be added to the list.
Share the Newsletter or Email List Everywhere
Your website isn't the only place where you can reach potential subscribers. You can easily promote your opt-in mailing list on other sites such as Facebook, Twitter, or even Instagram.
Using social media apps like Buffer, Hootsuite or SproutSocial, you can engage a wide audience by sharing your opt-in form page on multiple social sites. And the best part is that it would only take a few moments of your time.
Opt-in Links at End of Post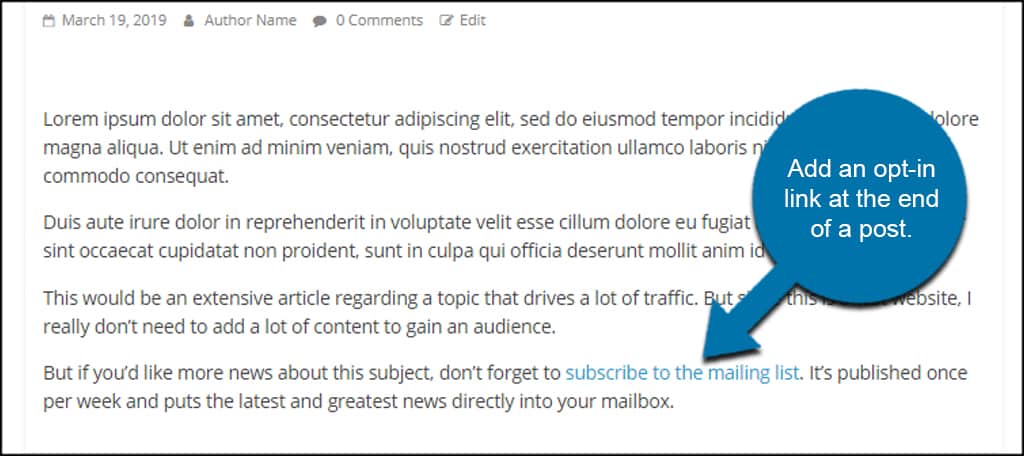 Once a visitor reads your content, why not promote the newsletter or subscription form at the end? You can use a simple link to the signup form or add an attractive button to make the element more pronounced on the page.
Regardless of how you add the opt-in method at the end, make sure you use a call to action. This is when you encourage readers to subscribe by saying something like:
"Signup today and get more information delivered to your inbox."
Adding an Opt-In Link in Your Email Signature
Have you considered using your email to promote an email opt-in form? Many mailing apps available give you the chance to include a hyperlink in the signature of your email, which you can then use to aim at your subscription page.
This has potential to turn your messages into a method of gaining new subscribers. Each message you send out can work to boost your opt-in rates, especially for someone who sends out a lot of emails on a daily basis.
Keep the Site Clean
Whether you're building a landing page for the opt-in form or creating a post, you want to limit distractions. For instance, you wouldn't want an opt-in form for the mailing list on a landing page focusing on selling a product.
In many instances, one or the other will suffer because it distracted the visitor.
Keep your pages and forms clear of things that can take the visitor's attention away from the underlying purpose.
Show Off Your Testimonials
Testimonials from previous customers help engage new ones. This is because many people trust the opinions of others over most marketing strategies.
For example, you could add a rotating testimonial slider near the opt-in button of your site, which may inspire trust in visitors.
Testimonials are such an effective tool that most businesses include them prominently on the website. Show them off with pride while using a call to action to sign up for your mailing list.
Lock Content for Non-Subscribers
A common method for getting more opt-ins for mailing lists is through the use of locking content. This is when you essentially hide parts of your site from non-subscribers.
Locking content is a common practice, especially among news outlets. It's a way to encourage people to opt-in or pay for premium access. And it's a very effective form of generating a mailing list, especially if you have some amazing content.
Plugins like Membership & Content Restriction make setting something like this up quick and easy.
Give them a Reason to Opt-in or Subscribe
A lot of people out there probably wouldn't mind getting updates from you on a regular basis. This greatly expands your reach and keeps the brand in the minds of consumers. But you need to give them a reason to do so.
Practice an opt-in strategy that works best for you.
How do you get users to opt into your mailing lists? What are the most effective methods you use to engage your audience to increase business?