These days, we are all looking for the best way to get leads and boost referrals. One of the more unique ways to do this is to have scratch and win giveaways directly from your WordPress website.
You can do this by using a great app.
What Are Scratch and Win Giveaways?
Scratch and win giveaways on a website are exactly that. You run a program or plugin that allows your website users to participate in a fun scratch and win game. Site visitors can play by entering their email addresses, or by connecting through their social media profiles. Multiple prizes can be awarded, and this is a fantastic way to boost referrals and gain possible clients.
Let's take a look at how you can easily run scratch and win giveaways from your WordPress website.
Scratch & Win Giveaways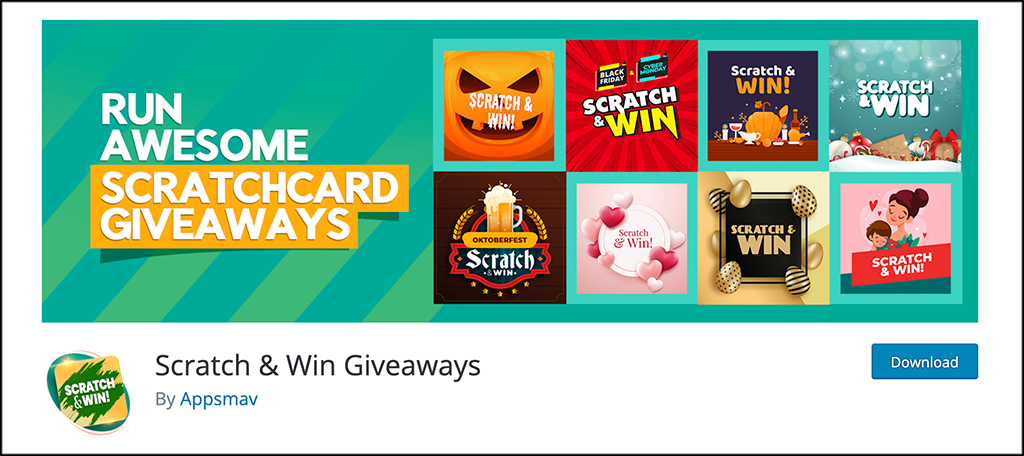 The Scratch & Win Giveaways plugin will give you the ability to run amazing scratch card giveaways directly from your website. This is one of the best ways to boost leads, get referrals, and increase website conversions.
This plugin uses the popular, age-old technique of scratch and win marketing to help pull potential leads into your site. You will have the ability to display these games in several different ways.
You can make it appear as a scrolling item, or as a popup that appears after a user has been on the site for a certain amount of time. All a visitor has to do to participate is enter their email address or connect through a social media profile.
When either of these functions is done, a user can then participate and "scratch" the digital card for their chance to win. The plugin is fully customizable and will allow you to specify multiple prizes and slots, change layout and design, add custom fields, activate a referral, play again, and more.
The Scratch & Win Giveaways plugin comes with a ton of great options and features. Some of the main ones include:
Display it anywhere

Refer to play again option for repeat visitors

WooCommerce compatible (coupon codes and discounts)

Set your own slots and prizes

Integrated social sharing features

Facebook permissions and policies approved

Large template library

Easy to install

GDPR compliant

Launch multiple campaigns

Start and end date options
As you can see, you have all the tools necessary to start running a scratch and win marketing effort that will help boost referrals.
Let's take a look at how to get the plugin setup and going on your website.
Note: There is a pro version of the plugin that has a few more options. That being said, this tutorial is based on the free version, as it gives you everything you need to run fantastic scratch and win giveaways.
How to Setup Scratch & Win Giveaways
Getting the plugin installed and setup is not overly difficult. You simply need to know the steps involved. Here is how you can easily set up the entire plugin from start to finish.
Step 1: Install and Activate the Plugin
In order to start offering scratch and win giveaways on your website, you first need to install and activate the plugin. You can do this by heading over to the Plugins page in the WordPress admin dashboard.
All you have to do is search the plugin by name using the search field. When it pops up, install and activate it right from there.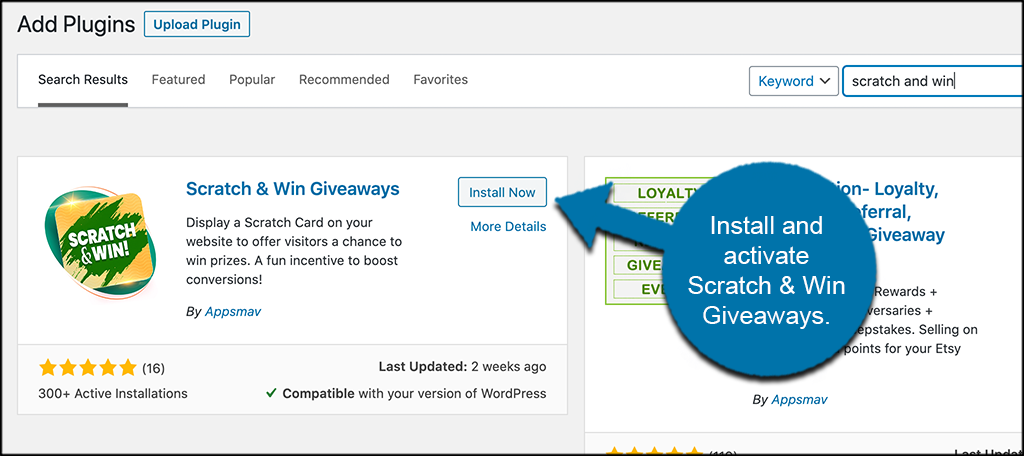 Step 2: Access the Main Settings and Configuration Page
Now that the plugin has been installed and activated, you want to go ahead and access the main settings and configuration page. This will allow you to get everything set up and configured how you want.
Click on Settings > Scratch & Win Appsmav. You see this located in the left side menu area of the dashboard. This is an available option now that the plugin is activated.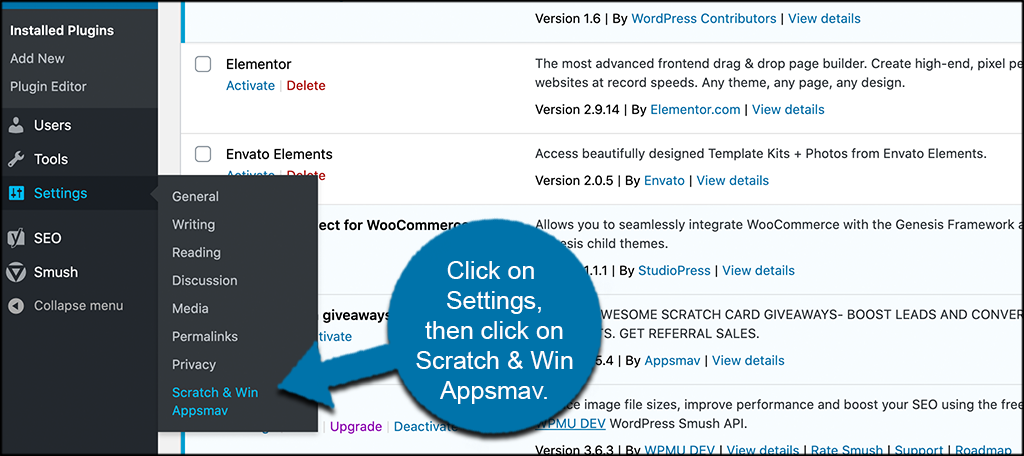 Step 3: Sign Up For a Free Appsmav Account
The first thing you see on the settings page is the form for you to go ahead and create an Appsmav account.
This is totally free, but you do need to do it in order to run the scratch and win plugin properly. Go ahead and fill the form out and create your account.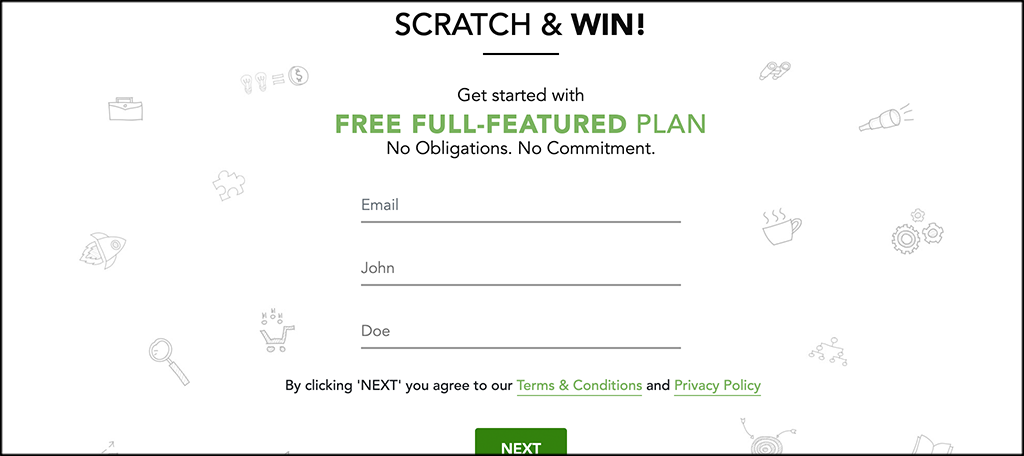 Once you fill out your name and email, you will get the following screen. From here you can launch the application.
Go ahead and click on the "Launch Application" button.
Doing this will take you off-site to the Appsmav website. From here you can click on the "Get Started Now" button to move forward.
Step 4: Design and Activate Campaign
Clicking on the "Get Started Now" button will take you to the campaign page where you can design, build, and activate your first campaign. You see there are seven tabs that dropdown for you to enter info into and set the campaign up.
Let's go through these together real quick.
Campaign Settings: Set your giveaway name, the dates, and the timezone for all of it here.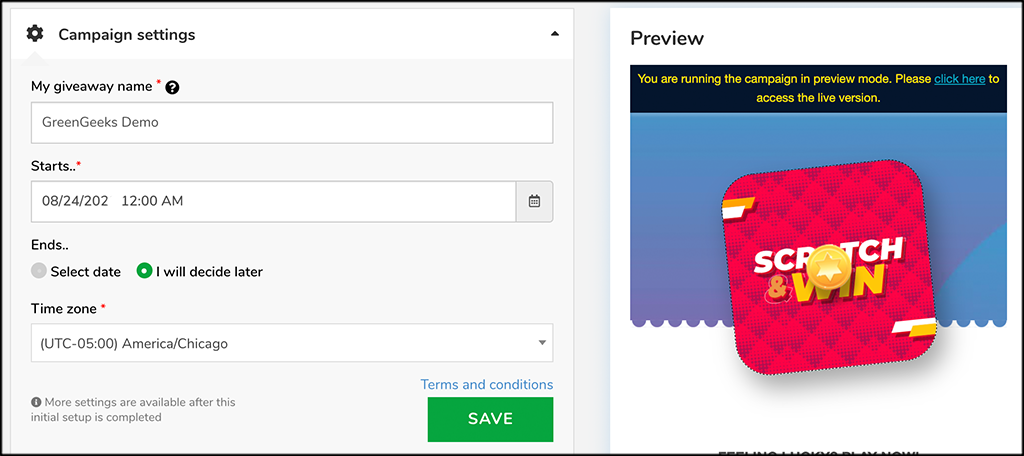 Create New WordPress Page: Simply select the name of the WordPress page you want the scratch and win giveaway displayed on.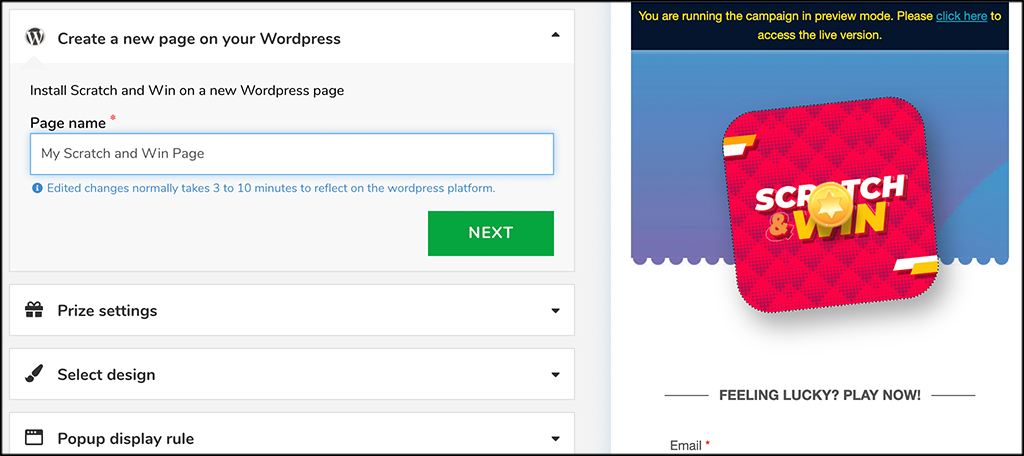 Prize Settings: Go ahead and set all the prize settings that you want here.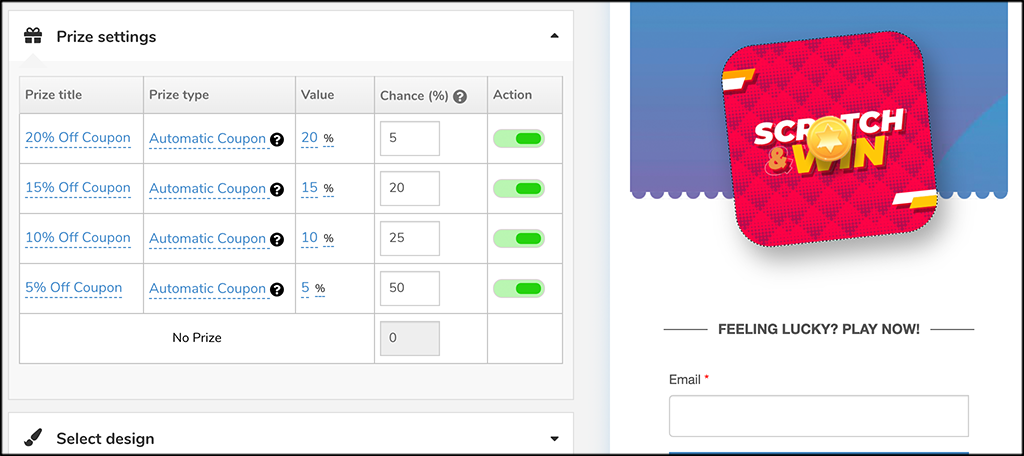 Select Design: Select the overall design and look of the scratch and win that you are currently building.
Pop Up Display Rules: This is where you can set all the rules for a pop-up display to follow.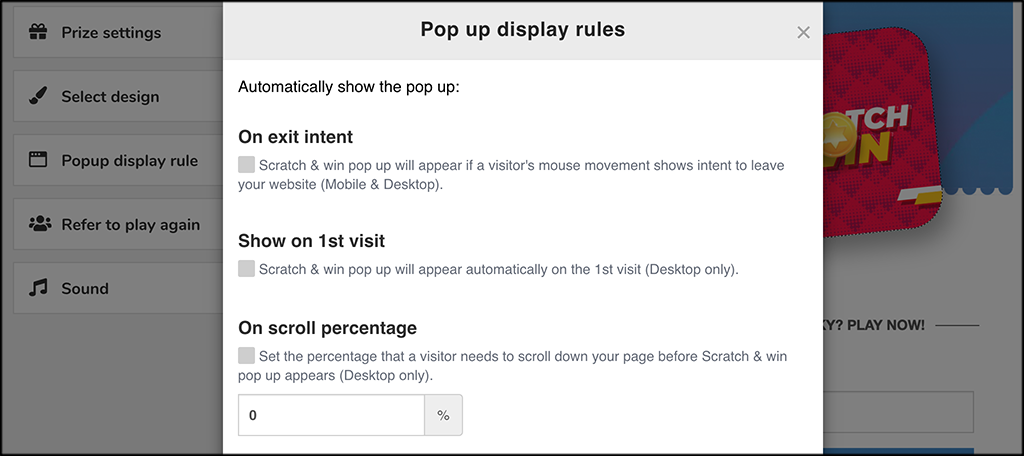 Refer to Play Again: Set up the refer to play again section here as you see fit.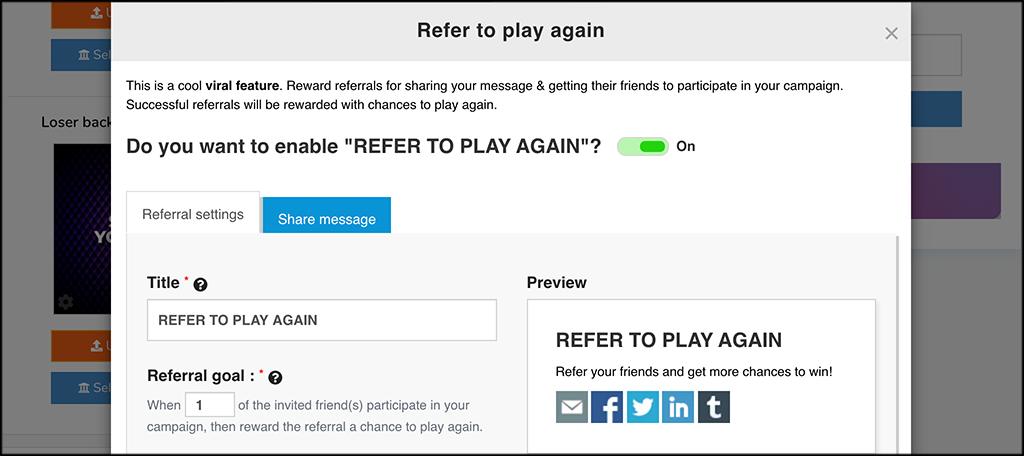 Sound: Turn on/off the scratching sound when a site user is scratching off a card.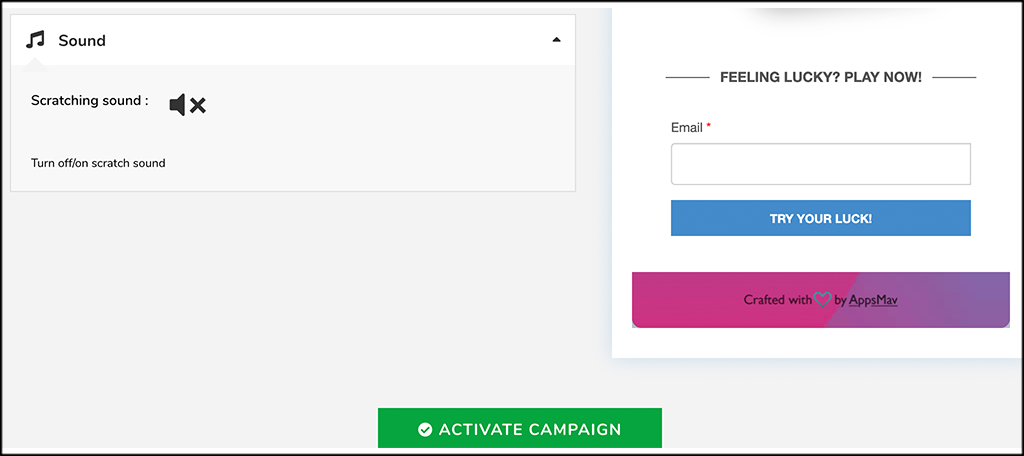 That's it! When you are satisfied with all your settings, go ahead and click on the "Activate Campaign" button. You also have the option of doing this later. However, let's move forward as if you went ahead and activated the campaign.
Step 5: Promote Campaign and Show on Website
When you activate the campaign, you will get a box that gives you options to promote your campaign or show it on your website.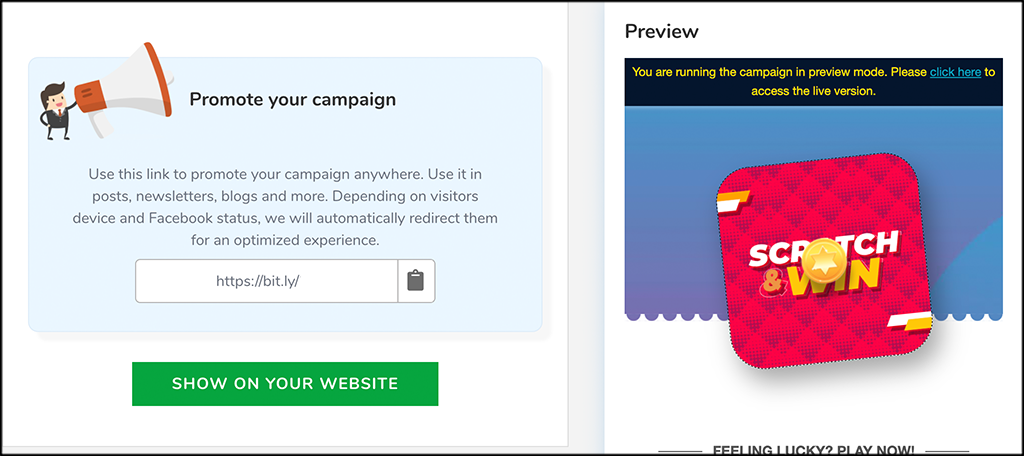 To make sure your campaign is running, you will also get a notice at the very top of the page. There will be a congratulations message, along with options to check your campaign or launch your dashboard. You are more than welcome to do either.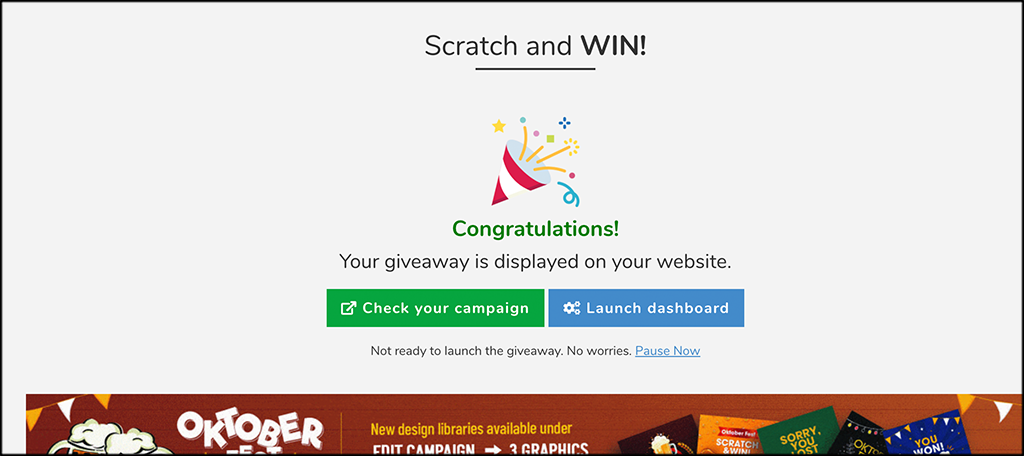 To see the campaign live on your website, simply click on the "Show On Your Website" button that is in the promote box area.
The "Create a New Page on WordPress" box will pop back up. Inside, it will ask you if you want to install scratch and win on the WordPress page name that you previously created.
Click on the "Next" button to do so.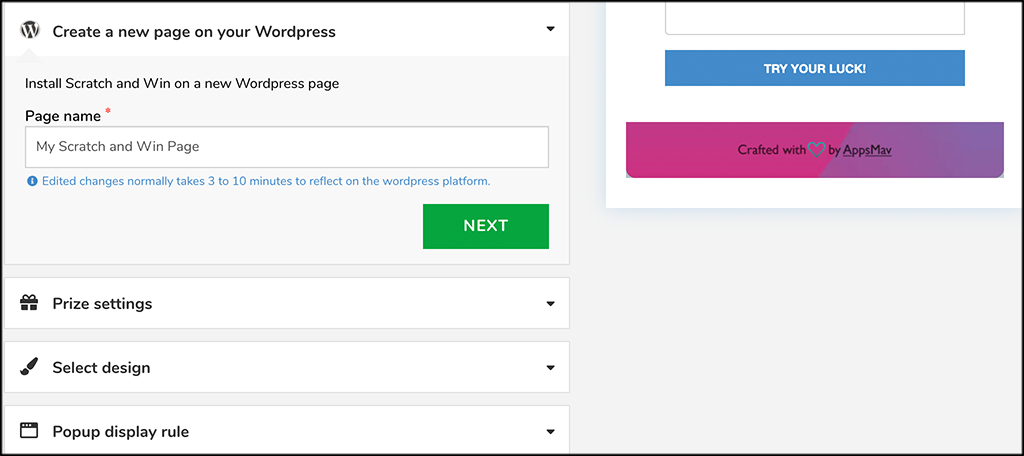 Installation will not take long. When it is done, you will get another congratulations letting you know it is all ready to roll. The page path and the page name will also be displayed.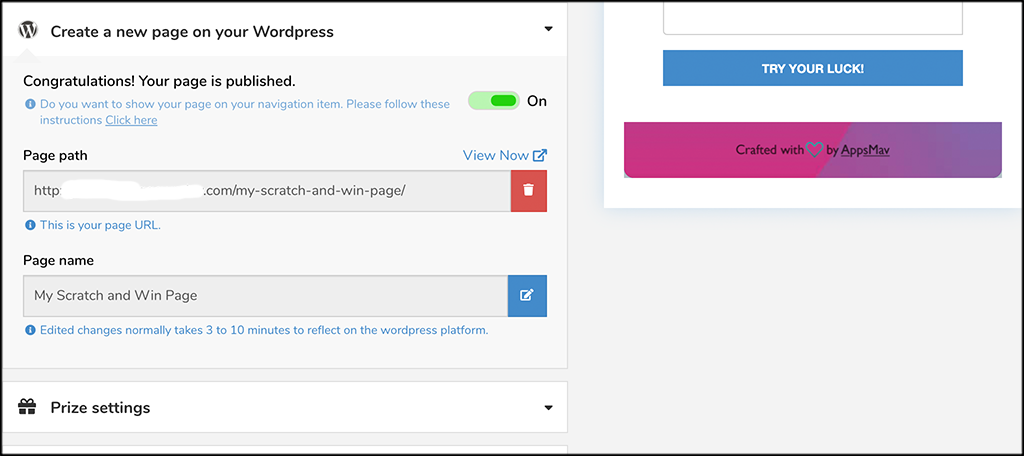 Go ahead and jump over to the live page and check it out.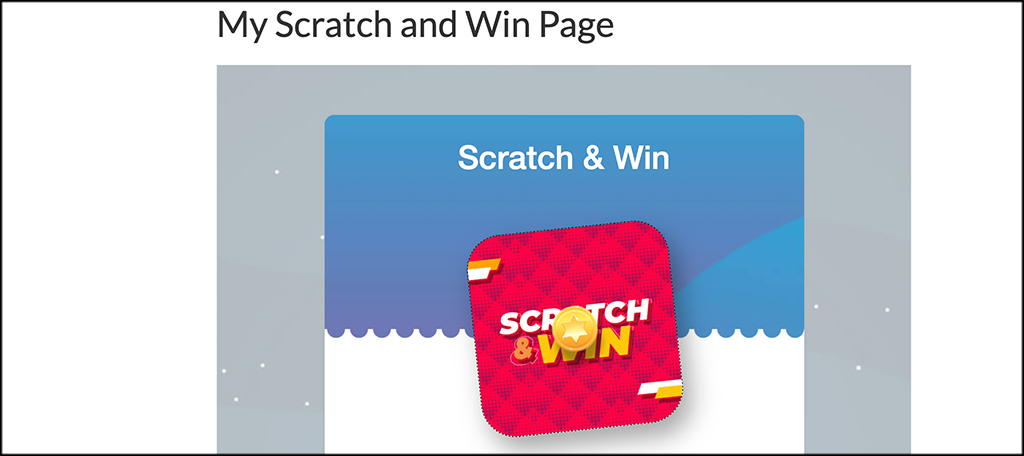 The scratch and win will show based on all the settings you put in. You are good to go and off and running.
Repeat this process as many times as you want to create different scratch and win prizes, pages, and games.
Final Thoughts
Scratch and win marketing is a fantastic way to boost referrals, give your customers great prizes, and get repeat visitors to your website. You don't need to code anything from scratch, you simply need to have the right plugin.
The Scratch & Win Giveaways plugin will give you everything you need and more to create the game on your WordPress site and keep people coming back for more.
Have you ever tried scratch and win marketing before? Is there another method you prefer to use for building a referral network?