When using Google Chrome, your computer can accumulate a lot of temporary files that are not necessary. This is because websites will store information for future use. However, this can lead to a few problems.
Although caching is a way to improve the user experience, it can also act as a hindrance.
Today, I'll show you how to clear the cache in Chrome and why you should.
Why Clearing the Cache is Helpful
The cache is a storage system that holds various pieces of information for the websites you visit. Cookies and files for password and settings, images and overall layout of a site are stored so the computer can access them for the next time you visit.
This improves speed as the computer uses that information instead of downloading it all over again with each visit.
The following are perhaps the most important reasons why you would want to clear Chrome's temporary Internet files in Windows.
Saves Drive Space
It doesn't take long for Chrome to store images on your computer. The more time you spend browsing the Internet, the more files you'll store. Images are perhaps the most prominent of these files.
And you can store literally gigabytes worth of temporary files taking up space on the hard drive.
Removes Problematic Website Issues
Some sites will store coding and settings in Google Chrome. If you're troubleshooting a website, or experience problems, clearing the cache gives the computer a chance to re-download fixes and correct coding.
In fact, I've found clearing the cache a great help when testing new coding changes or layouts on a website.
Keeps Others from Snooping Through Your Browser
Although most browsers nowadays have the ability to browse the web incognito, it's not always the best option for privacy. For one thing, this eliminates passwords and other elements from being stored.
Some find it useful to clear the cache at their leisure instead of using an anonymous experience.
Clearing Cache and Cookies from Chrome
Let's get into clearing the Chrome browser cache.
On the top right of Chrome, you'll see three small dots in a line. This is the area for customization and control for Google Chrome.
Click the three dots on the top right.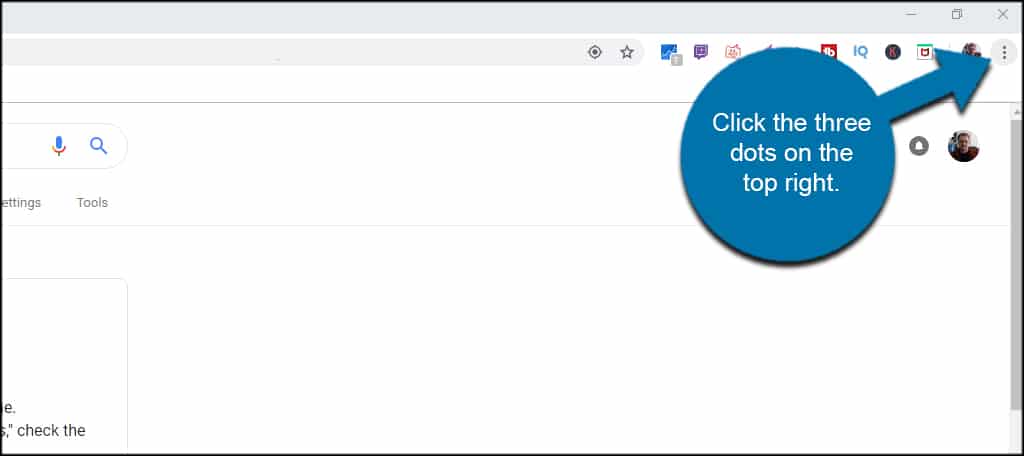 Click the "Settings" option. This will open a new tab within the browser.
Scroll to the bottom and click, "Advanced." This will expand a list of advanced settings for the Chrome browser.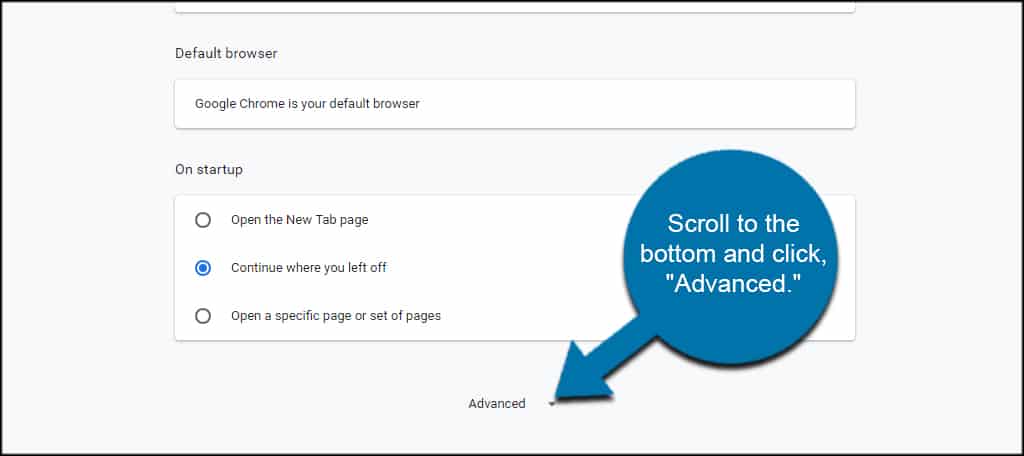 Scroll until you come to "Clear browsing data" and click it. This will launch a popup window of your options.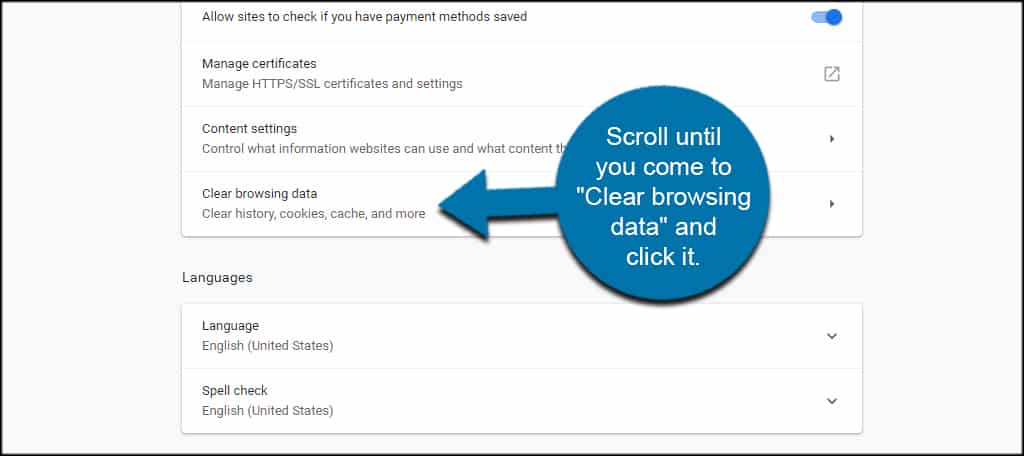 From here, you have several options. You can choose to delete your browser history, delete cookies and other site-specific settings and information and/or eliminate the cached images and files.
Chrome will also show you how much hard drive space you'll save by clearing the cache.
Select all the options you want and click, "Clear data."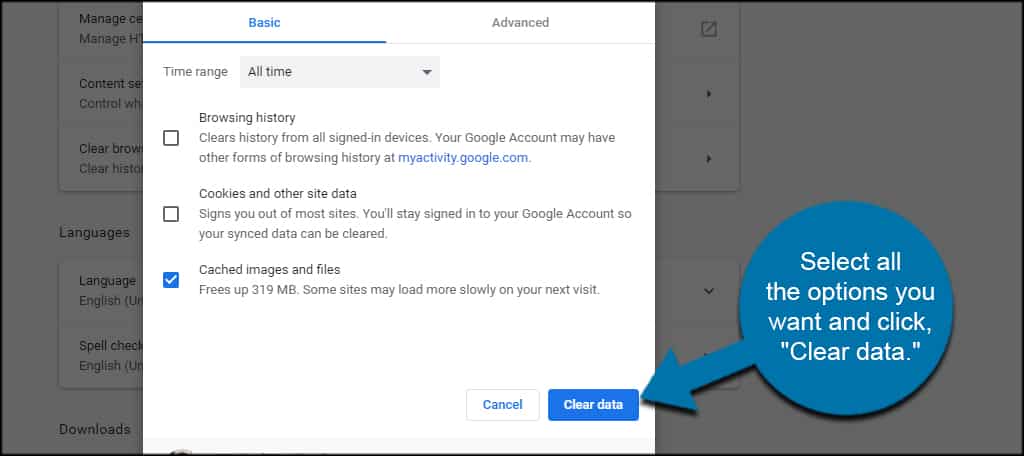 NOTE: You can customize specific elements to clear in the cache if you use the "Advanced" option. Of course this is optional, but it gives you a bit more control over exactly what is removed.
Depending on how much data you're deleting, this can take a few seconds to a matter of minutes.
Disabling Syncing and Why You Might Want To
Using your Google account, Chrome will synchronize the browser settings across all devices you use. So anything you save as a bookmark on your computer is also available on your laptop.
Speaking from experience, this has been an exceptionally useful feature…especially when I travel.
However, you might not want to clear the cache on other devices.
To disable syncing with other devices you use with Chrome, click the "Turn Off" button at the top of the settings page.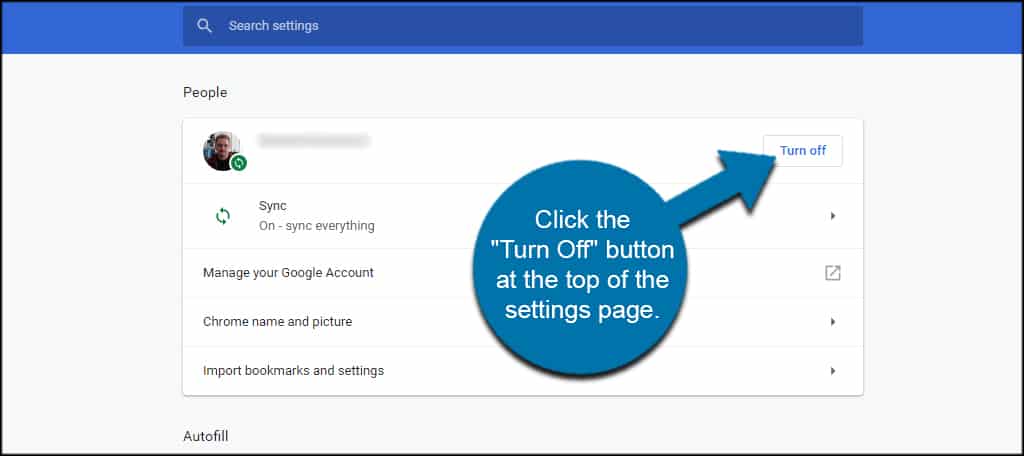 This will prevent your changes from taking place on all other devices of which you use the Chrome browser.
Keeping it Clean
Removing cookies from Chrome, as well as other files, helps keep the system clean and performing efficiently. It also helps free up space and contributes to trouble shooting websites.
Make it a routine to sweep up the debris Chrome can accumulate over time.