The Elementor WordPress page builder comes with everything you need to build dynamic, mobile-friendly web pages. The builder also comes with some built-in tools that can come in very handy for certain operations.
Elementor Tools
Let's take a quick look at the Elementor tools that are available for you to use when needed.
To access all the tools below simply click on Elementor > Tools and you will be taken to the "Tools" admin page where you can click on any of the tabs to make your selections.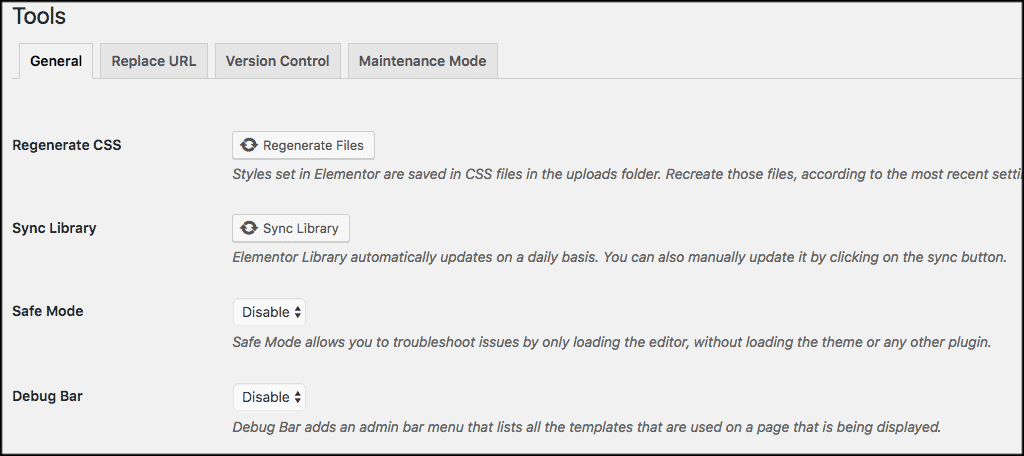 General
Regenerate CSS: This will clear your CSS files and will generate new files when you make changes to your pages.
Note: Regenerate CSS tool will not regenerate the files on the click of the button.
Sync Library: If you experience bugs with the library, you can sync it here.
Replace URL
Enables the use of Elementor after a domain transfer (Also relevant for adding an SSL certificate to your site).
Version Control
Rollback Version: Switch to a previous version of Elementor.
Become a Beta Tester: By enabling this, you will be notified whenever a new beta version is out.
Maintenance Mode
Choose Mode: Choose between Disabled, Coming Soon & Maintenance Mode.
Who Can Access: Choose who can view your content when one of these modes is active.
Choose Template: Choose a template that will be displayed when one of these modes is active.
Use the above available Elementor tools when needed.