The Elementor WordPress page builder is a dynamic content creator and page builder that you can use to build a one of a kind WordPress website.
Furthermore, the Elementor Template Library gives you access to hundreds of designer-made Page layouts and Blocks, all with premium high-end stock images, which you can use freely on your site.
How to Use the Elementor Template Library
Let's take a look at how to navigate around and use the Elementor template library.
Inserting Templates
Once you are inside the Elementor page editor you want to click the folder icon to add a Page template, Block, or your own saved template from the editing screen.
When you click the folder icon a number of options will appear. You can:
Click the magnifying glass icon to preview a template.
Click insert to select a chosen template.
Give your favorite templates a heart and save them to "My Favorites."
Click the arrow in the top right corner to upload a .json or .zip file.
Saving Pages as Templates
If you create a new page and want to save it as a template simply click the green button located on the bottom left of the open panel.
Choose "Save as Template" then give your template a name and save it.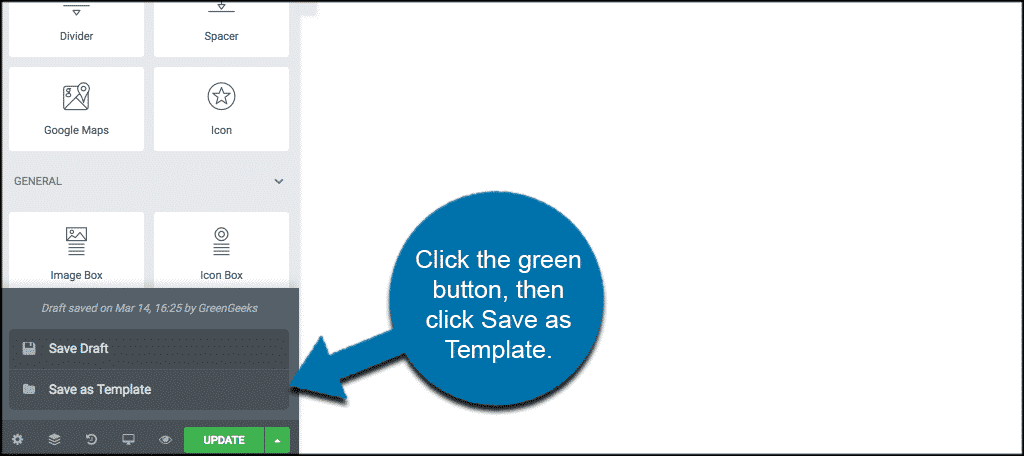 Saving Sections as Templates
Choose the section you would like to save as an Elementor template and right click the section settings blue button. Give your section a name and click "Save."
How To Export Templates
You can export your saved templates.
Click the folder icon in the Elementor editor. Under "My Templates" click the 3-dots and then click "Export."
How To Import Templates
You can import templates you've exported or downloaded.
Go to Templates > Saved Templates or Templates > Theme Builder or Templates > Popups and click the "Import Templates" button.
Now choose the file you want to import and click the "Import Now" button. Your imported template will now be displayed in your Templates list.
There is a lot you can do with Elementor templates. Create, build and save your own Elementor template library to use anywhere.