Using affiliates such as Amazon is one of many ways you can make money from your website. However, affiliates often have long and ugly URLs when using them. The longer the URL, the more likely you can make a mistake and break the link.
Visitors may even feel uncomfortable because of the number of characters that are used. In a world of online mistrust, you want consumers to feel confident about using a link to make a purchase.
Luckily, Amazon allows for shortening of the links you can use on your WordPress hosted website. You'll still get credit for the sale and it makes managing your links far easier.
Today, I'm going to show you how to make pretty links for Amazon affiliate URLs. It's a simple process that only takes a moment of your time.
Using ThirstyAffiliates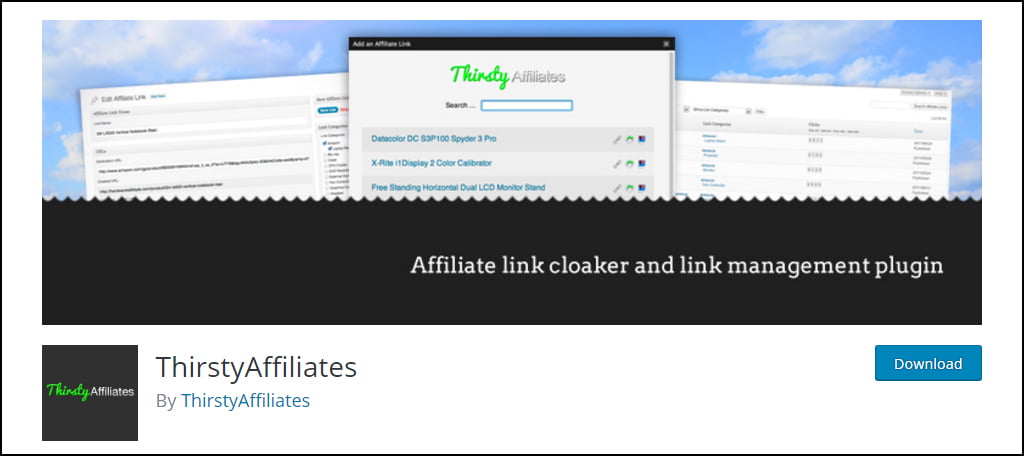 The plugin for ThirstyAffiliates gives you a great deal of control when it comes to managing your links. You're able to input the URLs, create the links as "no follow," open in new windows and even track each link if you buy the Pro version of the plugin.
ThirstyAffiliates not only helps you create pretty links when using systems like Amazon, it also cloaks the original URL from being seen. This can work like a double-edge knife, though. On one hand, you're hiding your affiliate ID number from being visible as well as other pertinent information. On the other, visitors don't know where the link is referring.
Some people may be reluctant to click on a link that doesn't have an apparent destination. Because "Amazon" is such a trusted brand name, people may be more inclined to click the link and make a purchase if they see the address within the URL.
Installing ThirstyAffiliates
To install ThirstyAffiliates, go to the Plugins area of WordPress and click "Add New."
Install and activate, "ThirstyAffiliates." This will add a new feature to the left panel in WordPress.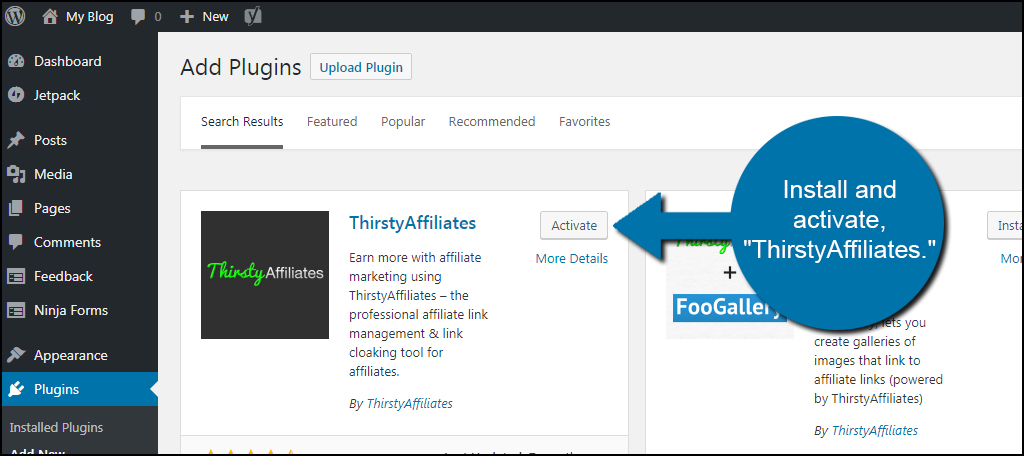 Go to Affiliate Links in the left column and click, "Settings."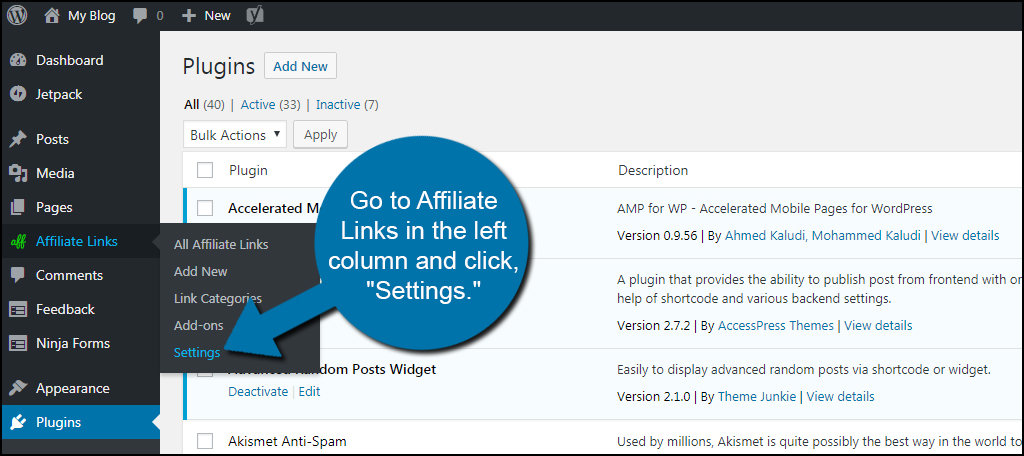 In this window, you can make a variety of customized changes for your affiliate links when creating them. For instance, you can change the Link Prefix to display a message for those who will click the link. So, your link could read like:
[ht_message mstyle="info" title="" show_icon="" id="" class="" style="" ]"https://www.yourwebsite.com/endorses/the-name-of-your-link"[/ht_message]
Because ThirstyAffiliates cloaks content automatically, all you need to do is add a new link to the tool and embed it into your posts or pages using the "AFF" buttons in the visual editor.
Perhaps one of the highlights to ThirstyAffiliates is the fact that you can label an affiliate link and easily swap it out for another without going into each post and page to change the link. If you use the shortcode version of the links in your content, all you need to do is change the destination URL.
This means you won't have to go through and modify any of the links in past pages for the new affiliate. Just make sure you're using a new link that is similar. Otherwise, it may cause confusion and be problematic for your visitors. For instance, use another outdoor brand if your first link was outdoorsy as well.
Using a Third-Party Link Shortener
Link shorteners, such as using Google's Goo.GL service, are online apps that take an ultra-long URL and condense it down to just a few characters. These platforms are heavily used when it comes to things like Twitter because these shorter links take up fewer characters. Some people will often use them for affiliates as well.
A benefit to tools like Goo.gl is that you can use them virtually anywhere. You don't have to worry about installing a plugin into WordPress and you can easily paste them into social media posts or emails. In fact, some shortening systems like Buffer will come with a tool that lets you share those Amazon links on several social profiles at once with a single click of the mouse.
One of the biggest problems a lot of people have when sharing links that have been shortened is that it doesn't always work. Some shorteners only keep the links available for a limited time. Which means any advertising you've done with that particular link will have to be redone at some point in the future.
Another issue many have been faced with is that some shortened links do not work well with various affiliate programs. Sometimes the redirect doesn't seem to carry over the product or affiliate ID numbers. As a result, you might not get credit for the sale.
Unless you use the shortened link and make a purchase yourself, it may be difficult to determine if you're losing any sales because of this. Many affiliates will buy from these links themselves simply to make sure the company will pay the affiliate for a purchase.
Modifying the Amazon Link Directly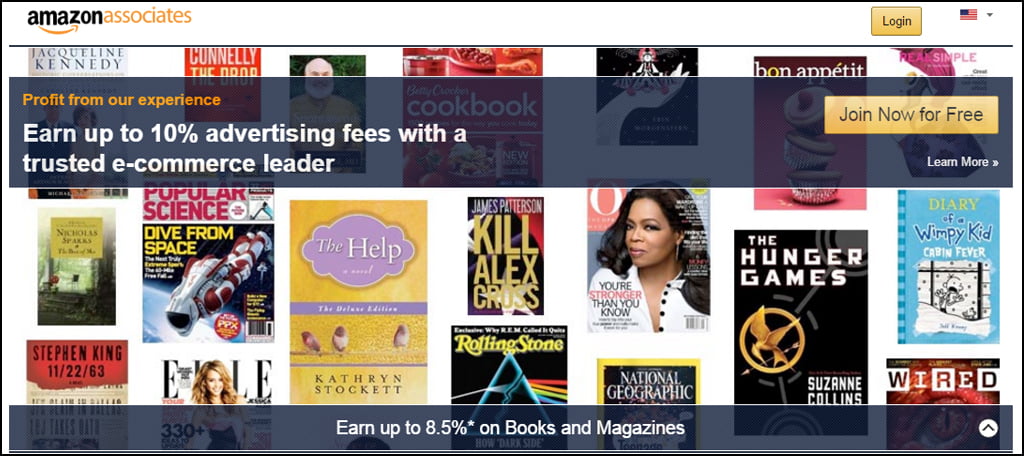 One of the more common ways to shorten the Amazon affiliate link is by doing it directly. This can be done two different ways.
Adding DP to Your Link
Adding the "/dp/productID/?tag=youraffiliateID" greatly shrinks down ultra-long links. You would put this immediately following the Amazon URL. It may look something like:
https://amazon.com/dp/0987654321/?tag=abc12-34
Shortening the Amazon Domain
Amazon also allows you to use the shorter domain name "amzn" with the URL. So, using the above example, the URL would look like:
https://amzn.com/dp/0987654321/?tag=abc12-34
Choosing Shorter URLs When Setting Up the Link
When you're an Amazon Associate, you can choose to create shorter links when setting up the affiliate. The system will default to using "https://amzn.to" that you'll share when earning sales.
Amazon Affiliate Best Practices
What is the best way to optimize your Amazon marketing platform on WordPress? Here are a few tips I've put together to help you get the most out of the experience.
1. Don't Use Too Many Links
There is such a thing as too many links on a website. It looks unattractive to the average reader and may hurt the reputation of your website.
2. Keep It Relevant
Keep Amazon affiliate links relevant to your content. For instance, only link to outdoor equipment on Amazon if your website is about hiking and nature. It connects better with your audience.
3. Experiment with Products
Don't be afraid to remove a link that isn't performing. Experiment with different products until you find a fit for your website's niche.
4. Understand Your Audience
Just because you like a product or company doesn't mean your audience will. Understand what people are looking for when visiting your site. Let them guide you to what products sell the best.
5. Don't Expect Instant Success
Like all affiliate programs, it takes traffic and buyer interest to make money. Don't expect an overnight success, especially if your website doesn't have a lot of visitors to begin with. It may take some time to start generating revenue.
Keep the Links Neat and Tidy
Producing shorter URLs for affiliates should be counted among your marketing tools and strategies when promoting the site. It's all relevant to engaging visitors and giving them a reason to buy something. Short Amazon affiliate links have potential to make unsuspecting customers feel more welcome and less intimidated by a long and convoluted string of characters in the browser window.
What kind of marketing tactics do you like most for WordPress? How much success have you had in the world of affiliate marketing?