Are you having trouble managing comments in WordPress? The comments section allows visitors to communicate with each other and leave valuable feedback on your content. It also allows you to directly interact with your community by replying to comments.
Unfortunately, managing the comments section in WordPress is no easy task and will require a lot of work. It's honestly a 24/7 job.
The two major things you need to be on the lookout for are spambots and negative or inappropriate comments. Let's face it, people are willing to say anything because they are anonymous online. It does not look good for a website if visitors look through the comments and get offended.
Today, I will demonstrate how to manage your WordPress comments section.
Managing the Comments Section in WordPress
There are three major things you need to look at concerning comments. They include the comments settings that are built-in to WordPress, moderating comments, and preventing spam in your comments section.
The first two can be done easily enough through WordPress, but to prevent spam, you will need some help. WordPress comes with Akismet Anti-Spam installed, but unless you take the time to set it up, it will not prevent spam.
Step 1: Change Comments Settings
There are quite a few ways you can customize your comments section. For example, this is where you can choose to hold comments for moderation or let them appear immediately.
On the left-hand admin panel, click on Settings and select the Discussion option. This page is used to change all of your comments section settings.
The Discussion page is broken down into a few subsections that all have different settings to change. It gives you several options to make managing comments in WordPress a bit easier.
Note: "Default Article Settings" text may simply read "Default Post Settings" but everything else is the same.
Default Comment Settings
The default settings should be changed to meet your website's needs. The first section is called the Default article settings. It provides options to allow new articles to receive comments and link notifications for pingbacks and trackbacks. By default all of the options are active, but you can customize them to meet your needs.
Other Comment Settings
The Other comments settings section has a lot of important settings. The very first option will force visitors to provide a name and email to leave a comment. Keep this active because it will help prevent spam and is just a good policy in general.
The next option will only allow registered users to leave comments. This is also a great option to help prevent spam and is used by most websites. It is off by default.
The next option will determine how long users can leave comments on the article before comments are closed. This is off by default and I recommend leaving it off. The next two options deal with nested comments and breaking the comments into multiple pages.
These settings are more important when your comments section is more popular. Having thousands of comments on one article can make it very difficult, thus, you can break the comments up by pages.
You can also find comment pagination options here. This allows you to break your comment section into multiple pages. The point of this option is to help speed up page loading on posts with a ton of comments. Loading a few comments is no big deal, but 1,000 is a different story.
The last option in this section is the order that comments are displayed. This refers to whether new comments will be placed on top of the comments section or the bottom. There is no right method to pick, but consider how this will affect the comments section.
For example, if newer comments go to the bottom, users will need to scroll down to see them and as the section gets longer, it becomes more difficult to see the new comments.
Email Options
The next section provides some email options. Admins will receive emails when these actions occur if you select them. I recommend disabling these because your email can be overwhelmed if you have a very active comments section.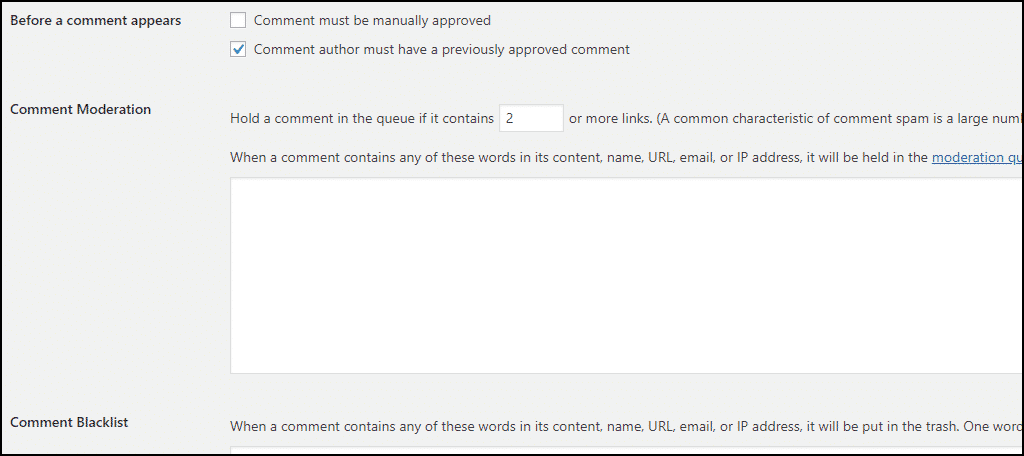 Now it's time to decide if you want comment moderation or instant approval. While it might be tempting to moderate comments and cherry-pick which ones appear and don't appear, it is unhealthy for discussion.
It is also extremely frustrating for visitors who take the time to leave a comment and not have it appear. Both options are similar, but the difference is who actually approves the comments.
The first option is admins (or whoever you set the permissions to) and the second option is exclusively for the author of the content. Pick the option that works best for you.
The next two giant text boxes allow you to enter some keywords to help you automatically monitor comments. These are usually profanity words and things of that nature.
The first box will place any comments in a moderation queue that someone will have to look at and the second box will block the IP address. As you can imagine the second box is very extreme.
Avatars
The last section deals with Avatars, Gravatars, and the rating of your comments section. While there is no wrong way to choose the options in this section, there are some general tips. For instance, if you enable Gravatars, which is very common, there is a chance it can slow down your page speeds.
This is because WordPress must connect to the Gravatar servers and retrieve the data. This won't be noticeable at first if you only have a handful of comments, but once you get a lot of them, you could notice a significant increase. This is why many larger websites shift to custom avatars.
That information would be stored on their own web servers, which would not impact load time. Enabling comment pagination can also help mitigate and slowdowns. Pick the best options for your website.
When you are done, click on the "Save Changes" button to save your changes.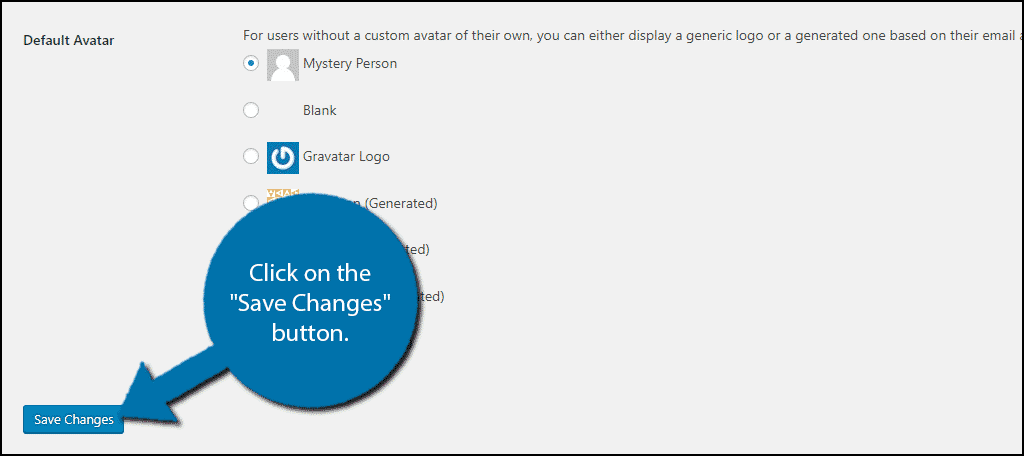 If you chose to not moderate your comments, skip the next section since it will not apply to you.
Step 2: Moderating Comments in WordPress
This is where you actually approve comments, delete them, or mark them as spam. If you choose to moderate, it is very important to stay on top of it (those email notifications might be useful here).
Why is that you might ask? If a visitor leaves a comment on a new article, they want to see their comment appear as quickly as possible. For example, if you have a new article and it takes roughly a week to approve a comment, that visitor might not want to take the time to leave another comment.
On the left-hand admin panel, click on the Comments option. Here you will be able to see all comments awaiting approval.
You will have 6 options you can use on every comment. They include Approve, Reply, Quick Edit, Edit, Spam, and Trash. These options become visible when you hover your mouse over the comment.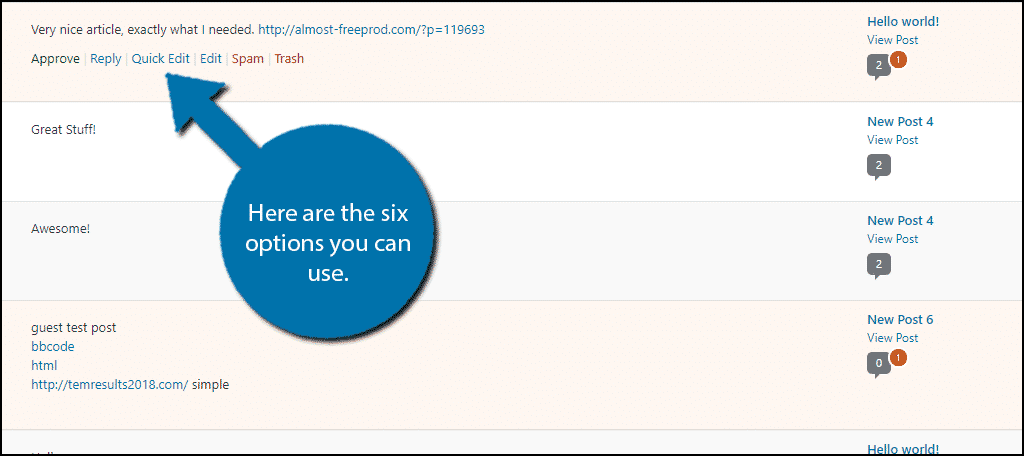 Approve: This will approve the comment and it will appear in the comments section as it is written.
Reply: This will allow you to directly reply to the message. It will also automatically approve the message.
Quick Edit: This will allow you to edit the comment on the same page. It will allow you to change all of the information. Good for editing profanity.
Edit: Very similar to Quick Edit, but it will bring you to a new page to do it.
Spam: This will mark the message as spam and it will not appear on your website. Some clear indicators are multiple links appearing in the comment and BBCode.
Trash: This will send the comment to the trash can and it will not appear on your website.
Simply go through the comments and select the most appropriate option.
Step 3: Spam Prevention
You may notice while moderating comments that a lot of them are spam. They are easy enough to distinguish from real comments, but there can be thousands of spam comments. These will make moderating them manually extremely time-consuming.
You need to use anti-spam plugins to prevent these from showing up. Here are a few of my recommendations: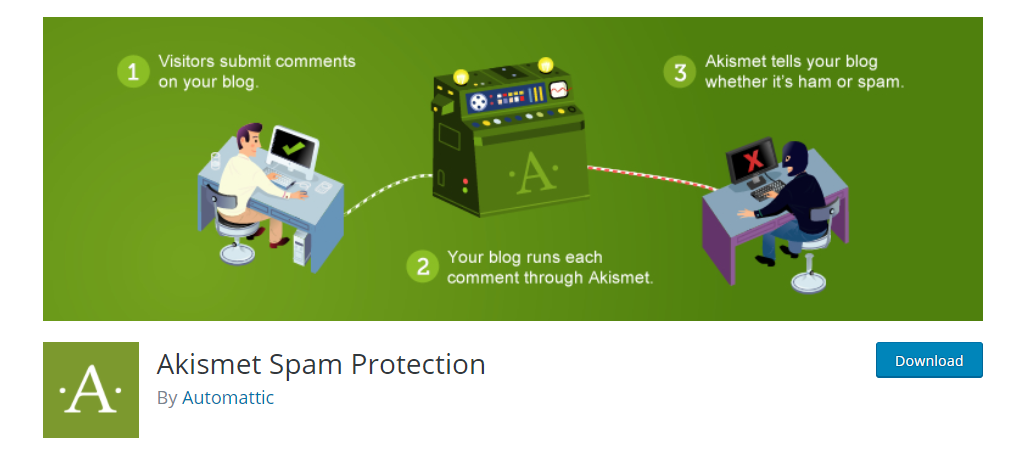 Akismet Spam Protection comes with WordPress and is a great choice to use and is easy to set up. In reality, it's the all-in-one spam solution with a ton of versatility and goes far beyond just comment spam.
Plus, it's completely free to use.
Once installed, this plugin will automatically detect spam comments and clear them out. You can always review what Akismet found and restore any of the comments that you feel are not spam.
That said, the plugin is very accurate. Therefore, it's unlikely to make a mistake.
Antispam Bee
Antispam Bee is another terrific plugin to consider when you want to mitigate spam in your comments section. It has a ton of customizable settings to help you catch spambots and automatically remove them.
For instance, you might notice that a good number of spam comments come from a certain country. If you notice that you don't actually have any visitors from that locale, you can actually block comments completely from that country.
Make the Comments Section Fun
At the end of the day, the comments section is meant to add a social element to your website. Social interactions are an integral part of the internet, which is why social media platforms have become so popular over the years.
They allow you to directly collect feedback on your comments and interact with them at the same time. The problem is it takes a lot of time to manage a comments section, and in many cases, it's a full-time job on its own. Try to ensure that the comments section is a fun place to visit.
So how can I actually do this?
A good way to proceed is to sometimes break the ice on a new piece of content. For instance, you can post a funny gif or meme that is relevant to the post. This can help inspire other fun comments on your website.
Of course, if you're looking for a serious discussion it's best to avoid this practice.
It's also highly recommended to participate in conversations between commenters. Responding quickly to comments sends a strong message that you are listening and enjoy their participation.
Why Managing Comments in WordPress is Important
Managing a healthy comments section is not an easy task, but it is an important one. Some website owners choose to not deal with this and instead, will choose to completely disable the comments section.
While this may work for some websites, I discourage it because it removes an important social engagement on your website. Comment sections are the best way to get feedback on your content and interact with visitors.
By default, when a comment is left on your website, it will need to be approved. This will allow you to read the comment and decide if it is appropriate or not.
As you can imagine, this can take up a significant amount of time. It will become an impossible task once your website has become popular.
Thus, automatic approval will be essential in the later stages of your website's life.
Managing Comments in WordPress is Critical
As long as comments are handled appropriately, then they should not be too much of an issue to deal with as time goes by. However, letting them build up and not creating a configuration and setup that you can employ for help can be problematic.
Eventually, you might have hundreds of comments that are awaiting approval, which can definitely eat uptime. This is why very large websites invest in a comment moderator to handle this task.
I hope this article was able to show you how easy it is to manage comments in WordPress. Use the steps above and you will be able to easily deal with all comments.
Do you moderate all of your comments or allow them to appear instantly? If you allow them to appear instantly, do you have a reporting system in place?