Newsletters work exceptionally well to engage previous customers or those interested in your business. It's one of many strategies to increase online sales. This is especially true if you include images or personalize the messages.
Magento has a built-in capacity to send newsletters automatically. These emails can include various elements such as promotional items and other information you think your shoppers will be interested in knowing. It's one of the many aspects of starting an online store that may lead to greater income.
In this Magento newsletter tutorial, I'm going to show you how to manage these messages. By understanding how the system works, you may increase the effectiveness of your marketing campaign.
Newletter Configuration
First, you'll need to check the configuration of your newsletters. A lot of the following options may be set by default, but they can be changed depending on how you want Magento to govern of the messages.
Go to the Stores section of Magento and click "Configuration."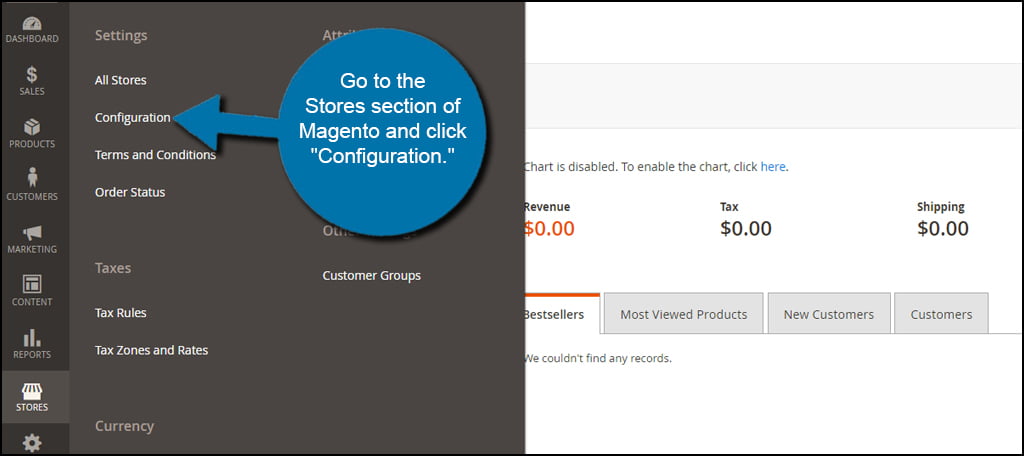 In the Configuration screen, click the tab along the left for "Customers."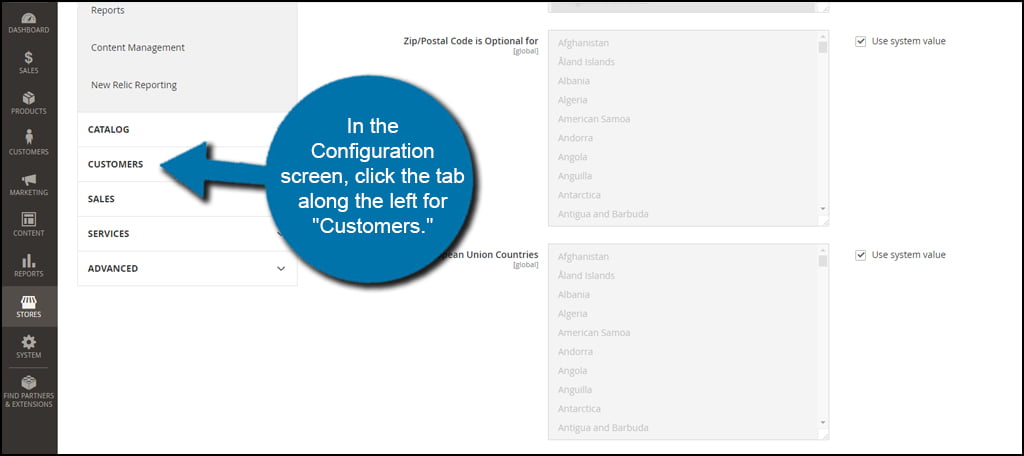 Under Customers, click the link for "Newsletter." This is a basic configuration of how these messages will function on your site.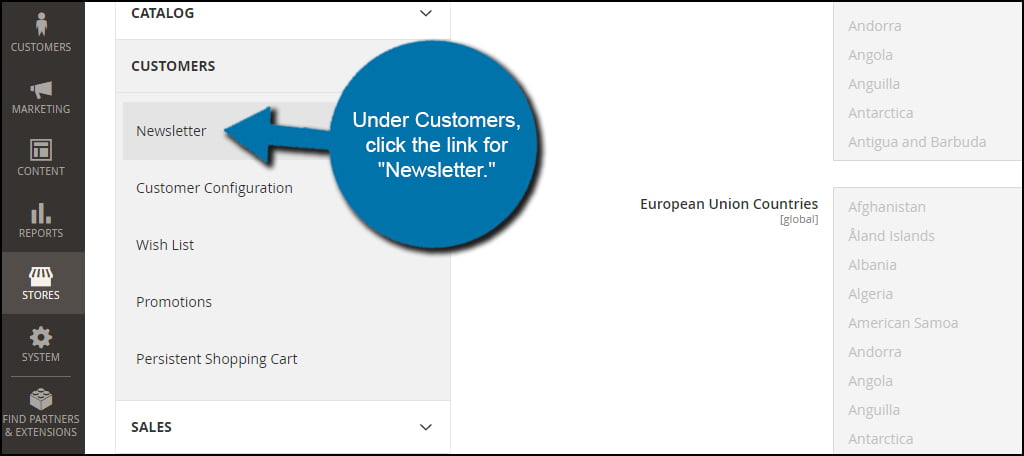 These are the basic subscription options for your online store. You can change whether guests can subscribe, if a confirmation is needed and the templates the system sends automatically when someone registers. These are all set by default, but they can be changed if you create modifications or custom messages.
When you are done, click the "Save Config" button on the top right. For this tutorial, I'm just going to leave these as the default settings.
Newsletter Management
After your configuration settings are saved, it's time to start marketing with the newsletter. This is just one of several methods that are built into Magento to help you generate sales.
Newsletter Templates
Go to the Marketing section of Magento and click "Newsletter Template."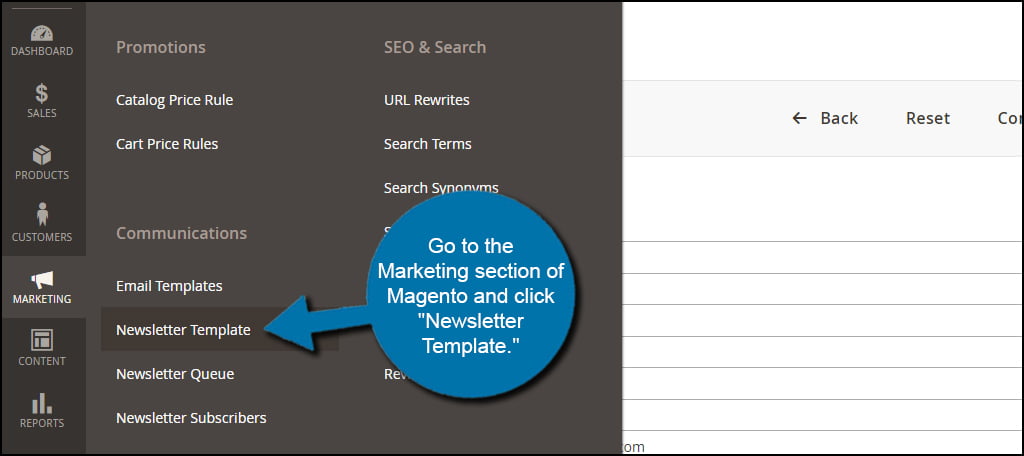 This section will show you all available newsletters, the date they were added, sender and the type. This way, you can use different templates for varied situations instead of creating a new message each time you want to send one.
Click the "Add New Template" button on the top right. I'm going to show you a few things you can do in your newsletters.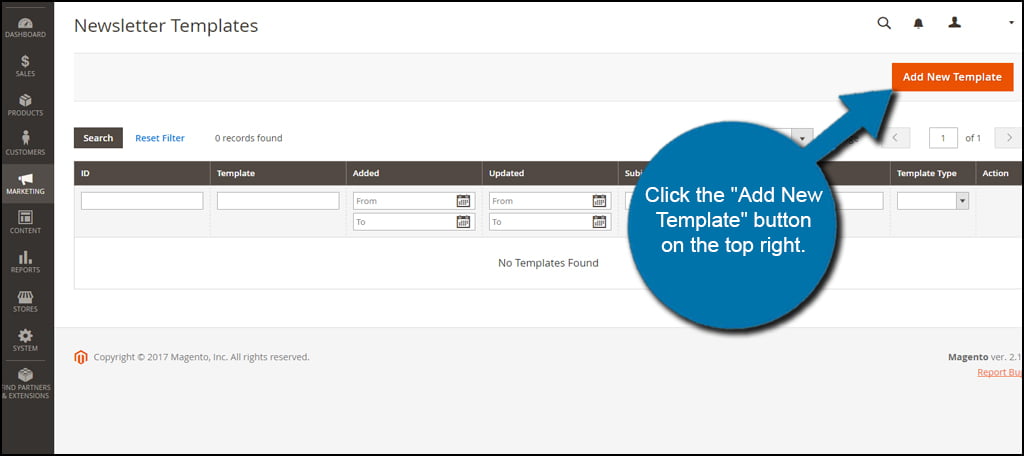 There are several key elements in your newsletter template:
Template Name
This is the name you give your template so you can tell them apart. You're the only one to see this.
Template Subject
This is the subject text of the email newsletter that is displayed to recipients.
Sender Name
This is the name of the department or individual sending the email. For instance, I am going to change my new template to "Customer Support."
Sender Email
This is the address which connects to the sender. A lot of online store owners will use a "Do Not Reply" address to prevent spamming. Others may use an actual address customers can contact for more information.
Template Content
Here is where the nuts and bolts of the message is created. The Magento newsletters support HTML, which means you can create rich formatting for messages to engage your readers. Although many people prefer to receive plain text messages, HTML format often proves to be very effective at enticing future sales and interactions from recipients.
Once you're done creating your message, click the "Save Template" button.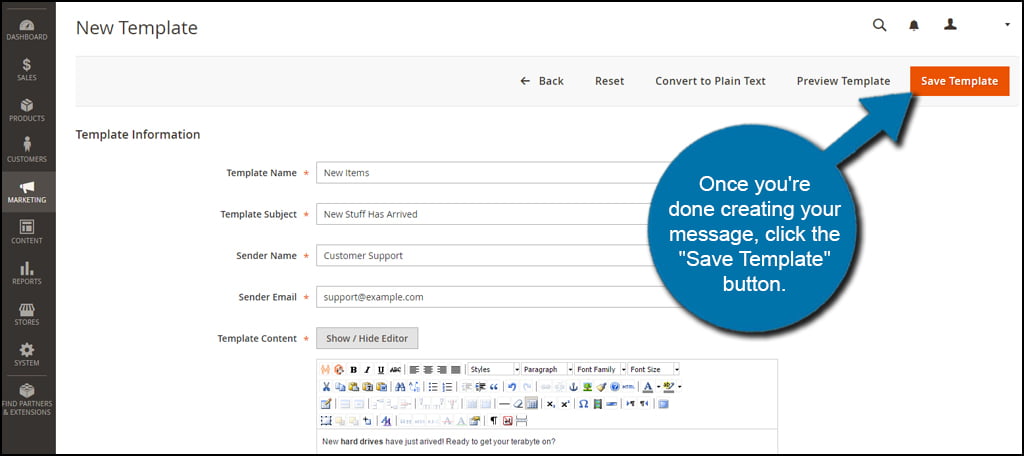 Newsletter Queue
The Newsletter Queue is a list of messages that are scheduled to go out at specific times. Newsletters can be added to the queue by selecting it from the Action column.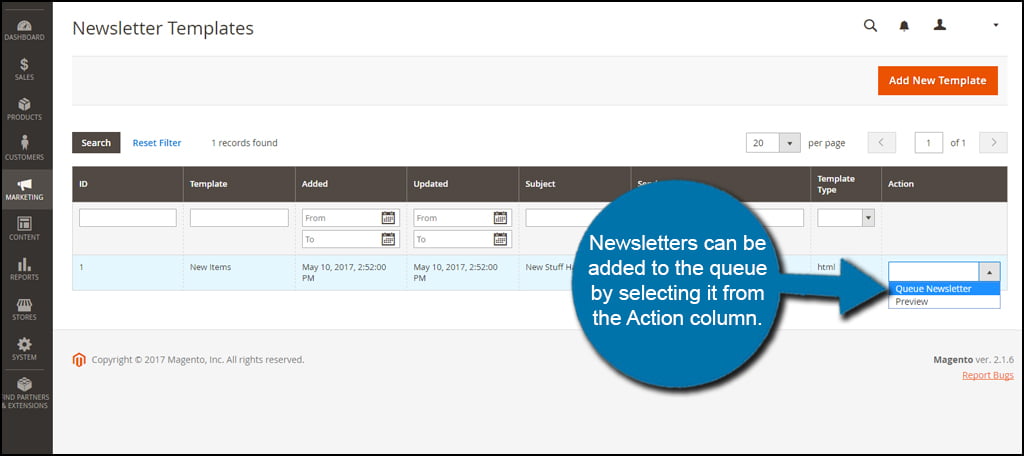 Using the queue, you can set email to be sent at certain times. This means you can spend the day creating several messages that only go out once per week.
To access the queue itself, go to the Marketing section of Magento and click "Newsletter Queue."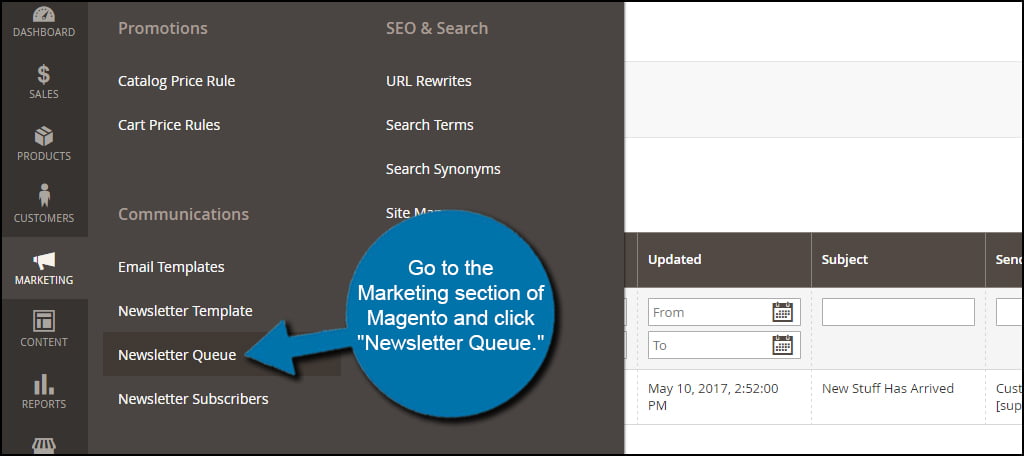 This area will show all messages that are ready to go out and which ones are currently in the queue. You'll also see processing and recipient addresses of each, which can then be customized depending on your marketing strategy.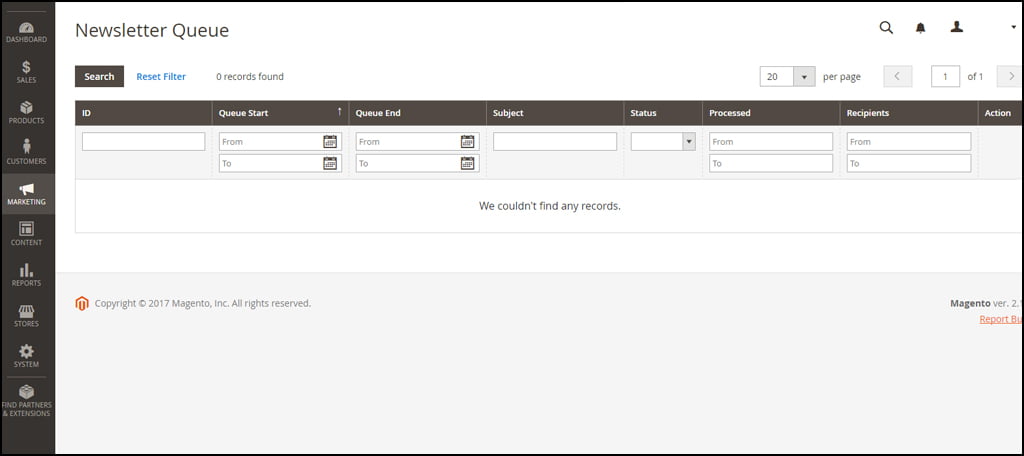 Newsletter Subscribers
Newsletter subscribers are those who will receive your emails from the system. From this area you can manually unsubscribe individuals or delete their subscriptions altogether.
To access this list, go to the Marketing section of Magento and click "Newsletter Subscribers."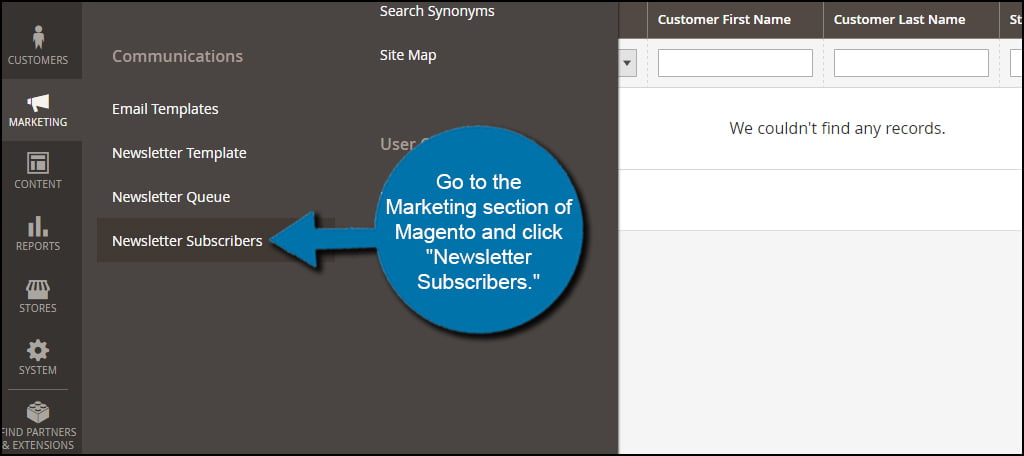 Like many other parts of Magento, newsletter subscribers can be exported in CSV or Excel XML format. Choose which file type to create and click Export to download it.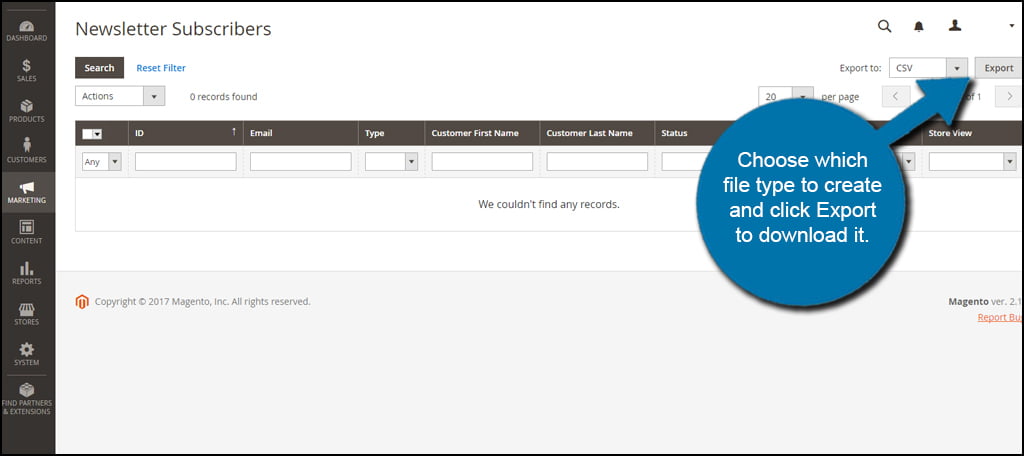 Newsletters are often an extremely valuable asset for those who operate online stores. They can be used to promote products, share news regarding industries or otherwise reach out to past customers. Any Magento hosted website would do well to experiment with what these systems can deliver. You may just find yourself generating additional sales from a simple message.