Merging WordPress websites is very important to content creators with multiple websites. Luckily, WordPress has the tools necessary to accomplish this built into its platform. It is easy to merge WordPress sites together and you can export all of their content into one site. This will also keep your search engine optimization or SEO intact.
Merging two WordPress websites is only the first step. You must also have the old website redirect visitors to the new one. It would be terrible for anyone to click on your old website and see that it is replaced, but even worse, your fans won't know where to find their favorite content. For this reason, it is crucial to always add redirects to the new website when you are done importing.
How Merging Can Help Your WordPress Websites
There are many advantages when you merge two WordPress sites. First of all, it is much easier to only manage one WordPress website. It is double the work and also may be more expensive to have multiple websites depending on your web host. Unless your content is drastically different there are not many advantages to maintaining two sites.
Multiple websites do not get the same attention. You may have two blogs and Blog A is vastly more popular that Blog B. To help Blog B you could merge them so a bigger audience will view Blog B's content. Of course, you must be careful that the content of Blog A and Blog B do not make the newly created Blog C look like a mash up of topics. So keep in mind that just because you can merge two WordPress blogs does not mean you should.
Most importantly it is much more convenient to visitors if they only have to check one website. Just think if your favorite store had a website for Product A and another for Product B. It would be annoying to have to buy these items separately instead of just one platform. This applies to any form of content as well. The visitor must keep track of two websites instead of one and may miss events or new content added.
Today I will demonstrate how you can merge two WordPress sites together using the provided tools WordPress offers. They are all built in and no additional plugins are required. It is very important to backup both of your websites before you begin. This will ensure that if a mistake is made or you simply do not like the merge, that you can revert back to both sites as they were.
How to Combine Two WordPress Sites
We will start by exporting the old site. On your Old WordPress website, go to the left side admin bar click on Tools and select the Export option. Make sure you are on your old website.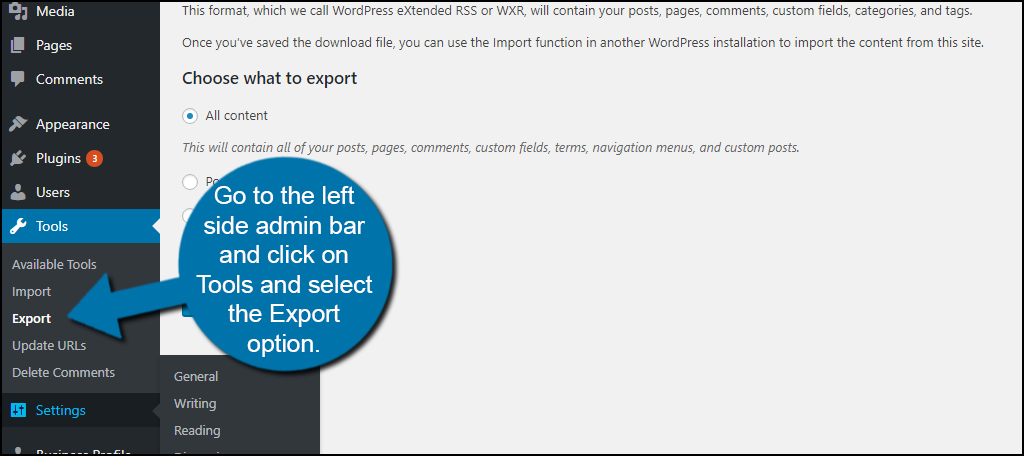 Select "All Content" if it is not selected by default. You may also choose to take only Posts, Pages, and Media if you do not wish to take all of the content.
Click on the "Download Export File" button to make WordPress convert your websites information into a single XML file.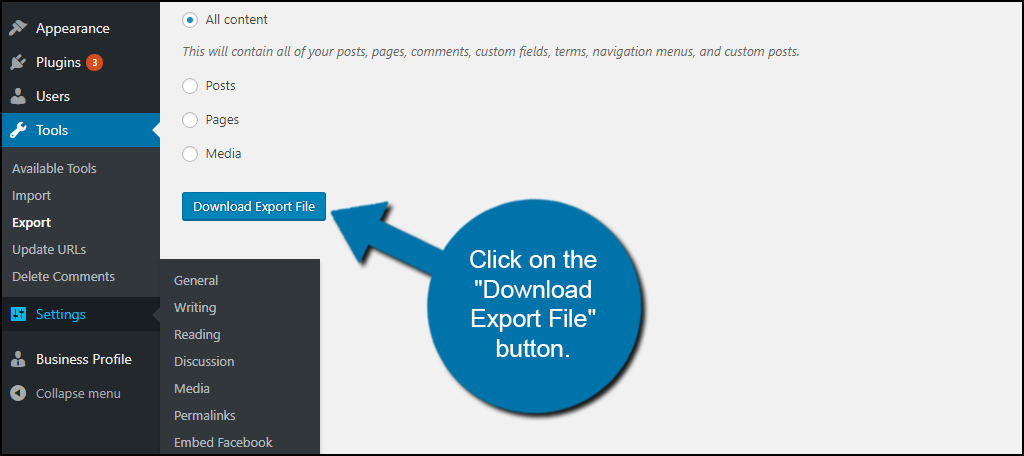 You will now see the XML file containing all of the website's information. Save this file so that you can import it into the new site.
Now that you have all of the information you want to import from your old website go on to your new website and on the left side admin bar click on Tools and select the Import option. Make sure that you are on your new website.
This window will contain multiple import tools. Since we are merging WordPress websites click "Install Now" under the WordPress option.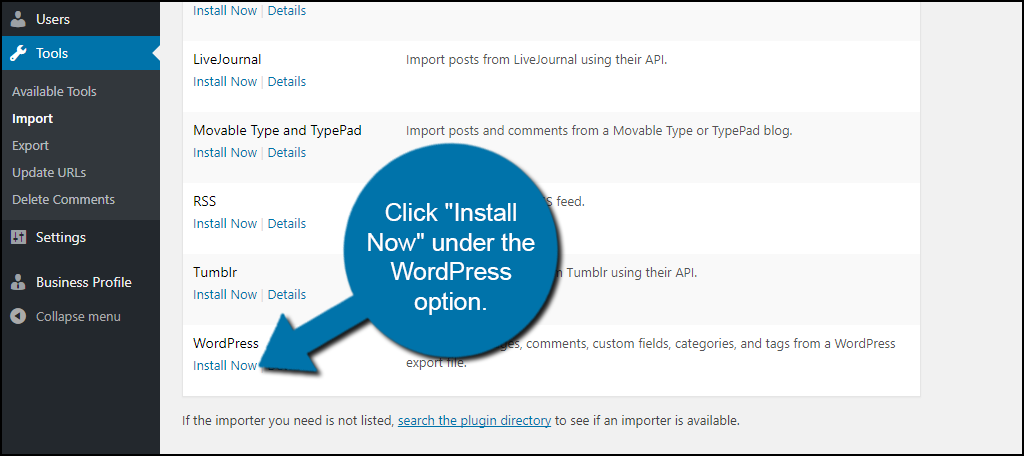 Click the "Run Importer" option after installing. This will bring you to a new window.
Click the "Choose File" button and select the file you exported from your old WordPress website.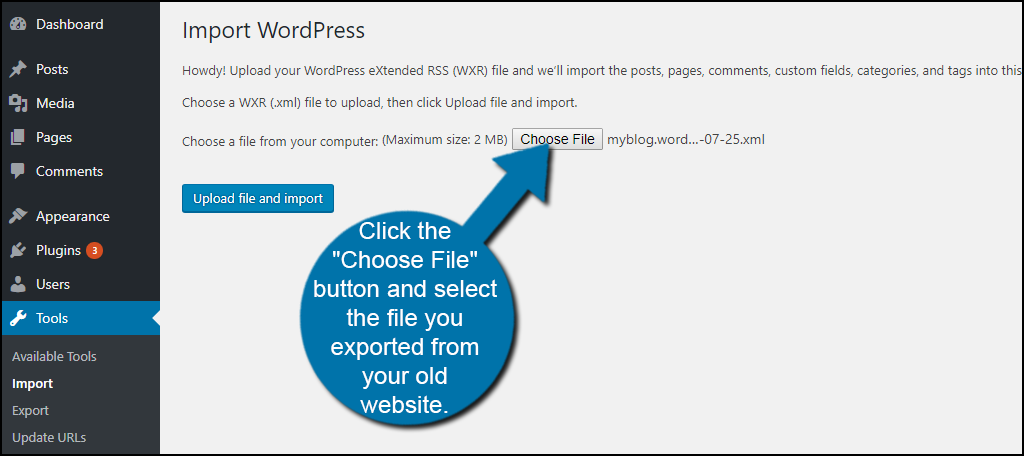 Once you have chosen your file click on the "Upload file and import" button to start the import procedure.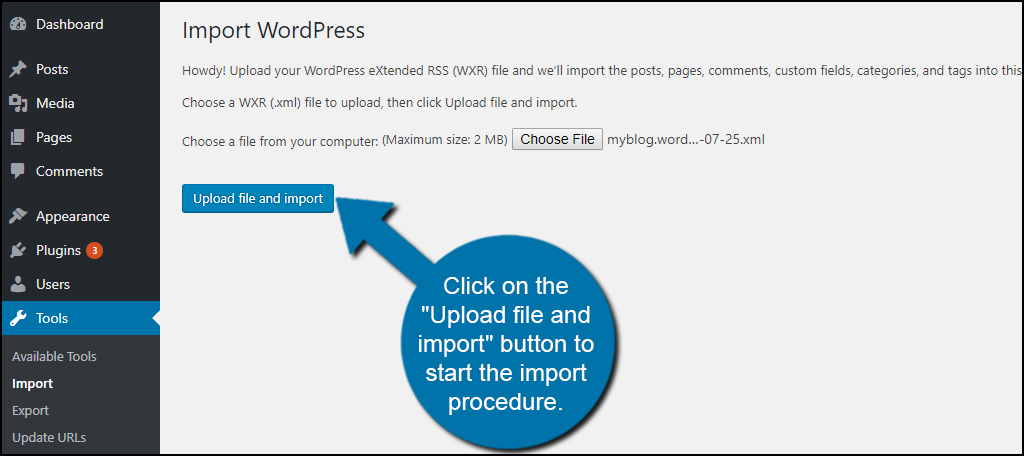 You will now be on the Assign Authors page. Select if you want to make a new author for the imported content or use an existing one and check the "Download and import file attachments" box.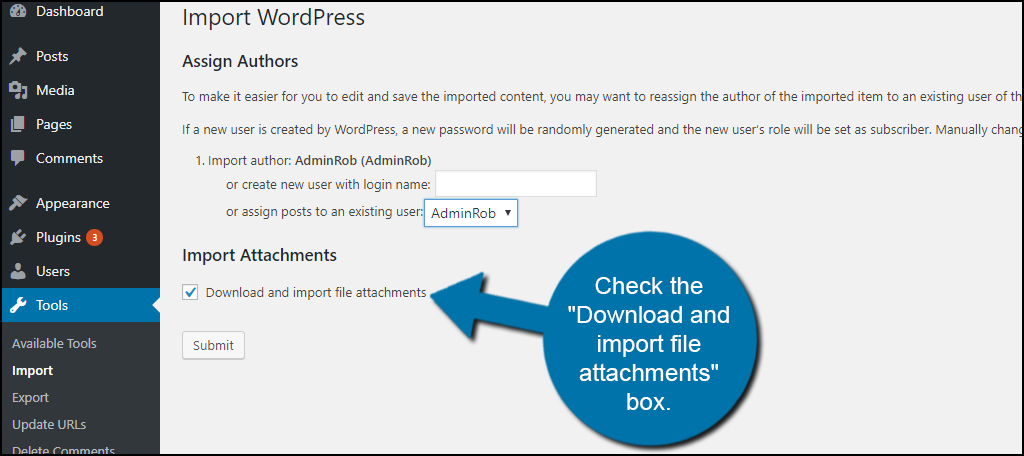 Click on the "Submit" button once you are finished. These authors can be changed later on if you are not sure when importing.
Congratulations you have successfully merged your two WordPress websites. Now that you have imported your old site into your new one it is important to redirect visitors from the old site to the new one.
Maintaining SEO After Merging
It is very important to update your URLs as fast as possible to keep you SEO working smoothly. You need accurate URLs and tags to improve SEO. It's extremely important that search engines, like Google, show your website in the searches. This will get your website a lot of traffic if you are doing SEO correctly.
It is also important to take note if you were using different SEO WordPress plugins on your sites. You may need to make alterations to get your old site to match your new sites SEO formatting. It is crucial to be uniform throughout the website because it can seriously impact your SEO.
Remember You Can Import More Than Just WordPress Websites
WordPress gives you a great deal of importing options for your website. If you remember, back when you selected WordPress to import, many other options were available.
You can import Blogger, Blogroll, Categories and Tags Converter, Live Journal, Movable Type and TypePad, RSS, and Tumblr into your WordPress website. You have a lot of options to help make your WordPress website more engaging for visitors. Try importing other information to see what works best for your website and what your visitors like best. You may also want to embed media files onto your WordPress website.
Merging Can Help You Maintain Your WordPress Websites
If you have multiple sites, then the ability to merge WordPress sites together can be extremely beneficial. One of the many advantages is less maintenance for the content creator. In addition, you're able to get less popular content from an older website onto a new site which might have a larger audience. Lastly, merging can make your site more engaging because of the added additional content.
Not only is it very convenient for content creators, but also for visitors. It is very easy for a visitor to have access to all of the content in one place instead of having to go on Site A for one thing and Site B for another. This will save visitors more time and give them the ability to view more of your content.
Do you have multiple WordPress websites to merge? Has merging multiple websites helped older less popular content get more views? How much time have you saved on maintaining one site instead of two?