Spam in the comment section can be very frustrating. Not only does it look bad from a visitor's perspective, but most will contain links to questionable sites. This is not good for visitors nor search engine rankings. Because of this, you need to do what you can to protect WordPress from spam comments.
In this tutorial, I will show you one of the best methods to stop WordPress spam. It will help clean up the comment section while taking away an outlet for bots and hackers.
Using Akismet
Today, you're going to install a WordPress plugin. These small tools help increase the flexibility and functionality of a WordPress website.
Akismet Anti-Spam is one of the most common plugins for reducing questionable comments. With over five million active installs worldwide, it's one of the most trusted tools.
Go to the Plugins section and click, "Add New."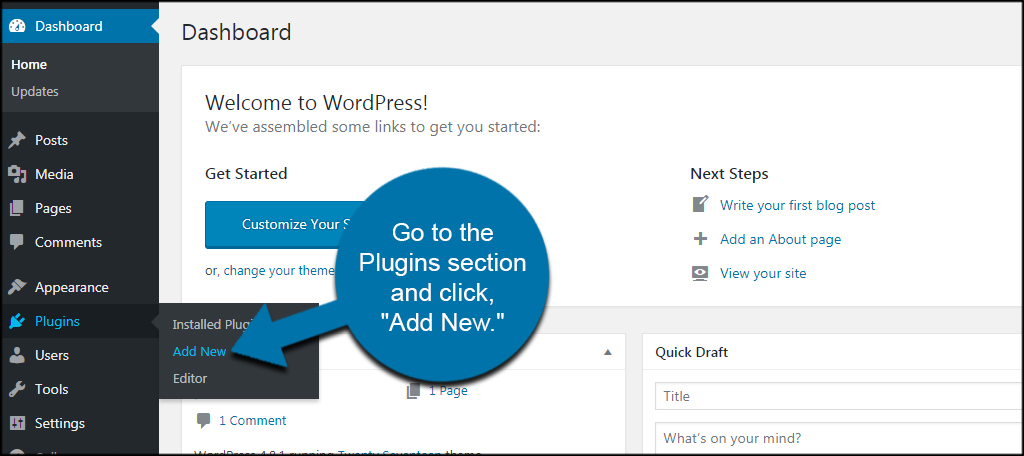 Akismet is usually at the top of the "Add Plugins" page because of its popularity. However, you can also look for it by typing "Akismet" in the search box on the right.
Click the button to install and then activate the Akismet plugin.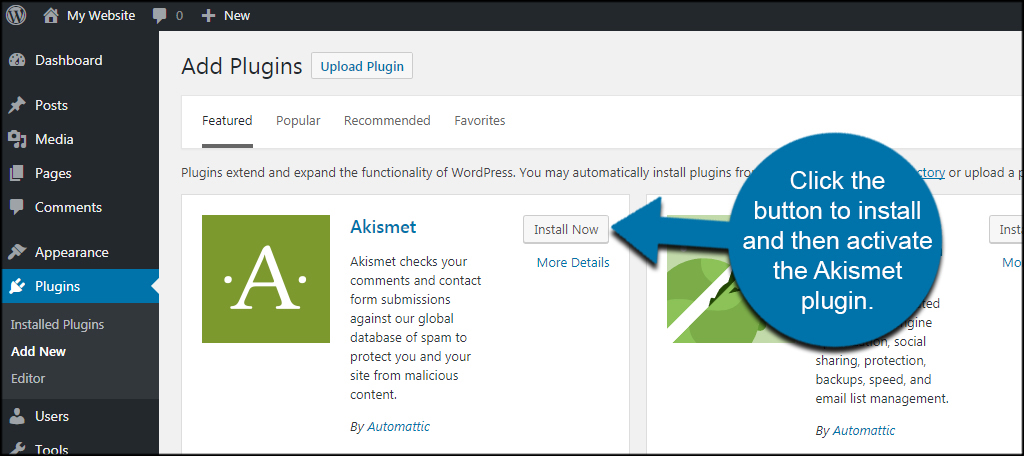 Akismet requires the use of an API key to connect to its database. After activating the plugin, you'll see a big button across the top of the plugins to "Set up your Akismet account."
Click the button to continue setting up the plugin. The next page can also be found by going into the Sections area and clicking "Akismet."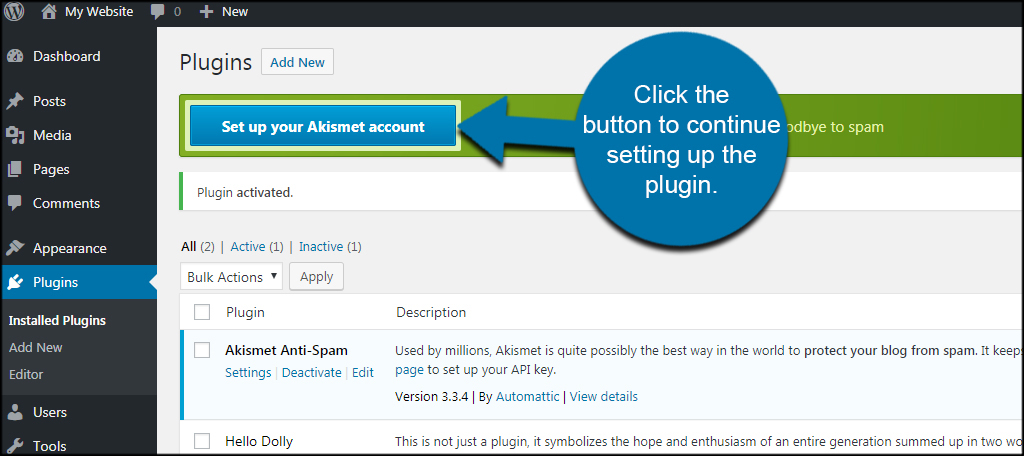 Click the "Get your API key" button in the Akismet settings screen. The plugin will not work without it.
Once you click the button, a new tab will open for the Akismet website. Click the button to get an Akismet API key.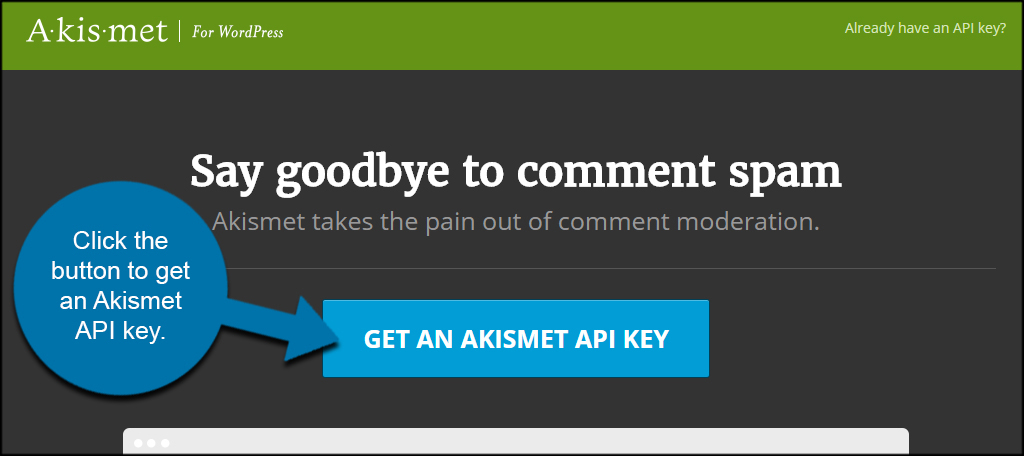 Akismet will ask to log into the system using a WordPress.com account if you have one. Because I am currently logged in as my test account, the system will automatically pull up various parts of my information.
If you have this screen available, click the "Approve" button to continue. This will pull username, name, email, site information and even the gravatar which can save time in the sign-up process. Otherwise, log in as a different user and create your account for Akismet.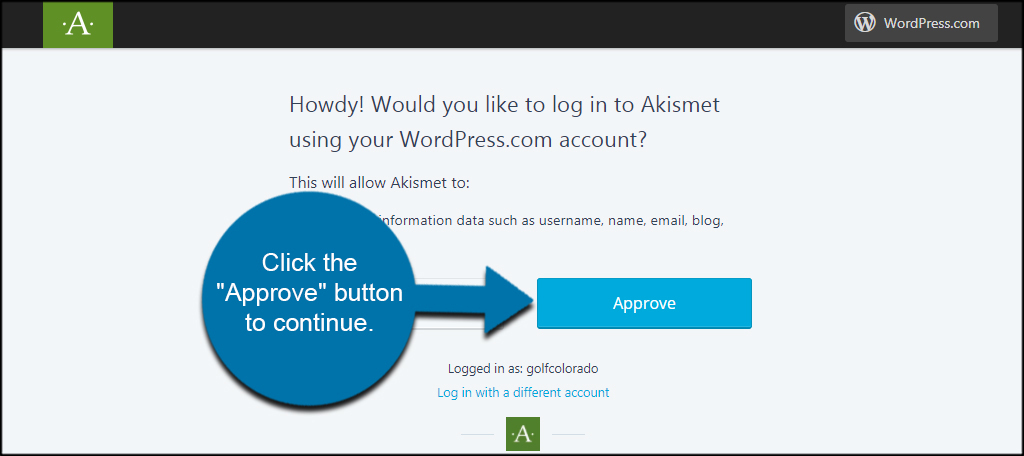 Akismet has a varied pricing platform for spam protection. If you want the advanced status reports and priority support, you'll need to pay for an account. For this tutorial, I'm going to use the basic platform for now.
Click the "Get Basic" button to set up your key. You can pay for the premium services if you'd like. However, you can always upgrade the service later from the settings page in WordPress.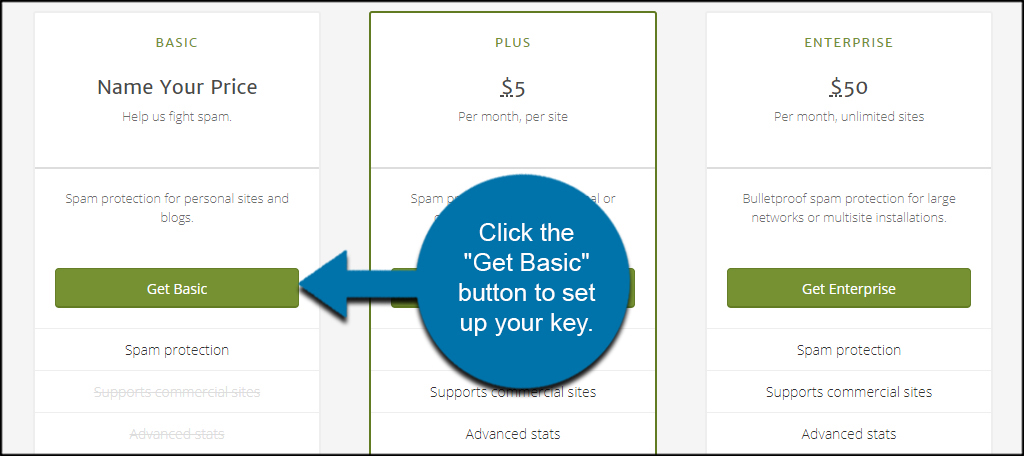 The next screen is where you can name your price. This method is strictly for non-commercial use. Using the sliding bar on the right, you can move how much you're willing to pay from $0 to $120 per year. For now, I am going to set it to $0 so I can finish showing you how to set this up.
Move the slider left until it shows, "$0/year." You are completely free to send money if you'd like. When you do, you'll be asked for credit card payment information.
Input your name and then click, "Continue." This will match your ID to your Akismet account.
A new screen may open asking to activate the new website. Click the link to "Activate this site." If this is your first, you may simply see the Account Overview screen with your Akismet API Key. Since I have a couple sites connected to my Akismet account, I'll need to activate this new one.
Akismet will then automatically send your API key to your WordPress dashboard, as long as you're still logged into your website. If you only see the account page from Akismet, you'll need to copy and paste the API key into your WordPress website in Akismet's settings.
Click the "Save Changes" button and your comment section will be protected from spam.
At any time you can click the "Upgrade" button under Akismet's settings if you want more features from the plugin.
Using WordPress to Fine-Tune Comment Settings
WordPress has built-in methods to help reduce spam posts. Although some spammers can work around them, managing the discussion settings is a good place to start when trying to protect WordPress from spam comments.
Go the the Settings area and click, "Discussion."
In this section, you have control over how pingbacks work and who can post comments in your articles. Perhaps two of the most important parts of the Discussion screen is the moderation and blacklist content fields. In these two sections, you can restrict words or phrases from being displayed to the general public.
These two sections give you a way to eliminate known phrases for spam, keep language "clean" and/or prevent certain email or IP addresses from posting content. While this may take a bit of effort from you to maintain, it is often quite effective at keeping the comment section free of spammy content.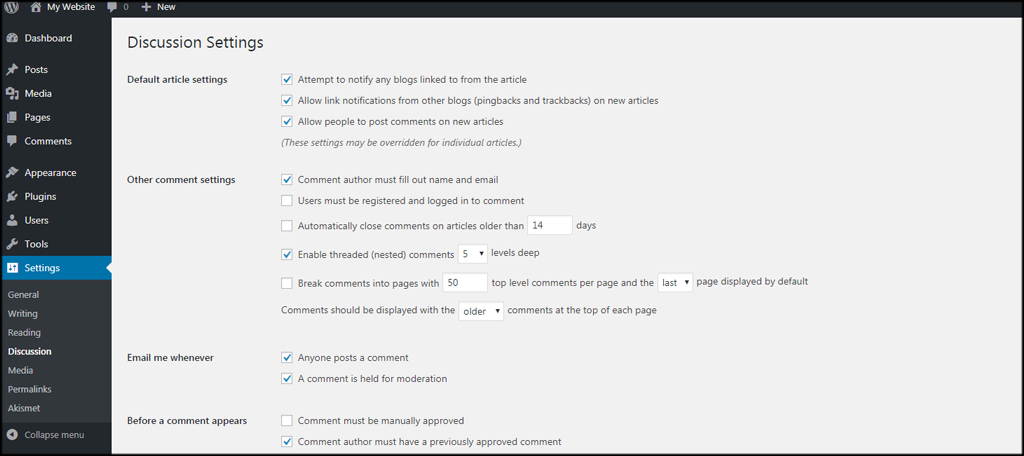 I suggest spending a bit of time familiarizing yourself with the discussion settings. There is a lot you can customize when it comes to the comment section in WordPress, and learning these features may save you some time and effort.
Other Plugins You May Want to Consider
Akismet is by far one of the most popular plugins for comment spam control. However, it's not the only one. Some don't require setting up an account with a third-party service.
Here is just a few of those plugins that may be worth looking into.
WP-SpamShield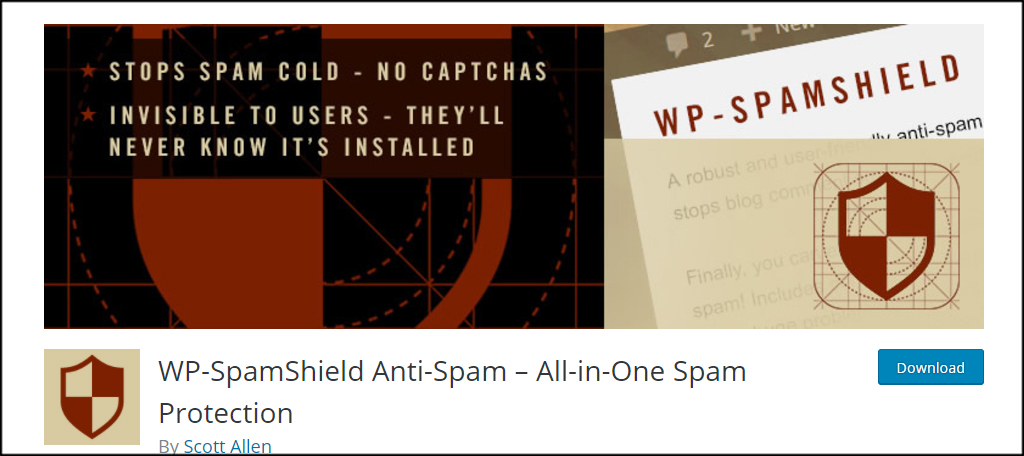 WP-SpamShield is an all-in-one plugin that reduces spam from comments sections as well as other areas of WordPress. This includes contact form, registration and other types of WordPress content. It integrates with a wide variety of other popular plugins and works to eliminate spam from humans as well as bots.
wpDiscuz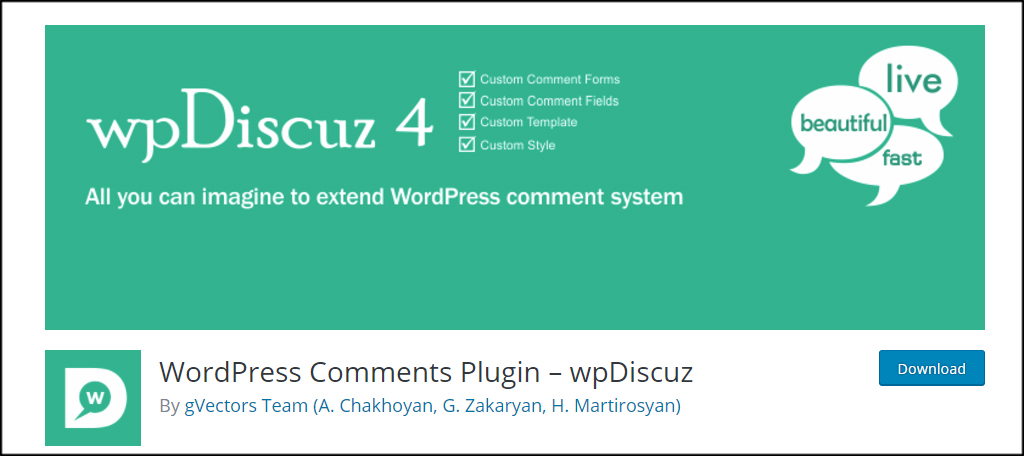 wpDiscuz is a replacement plugin for the WordPress comment section. It includes its own security methods including a captcha-like interface to eliminate bot interaction. One of the coolest features of this tool is the customization for the comment form. Using a drag-and-drop interface, you can design how the comments look and behave on your site.
All In One WP Security & Firewall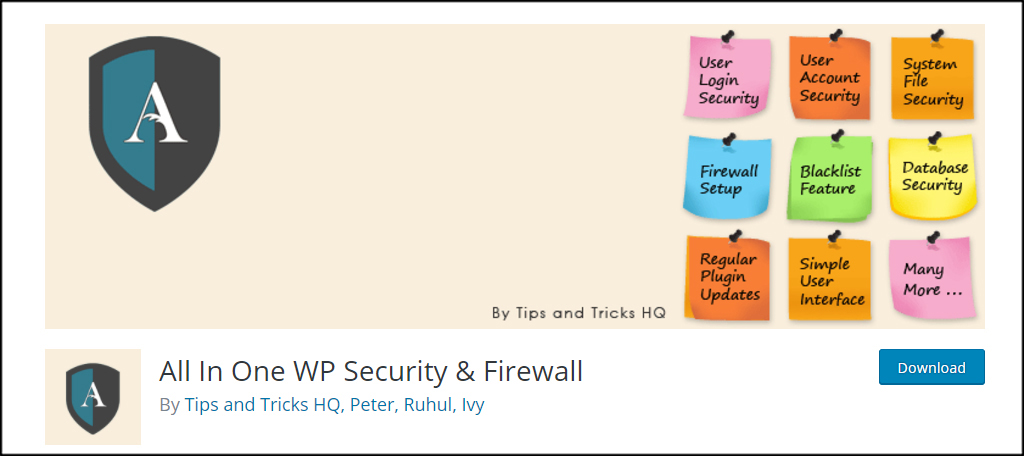 All In One WP Security & Firewall is another plugin that has a wide range of features. The tool will monitor for active IP addresses that have been found to produce spam in the past and prevent those messages from being posted on your site. It also stops bots from trying to post comments outside of your domain. It includes a captcha system and automatically blocks users who are known to leave spammy content.
Can't you simply disable the comment section?
While some websites may not need the comment section, this method removes the sense of social connection for the brand. Being interactive with visitors is often one of the best marketing tactics as it helps boost online reputation and trust.
Keep Your Site and Users Protected
Spam is more than just an annoyance. Some links in the comment section could lead to malware or phishing pages designed to steal user information. Keeping the comments free of this digital debris keeps your visitors safe while protecting your webpages. Never underestimate the value of good WordPress comment spam plugins.
What ways do you prevent spam from showing up on your site? How often do you interact with users in your comment section?