When you are first starting out in WordPress, using the default options built-in the system helps you see how a basic website works. It should be your goal to improve every section of your website, but you must focus on doing this step by step. Of course, sometimes the default options are good enough, but sometimes they don't fit the direction of your website.
You should spend time designing custom images, avatars, and anything else for your website, but this is quite a daunting task when starting a website. The other option is to expand the default options through the use of simple plugins. Today I will demonstrate how to add more default avatars to your website by using the Add New Default Avatar plugin.
Why Should You Add More Default Avatars To Your Website
The answer is simple. You want to stand out from the competition. Every website starts the same way. Usually, you are working on improving one part of the website at some point and you need to start getting rid of all the default and stock images that WordPress offers from the start. This takes time, but by simply adding in some more default avatars to use, you look at least different from other websites.
Consider Using Gravatar For WordPress
Another alternative that I can entirely and highly recommend is to use a Gravatar on your WordPress website. Gravatar is a very popular avatar system. Gravatar stands for Globally Recognized Avatar. They are especially useful for building up brand recognition since you can change your default Gravatar to your brand's logo. The best part is it's free to sign up and it's easy to implement in WordPress. Almost every theme in WordPress is compatible with Gravatar and if yours is not, you may consider installing a theme that is.
How to Install and Use the Add New Default Avatar Plugin
Today I will demonstrate how to add more default avatars to your website by using the Add New Default Avatar plugin. It's a very simple plugin to use since there is only one settings page. An important note before you begin adding more default avatars is that you must know the size of your avatars. This is different on every website and is usually determined by what the theme can handle and what the developers decide on. Make sure you are consistent. It looks really bad if one avatar is much larger than another.
Start by clicking on Plugins and selecting the Add New option on the left-hand admin panel.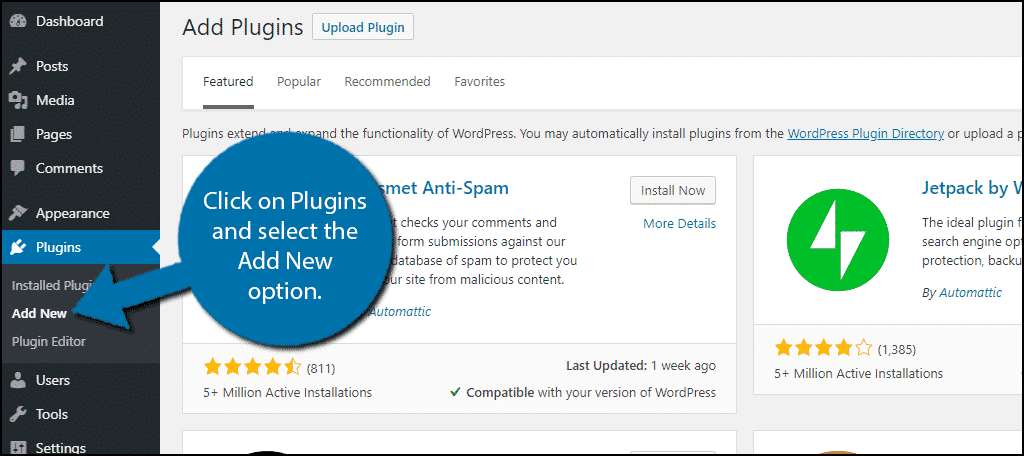 Search for Add New Default Avatar in the available search box. This will pull up additional plugins that you may find helpful.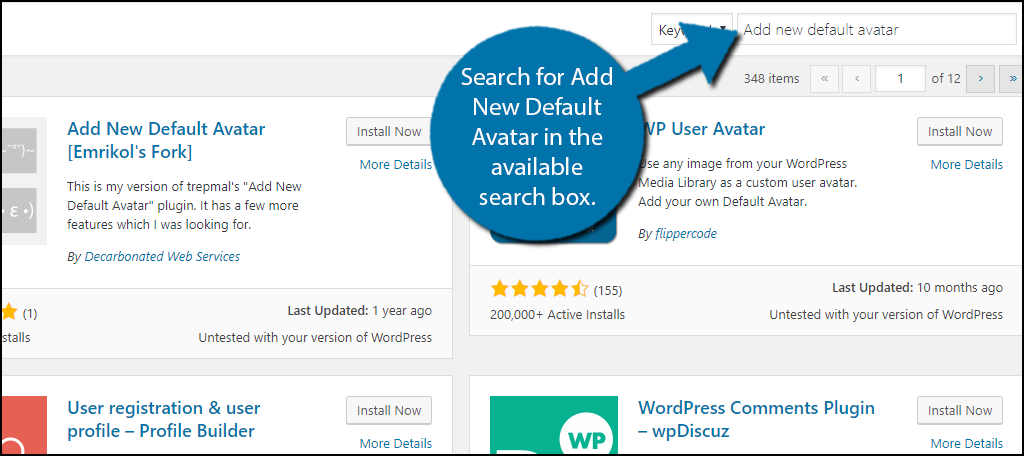 Scroll down until you find the Add New Default Avatar plugin and click the "Install Now" button and activate the plugin for use.
On the left-hand admin panel click on Settings and select the Discussion option. Scroll down to the avatars section.
If you have never edited your avatars or added any new ones you should see a full list of the same mystery person. You will see a text box below in which you can enter some information. In the first box, simply enter the name you want to identify the avatar with. For example, if your avatar is a baseball, name it baseball or if these are meant for different staff members simply use their name. Add the image URL in the second box. Make sure the image size is properly saved. Once you have inserted all the necessary information simply click on the "Add Another" option below.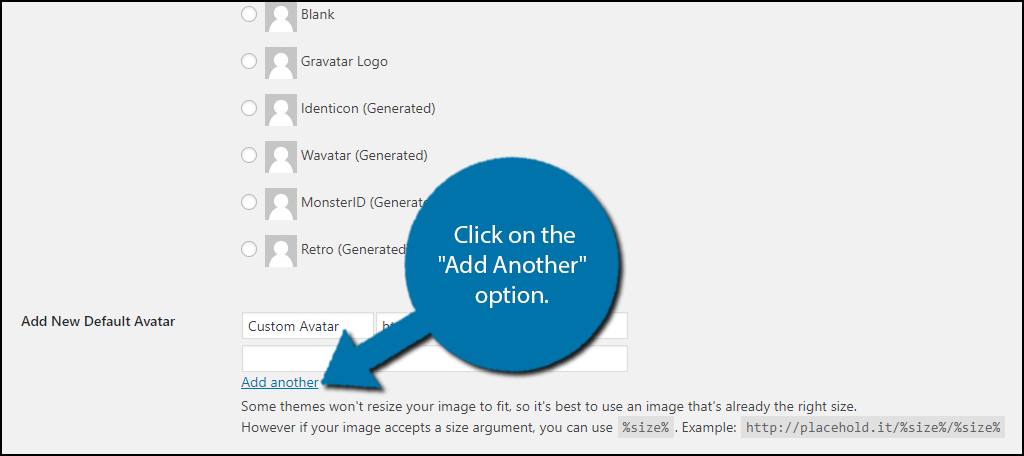 Congratulations, you have successfully added new default avatars to your website. You will see the avatar you added in the list of avatars above. You can add as many as you want, whenever you want. The one downside to this plugin is that it does not have a delete option. Unfortunately, you will never be able to remove the avatars with this plugin and the list can get large very fast. This makes more important to ensure everything is correct the first time.
Additional Plugins
Avatars are an extremely important aspect of your WordPress website. The avatar you pick will be visible to everyone every time you post or comment on your website. Many plugins allow you to further customize your avatars and offer great features to make your avatars really stand out. Adding more default avatars is a very basic feature that is included in more comprehensive avatar plugins. Here are some I can recommend trying.
WP User Avatar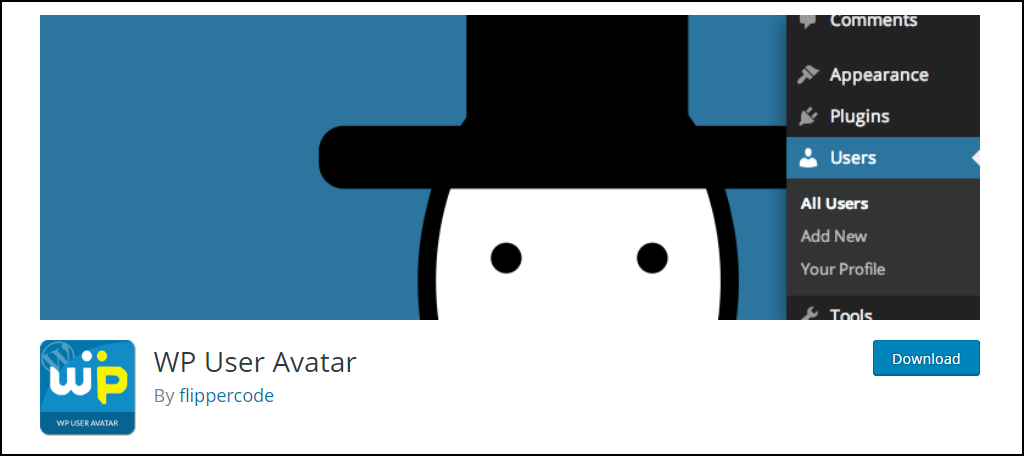 WP User Avatar is a very good plugin to think about when first starting. It has all the tools you want when you expand your websites avatar and Gravatar features. You can add new default avatars using this plugin, but it has so much more to offer. It allows your visitors with accounts to change and upload their own custom avatars, but be careful and be vigilant for inappropriate avatars. One of its best features is its Avatar shortcode support that works with themes that do not support avatars. It's a great plugin to try to build and improve your websites avatar features.
Avatar Manager
Avatar Manager is another very basic plugin that will certainly fulfill all of your needs. It allows you to upload custom avatars and Gravatars to your website whenever you need to. It also allows you to select if you want your visitors to also have this privilege. It's a great plugin to try and it's free and easy to use.
Give Your Website a Personal Feel
It's important for you to always make your website feel more inviting and really ensure your visitors know that a real person created your website. Adding a custom avatar that visitors can see when you post or interact with visitors' comments is important. It's a quick way to identify yourself in the comments section and visitors will always try to read any replies you write.
This also allows you to build brand recognition, especially if you are using your website's logo. It helps visitors relate you to your brand. This is very beneficial if you have a good relationship with your visitors. They will be more likely to buy your brand's merchandise if they enjoy your website and interact with you.
What kinds of avatars or Gravatars do you like using to represent your account? Do you set a limit on how many avatars a person can add to your website?