A Secure Sockets Layer, or SSL, encrypts the data from your site to your visitors. It's perhaps one of the most common forms of defense to protect users from hackers trying to steal information. It's one security feature you need to seriously consider using.
It also plays a role in appearing higher in search results. This is because sites like Google value protected content.
At any rate, installing an SSL should be of high priority as it makes users feel more comfortable when shopping online.
Today, I'm going to show you how to set up SSL certificates in PrestaShop. This means you will need to buy the SSL certificate for your hosting account.
Enabling SSL
The process for setting up SSL is pretty straightforward and easy. All it takes is a quick click of the mouse and you're good to go. Once your SSL is set up for the domain from your hosting account, PrestaShop will do the rest.
From the PrestaShop dashboard, click the "Preferences" section from the left column.
In the General screen, the first option you see will be for SSL. If you don't have an SSL certificate connected to your site, enabling it will not be helpful. You can click the link available to check if your site supports HTTPS.
If you're sure you have the SSL certificate ready, click the "Yes" option for Enable SSL on all pages.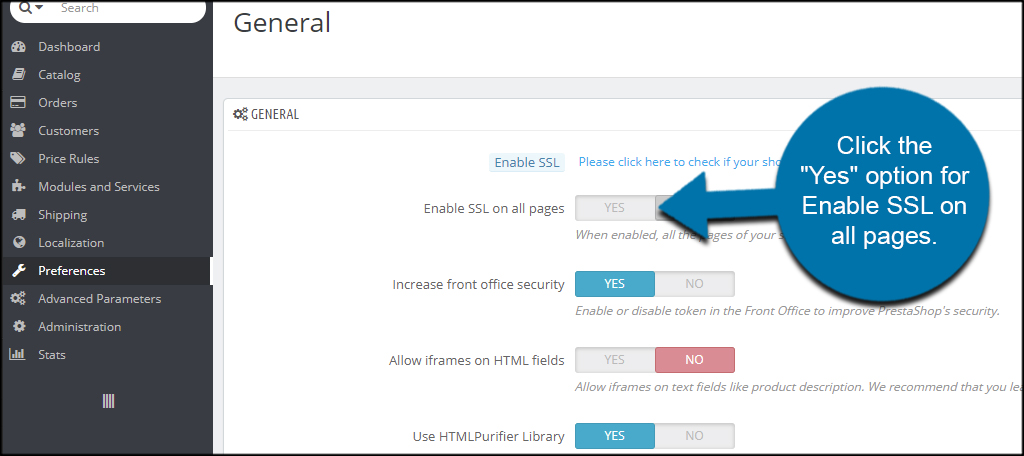 That's all there is to it. PrestaShop will then use the certificate to protect your users online.
Keeping It All Safe
There is no such thing as having too much security and safety when it comes to operating an online store. The SSL is just one component that keeps information private while improving the brand's reputation as well as SEO. Because of the many benefits, it's worth the yearly nominal fee.