Do you want to add PayPal to Prestashop? PayPal is hands down the most popular payment method on the internet. It dominates the competition with a whopping 49.52% market share, which means most online shoppers have a PayPal account.
Thus, your Prestashop store is at a severe disadvantage if you do no support this payment method. Luckily, you can easily add it to your store with a module. And it is completely free to do.
Today, I will demonstrate how to use the PayPal Official module to add PayPal as a payment method.
Why Is PayPal So Important
PayPal is easily the most used online payment method in the world and the main reason for this is that it is trustworthy. When you shop with PayPal, you know that PayPal has your back. Thus, it has become the default option for most online shoppers.
In fact, according to PayPal themselves, customers are 54% more likely to make a purchase if PayPal is accepted. And a whopping 59% of customers decide to abandon a purchase when they do not see PayPal.
This is all thanks to PayPal's strong security, reliability, and refund policy. When a customer makes a purchase using PayPal, there is no way they can get scammed out of their money. As a result, your website looks more trustworthy if you accept PayPal.
The PayPal Official Module
The PayPal Official module is a simple way to add PayPal to your website. As the name implies, this is the official Prestashop PayPal module, which means you can trust it will work and receive updates regularly. And the best part about it is that it is completely free to use. This makes it the best way to add a Prestashop checkout built with PayPal.
Let's begin with the installation process.
Installation
Click on Modules and Services and select the Modules & Themes Catalog option.
Search for PayPal Official in the available search box.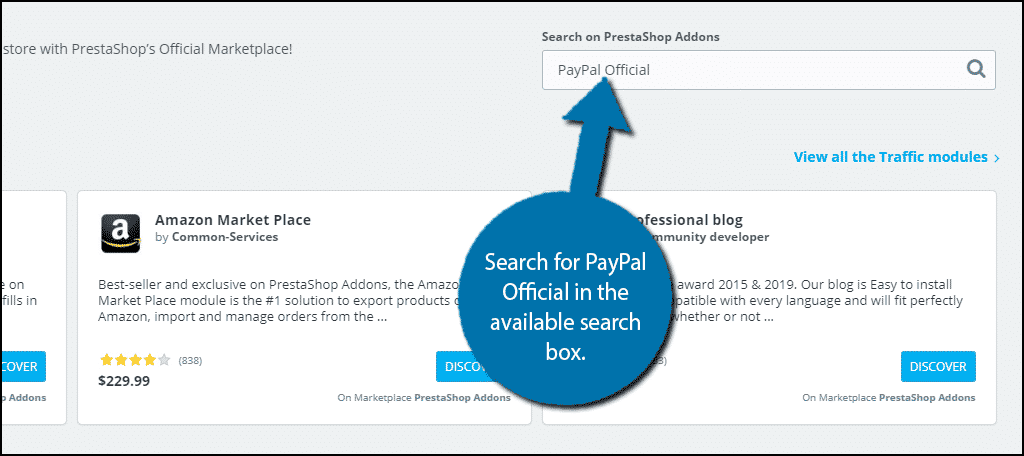 Click on the magnifying glass and a new tab will open on your browser with the search results. Locate and click on the PayPal Official module.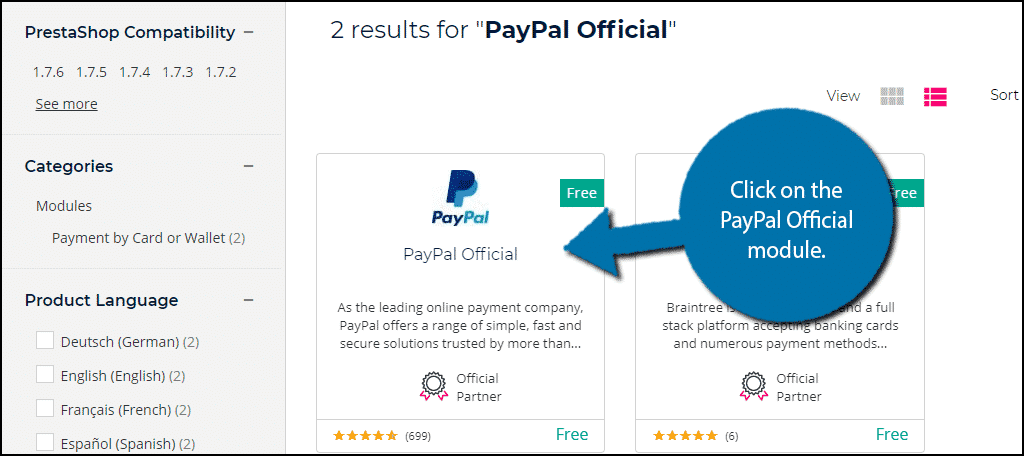 Click on the "Download" button.
Note: If you are not currently logged into your Prestashop Addons account, you will be prompted to do so. If you do not have one, you will need to create one.
Select which version of the module to install. Make sure it matches your version of Prestashop.
Note: If you pick a version of the plugin that is too far ahead of your current version of Prestashop, you could run into a fatal error when uploading it. If this happens, you would need to remove the file from the Modules folder through your cPanel.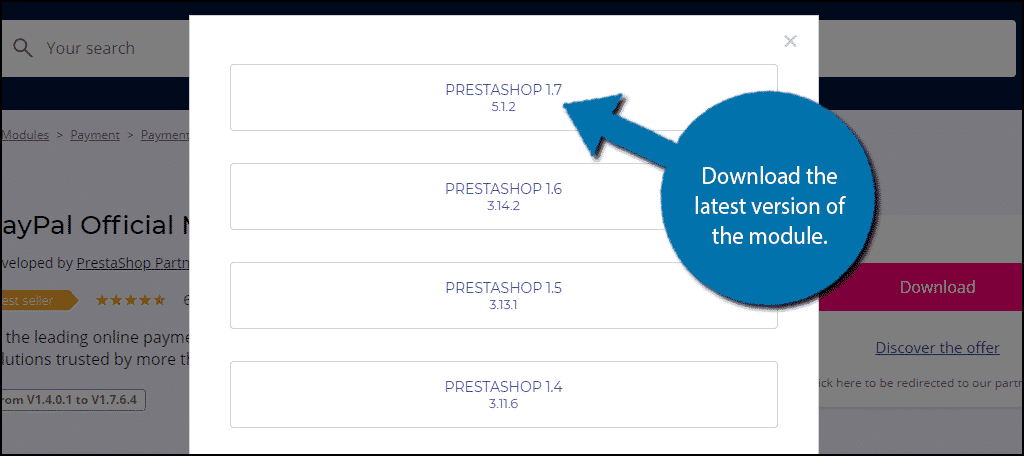 A zip file will now be in your downloads folder.
Return to your Prestashop website. Click on Modules and Services and select the Modules and Services option.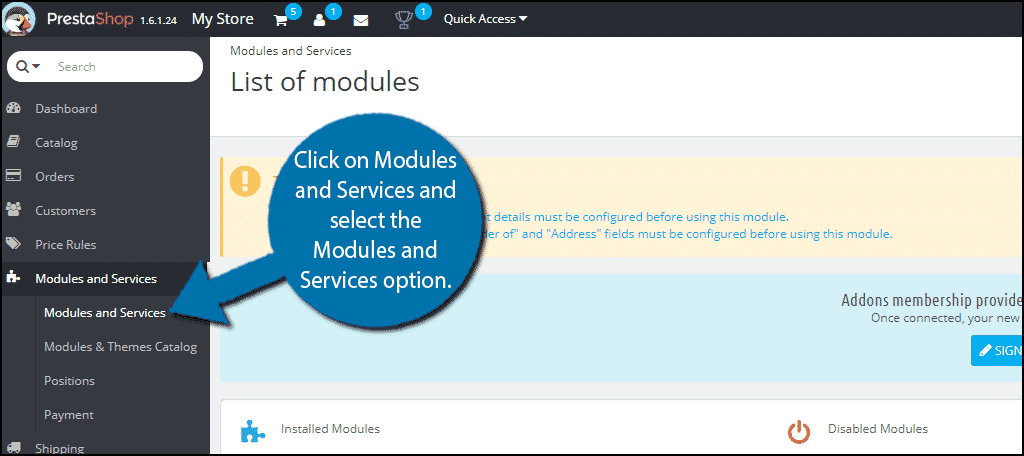 On the top right of the page, click on the Add a new module option.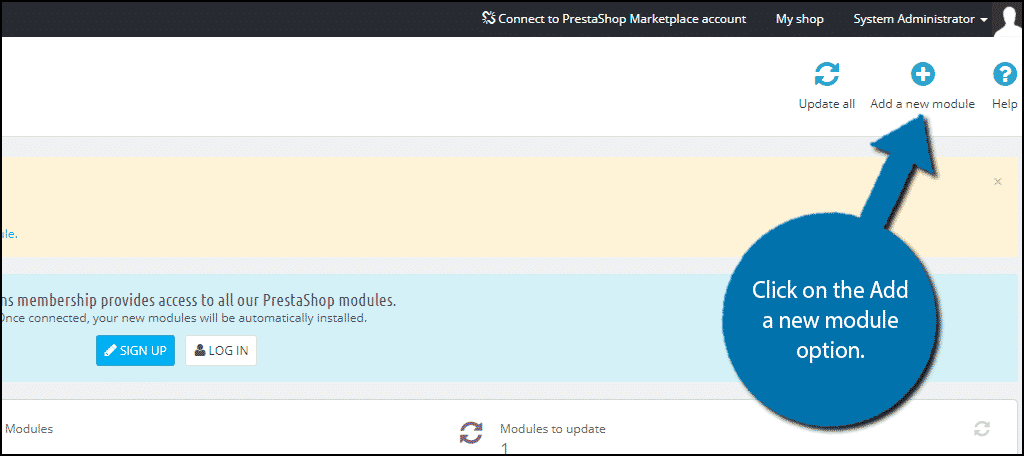 An Add A New Module section will appear on the page. Click on the "Choose a file" button and select the zip file you downloaded in the previous step. Click on the "Upload this module" button.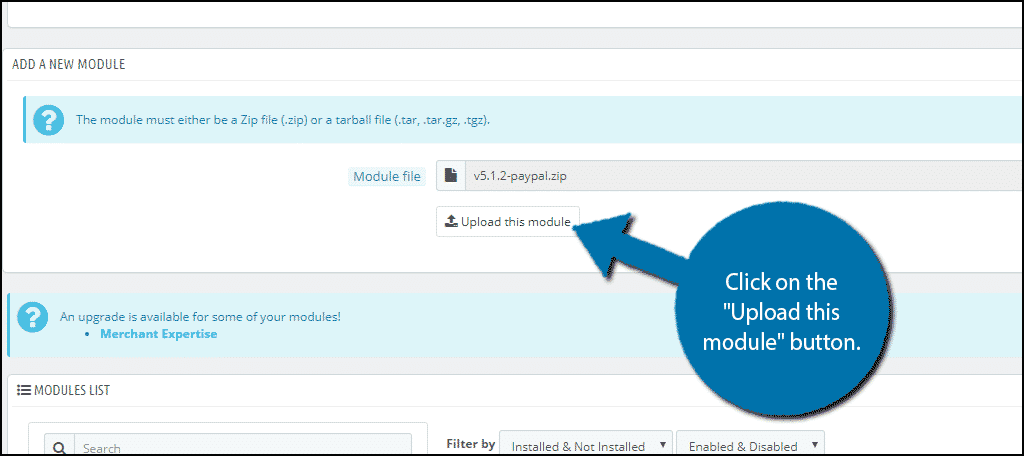 You should see a green message that states that "The module was successfully downloaded" and it is now ready for use.
Using the PayPal Official Module
Now that the module has been added, we can use it to create a Prestashop checkout with PayPal as an option.
To begin, click on Modules and Services and select the Payment option.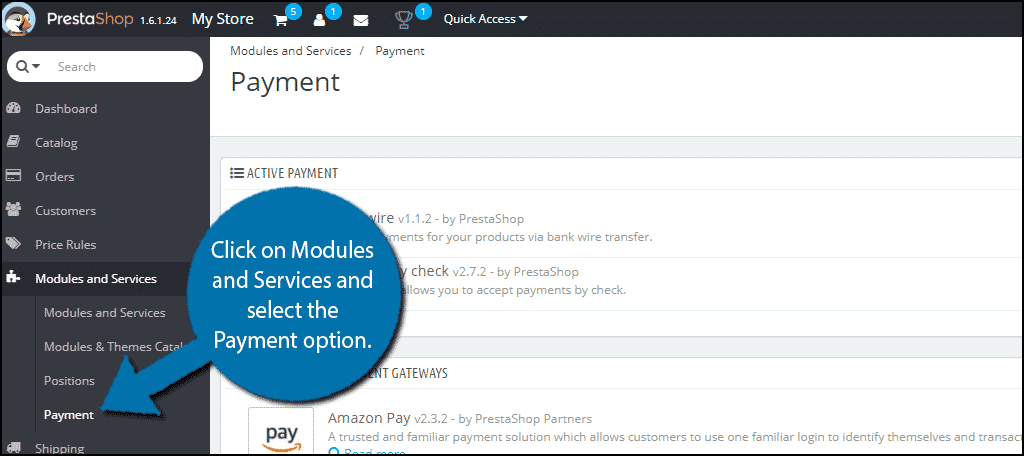 In the Recommended Payment Gateways section, you will see all of the payment methods you can add to your shop. As a result of adding the PayPal Official module to Prestashop, you will now see a PayPal option.
Click on the "Install" button next to PayPal.
Note: You can use the drop-down arrow next to this button to delete it as a payment method as well. This will remove the module from your website.
The Module will again be installed and you will be prompted to begin setting up your PayPal options. Luckily, this only takes a few minutes.
Setting Up PayPal
The first option is to select whether you have a PayPal Business account. Simply select Yes or No. If you do not have one, you will have to make one as part of the setup.
The first step is to select your solution, which just means selecting if you want PayPal to process all of your card payments or if you just want to add PayPal in addition to your current card processor. Select the choice that you want to use.
Step 2 will be grayed out if you already have a PayPal business account (if you selected Yes at the beginning). Otherwise, you will need to click on the "Sign Up" button and enter all of the necessary information on PayPal.
Note: I encountered a visual bug on this step. Instead of the steps name appearing in English, it appeared in French. However, all of the other information appeared in English and was able to be entered correctly.
Step 3 is a simple test to make sure the security protocol is up to date. Click on the "Test" button to make sure that the TLS and CURLS are working correctly.
Step 4 is where you add all of the necessary information from PayPal into the module. This step will be grayed out if you selected No at the start and did not set up an account in Step 2. Click on the "Get My PayPal Identification Info" button and fill in the necessary information in this section.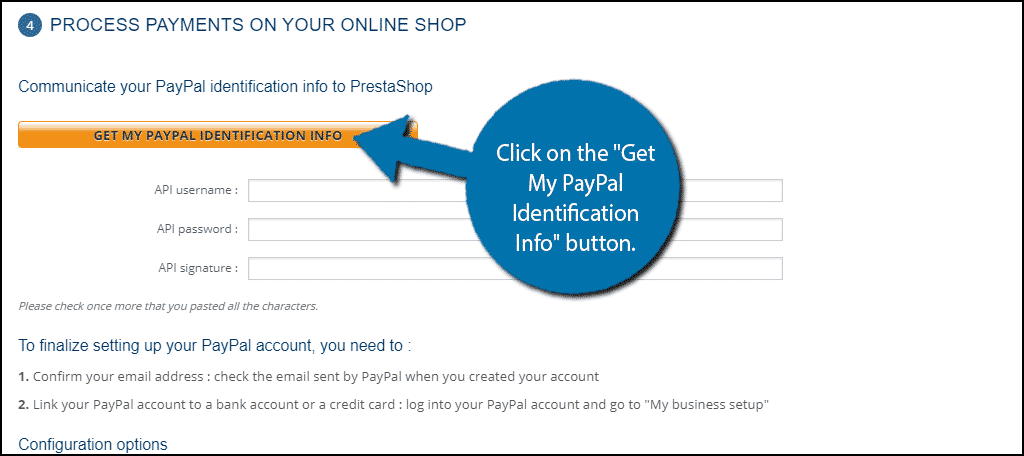 Once the information has been entered, check again to make sure it is correct. You should receive a verification email, and make sure that a bank account is connected to your PayPal.
Finally, go through the last couple of settings and click on the "Save" button to finish the setup process.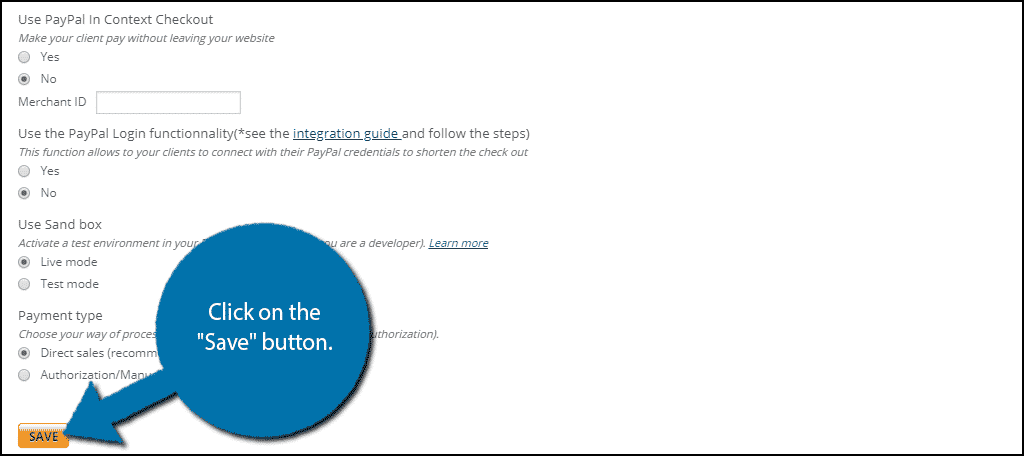 Congratulations on adding PayPal to Prestashop as a payment method. You will be able to accept payments immediately after the setup is complete.
Other Payment Options Do Exist
While I personally only use PayPal when I shop online, there are some that choose other payment methods. You should consider adding other payment options to your website on top of PayPal. This will ensure that a customer will always have a preferred method to pay when they get to checkout.
There is nothing worse than losing a customer when they are one click away, so don't let the lack of a payment option become that factor.
Reliability Is Key
Without a doubt, when you run an eCommerce website, reliability and trust play a big part in success, and using PayPal will help your website in both of these areas. When a customer makes a purchase using PayPal, they know they can receive a refund and PayPal will enforce it.
And, the company is just as vigilant when it comes to protecting sellers.
This is really reassuring and a very large part of why PayPal has become so dominant as a payment method. Thus, if you are not using PayPal, you are only going to hurt your own sales, so make sure that doesn't happen.
Do you think PayPal should be a built-in payment method in Prestashop? What other payment methods do you plan to accept in addition to PayPal?