Google Analytics is far and away the biggest tracker of website traffic in the world. However, what if you run a Joomla website and you want Joomla Analytics to track visitors without having to use Google? This can actually be done, you just need the right Joomla extension.
CoalaWeb Traffic
The CoalaWeb Traffic extension is specifically designed to help website owners track visitors on Joomla websites. All the information can be easily viewed in either the front-end module or in even more detail through the admin area using the Joomla analytics dashboard.
The CoalaWeb Traffic extension is a very solid Joomla Analytics extension if you have no interest in using Google. Some of the main component features include:
A control panel with easy to read statistics
Cookie control
Project Honeypot integration
Quick reference help
Easily export reports
Known IP categories
And the module options and features include things like:
8 styles of individual counters
Digital counters (8 styles as well)
Multiple layouts
Date and time
Multiple display options
All in all, you will have a hard time finding a better Joomla analytics extension.
Install and Activate CoalaWeb Traffic
In order to use the CoalaWeb Traffic extension to track visitors in Joomla, it first needs to be installed and activated. You can do this by downloading it off the extension homepage onto your machine.
Note: Clicking the download link shown above will take you to another page. Scroll down until you see CoalaWeb Traffic Core, and download it to your machine.
Once you have downloaded the extension to your machine, go ahead and drag and drop it into the file upload box located in your Joomla control panel area.
Note: You can also browse for the file and upload it that way if you prefer. Joomla also gives options to install from a folder or from URL, but the process below is easiest.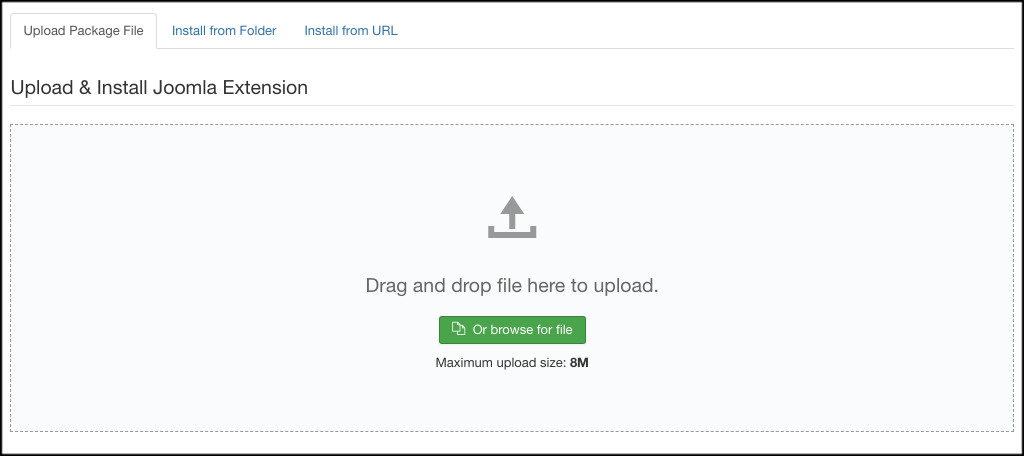 Once the extension has been installed, you will get a thank you message as well as a box telling you the extension was successfully installed.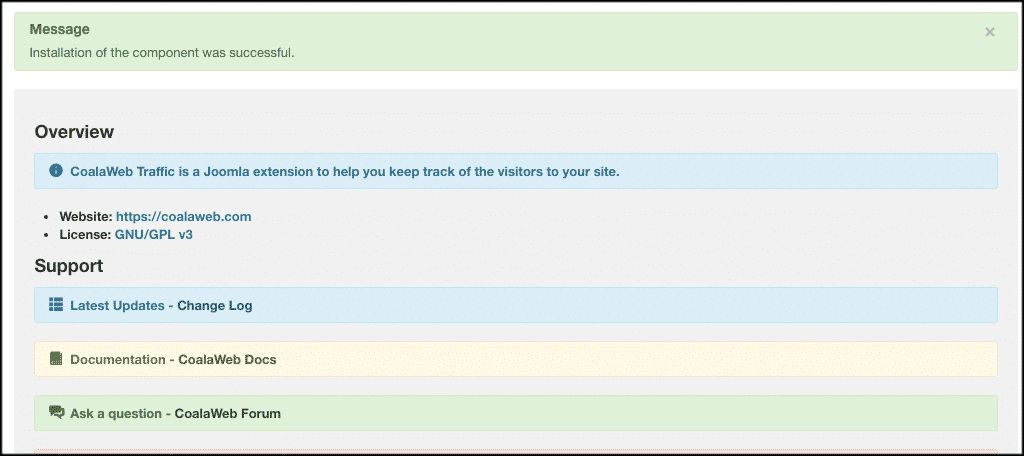 Now that the extension has been installed you have to activate it. On the top menu bar, click on Extensions > Modules. You will see a list of your installed functions.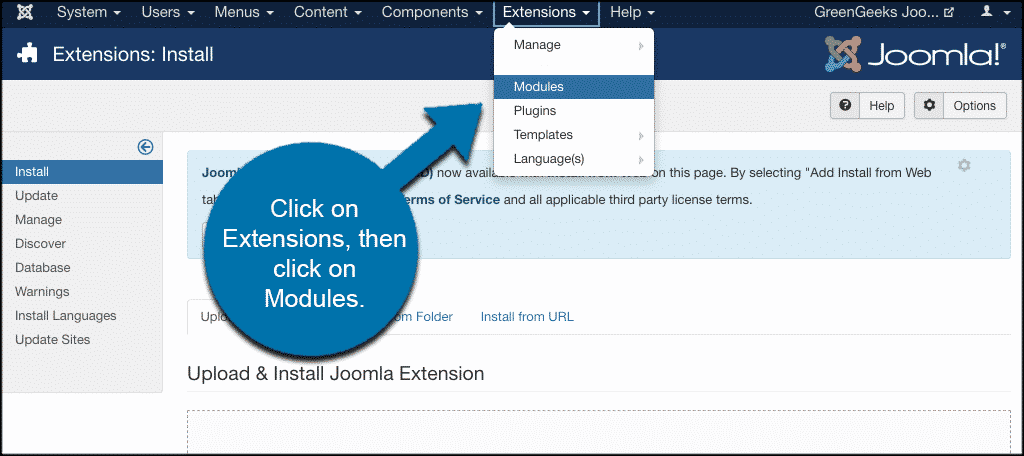 Search for the CoalaWeb Traffic extension you just installed. If it has a red circle with a white "x" in it, click the icon to activate the plugin.
If the icon has a green checkmark, it means it's already activated and the extension is live on the site.
Configure Joomla Analytics Extension
In order to configure the CoalaWeb Traffic extension and start getting Joomla analytics, click on the link of the extension. This will take you directly to the configuration page where you can plug in your chosen settings and publish.
Once on the configuration page, you will see a number of tabs. These include:
Module
Menu Assignment
General Display Options
Module Layout Options
Visitor Display Options
Who Is Online
Advanced
Release Information
Permissions
Let's take a quick peek at your options.
Module
This is where all the module information is housed and where you can position the extension on your website.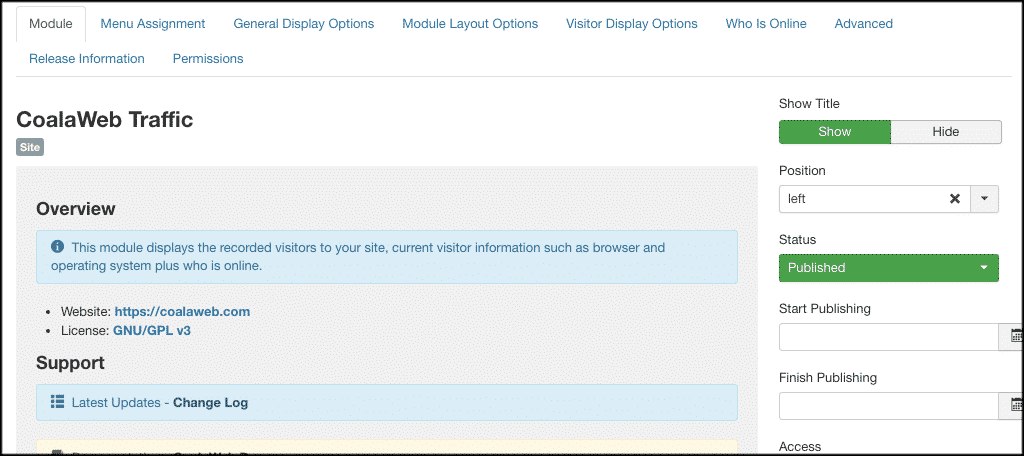 Menu Assignment
Choose the module assignment areas. For example, you can choose to use the module on all your pages or select specific ones to track.
General Display Options
Select all your chosen general display options for the Joomla analytics extension.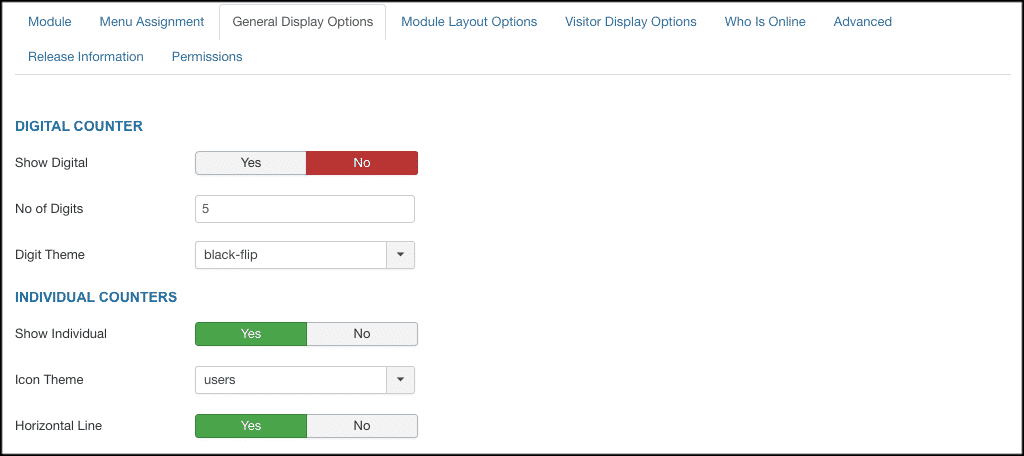 Module Layout Options
Choose width, layout, text location and more on this tab. This is a bit of customization to help you fit it with your website.
Visitor Display Options
Choose all the visitor display options you would like from this tab.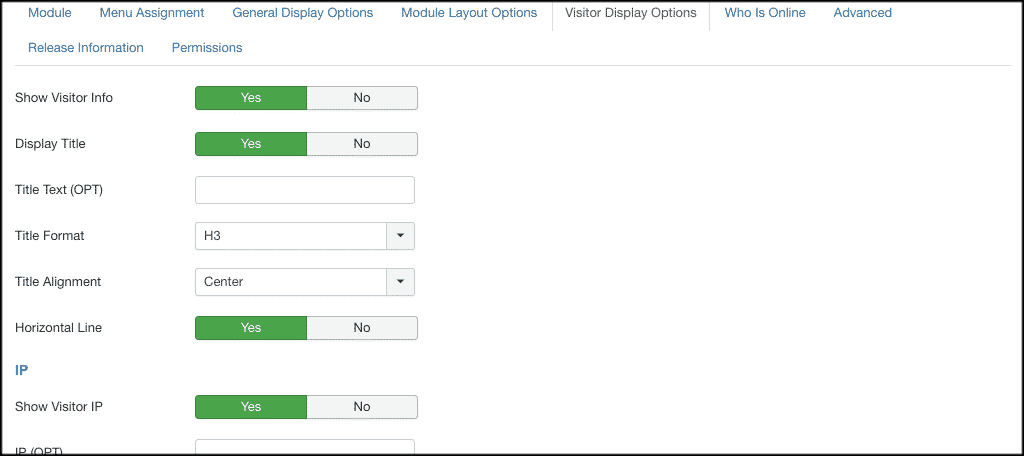 Who Is Online
You are able to set the who is online options from this tab.
Advanced
A more advanced section of the extension that deals with custom CSS and caching. However, custom CSS abilities are only available in the Pro version of the extension.
Release Information
Contains the release information for the CoalaWeb Traffic Joomla analytics extension.
Permissions
Set your user permissions from this tab. This is useful if you have a multi-user website.
That's it! Once you have configured everything how you like it, you are ready to start using the CoalaWeb Traffic extension to track visitors in Joomla.
Final Thoughts
Tracking Joomla analytics without the use of Google is not difficult. It just requires downloading and installing a solid extension and setting it up. The one we use above will give you a pretty advanced Joomla analytics dashboard, so give it a try.
Have you found another extension for Joomla that will do this? Do you prefer to still use Google to track your Joomla analytics?