Do you want to turn your WordPress website into a pay-per-view website? Much like pay-per-view television, customers pay for access to content that will not be interrupted by any form of advertisement. This is a big selling point for some visitors that use Adblocker to avoid ads, which in turn hurts the content creator instead of the company advertising.
Crowdfunding websites like Patreon have proven that people are willing to support content creators. There are many WordPress membership websites operating that are successful, but they do require a higher level of content and consistency. If someone is directly paying for content, the quality standards and the time when it is released are more important than ever. Today, I will demonstrate how to make a pay-per-view WordPress website using the s2Member plugin.
Why Create a Pay-Per-View Website in the First Place
The pay-per-view model is not super popular since there are so many alternatives to choose from, but it does not mean it is not profitable and there are some advantages to it. For starters, there should be no advertisement on a pay-per-view website. This is quite a big selling point and you can actually just offer an advertisement free version of your website as a membership by itself. Just make sure the price is realistic and that you, yourself, think it would be a good purchase.
Many people are willing to pay a few dollars to avoid seeing advertisement ion the pages, but this is only if they enjoy the content in the first place. Making a pay-per-view website will allow you to create content passes for your customers. For example, a monthly pass will allow visitors unlimited access to content for one week, while maybe a $1 daily pass is preferred by some customers. Creating different packages is the key to being successful at low prices.
Don't Switch Without Research
The biggest mistake you can make if you are currently not a pay-per-view website is to switch to one. Think about it from the visitors' perspective. Last week they could view everything for free, but this week they need to pay for a pass. Many visitors will feel that you're just trying to squeeze money out of them. You need to start small if you are making the transition. Use your registered users as a test and find out what they would pay for without actually imposing any costs. The most important thing is to make sure there is an actual reason to switch your website from free to use to pay-per-view and it can easily destroy the community you have built.
How to Make a Successful Pay-Per-View WordPress Website
Today, I will demonstrate how to make a pay-per-view WordPress website using the s2Member plugin. The s2Member plugin is a very popular plugin with over 1 million downloads. This plugin has a free version that can be used to run your website but offers limited checkout options. There is a pro version available that adds plenty of checkout options for customers. The free version is quite impressive because most of the other WordPress pay-per-view plugins do not offer a free version.
To begin, visit the s2Member website and select the best package for you. This tutorial will use the free version, but if you choose a pro package there will be some additional options to choose from. Scroll down the page and select the package that fits your needs.
Fill out the required information to create an account and login in. Your screen will look different depending on the plan you chose. Click on the s2Member.170722.zip button to download the zip file.
Unlike plugins that are listed in the search area of WordPress, paid plugins need to be installed differently. Go to the plugins area of WordPress and click on the "Upload Plugin" button.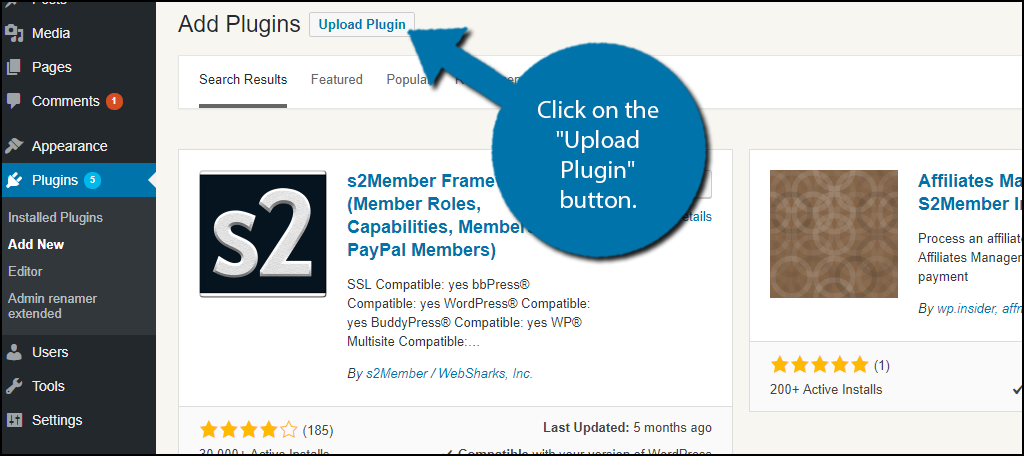 Click on the "Choose File" button and select the s2Member.170722.zip file you downloaded before. Click on the "Install Now" button to begin the installation. Activate the plugin for use after installing it.
On the left-hand admin panel, click on the s2Member option. This is where all of the plugin's settings and information are located. Every website is different and there are plenty of options to choose from. I will explain some of the different sections to help you pick the best options for your website.
The most important part of a pay-per-view website is to set up an account creation page, membership levels, and payment system. All of the most important options are found in the General Options section. Click on the General Options option.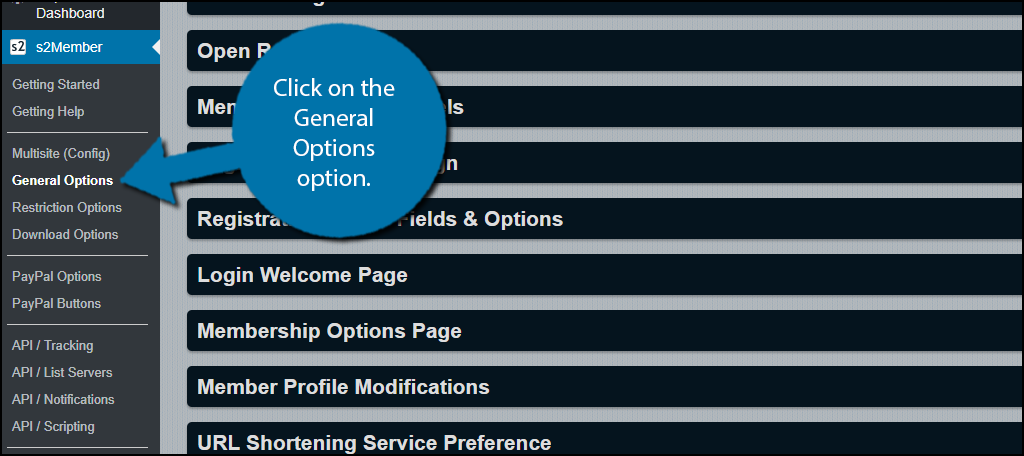 Here you will see a long list of very helpful things to set up. Click on any of the options and they will expand and give a full description and guide about how they work and they will also mention other options to help you further customize the choices. Go through the rest of the General Options section and fill in each section that applies to you. If you are unsure of what to pick, I would recommend following the recommendations s2Member gives you in every section.
You will notice that there are no payment options in the General Options section. This is where the main difference between the free and pro version is seen. On the free version, you will only have access to set up a PayPal account, which does not include one-step checkouts. Other payment options will not be available and this can hurt your website a lot. If you are just testing the water with the free version, this should be a big red flag because fewer payment options will drive away potential customers.
You will find all of the PayPal options when you click on the PayPal Options option.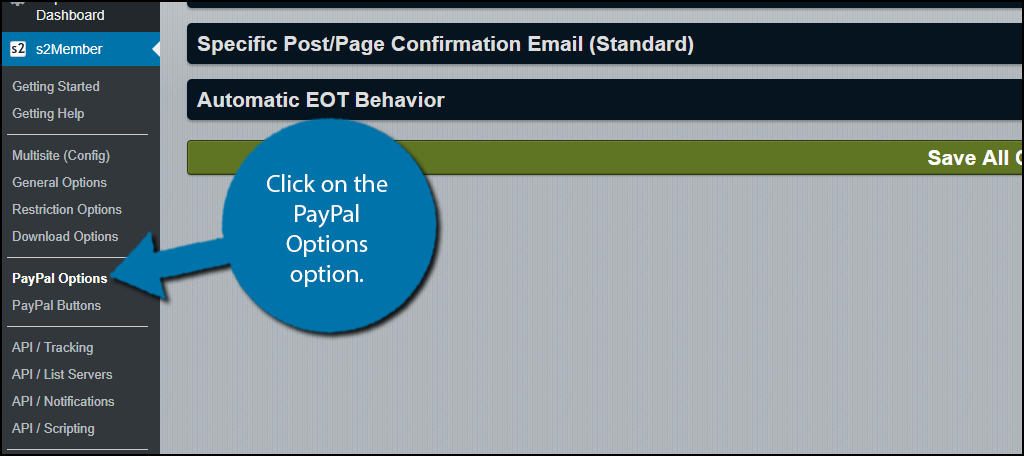 This is very similar to the General Options section. You will be able to click on multiple settings and see many options with recommendations on what to pick. Go through this entire section and if you have purchased the Pro version go through the other payment methods in the same way.
Congratulations, you have gone through all of the important sections of the plugin. Your website would now have a working pay-per-view model in place. If it does not, go back and review each setting. The worst thing you can do is to make a mistake when you are asking for money from your customers.
Give Your Customers a Reason to Pay
Just making your website use the pay-per-view model will not result in any immediate income. You need to provide a service that customers feel is worth paying for. If it is not worth it, you will not see people pay again and you don't want that to happen. You need to add quality content to your website regularly and follow a schedule.
Unlike free websites that upload content on a loose schedule, a paid website must be on time. Imagine you are the customer and the content you paid for is not there when it is supposed to be. It's not a pretty image and you don't want that image associated with your website. Keep in mind there are plenty of free to use websites that follow schedules and release quality content and that is your competition.
Why are you choosing to use a pay-per-view model on your website? What kind of content do you plan to include on your website?