Are you planning to do giveaways in WordPress? Everyone loves free stuff, which makes giveaways and contests a great way to draw in an audience. However, WordPress does not have any built-in features that allow you to run a contest or giveaway.
Of course, if there is a feature missing in WordPress, there is a plugin that adds it and this is no exception. There are multiple plugins that allow you to run contests and giveaways on your website.
Today, I will demonstrate how to use the Simple Giveaways plugin to run a giveaway on your website.
Why Offer A Giveaway or Contest
One word: Marketing.
People love having the chance to enter a giveaway. It's a timeless marketing strategy that just works. Running a giveaway can help you boost traffic, increase email subscribers, gain new followers on social media, and even boost sales.
Thanks to the influence that social media plays, any contest has the potential of going viral. In the right circumstances, you could improve almost every stat on your website, but it is quite rare.
For example, if you run a selfie contest on Twitter, which invites contestants to take a selfie and share it with a specific hashtag, you are promoting your brand while also inviting more people to enter.
Combine that with making it a requirement to subscribe to your email list and you have all of the ingredients for success.
Create a Good Prize
The prize you choose to offer is the most important aspect of the giveaway because it provides the incentive to sign up.
Let's face it, not many people are going to join a contest with a terrible prize. It is important to make your prize suitable for the audience.
The first thing you should consider is making sure it relates to your business model.
For example, if you run a Playstation blog, it's a good idea to offer some type of accessory or game that your audience would be interested in for that specific system.
However, if you sell your own products, you have a lot more options to choose from.
For example, consider offering a 50% discount code on their next purchase. This is a huge discount, but you are forcing the winner to shop at your store. This could turn them into a regular customer if they like what you sell.
You can also give away merchandise with your brand on it. Every time they use it, you get free marketing. It's a win-win.
A great rule to follow is if you don't like the prize, odds are your visitors won't either.
Using Simple Giveaways
Simple Giveaways is a great plugin to use for free to set up a contest in WordPress. Simply install the plugin and activate it for use.
On the left-hand admin panel, click on Giveaways and select the Add New option.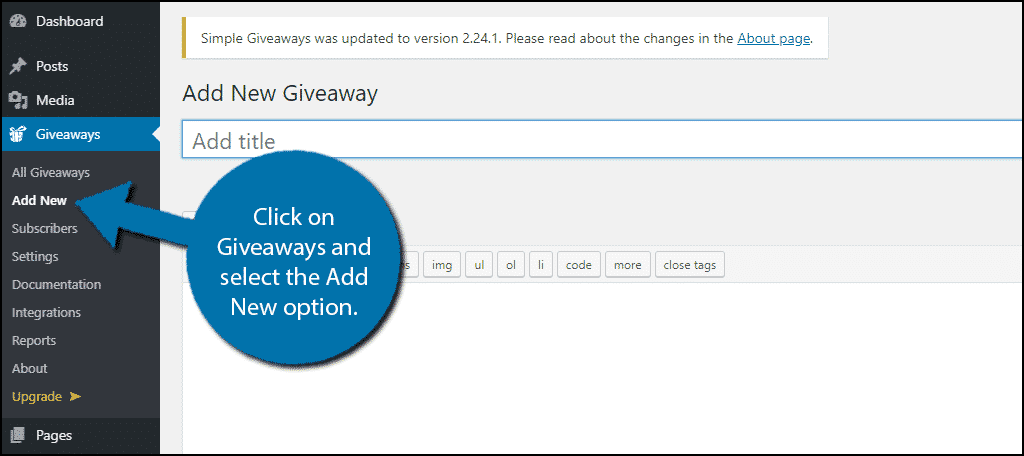 Here you can create a new giveaway. The Giveaway will appear as a new page and you can use widgets and shortcodes to drive your traffic towards it.
I recommend posting the page link on your social media profiles.
The actual construction of the page is just like any other. Add a title in the appropriate box and the content in the text area.
Make sure to include the prize, start & end time, what they are required to do (examples are great), links to any subscriptions that are required (email and/or social media), and anything else you feel is necessary.
Once you are happy with your page it is time to actually set up the giveaway.
Creating A Giveaway
You will need to decide the type of giveaway, start & end date, prize information, social media images, emails, and linking your social media profiles (only available in the pro version).
Scroll down to the bottom of the page. You will see all of these options. In the General section, you can select the type.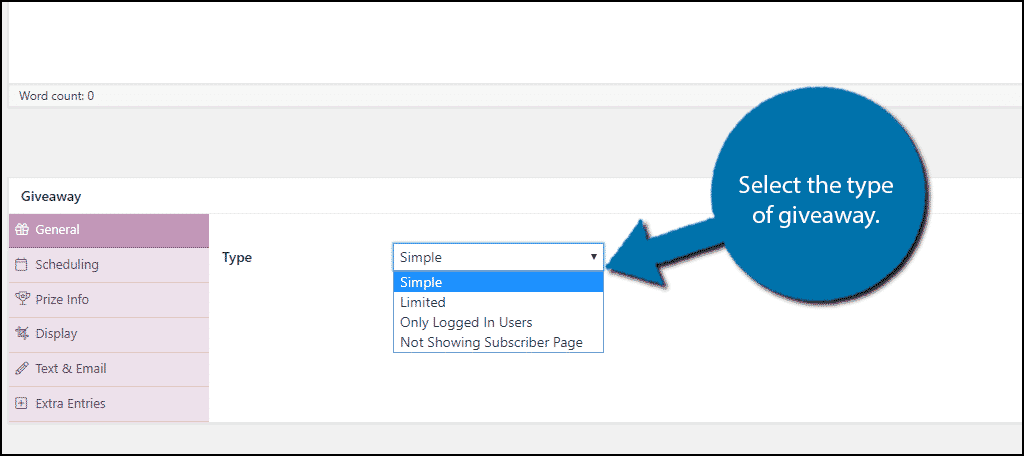 Next, select scheduling. Here you can select the exact start and end time for the giveaway.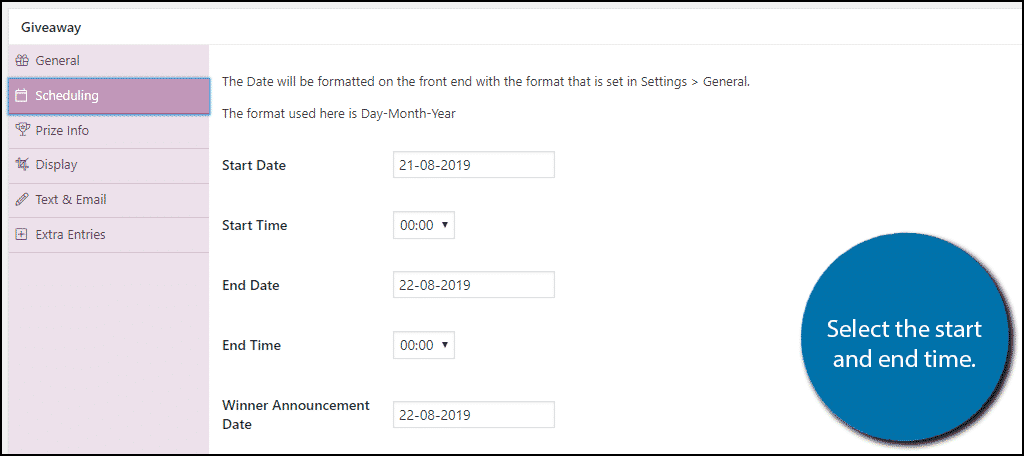 Now it is time to enter the prize information.
Click on Prize Info. You can select if most entries win or if entering only gives you a better chance, the number of winners, the actual prize item, and how much it is worth.
Click on Display. Here you can upload images that will appear on various social media platforms like Pinterest, Facebook, and Twitter.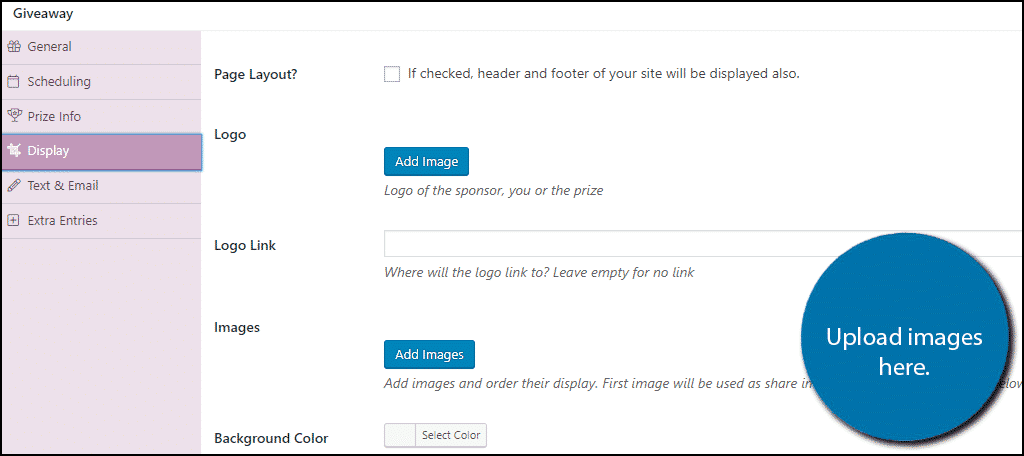 Click on Text & Email. Here you can create the rules and Winner email. The rules should explain all of the rules and terms & conditions of the giveaway. The Winner email should congratulate the winner and instruct them on how they will receive their prize.
The extras section allows you to integrate the giveaway with your social media profiles, but it requires the pro edition of the plugin. If you plan on doing a lot of giveaways in the future, it is worth it to upgrade.
Save all of the changes you made before leaving the page. All that is left to do now is configure the settings.
Settings Configuration
On the left-hand admin panel, click on Settings.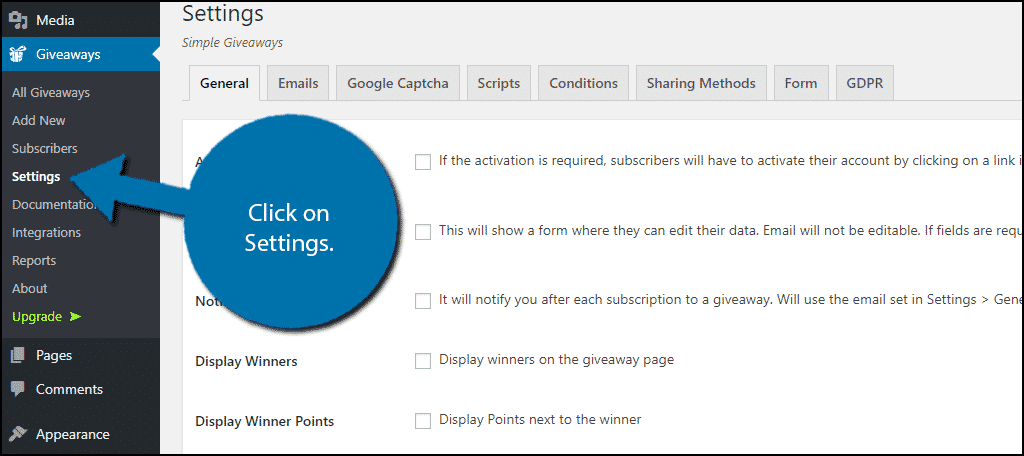 There are 8 tabs in the settings. They include General, Email, Google Captcha, Scripts, Conditions, Sharing Methods, Form, and GDPR.
The majority of the settings are very straight forward and the plugin does a great job of making it as simple as possible. You should take your time and carefully select the best settings for your website.
Every website is unique, thus the selections you make may be different.
Once you are happy with the changes, click on the "Save" button. Congratulations, your giveaway is now ready for use!
Promote it on Social Media
Social media is what makes giveaways so successful in 2019. Being able to use a platform that allows you to reach millions of potential visitors and customers is an amazing opportunity.
Having a strong presence on social media is a surefire way to boost your traffic, and combining it with the appeal of a giveaway is the icing on the cake.
Which platforms are you sharing your giveaway on? What kind of contests will you run in WordPress?