Regardless of if your business is just starting out or expanding, finding talented individuals to work at your company is always a priority. And one of the best ways to do it is to offer positions online with the Simple Job Board plugin.
This plugin allows you to easily post positions you are currently looking to fill on your company website. Of course, that's just one use of a job listing plugin. You could also create a website dedicated to job listings for others.
Think of a site like Indeed. It exists for companies to list their positions and for job seekers to post their resumes. Regardless of your needs, this plugin will be able to facilitate them.
Today, I will demonstrate how to set up the Simple Job Board plugin for WordPress.
Why Add A Job Board To Your Website?
Let's face it, recruiting new employees for any position can be a nightmare. The worst is when you only get a few applicants but need to hire someone immediately. In the past, many would look in the newspaper or at local job boards.
The internet has made these types of listing obsolete. Instead, everyone looks online to apply for positions. In fact, many companies today like Walmart, have a computer you can use to apply at store locations.
The days of asking for a job application and filling it out are over. Anyone searching for a job will always look online first. Thus, your website needs to have a way to list the details of job positions and accept applications for them.
While there are other ways to add them, a job board plugin for WordPress is the easiest method available.
How to Set Up Simple Job Board for WordPress
The Simple Job Board for WordPress allows you to create positions for any company. You'll be able to add all of the necessary information such as job descriptions, experience needs, expected work hours, pay rates, and just about everything else.
You can place the job listings anywhere on your website by either using the listings block or by adding a shortcode. While this plugin is free to use, to get the most out of it, you will need to use paid add-ons.
For instance, if a job applicant is looking for a position within a certain pay range, you can purchase the Salary Range Filter add-on to add that functionality. The add-ons you may need depend on what type of site you run.
In any event, the plugin is pretty easy to set up and use, so let's get right into it.
Step 1: Install Simple Job Board
Let's start by clicking on Plugins and selecting the Add New option on the left-hand admin panel.
Search for Simple Job Board in the available search box. This will pull up additional plugins that you may find helpful.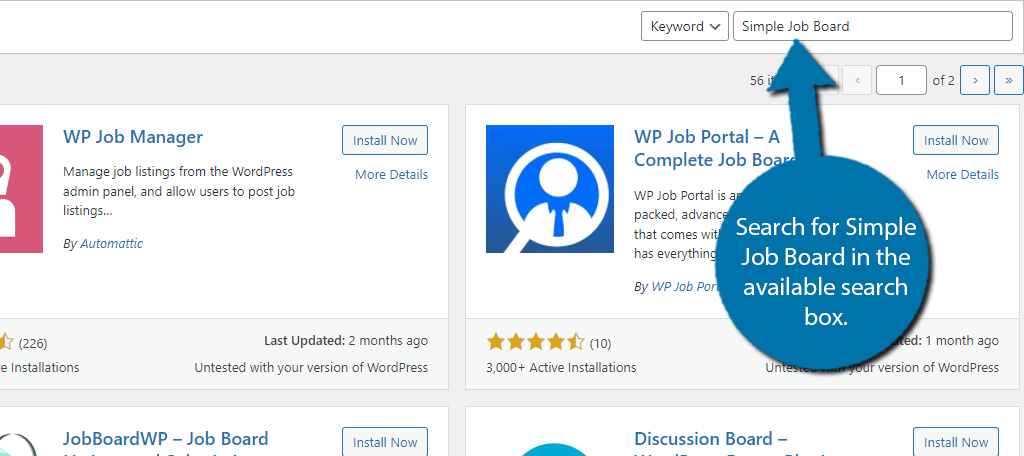 Scroll down until you find the Simple Job Board plugin and click on the "Install Now" button and activate the plugin for use.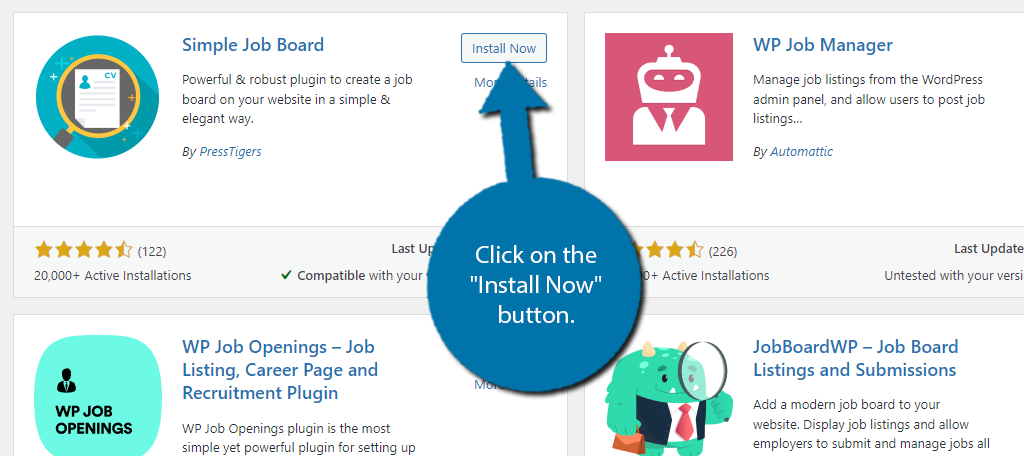 Step 2: Add Job Types, Categories, & Locations (Taxonomies)
The first thing you should do is add taxonomies to the plugin. The plugin lets you create them for job types, categories, and locations. It's just like adding a category or tag in WordPress, so you won't have any trouble.
If you are building a website as a dedicated job board, this is probably the most important step. These options allow applicants to quickly find the positions that they are interested in.
If you are just doing it for your individual company, some of these options may not be applicable. For instance, if you only have a single location, you won't need to add multiple locations.
Well, unless you're also offering a remote or work-from-home position.
On the left-hand admin panel, click on Job Board and select the Job Categories, Job Types, or Job Locations option.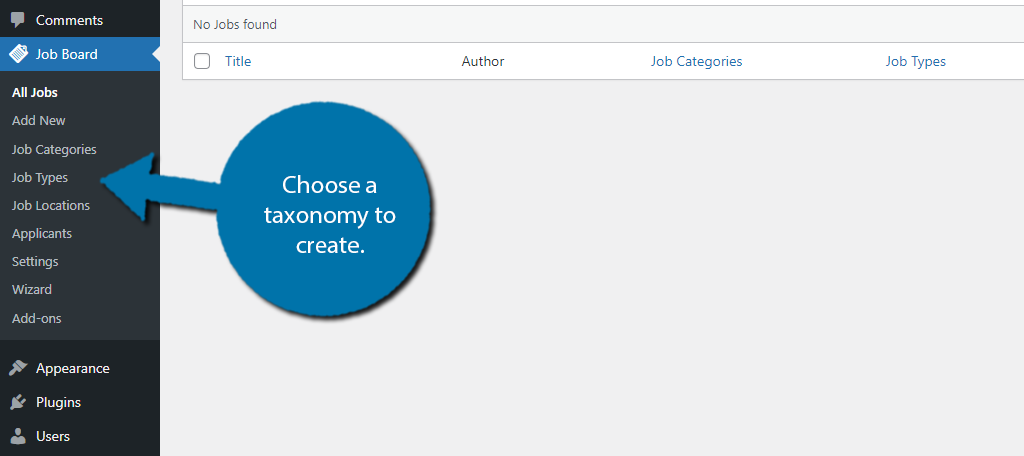 Once you have selected one of them, just add the necessary taxonomies. All this entails is adding the name and a short description of it.
Once you have those in place, you are ready to start creating positions to list on the job board.
Step 3: Create Job Positions
So, the real meat and potatoes of this plugin are actually creating the positions you want to advertise and recruit.
The base plugin is pretty simple to use and does lack more advanced options. But for small to mid-size businesses, Simple Job Board will be more than enough.
Click on Job Board and select the Add New option.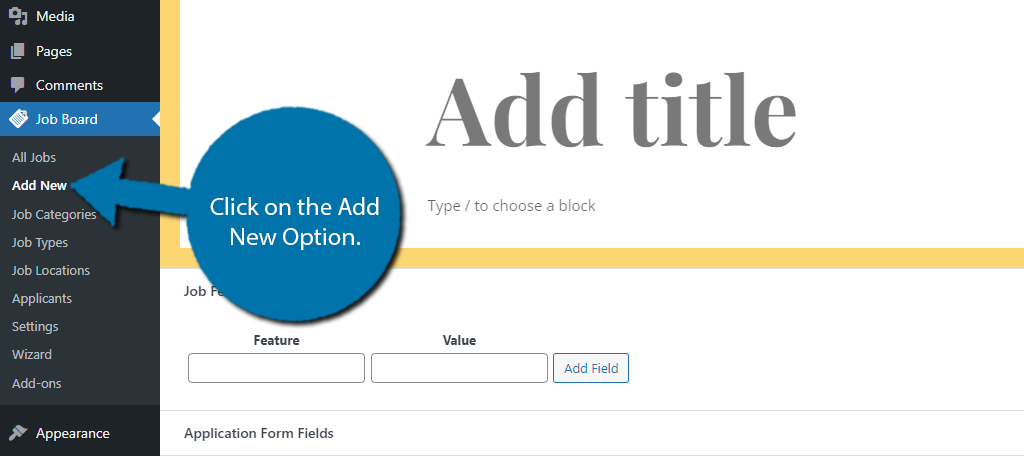 The first thing you should do is add a title. This could be something like Cashiere or Web Developer, or whatever the name of the position is.
Next, create a description of the job.
This should entail a short description of the job responsibilities, work days, work experience and education applicants should have, and everything else the applicant should be aware of before applying.
This is just like adding content to any other post or page in WordPress and is done directly through Gutenberg.
Once that's taken care of, scroll down to find additional fields to enter and create.
The first of them is Job Features. Here, you can create job features that applicants can use to identify suitable jobs. For instance, if the position is an Entry Level, you would probably want to label it as such.
In that example, you would put the Feature as Experience and the Value as Entry Level like so: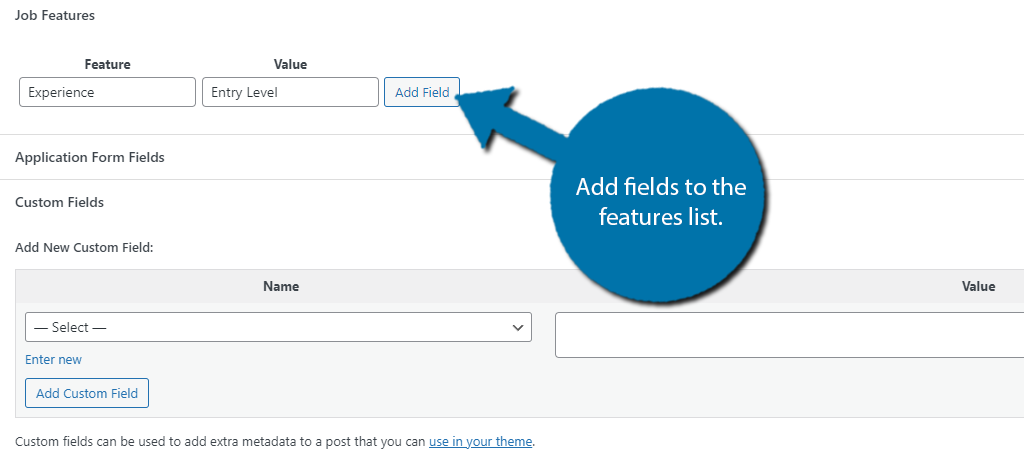 Next, locate the Job Data section. Here, you can enter company-specific information like the name, website URL, and even its logo.
Step 4: Create An Application
At this point, the job listing is nearly complete, but you are missing one crucial element – how the applicant can actually apply. This is a bit more complicated than the rest of the plugin, but it's still fairly simple.
Basically, you are creating this application from scratch by creating individual elements for it. This might sound hard, but it's really not.
Locate the Application Form section. It has nothing in it to start. You can input a field and choose what type of input it has.
For example, you would probably want a field for Name, and aText Field so they can enter their name.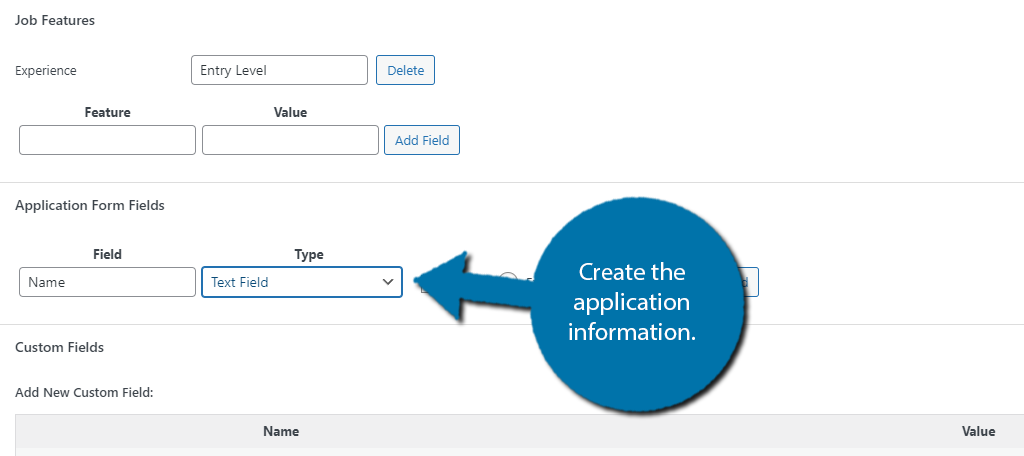 This is definitely where you may want to take a look at the add-ons. As the base plugin does not have an option for a user to submit a resume, and there are several add-ons that deal with resumes that may be useful.
Enter as many fields as necessary into the application. Some key ones everyone should include are:
Name
Email
Experience
Education Level
Phone Number
Once you are satisfied, save the changes and you have created your first job listing. Repeat steps 3 and 4 to make as many positions as you want.
Step 5: Displaying And Managing Your Listings
All that's left is to display the listings you create in WordPress. You have two options, you can either add the SJB Listing block to a post or page or alternatively, use the shortcode: [jobpost].
Once that's in place, users will be able to explore the career options available.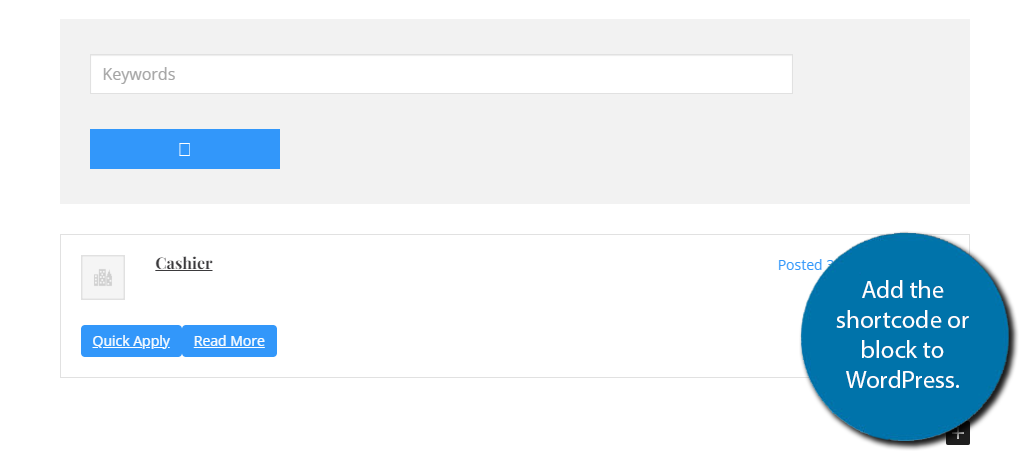 You can view applicants applying for the position by visiting the all jobs section and clicking on the View Applications option.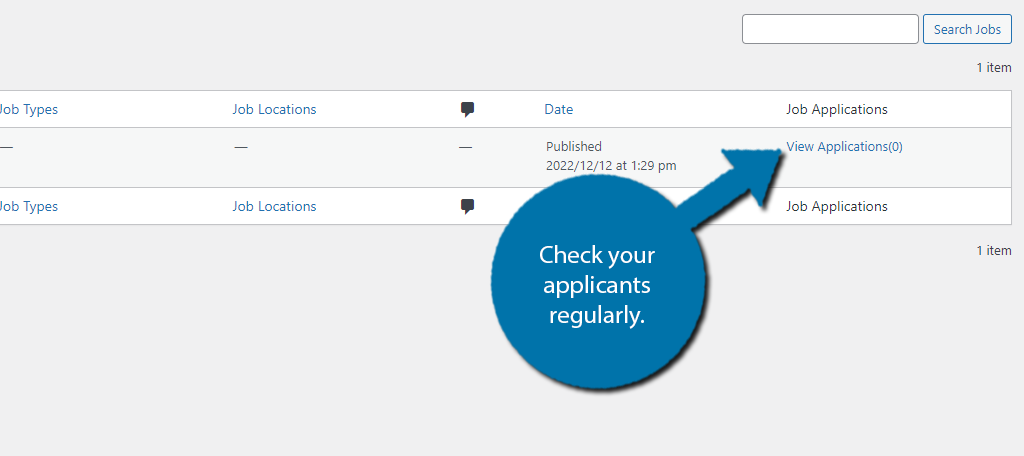 And with that, the plugin is set up and you know how to use it. Remember to check out the add-ons to add further functionality to the plugin.
Add A Simple Job Board To Your Website Today
As you can see, adding the Simple Job Board to WordPress is quite easy and it can help you recruit more employees. Of course, it can also be used to create a full job listing website.
In either case, the plugin is really solid. Just remember that you may want to customize the appearance of the job board to match your WordPress theme. It should do so automatically, but sometimes, you might need to manually change things.
How many positions are you going to display on your site?