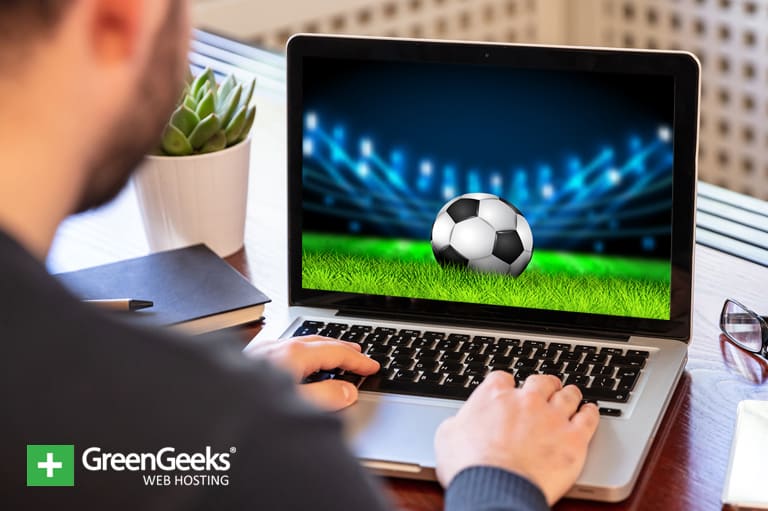 Are you looking for a blog idea that will be popular pretty quickly and get you traffic? Starting a sports blog is a great way to accomplish this. If you love sports and are ready to make your mark in that niche, then follow to guide below and you will be able to create a sports blog in no time at all.
What You Need
Before you go through to actual website building process, there are a few things you may want to have in place. Most of these are content ideas or other structural nuances. Either way, here are suggestions for you to take note of.
Choose a Sport
Yes, if you want to create a sport's blog that encompasses all sports you can. However, that may be difficult to keep up with. Choose a single sport to focus on, preferably one you love. That way you can make the most of your blog and really dive into it.
Some Initial Content
You don't want your sports blog to be empty and have no content when it is ready to go live. For this reason, it is important to have some initial content ready to publish. These could consist of news articles (relevant), player profile pieces, team information, and other related sport's stories. Just have something to publish when the site goes live.
Money Making Ideas
Chances are that you want to make money sports blogging. Since this is the case, get a game plan together regarding the avenues you can use to make money off your sports blog. These will include things like Adsense, sponsored posts, and affiliate links.
Steps to Creating a Sports Blog
Now that you have some content and ideas in place, it is time to move forward with the actual steps you need to take to create a sports blog. Follow the steps below in the order they are given. This is the quickest and easiest way to get a sports blog up and running smoothly.
Get a Domain Name and Web Hosting
The first thing you want to do is go find yourself a domain name. There are a lot of great registrars out there, so pick one that is easy to use and offers good pricing.
Remember, the domain name you want may not be available. That's okay, play around with the words and spelling some and see if you can come up with something you like. If that doesn't work, try using a different domain name extension. There are so many available now that you are sure to find something you love.
Now that you have your domain name, it is time to go and find a web host. You want a company that gives you everything you need to easily get a sports blog online. GreenGeeks provides you all the tools you need and much more to accomplish this.
Not only will we provide solid security, pricing, and customer support, but they give you everything you need to get your site up and running in just a few clicks.
And keep in mind you can get hosting and your domain name all in one location with GreenGeeks. This means you can keep everything together in a nice and affordable package.
Install WordPress and This is Why
After you have purchased your domain name and web hosting platform plan, it will be time to figure out what type of CMS you want to use to build your website. There are a lot of good choices available to you, but I recommend using WordPress and there are several reasons why.
WordPress is an open source CMS platform. This means that thousands of people have contributed to it. The platform is very user friendly. Since it is so popular you will never have to look too far to find amazing tutorials or resources to help you with any problem you may come across.
Furthermore, WordPress is very secure. Yes, you can always increase security on your website by adding plugins and doing some configurations. However, the platform itself is solid and built very securely.
Finally, it is very easy to install and activate. You can use the one-click installation method provided in your web host's cPanel, or you can install it manually. Either way, it is very simple to install and configure, and you will be ready to design and build right away.
Choosing the Right Theme
WordPress has thousands of amazing themes, both free and paid. Most of them will allow you to build a fantastic website that is responsive and mobile-friendly. That being said, here are some specific sports blog themes that you may be interested in.
BigSlam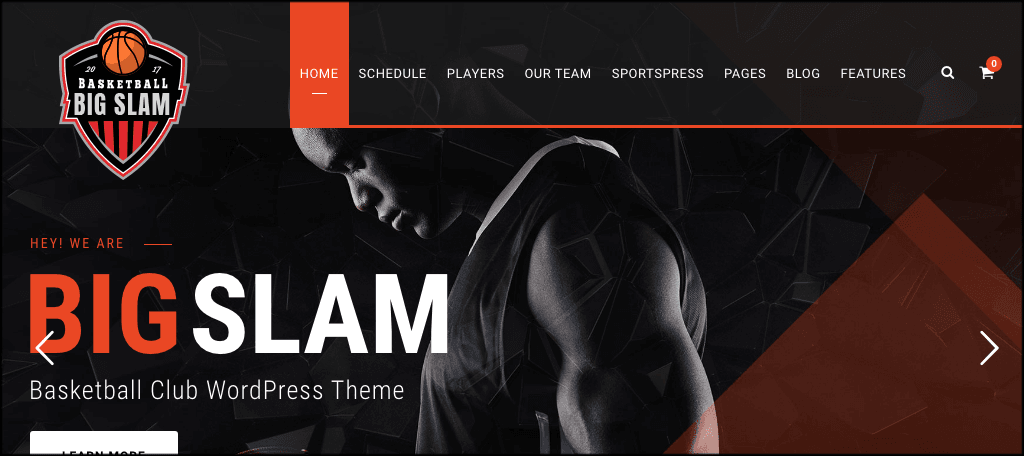 If you are looking for a solid sports blog WordPress theme, then take a look at BigSlam. Despite looking like a theme that is specific to basketball, you can actually use it to build a sports blog about any you want. It comes with several built-in demos and is compatible with SportsPress as well. This one is definitely a theme to check out.
Sporty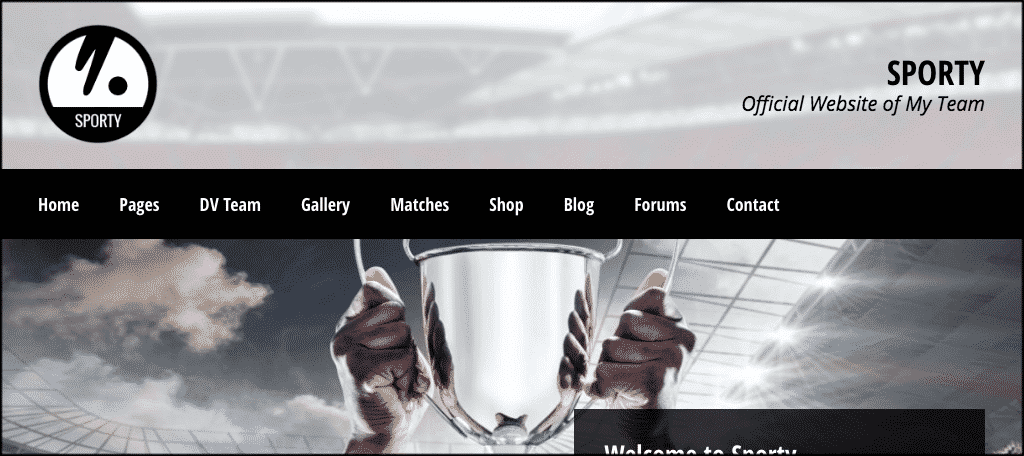 Sporty is a responsive and mobile-ready theme that is designed specifically for a sports blog. It is actually the biggest sporting theme on WordPress right now and for good reason. It comes with a ton of built-in functionality including sliders, stats, animations, gallery options, widget options, and so much more. If you are looking to expand and get big, this is a good theme to try.
Sports Club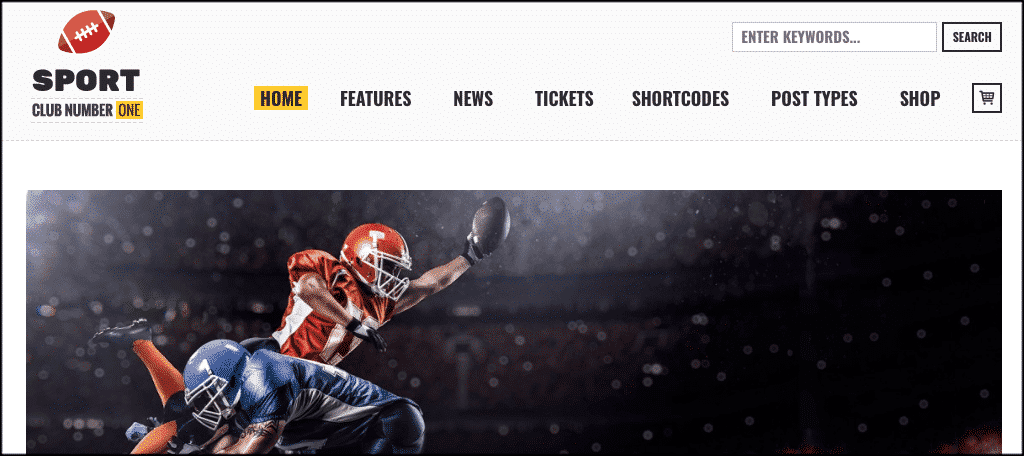 With a dynamic, sports-oriented design that is suitable for any type of sports blog, the Sports Club theme is definitely one you want to checkout. Whether you want to create a site for a specific sporting team, events, or spot news, this theme gives you the ability to do it all. You can also showcase the latest news in a dynamic layout style and build an online store if needed.
AllStar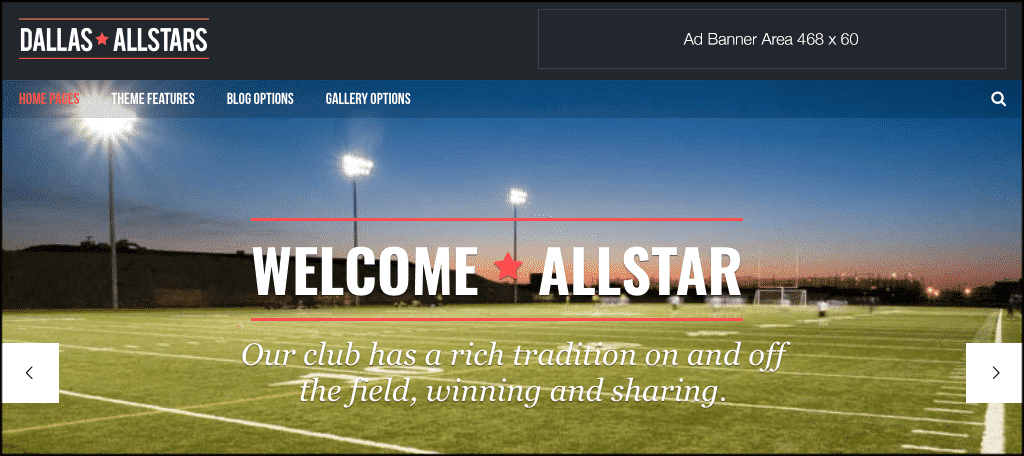 AllStar is a very flexible WordPress sports theme designed for teams, athletes, and individuals. It gives you the ability to create a standout sports bog that will get noticed. It includes a responsive design, several theme layout demos, and plenty of customization options.
Champion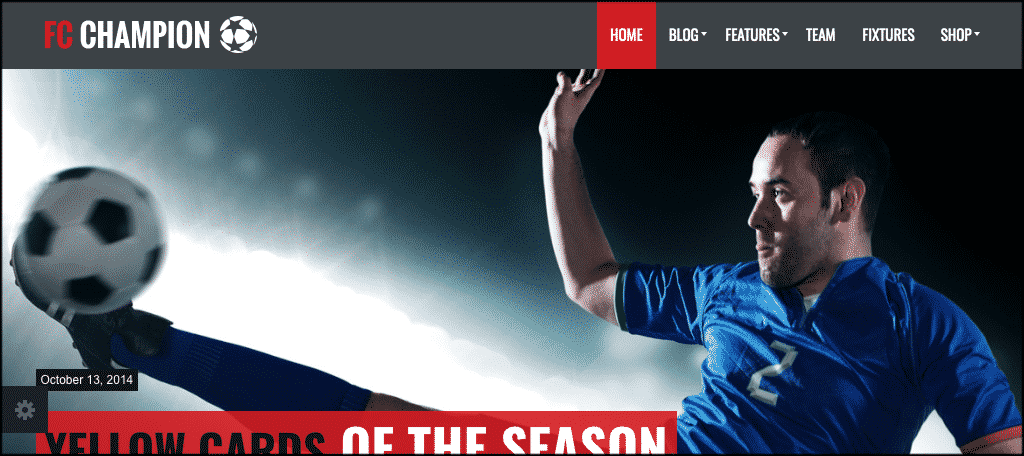 Champion is another amazing theme option for any sports blog. It comes with 5 header types, sliders, fixtures management, a point system, tons of video and gallery options, and social media tools. These are just a few of the things that make this theme a must-see for anyone creating a sports blog.
Choosing the Right Plugins
Every WordPress website needs a select number of plugins to run as smoothly as possible. So while you should consider those, you also want to find some niche-specific plugins that work in conjunction with your sports blog. Here are some suggestions for you to consider.
SportsPress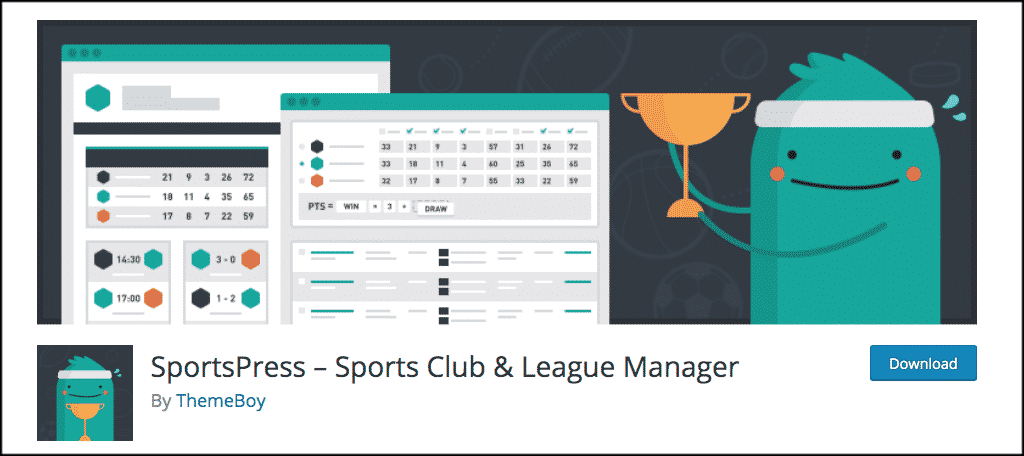 SportsPress transforms any sports blog into a fully customizable team, club, or sports league website. It provides you with a ton of sports tools that allow you to build stat features, standings, results, player profiles and rankings, and more. There is also a pro version of the plugin, but this is definitely something every sports blog needs.
League Table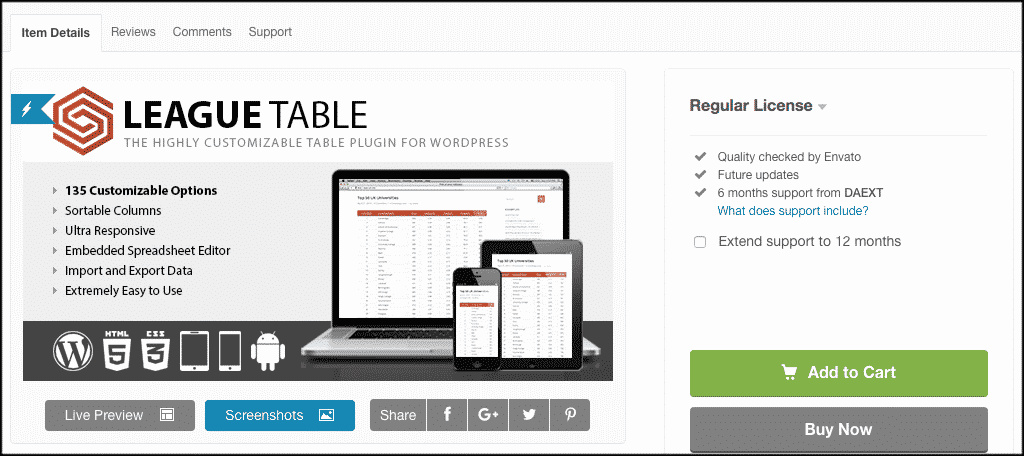 League Table is a powerful sports plugin that allows you to create sortable and responsive tables inside your posts, pages, custom post types, and widget areas. It has 105 options per table, 17 options per cell, 13 general options, a spreadsheet editor to edit the table data, and an advanced multi-columns sorting system.
JoomSport
JoomSport is the perfect sports blog plugin for managing teams, tournaments, and local clubs. It provides you with a responsive, robust, powerful structure that is SEO-friendly. With the ability to create and host tournaments, create structures and standings, and add venue information, this plugin should be a part of any sports blog.
Team Rosters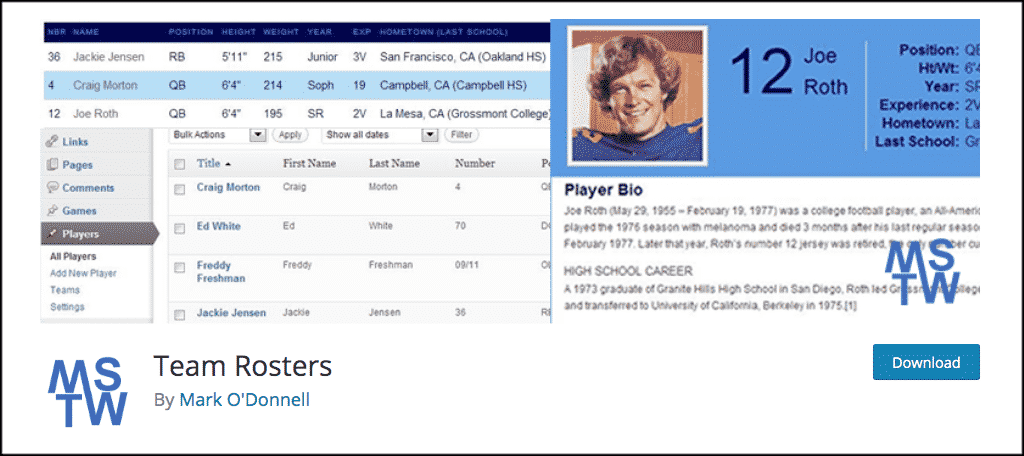 If you are trying to build, display, and manage team rosters on your sports blog, then the Team Rosters plugin is right up your alley. It gives you the ability to manage rosters for multiple sports and teams. Customize formats, assign admins, and set schedules to add to your roster database.
WPML
Since the world of sports is so vast, chances are you will get views and clicks from all over the world. This is even more accurate if you have a sports blog that represents a sport that is worldwide, like soccer. This is why having WPML on your website is important. This plugin will give you the ability to translate all the content on your website and allow others around the world the ability to read and explore content in their language.
Sharing Your Sports Blog
At this point, you should have a pretty good idea of the direction you are taking your sports blog. When you are ready to publish the site, or if you have already gone live, you may be wondering how to share the site to get the name out there and generate some traffic. Here are some suggestions for you.
Guest Posting
Search around the web for other sports blogs that are similar to your own. See if there is a possibility of guest posting. Usually, this will allow you to talk about your website or at least link back to it. This provides free content for other blogs while at the same time driving traffic back to yours.
Sports Forums
There is no shortage of sports forums online today. Any sport you can imagine, with tons of different communities. Use these to your advantage. Start posting on them and interacting with people. Drive traffic back to your website by talking sports and using links.
Social Media
There is no better way to promote your new sports blog than through your social media platforms. Build out some social media pages for your website and use them to post articles, links, updates, and information. You can also share articles and other resources on your personal accounts and see of others pick them up to share and comment. This is a great way to build your brand.
Commenting
Commenting? Yes, exactly. Go around to other sports blogs and comment on articles. Have conversations and interact with people. Your site link will pop up in all your comments, and others may click through to find out about your site this way. That is if the other site owners allows URL linking from comments.
Social Bookmarking Sites
Social bookmarking sites are a fantastic way to share your sports blog. These types of social sites allow users to save their favorite stories, images, videos, and websites. Posting on here will gain you a lot of exposure. And when people share, bookmark, and interact with your content, word starts to spread faster.
Ideas For Your Sports Blog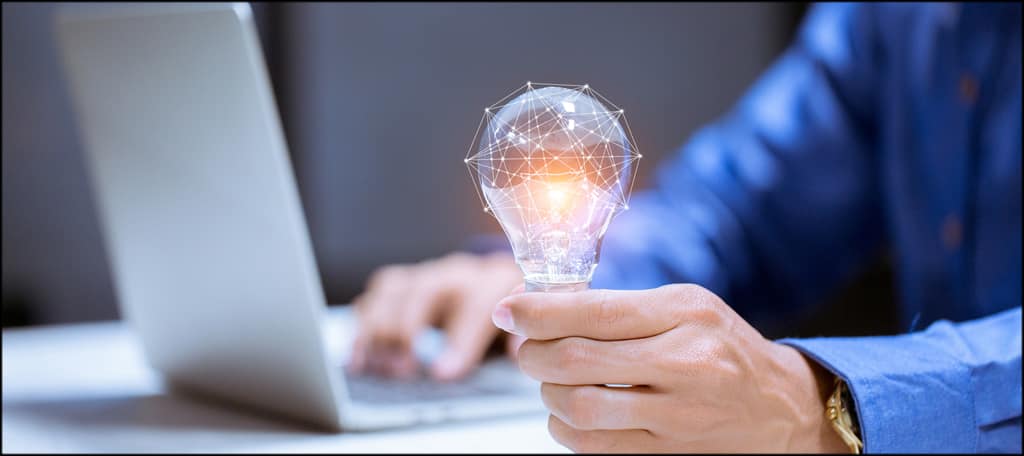 There are so many creative things you can use your sports blog for. If you are having trouble expanding beyond simple news and article writing, then here are some ideas you can take advantage of.
Player Profiles and Stats
Integrate player profiles and stats into your sports blog. You can do this in a number of ways. However you choose to do it, this will give your audience something more to look at and search on your website. Something like this is also very searchable and good for your website SEO.
Members Only Section
Create a members-only section on your sports blog. This doesn't necessarily have to be a paid membership area, but it could be private for members only. Let members interact with each other through messaging, forums, and social media. This will also help you build a following on your website.
Dynamic News Feeds
There are a number of ways you can bring a dynamic news feed into your sports blog. What this does is show relevant sports news based on what you choose to feed in, but allows you to write other content that drives traffic. You can have the best of both worlds.
Conclusion
Creating a sports blog is an exciting venture that can provide you with a money-making opportunity as well. If done correctly, you can get a solid looking and functioning sports blog online in a fairly short amount of time.
I hope this guide has given you a set of clear directions and was easy to read and understand. Follow the steps above in the order they are given and you should have an amazing sports blog online in no time at all. Feel free to ask questions via the comment section below as well. I will answer them.