If you stream often on Twitch, I am sure you are looking for a way to embed the player on your website. This will allow visitors to watch your stream from your website and you will also be able to embed the Twitch chat.
This helps ensure that visitors get the genuine Twitch experience and have access to all of their emotes. And keep in mind you do not have to display your own streams, so you can help market others as well.
Today, I will show how to embed a Twitch stream using the Twitch TV Easy Embed plugin.
Why Embed A Twitch Stream in WordPress?
You may wonder why exactly you would want a Twitch stream on your website, but the answer is pretty simple.
It helps people find your stream easier. Twitch is a huge platform with thousands of streams going on and only the biggest streamers appear on the front page. That makes it difficult to stand out when you are just getting started.
Adding a Twitch embed to your website allows you to add your website traffic to your stream or at the very least alert your visitors that your stream exists.
If your website is focused on gaming, then displaying streams of your channel can help add to the authenticity of your website. Streaming is extremely popular with gamers, thus, it can really help out your website if that is your focus.
Not Just for Gamers
Twitch is the largest live streaming platform around, but one thing people are mistaken about is that's only for gamers. That is simply false.
You can stream just about anything on Twitch, as long as it follows the guidelines of the platform. However, you may want to consider gaming streams.
Video games represent the largest entertainment industry on the planet. As a result, there is a very high chance that your audience is interested in them. Thus, it could help you attract new visitors to the stream.
Installing Twitch TV Easy Embed
The Twitch TV Easy Embed allows to not only embed a stream but also embed a Twitch chat (premium feature). This helps it stand out from other WordPress Twitch plugins that allow you to embed streams. This is a big deal because interacting with the chat is the entire point of live streaming.
Otherwise, you might as well make a standard YouTube video. The plugin allows you to not only display your broadcasts but any stream on Twitch. You can even provide your visitors with the option to select which stream they watch.
Let's start by clicking on Plugins and selecting the Add New option on the left-hand admin panel.
Search for Twitch TV Easy Embed in the available search box. This will pull up additional plugins that you may find helpful.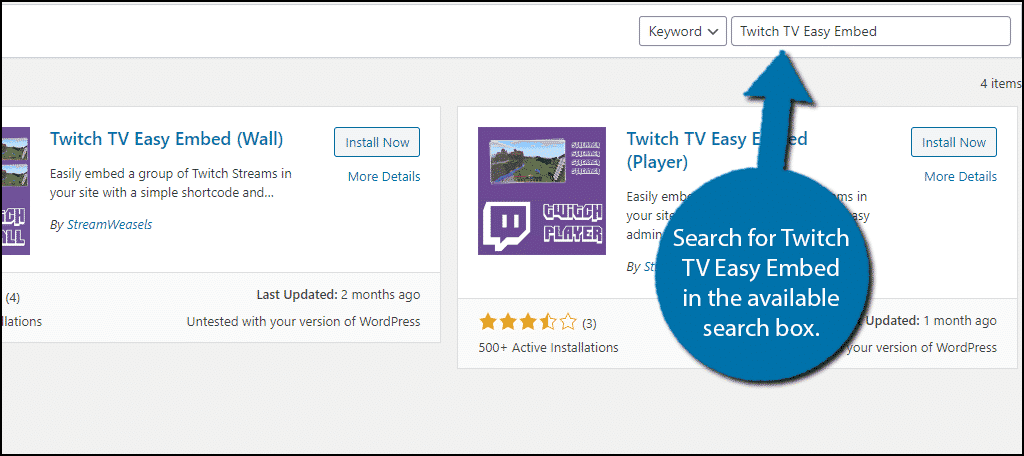 Scroll down until you find the Twitch TV Easy Embed plugin and click on the "Install Now" button and activate the plugin for use.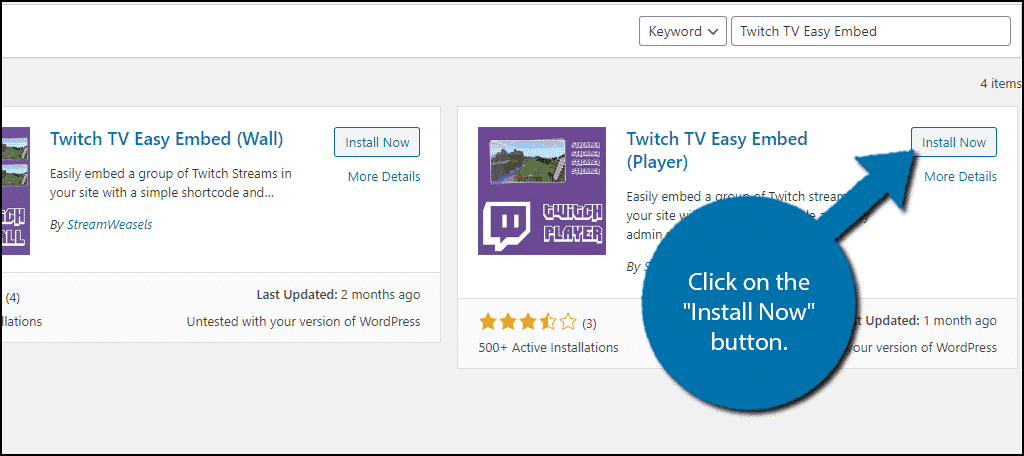 Note: There are 3 similarly named plugins. You want to make sure the one you install is Twitch TV Easy Embed (Player). Each of these offers a different layout. You can see what each of them looks like later on in the tutorial.
Setting Up
Luckily, the plugin is really easy to set up. All you will need to do is insert some information to determine what stream will appear and paste a shortcode where you want it to show. It should only take a few minutes to set up.
On the left-hand admin panel, click on Settings and select the Easy Embed for Twitch TV (PLAYER) option.
At the top of the page, you will see what each plugin by the creator does. If you recall, there are 3 similarly named plugins. Each one has a different layout, so you may want to check them out if they suit your needs.
Underneath this, you will see a loading stream preview. Until you actually change and save the settings, you will not be able to see anything, so skip this for now.
If you scroll down, you will see the Main Settings section. Here you can set up what streams will show up. You can set the games, language, channel, and team to find a specific stream.
If you are only interested in displaying your own live stream, simply enter your channel name and that will be the only one that appears.
You will also see a limit text box. This will limit the number of streams a visitor can choose from. You are only allowed up to 5 for the free version, but that is more than enough if you plan on only showing off your channel.
You can also check the "Show Offline Channel?" box to show channels that are currently offline.
Click on the "Save Changes" button when you are done.
How to Embed the Twitch Stream
With the settings changed and saved, you can scroll back up to the stream preview. This is an interactive preview that you can view. If things don't look right, like your channel not appearing, check your settings.
Above the stream preview, you will find a shortcode that you can place on any post, page, or text widget. The shortcode does not change based on your settings, thus it should be:[ht_message mstyle="info" title="" show_icon="" id="" class="" style="" ][getTwitchPlayer][/ht_message]
Now go to where you want the stream to appear and paste the shortcode. Save the changes in that area and view it on your website.
Note: You can use either a text or a shortcode block. Both will have the same effect.
Congratulations on adding your twitch stream on your WordPress website. You can change the settings at any time, but keep in mind that once you save the changes, the Twitch player will also be updated. So make sure to double-check any changes.
Good Collaborations Potential
This plugin offers great collaboration potential because you can display multiple channels. For example, you can display other channels on your website to help them grow in exchange for them appearing on your stream in one form or another.
This is especially effective if your website gets a lot of traffic, because that means the streamer is more likely to gain viewers or even followers.
Alternatively, you could promote other channels for a small fee to help add another revenue stream. After all, getting access to a website's traffic can be very beneficial.
Live Streaming Is Really Popular
Live streaming has really taken over video content in the last few years. Regardless if it's on Twitch, YouTube, or Facebook, live streaming is one of the best ways to interact with your community on a daily basis.
However, it is important to not underestimate the difficulty of live streaming. Remember, you are live and any mistakes you make will live on forever. Thus, you need to practice and avoid slip-ups, profanity, and paying attention to the chat while doing other activities.
If you spend a lot of time on Twitch, you should also consider adding a live stream notification to your website. This lets visitors know when you are live.
What streams are you displaying on your website? How often do you live stream?