One thing that all successful online shops have in common is verified reviews on their product pages. These are a type of social proof that helps potential customers click on that "Buy It Now" button.
However, this is not a built-in feature for Prestashop. But don't worry, with the help of a module, you can easily add them. Today, I will demonstrate how to use the Verified Reviews plugin to display reviews for your products in PrestaShop.
Why Add Verified Reviews to Your Shop?
Product reviews have been around for a long time and have a proven track record when it comes to helping online sales. However, in more recent years, they have become somewhat of a necessity. Nearly 80% of shoppers trust online reviews just as much as a personal recommendation.
And 86% of shoppers will look up a review before going to a business.
It seems everywhere you go, you can find reviews for something. Google encourages you to allow reviews on your business page, Yelp is a monster review site for everyone, and even Facebook allows reviews for its business pages.
Basically, if you want to be relevant and give potential customers and/or clients a good idea of what others think of your service, then allowing people to add reviews somewhere is definitely a good idea.
One fear beginners have of displaying reviews when starting out is that if they are bad, it will scare customers away. And while there is truth to this, not displaying them is far more detrimental and doesn't change anything.
For example, there are a large number of product review sites on the internet. Just because you do not display a review, doesn't mean a review doesn't already exist. Visitors will find it and it will influence their purchase. Hiding it will not work in 2020.
More realistically, a visitor will just leave your website if there are no reviews. Let's take a look at the Verified Reviews module for PrestaShop and take a look at everything it offers.
The Verified Reviews Module
The Verified Reviews module creates a simple way to add product reviews on your product pages. This is actually a pre-installed module in some versions of Prestashop (1.5 and 1.6). Thus, depending on the version of your PrestaShop install, it may already be available, but just not activated. It has a simple user interface, which makes it the perfect choice.
As we discussed above, reviews are an important aspect of running a business, and the Verified Reviews module gives you the ability to easily collect reviews from your customers. If managed correctly, this will lead to a jump in sales and also a bump in online presence.
This particular PrestaShop module also has a partnership with Google that will allow you to gain AdWord stars while you use the product on your website. The module offers a ton of upsides for your site if used correctly. Some of the benefits of using this include:
A Solution for Reviews Tailored to You
Collect Product Reviews
The Ability to Collect Website Reviews
The Best Feedback Rate on the Market
Facebook Applications – Certificate of Authenticity
Stars in AdWords based on Google Partnership
Let's take a look at how to get this PrestaShop review module installed and running on your website.
Download Verified Reviews
In order to start taking PrestaShop product reviews on your website from customers and clients, you first need to get the module installed and activated on your website. Let's perform the steps together.
Click on Modules and Services and select the Modules & Themes Catalog option.
Search for Verified Reviews in the available search box.
Click on the magnifying glass and a new tab will open on your browser with the search results. Locate and click on the Verified Reviews module.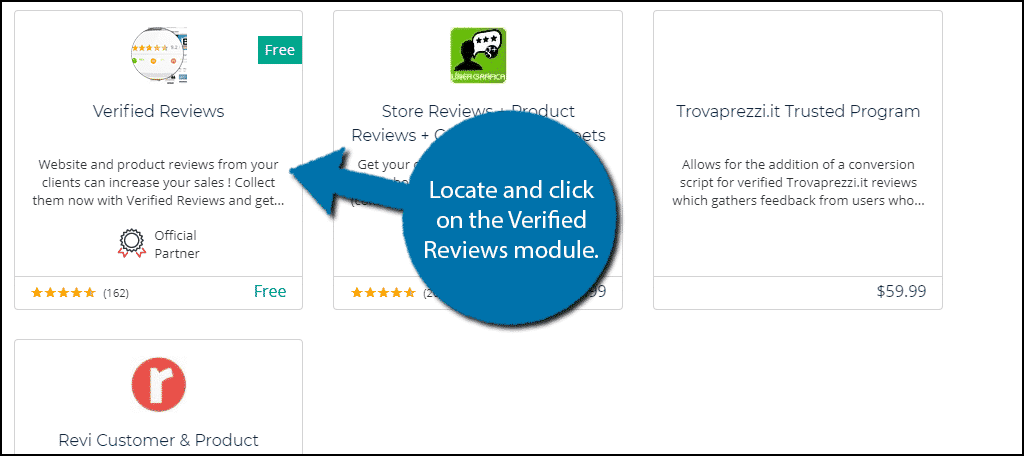 Click on the "Download" button.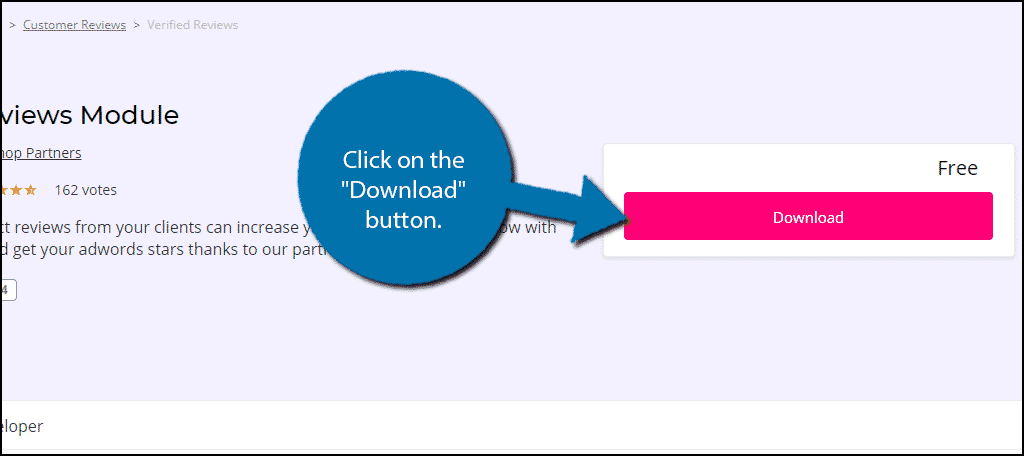 Note: If you are not currently logged into your Prestashop Addons account, you will be prompted to do so. If you do not have one, you will need to create an account before proceeding. It is fast and easy to create an account, and it is free. You will need it for running your PrestaShop setup in the future.
Select which version of the module to install. Make sure it matches your version of Prestashop.
Note: If you do end up picking a version of the plugin that is too far ahead of your current version of Prestashop, you could run into a fatal error when uploading it. This is because the plugin will utilize different lines of code not found in your version. To resolve this, you would need to remove the file from the Modules folder through your cPanel.
Once you select your version of PrestaShop, a Zip file will automatically be downloaded to your machine. Grab that download and put it wherever you can easily access it.
Return to your Prestashop website. Click on Modules and Services and select the Modules and Services option.
On the top right of the page, click on the Add a new module option.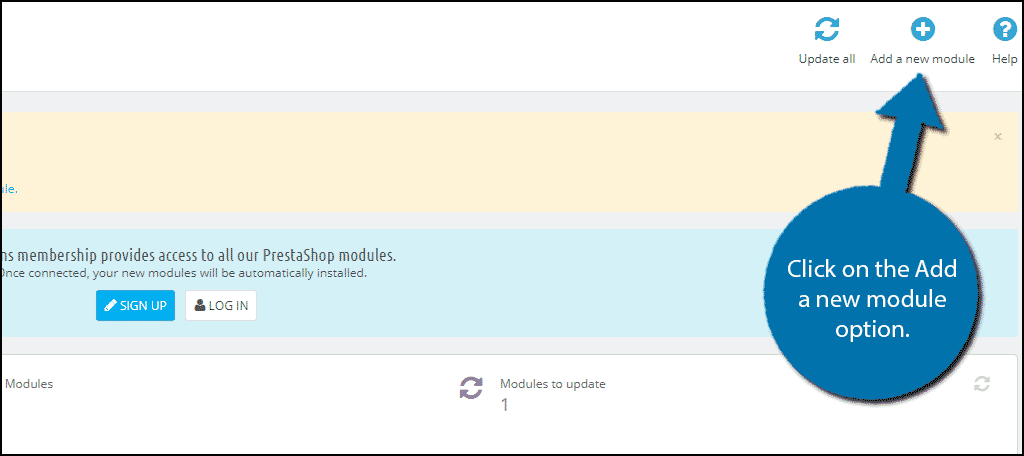 An "Add A New Module" section will appear on the page. Click on the "Choose a file" button and select the zip file you downloaded in the previous step.
Click on the "Upload this module" button.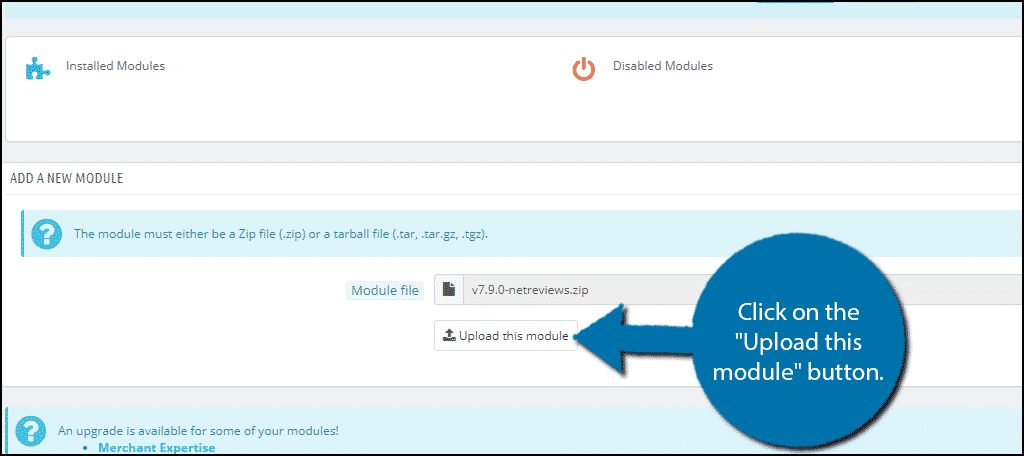 You should see a green message that states that "The module was successfully downloaded" and it is now ready for use.
Activate the Module
Now that the Verified Reviews module has been installed, you need to actually activate it. Scroll down a little to your "Modules List." You will see all your modules in this list. You can search your uploaded modules using a combination of four different filters. They include:
Installed
Not Installed
Enabled
Not Enabled
More than likely, you can just scroll to find your module. However, if you do have dozens of modules working in different aspects, then this search method will definitely help.
Find the module you recently uploaded in the list and click on the green "Install" button, to get it installed on your website.
Now the module is successfully installed, you get a green "Success" message. Below that is the main page of Verified Reviews welcoming you.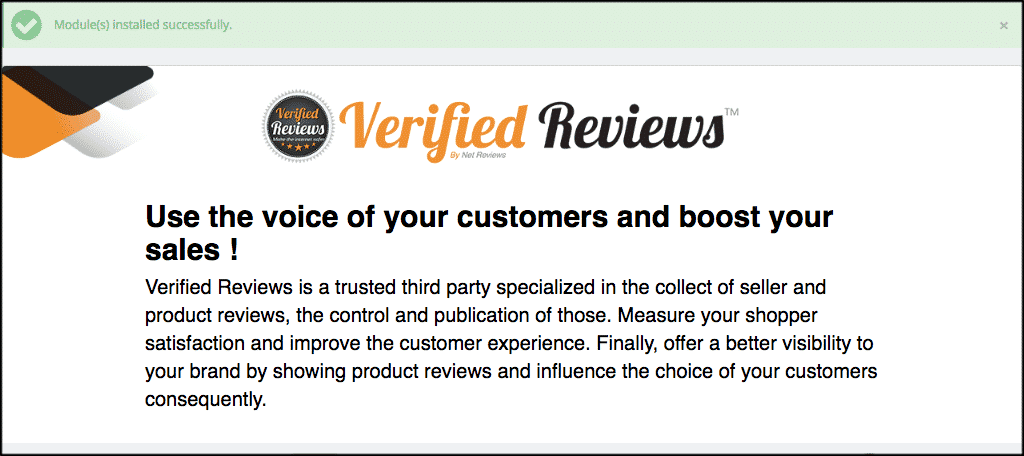 Now, let's get the module configured together so you can start taking verified reviews and boost your sales and online presence.
Configure PrestaShop Verified Reviews
Now that you have the module installed, let's go about the process of configuring it for use. Configuration of this particular module is not difficult. Remember, this is actually a "verified reviews badge" that will go on your website. It collects verified reviews from outside sources and houses them all in one place for your customers to see.
Review collection is automatic. When you set the module up, you are good to go. Simply display the reviews widget wherever you want on your website and customers can click on it to see PrestaShop reviews.
You basically need to perform three simple steps to get the PrestaShop Verified Reviews module running properly.
Register with Verified Reviews so you can start pulling review data.
Set up the export orders section to collect verified reviews from people who have already bought from your store.
Set up your widget layout, colors, options, and design.
Register With Verified Reviews
Scroll down some to the registration box and click on the appropriate link to get your secret key and ID website information. Follow the instructions, and then copy and paste the info needed into the relevant fields.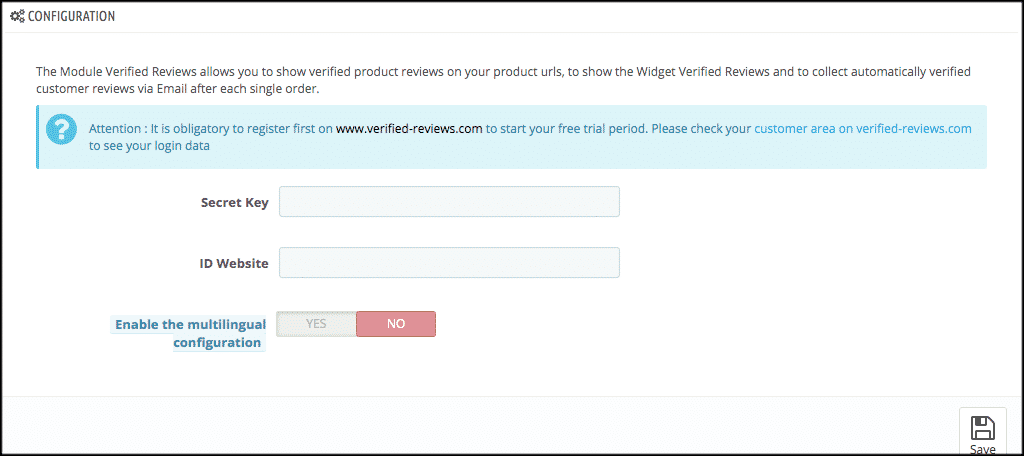 Export Orders
In this section, you can export your orders to customers that have already purchased and ask them for reviews. This is great to have running and enables you to start getting reviews quicker from people who have already bought from you.
Go ahead and set this section up how you see fit.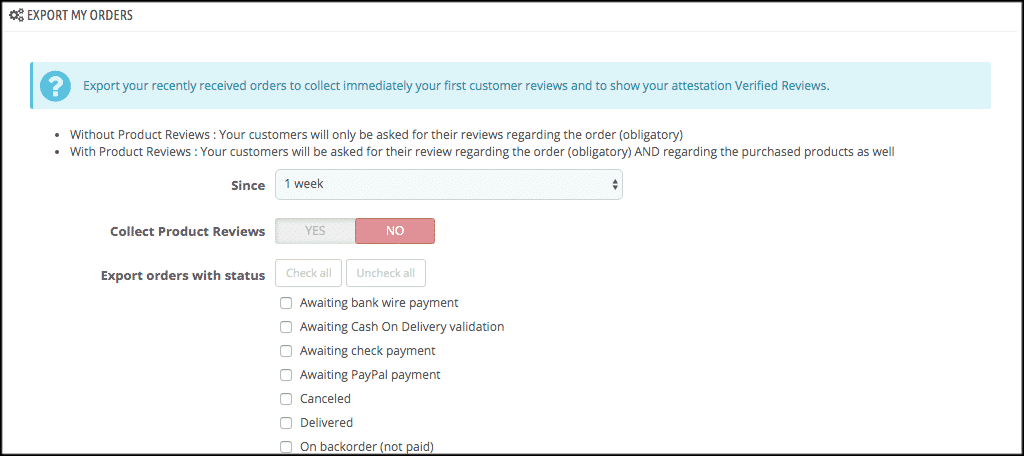 Design Your Widget
Finally, design the widget the way you see fit. You can change colors and other layout actions. Try to brand it to naturally look like it is a part of your store.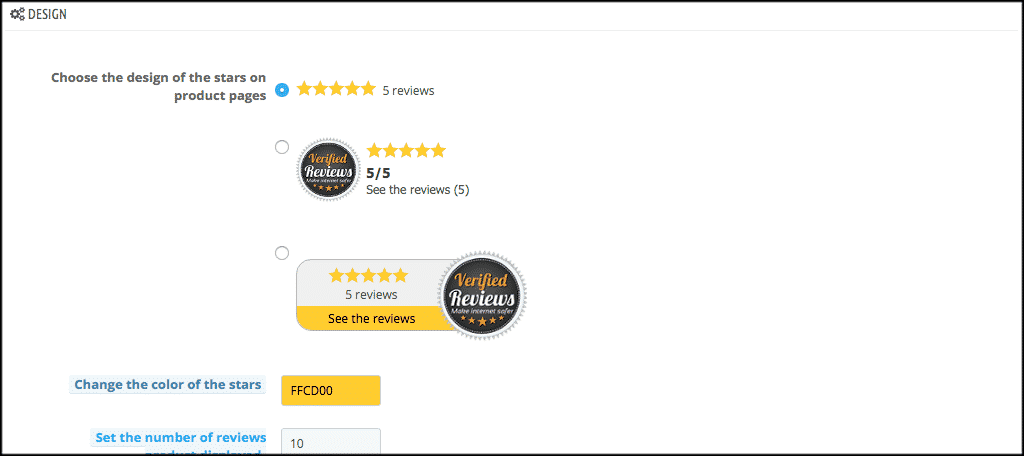 Final Touches
There are two more sections to look at if you keep scrolling down. You can enable Google Rich Snippets and set those up if you want.
And then you can take a look at the Advanced Settings" section and see if there is anything in there you want to change or modify.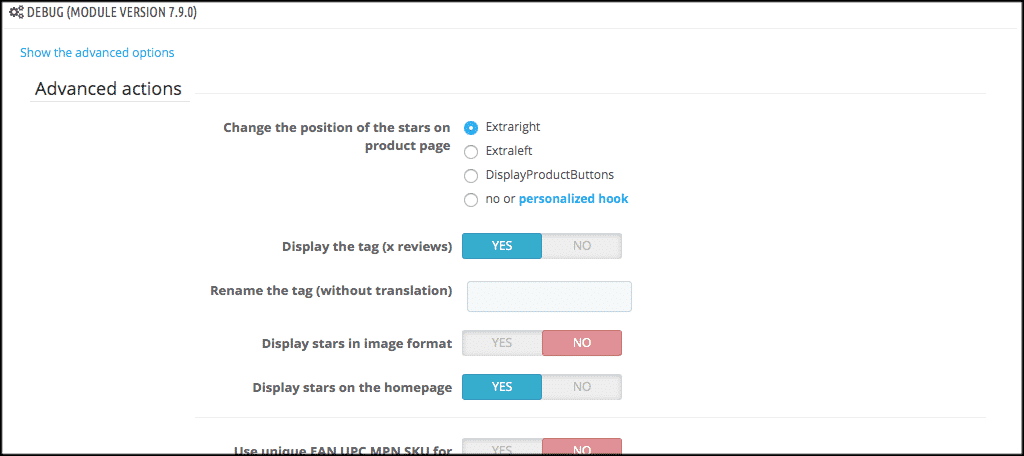 That's it! Be sure to click on the "Save" button to make sure all your configurations remain intact. You have successfully downloaded, installed, and set up the Verified Reviews module to use on your store site.
Final Thoughts
The importance of an online presence for any business cannot be overstated. This becomes increasingly apparent in the online world we live in. Aside from a social media marketing plan and content management, getting verified reviews from trusted online sources is a fantastic way to build trust, loyalty, and a solid online presence.
Have you tried using reviews on your website before? What other tools have you found successful for displaying verified reviews?