Not all websites are family-friendly. Some may have adult-only content or other sensitive materials for a mature audience. Being able to age-gate WordPress content reduces liability while making the visitor aware of the sensitive nature of the content.
For instance, what if your website promotes R-rated material, language, or adult themes? Adding a WordPress age-gate overlay is beneficial in this situation.
Today, I'll show you how to verify the user's age for WordPress content.
When Does Your WordPress Website Need Age Verification?
Not every website is going to need age verification, but some websites that seem family-friendly may need to verify ages for certain pieces of content.
For instance, let's say you run an entertainment website. If you are showing movie trailers that are R-rated, you should probably add an age verification. Or perhaps there is an M-rated video game trailer.
Another great example is for online shops that specialize in alcohol. Surprising there is no law that actually requires age verification for online sites, but every website asks the question, more so to protect themselves than the customer.
The same concept would apply if you are selling adult products or content.
How to Verify User Age with Age Gate in WordPress
Step 1: Install Age Gate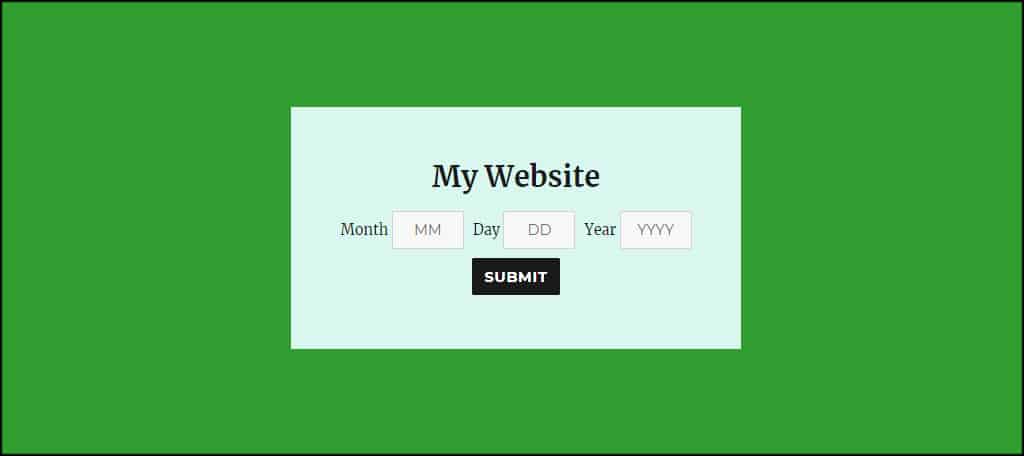 For this tutorial, I'm going to demonstrate what Age Gate can do for your website. It's an easy-to-use, free tool with various customization options, SEO-friendly, and compatible with multilingual plugins like Polylang.
This plugin uses cookies to remember information about the user. Thus, be sure to ask them to accept cookie usage to be GDPR compliant.
Install and activate, "Age Gate." You want to make sure you install the correct plugin. There are quite a few, but you're looking for the one by Phil Baker.
Click Age Gate from the left admin panel.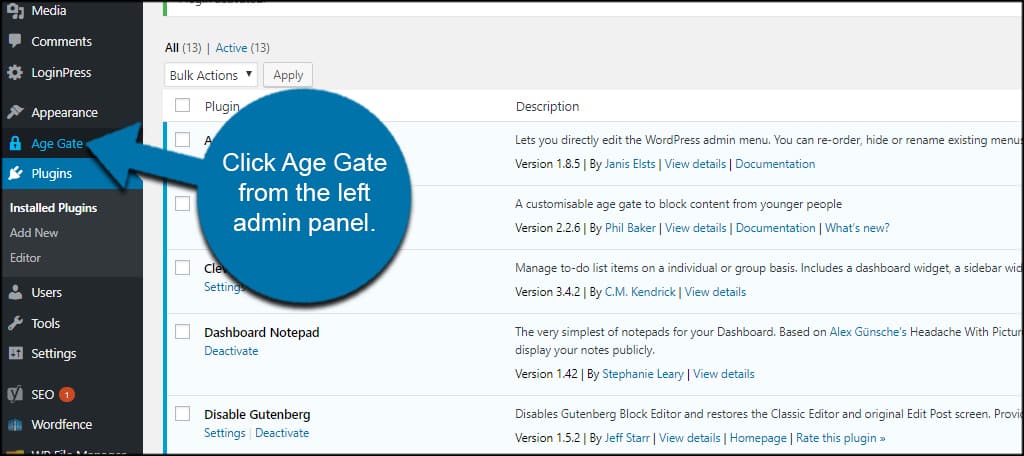 Step 2: Restriction Settings
In this first screen, you can modify the restrictions put onto the users when they first visit your website.
This includes the default age of the user, selecting certain types of content, varied ages, user memory, and ignoring logged-in users.
For example, you can set the default age to 18 and allow the system to remember the user for 30 days.
Set the restriction options and click, "Save Changes."
Step 3: Messaging Settings
Click the "Messaging" tab on the top.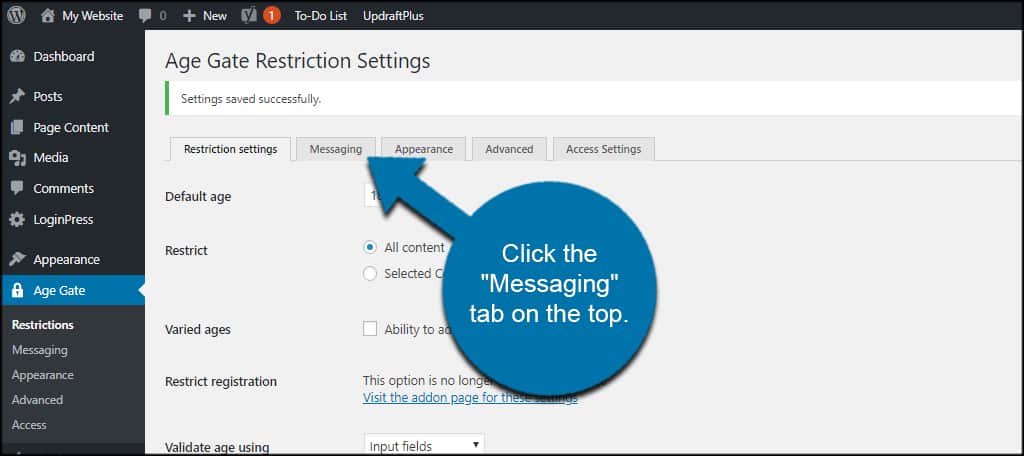 In this section, you can change the messages the plugin gives to users. Headlines, remember me text, buttons, and any additional content can be added here.
This gives you the ability to change nearly any text used by this age verifier for WordPress.
Once you've customized the texts, click the "Save Changes" button on the bottom.
Step 4: Appearance Settings
Click the "Appearance" tab.
This age verification plugin provides several options for changing the design of the gated overlay in WordPress.
For instance, you can add your own logo, alter background colors and images, change the foreground, text colors and the page title itself.
Using the settings in this area, you can make the WordPress age verification screen fit your site's aesthetics.
Step 5: Advanced Settings
Click on the "Advanced" tab.
In this area, you have access to more advanced adjustments.
For instance, you can change to use JavaScript Age Gate for an uncachable version and additional adjustments. You can also set an anonymous gating challenge.
These options include import and export, toolbar options, editor adjustments, and assigning custom bot control if you need.
If you know your way around CSS, you can add your own visual adjustments with the custom field.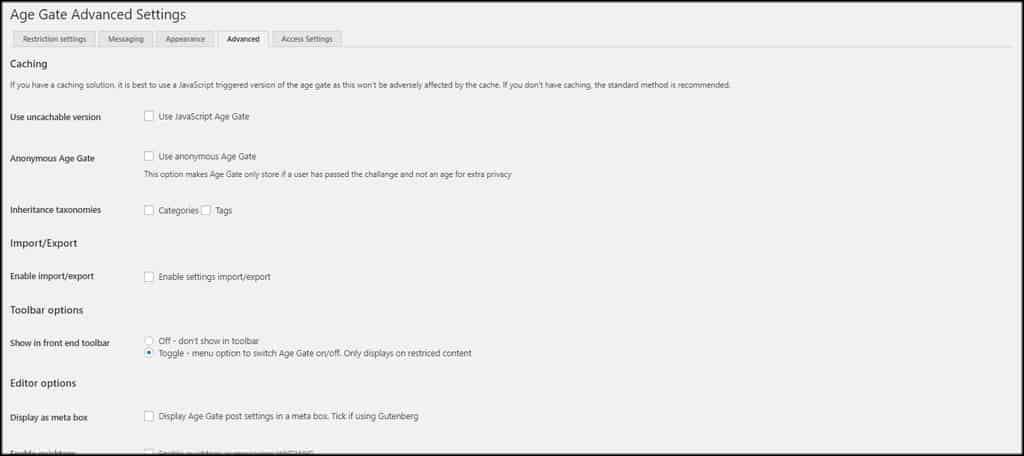 Step 6: Access Age Gate Settings
Click the "Access Settings" tab.
In this section, you're able to control what user roles can make changes to the age warning in WordPress.
For instance, you can set the Editor role to manage the Messaging settings by checking the box next to it. This is important because they will be able to sort out content that needs age verification from content that doesn't.
These settings also include the ability to allow the age gate bypass for individual WordPress content.
One of the things that make this WordPress adults-only plugin worthwhile is its ability to utilize custom user roles. This means roles you've created for other purposes are part of the age gate system.
This makes it very useful if you have a custom role for making website adjustments without the admin account.
Age Gate is also compatible with custom post types. Using the options in the Access Settings screen, you can turn off the age gate for specific types of content on the site. So if you have age-friendly material, this could be an option.
Congratulations on setting up the Age Gate plugin. Remember to test your content from a variety of user roles to make sure everything is working as intended. If not, go back into the settings and make the necessary changes.
Does An Age Verification Work?
So you've just gone through all of that work and are now questioning if there was any point to doing it?
In reality, age verification doesn't do anything in an online environment. Think about it, users simply need to lie about a date of birth or check a box that says they are X age.
In fact, I'd be willing to bet you've lied about your age online at some point, everyone does. It really doesn't guard content. And frankly, that's not the point.
The real purpose is not to protect visitors from the content, it is to ensure your website is not liable for younger viewers seeing content aimed at adults. If the users lie about their age, well, that's not your fault.
The age verification will protect you from being liable if there was ever a lawsuit. Thus, in this sense, yes, age verification does work.
Is There A Better Way to Verify Age in WordPress?
Well, it really depends on what you are trying to accomplish.
Let's say you run an online dating site. Obviously, having younger members pretending to be adults and engaging with adults isn't just a legal concern. It's also a problem for the other members on the site.
One way most of these websites prevent this problem, at least to some degree, is to incorporate a paywall. Let's face it, lying to verify your age is one thing, stealing a credit card is another thing entirely.
Granted a paywall is not foolproof, but it can really help vet the userbase. Another way to go about it is phone verification.
Some may not want there to be any phone evidence that they were using specific sites. Thus, having to provide a phone number as well is another way to gate your content.
That said, this has lost its edge since even kids have smartphones today.
Additional Plugins to Add a WordPress Age Gate
If you are not a fan of the above plugin, don't worry, there are plenty to choose from in WordPress. Here are a few more that you may want to consider using.
Agy- Age Verification for WooCommerce
If you run an online store, you are probably using WooCommerce. You are probably going to need a way to make sure customers are old enough to buy a product. That's where the Agy plugin comes into play.
Simply put, this plugin allows web developers to design a small prompt that users must accept to purchase certain products. Typically, the prompt will confirm that the user is a certain age, which makes them legal to buy the product.
Overall, the plugin is very easy to set up. You fill in information like the age prompt, customize the text, and choose the design. It's a necessary addition to any online shop that sells products restricted by age groups.
Age Verification
Do you want to check a visitor's age before they enter your WordPress website? In some cases, this may be legally required to do so, and one easy way to implement such a feature is with the Age Verification plugin.
This plugin is very simple to set up. You just need to fill out the necessary fields like what age a visitor must be to enter. After that, you can decorate the prompt by choosing a color and you can even add a logo.
Overall, the setup process won't take longer than a few minutes. This prompt can be legally required in some regions depending on the nature of the website, so be sure that your site covers what is required.
WordPress Responsive Age Verification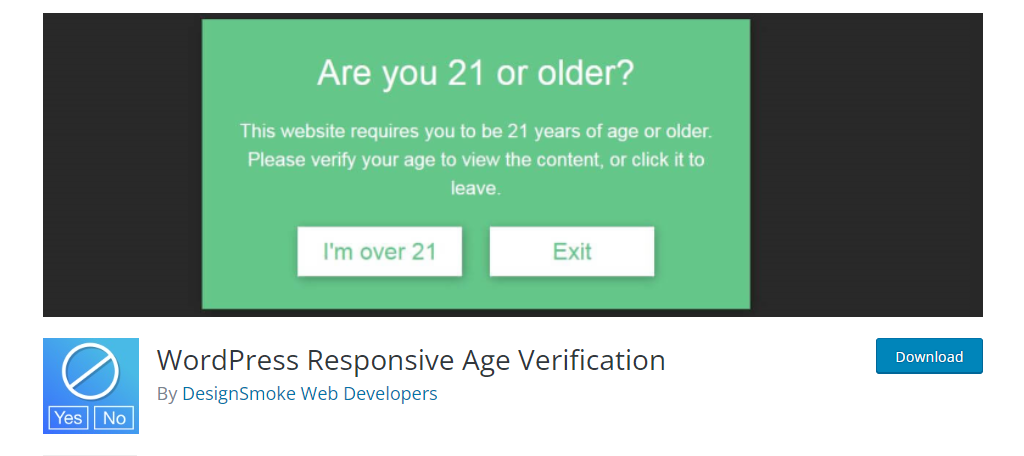 Similar to the last plugin, this one focuses on displaying an age verification before the website is loaded, but is done so in a way that makes it SEO-friendly. And truth be told, WordPress Responsive Age Verification is the easiest plugin I have covered today.
After activation, the plugin is actually fully active. All you need to do is set the age and change the color and you are good to go. Its biggest claim to fame is that it is fully responsive and will work on devices of any size.
That said, there is room for customization. You can use Custom CSS to make the prompt look however you wish. It really doesn't get any easier than this plugin.
Verify Users with Age Gate
Adding a way to verify user age in WordPress helps keep sensitive materials away from young eyes. Although it's not a fool-proof method, it does contribute to securing your content. and when combined with other measures like a paywall, can have a lot of success.
More importantly, Age Gate protects your WordPress website from being liable if it fails. And for most websites, one lawsuit is enough to cripple the business, so taking the necessary measures is critical for a long and successful business.
What parts of your site are age-gated? Have you ever thought about using a paywall to limit access to your content?