Are you looking for free stock images for your WordPress website? If so, then the Pexels: Free Stock Photos plugin is exactly what you are looking for. After all, no WordPress post or blog is complete without an image.
In fact, many content creators believe the thumbnail is the most important part of anything they create. It helps entice users to click on the article or video. And at the end of the day, it really is all about the clicks. Although, try to avoid clickbait images.
Today, I will demonstrate how to get free stock images with the Pexels WordPress plugin.
Why Use Stock Images In WordPress?
Images are a huge part of any website in 2021, but they can take a lot of time to make or capture. This poses a serious problem for websites that churn out content on a regular basis. Stock images can help websites that don't have a dedicated graphic designer on standby.
And unlike borrowing an image from another source, stock images do not require credit in most cases, which makes them easy to add.
These images can be customized to meet a variety of designs with simple techniques using photo editing software like Photoshop. For example, you can change what is appearing on a computer screen within an image, or what a person is holding.
It really just depends on your skillset. However, that's not necessary because you could just use the stock image without making any changes.
How to Get Free Stock Photos with Pexels
Step 1: Install Pexels: Free Stock Photos
Pexels: Free Stock Photos is an excellent choice for any website looking for a free option to find free WordPress images. The plugin allows you to download from its vast library of images and upload them to your website. As a result, it can be done directly from your website.
You might be wondering how this is possible and it's quite simple. All of the images found within Pexels utilize the Creative Commons Zero (CC0) license. All images that have this license are completely free to use for most purposes.
Let's start by clicking on Plugins and selecting the Add New option on the left-hand admin panel.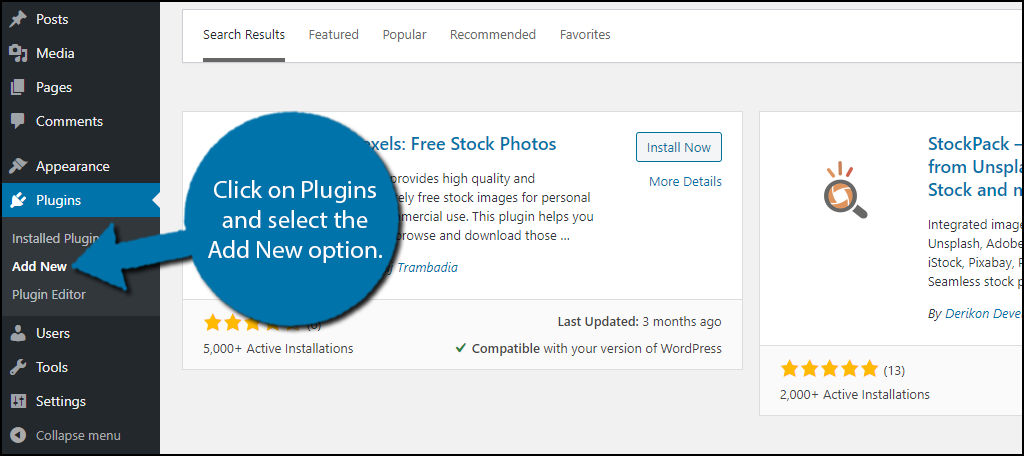 Search for Pexels: Free Stock Photos in the available search box. This will pull up additional plugins that you may find helpful.
Scroll down until you find the Pexels: Free Stock Photos plugin and click on the "Install Now" button and activate the plugin for use.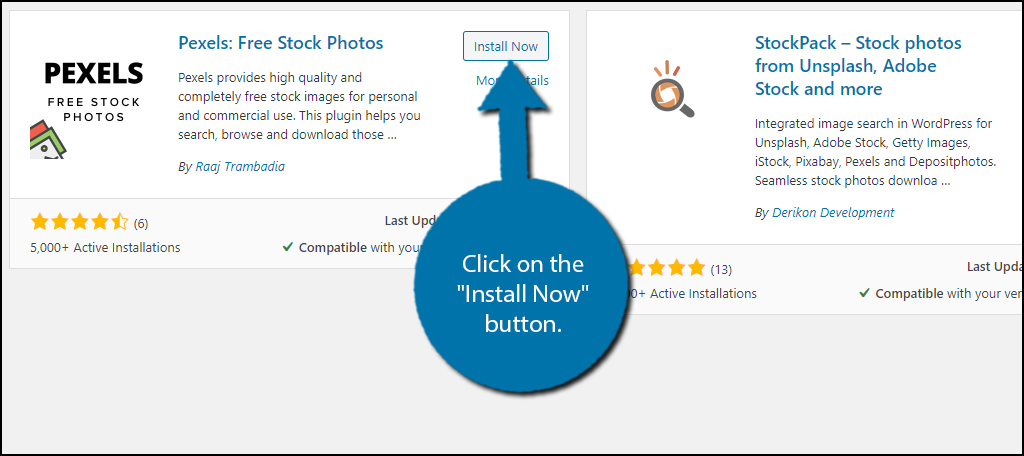 Step 2: Find Images to Use
Everything is done inside of WordPress, and there isn't any setup involved. After activating the plugin, you are ready to go. And as you might have guessed, the first thing you need to do is find an image you want to use.
On the left-hand admin panel, click on Media and select the Pexels Photos option.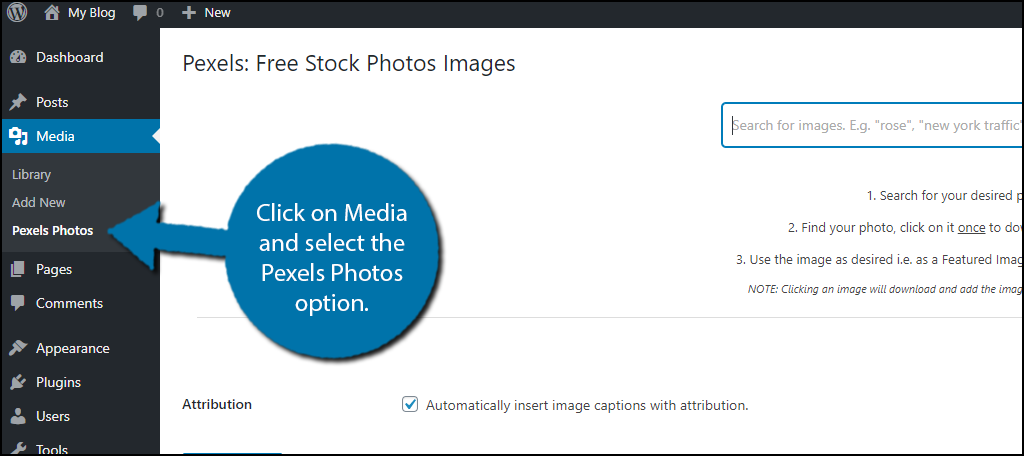 You will see a search bar at the top of the page. Here, you can search for the images you are looking for. The more specific you get, the fewer results you will find, so stick to general phrases.
Type in a search term and click on the "Search" button.
Note: There is no image preview option, clicking on an image will begin downloading it.
Images will now appear in a grid style on the page. At the bottom, you should notice a "Load More Images" button. Click it to make more images appear.
Note: If you hover over the image, you can see it's dimensions. WordPress will give you multiple size options, but you can also crop the images in photo editing software if necessary.
Once you find an image you like, click on the image and it will begin downloading. It will automatically add it to your media library.
Repeat this for as many images as you want to add. There are no limits to the number of images you add to your media library using this plugin. But keep in mind that images take up space, so only download what you plan to use.
You can remove images from your media library and re-download them at any time.
Step 3: Add Pexels Images in WordPress
All that's left is to add the image, which works just like normal. If you already know how to do that, then congratulations on learning how to get free stock images in WordPress. But if not, or you are just looking for a refresher, continue on.
Go to any existing post or page on your website. Additionally, you can create a new one for testing purposes.
Click on the "+" button and add an image block.
Click on the Media Library link within the block and select the image you added in the previous step. Then just click on the "Select" button on the bottom right corner.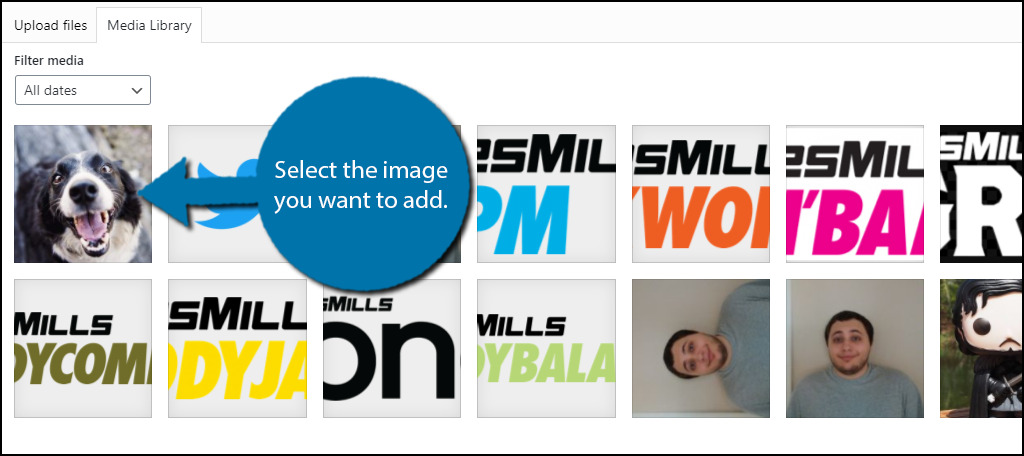 The image will now be visible in the editor and will appear on a live page once the changes are saved.
Congratulations on setting up Pexels for all of your stock image needs. If you decide to delete the plugin, it will not impact any of the images you have downloaded through it.
Stock Images Can Only Go So Far
While stock images are a great choice for a new website or large websites that cannot make images for the hundreds of articles they pump out in a month, they have limits.
They are no substitute for amazing images you can capture in the wild or make using photo editing software. These types of images will always perform better and they make your website feel unique.
After all, you're not the only one using these stock images.
On top of this, there is another shortcoming with Pexels stock images…they don't have an image for everything. This can be a serious problem for someone writing news articles. Free images are generally very generic and do not include brands or famous people.
Thus, if your blog focuses on current events, stock images will not help you. Instead, you will have to get your images from another source, and that could cost you.
Having the right images is essential to growing in those fields, so it's well worth the cost.
Another unique field to consider is if you deal with video games. You can use screen capture technology to get images from within the games themselves. And just about every console has this feature built-in.
Consider Adding Watermarks
While the images are completely free to use, you can also add to them. This can be in the form of adding something to the picture, and one of the most common things to add is your website's logo and name.
This helps users identify that it is from your website. For example, if you shared a link to an article on Facebook, it would display the featured image. Putting your logo and website name can help you stand out.
And it only takes a few minutes to do, and even less once you are used to doing it.
How useful do you find the Pexels stock photos for your posts and blogs? Do you have plans to make or capture your own images?