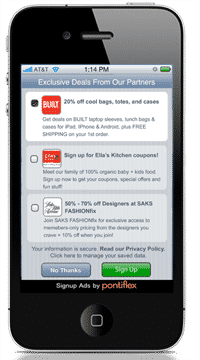 Hey everyone, how about $75 in free AdLeads credits? Exclusively for GreenGeeks customers!
As the newest GreenGeeks partner, we're excited to take a moment here to introduce AdLeads by Pontiflex.  Since their launch in 2008, Pontiflex has been pioneering the art of performance-based advertising on both web and mobile. Rather than sell accidental clicks or meaningless impressions, they believe in something far more valuable called sign-up ads.
Hmmm…What 's a sign-up ad?
A sign-up ad allows a customer to sign-up, or opt-in, to hear more from an interesting business. We've arranged a special deal currently offering GreenGeeks customers $75 in free ad credits. Within minutes, AdLeads help you create a campaign that'll run across top Android and iPhone apps. When users are interested in your offer, be it a coupon or a newsletter, they sign-up… allowing you to follow-up via email, whenever it's convenient.
Email is an essential element in all marketing mixes, and AdLeads provides the most affordable and efficient way to grow your lists; companies ranging from Southwest Airlines and Ikea  to cafes and online clothing shops rely on them to generate more than 150,000 sign-ups every day, due to one big reason: emails drive sales.
Great! So how do I get my AdLeads $75 FREE ad credits?
Signup for a web hosting account if you haven't already done so 🙂
Log into the account manager.
Click on the promotional offers link on the navigation bar.
Under Marketing and Promotions, click on AdLeads and follow on-screen instructions.
Just another perk that comes with hosting at GreenGeeks. Enjoy the credits and happy marketing!