Earlier this year, Internet Corporation of Assigned Names & Numbers (ICANN) published an updated Registrar Accreditation Agreement (RAA). These changes are scheduled to go into effect January 1st 2014 and will affect all domain owners both with GreenGeeks® or another domain registrar. To review a quick technical summary of the policy change check our our educational article ICANN RAA 2013 Changes. This blog article is a more simplistic explanation including examples of what will take place.
Part of ICANN's RAA changes require all Whois data be valid and requires domains to use only approved proxy/privacy based services. Whois data is used to determine the owner of any internet resource, such as a domain name or IP address. For web hosting customers this data would include your Name, Address, Telephone and email address and is accessible to the public via a Whois Search. NOTE: GreenGeeks does offer ICANN compliant Whois Privacy services which allow us to proxy your information insuring your privacy. The use of Whois Privacy does not override the need for valid Whois information.
In addition to mandating that valid Whois data is stored on all domain names, additional verification processes have been implemented. In order to remain compliant, GreenGeeks effective Jan. 1st 2014 will begin sending email verification's to the registrant email address on a domains WHOIS. This process must occur upon a new registration of a domain and/or upon the modification of the Registrant Whois records.
Customers will be given a period of 15 days (starting on the day of Registration or Whois Update) to verify their records or ICANN will suspend the domains access until verified. Note: GreenGeeks has no control in this process. Should a domain verification fail, only ICANN has the control to override your DNS records and serve the domain verification pending page.
To help illustrate the process we have included the following flow chart:
Since GreenGeeks provides Reseller Hosting services and handles our resellers registry services we will send out white-label notices to all customers. Similar emails will be sent directly to GreenGeeks customers as well with our contact information. An example of these notices is below: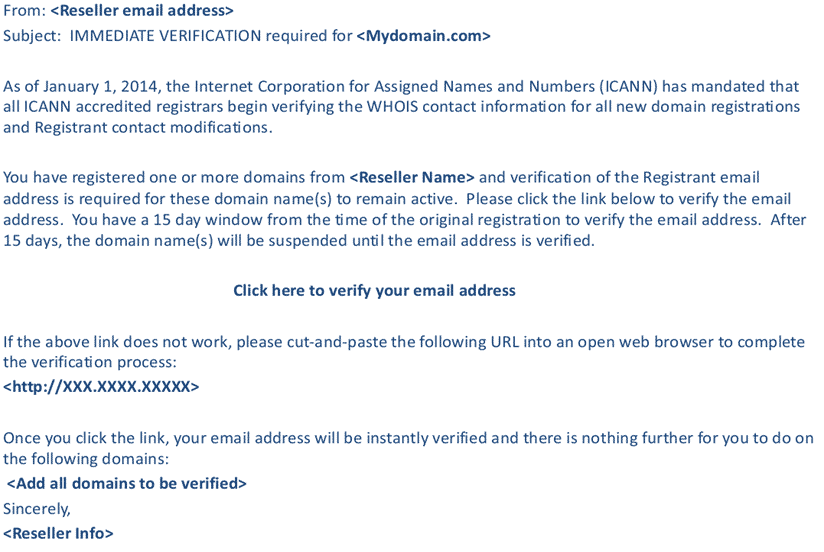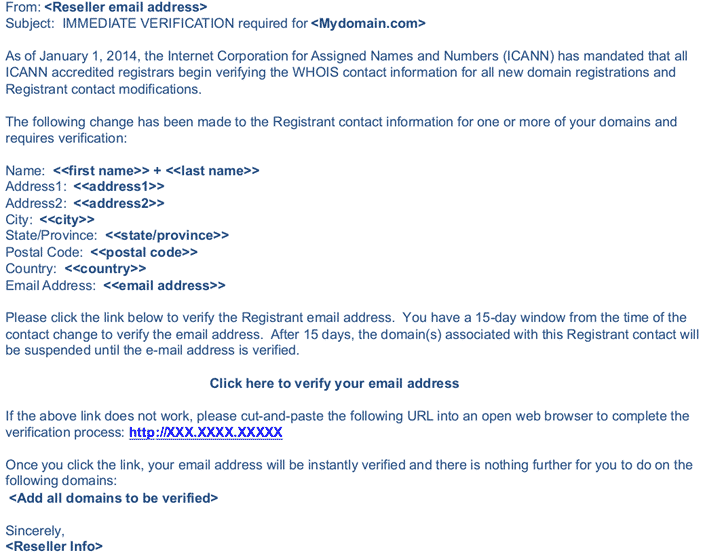 Please note, at no time will these emails require you to login! Should these verification emails be ignored OR the email bounces ICANN will suspended the domain name until contacted and the Whois is verified. ICANN has provided us with examples of their suspension pages which we have included below: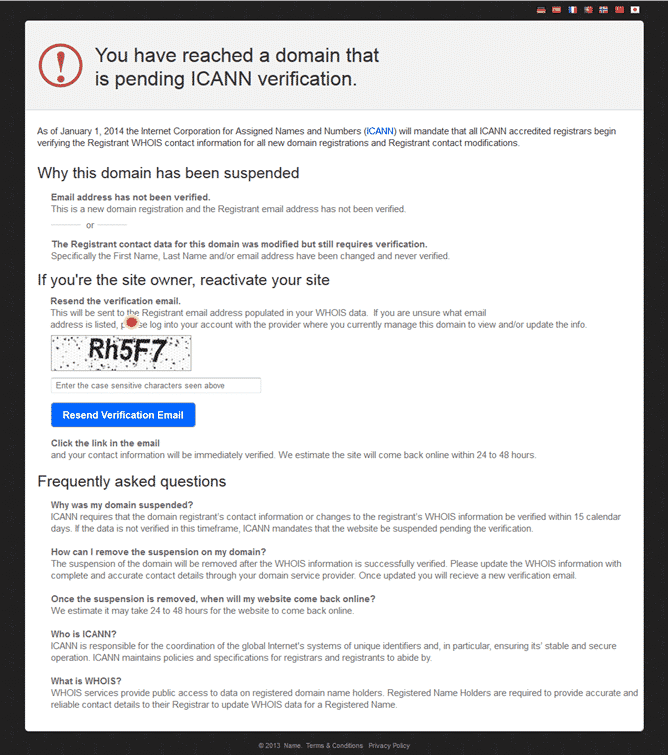 Upon verification, your website will be reverted back to the original nameservers, however DNS Propagation will occur. ICANN has thought of this and provides the following notice to customers upon a successful verification: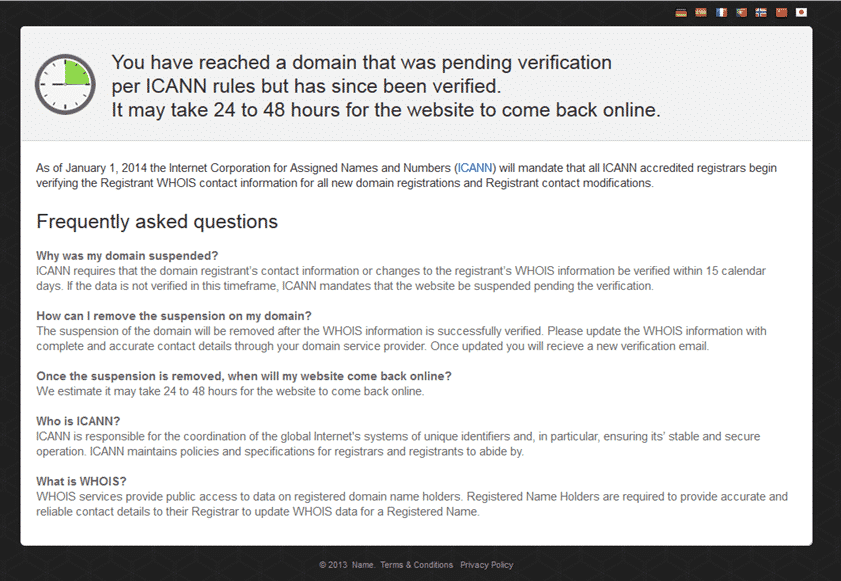 Additionally, ICANN has notified us that this process will only be required once per Registrant Firstname/Lastname + Email combination. As a result, once completed on your first domain name, all additional domains purchased with GreenGeeks will skip these verification steps. However should you update your Whois records, a verification process will begin effecting all domains associated with that combination.