WordCamp Sacramento 2019 was an awesome camp! This was the fourth camp I attended and the very first one I attended in Sacramento.
It was all that I expected it to be and much more.
WordCamp Sacramento 2019!
The camp was held at the Falls Event Center in Roseville, CA on September 21 and 22.
I flew into Sacramento on Friday so that I could check in my hotel and head over the kick-off dinner. Upon getting off the plane, I was greeted by some amazing Sacramento artwork seemingly floating in mid-air.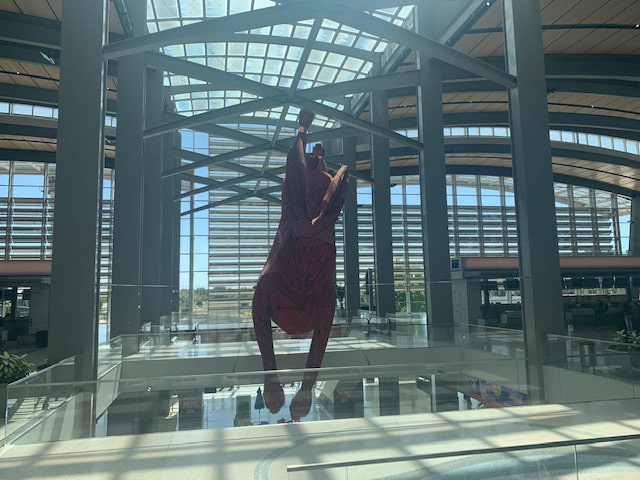 After making my way through the airport, I took an Uber and headed over to the hotel.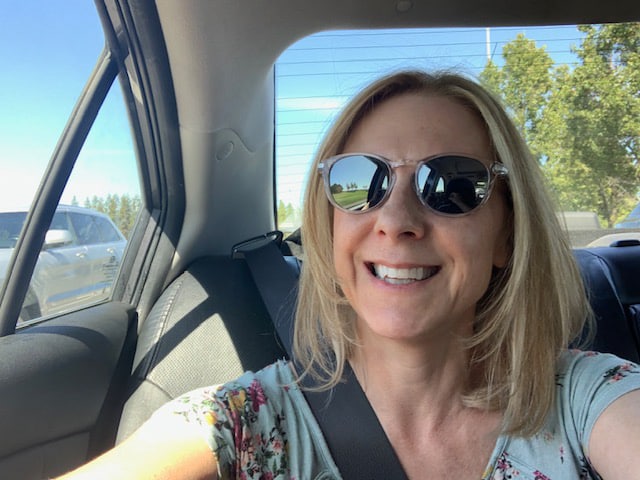 After checking in, I started getting excited for WordCamp Sacramento 2019. I was eager to attend the camp and meet new people while saying hello to friendly faces.
But before the camp, it was time to start getting ready for dinner.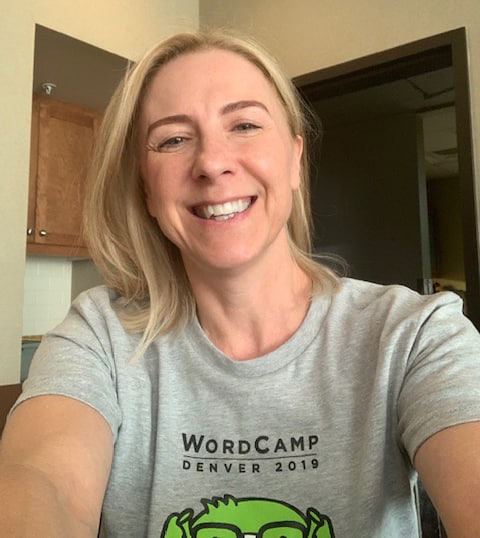 I know…the shirt doesn't match the camp. But, I didn't have one for Sacramento yet. Besides, it's comfortable.
As I was leaving the hotel, I ran into Kathy Zant from Wordfence. I met Kathy back when I attended WordCamp Kansas City with Michael Brockbank from our team. We spent two days across from each other as our tables were pretty close at that camp.
Speaker Sponsor Dinner
The dinner was held at Siinos Restaurant, a very busy Italian dinner buffet in Lincoln, California. It was a beautiful location with a nice "homey" feel.
The dinner was packed! We were in a covered outdoor patio, and there was a yummy Italian buffet just for us. And I had the opportunity to say, "hi" to some people that I knew from before the event while meeting a lot of cool new people.
I have to say that people at WordCamps are all very nice and fun to talk to. But, this is true of every camp.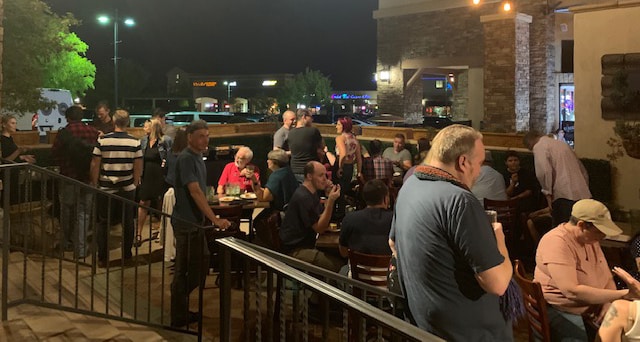 I spent some time catching up with Dwayne McDaniel and met Jonathan Keller from West County Media. He looked so familiar, and I felt like we had met before. It's very possible.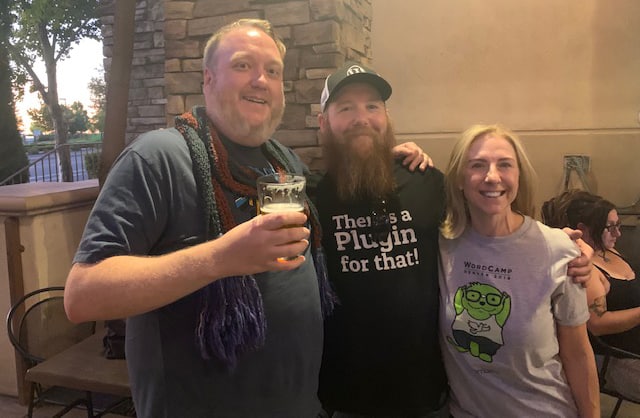 I also chatted with some of the wonderful organizers who make this all happen, including Jose Castaneda, Jennifer Bourn, and Jacob Henderson. We had a nice conversation, and I can't wait to meet up with them again.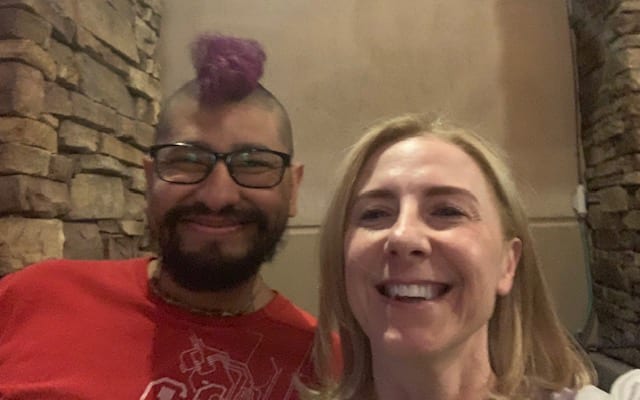 After a nice dinner and great conversations, I went back to the hotel since we were going to have an early start the next day.
Saturday Morning at WordCamp Sacramento 2019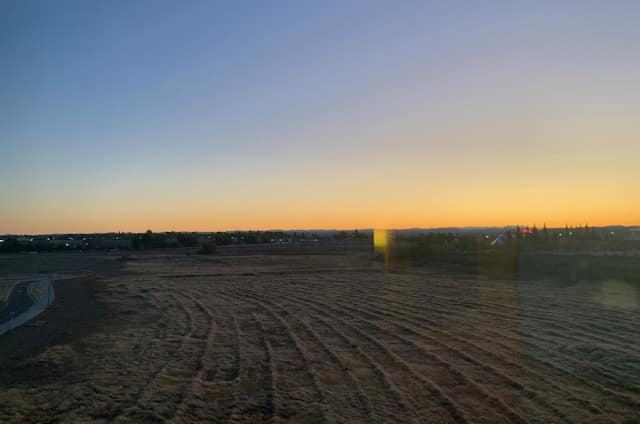 On Saturday morning, I loaded all my boxes of swag and the displays on the bell cart and started pushing it to the venue which was literally across from the hotel. Jose Castaneda saw me with the cart, so he came over and helped get everything inside.
Thank you, Jose.
I started setting up the table alongside several other sponsors getting ready for the event. I wanted to make sure our space was ready for the influx of people in attendance at the WordCamp.
Once I was done, I went to say, "hi" and thanked some of the volunteers. We know that along with the organizers, camps won't happen without them.
By 8 am, people started coming into the venue. And by 9 am, our CEO, Trey Gardner, also arrived.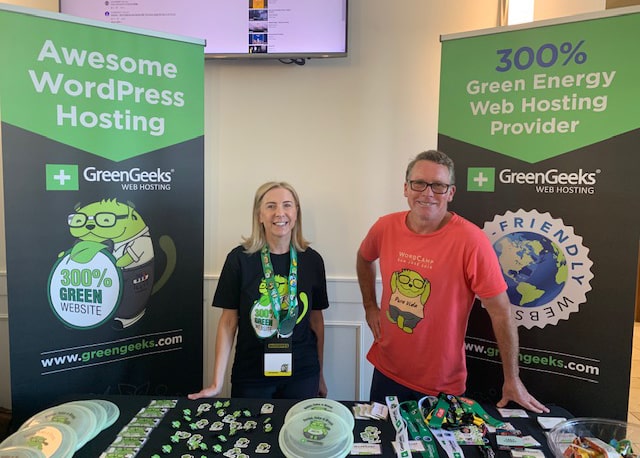 I have to say, our swag looks really good. We had our Spex Wapuu pins, eco-friendly awareness buttons, screen cleaners, lanyards, and the ever-popular glow-in-the-dark frisbees. It was a whole table of fun just waiting for guests to arrive.
As more people began to come into the venue, we were really busy at the table. We were answering questions about GreenGeeks and handing out swag.
Exploring a Few Sessions
I peeked in the first session in the room across from our table where Mario Cano delivered a session about WordPress Users, Tools and Settings.
I found it very impressive. Then again, I don't know if I've seen a talk at WordCamp that didn't have a great informative tone or an incredible story.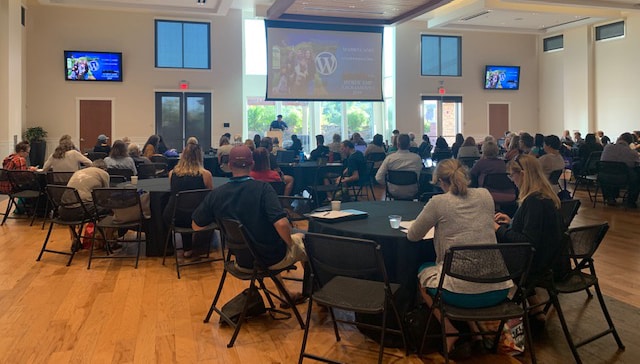 I also attended a few other interesting sessions, including Jake Goldman, Meet Google Site Kit, and Nick Leffler, Use WordPress Multisite to Create a Website As A Service (WaaS). I met Nick at the dinner and wanted to make sure I attended his session as we had talked about it the night before.
With Trey at the table, I was able to meet up with some of the speakers who were walking around. This included Nathan Ingram, Ginger Wiseman, Michele Butcher-Jones, and Topher DeRosia.
By lunchtime, we ran out of frisbees! Remember how I said they were popular?
Time to Eat
At 12 pm, four food trucks were set up outside and we all headed out to eat. I picked the mini sliders for my lunch, although they both looked like full-size burgers. Sadly, I could not finish them.
Getting Back to WordCamp
After lunch, I attended the session of Verious Smith whom I met at WordCamp Orange County. I really enjoyed his talk about Blocks – How to Find Them, Install Them and Use Them, and it was nice to see him again at WordCamp Sacramento.
This is one of the things I love most about attending these camps. Sooner or later, you will run into some wonderful people you met at other camps and it becomes like a big, happy family.
I was leaving to get back to LA in the afternoon so I went around to say goodbye, or better yet, see you later, to all my good friends. This included Kathy Zant as well as Adam Warner from GoDaddy.
It was time to get to the airport, so I said my goodbyes and left Trey in charge of our table.
He knows a thing or two about camps. 🙂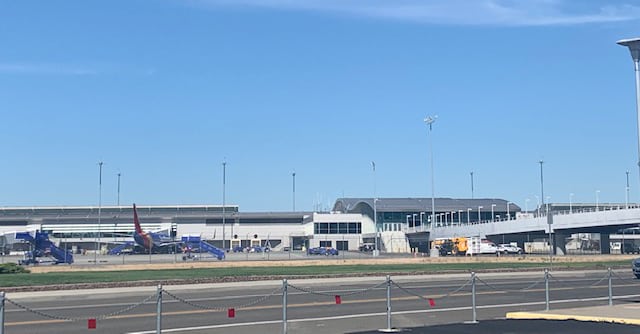 I had a Wonderful Weekend!
WordCamp Sacramento has a place in my heart now. It was a great experience and I loved meeting up with familiar faces and making new friends.
I want to personally thank all of the organizers and volunteers for their time and their incredible passion. They make everything flawless. And a big shout out to the wonderful speakers who make the time at the camp more interesting.
I will see many of the people again at WordCamp Long Beach and WordCamp US.
Till then…