Have you ever felt that you could make significant improvements to your WordPress dashboard? There is a strong possibility that your dashboard has clutter that you do not need. Clutter can appear on your dashboard when you add certain plug-ins or themes. I have also discovered that default widgets can stand in the way of any webmaster.
In this article, I will show how anyone can customize their WordPress admin area. You can customize your admin area without changing a single line of code. I will be using the Screen Options Tab to carry out this simple task. The only disadvantage of using this method is that it saves the settings on per-user basis.
1. Screen Options
It is now time for you to open your WordPress dashboard. Look for a tab called "Screen Options". It is located at the top right of your dashboard. You can check off every option that you are not interested in having in your dashboard. You can add more columns if you want. Two columns are included in your dashboard, but you can make it three or four. Some options can be added by using plug-ins such as the W3-Edge option. You can reorganize the boxes by dragging and dropping them in the area that meets your satisfaction.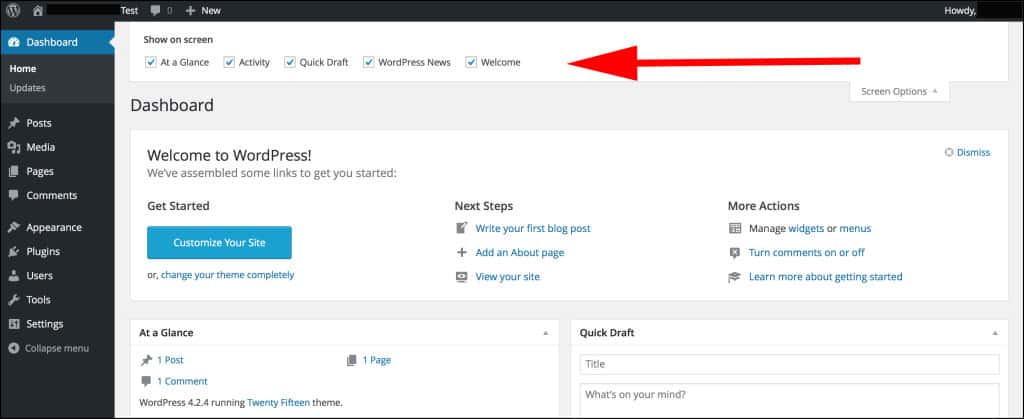 2. Write Panel
Many webmasters are not aware that changes can also be made to the write panel. Making simple changes to your write panel can help you add posts to your blog with ease. The write panel can be changed by simply dragging and dropping boxes into their respected area. You can also add and remove items like the dashboard by simply clicking on the Screen Options Tab. Begin unchecking the boxes that you will not use for your blog.
3. Increasing Comments
I have found out that many webmasters are interested in learning how they can increase the number of comments shown on the backend. By default, only twenty comments will be shown. Some blog masters are interested in seeing more comments. This makes it easy for them to moderate the comments.
You can increase the number of comments shown with the aid of Screen Options. Simply go to the Comments page and click Screen Options. You can increase the comment total to fifty.
The Screen Options tab is located on virtually every page of your WordPress admin panel. The Screen Options tab is a lifesaver for anyone who does not have experience in editing codes. The method listed above is the easiest and most effective way of customizing your WordPress Admin Area.
Do you customize your WordPress dashboard? If so, what do you do?